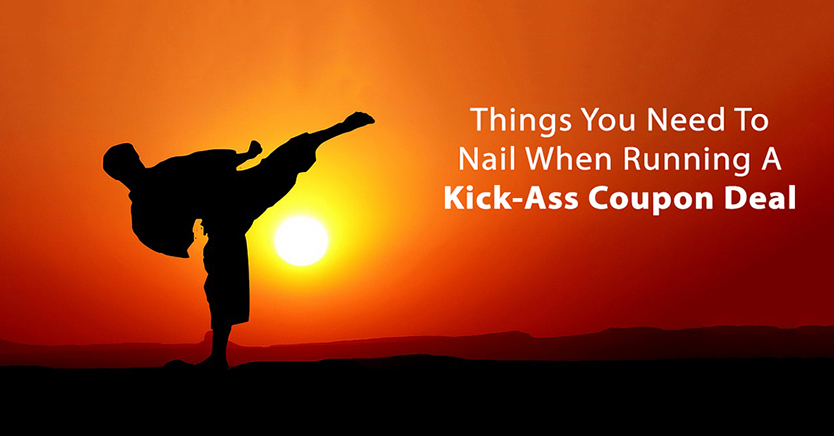 Everyone loves a great deal.
Whether they're rich or poor, the concept of saving money will encourage prospective customers to engage with your business.
Despite this preconceived notion, coupons remain one of the most underused marketing methods in today's business landscape.
Recent evidence suggests up to 85% of US consumers use coupons, a statistic which by itself is a huge incentive to establish a coupon strategy.
Coupon sales are renowned for increasing sales, which is the ultimate goal of any company operating for profit.
So why not develop an advanced coupon strategy?
You could be losing significant revenue if you don't, so now is your time to offer some serious value to customers!
Your main priority will always be centered on crafting profitable offers with mutual benefit for both company and customer.
Initiatives like these are crucial for long-term success.
When discounts are devised, it's important to evaluate how they will either make money or benefit your business in some other way.
Failing to recognize the financial outcome of your approach is a sure fire recipe for disaster.
You should pay close attention to how your offers will incentivize new customers.
Coupons are a great way to lure price-sensitive customers, with an appreciation for how price fluctuations affect consumer demand.
Successful deals are usually offered to consumers who are more price-sensitive than your general audience.
People who assign less value to your product or service will be attracted by the offer in question, and with time swayed toward paying full price for your product or service.
Influencing customer opinion/value is a long term goal for any successful coupon campaign.
Growing your business with coupons has never been easier, but how exactly should you execute this?
Fortunately it's never been easier to create a discount area in the checkout section of your website, but this only tells half the story.
If you're intrigued to find out more, you'll be pleased to discover the following fantastic tips for running a successful coupon campaign.
But before we get to the nitty gritty, let's begin with an overview of how a coupon code strategy will revolutionize your business:
Why Coupon Codes?
Reduce Cart Abandonment

Cart abandonment is extremely common when you're dealing with online retail.
It is perhaps one of those most dreaded scenarios in any business context.
When consumers engage with your business but don't follow through with the normal checkout procedure, you're looking at a lost sale.
With a coupon code strategy you'll stand a much better chance of elevating visitors to paying customers.
It's a matter of timing. If a coupon code is pitched to abandoning visitors at the right moment, the fear of missing out on a great deal will often be enough to convert them.
This can be achieved by triggering popups that arise when people intend on leaving.
By offering visitors a deal they can't resist, at an opportune time, you'll slow the rate at which they abandon your website.
Brand Awareness

Generating awareness around your brand is a great way to take your business to the next level.
Brand awareness often revolves around simply exposing your organization to the paying public, especially to the section of the market where your target demographic lies.
There are numerous websites which are essentially glorified coupon code libraries.
These maintain comprehensive lists of coupon codes from thousands of websites across the web.
Kickstarting your coupon code strategy will elevate your presence within the online realm, increasing exposure significantly.
More and more people will encounter your business logo when your coupon codes are listed online.
Even if they don't use your coupon, they'll at the very least become familiar with your branding.
The more people who learn about your business, the more will be likely to visit your store.
Increase Sales

The modern day consumer typically browses online for deals prior to visiting a website of their choice.
In fact, the deals available to them often dictates the website they will inevitably visit.
Because customers are regularly searching for coupons, if you fail to offer regular deals you'll lose out on sales.
When consumers visit your store having been prompted by a relevant coupon offer, they're much more likely to buy.
The right coupon strategy functions to boost sales, profit, conversion, and traffic.
This collectively contributes to an improved bottom line.
Now we've established a foundation, let's proceed with greater insight into running an effective coupon code campaign:
3 Tips for Running An Effective Coupon Code Campaign
Targeting the Right People

Consider the audience each coupon code will appeal to.
Use your findings to determine which type of coupon codes to create, with consideration for the type of consumer that's most sought after given your current circumstances.
For example, discounting popular items will attract bargain-hunters, but what is the likelihood they'll become repeat customers?
Slim to none, but a useful alternative is discounting high-margin items to attract niche groups within your customer base.
Targeting the right people has a lot to do with offering discounts to new customers only.
When existing customers can pay less on purchases they'd normally make regardless, this is a lose-lose situation which sways from the overriding purpose of a coupon strategy.
Implementing Soft/Hard Deadlines

Using a combination of the two is a great way to incentivize customers.
Hard deadlines are great because they increase the pressure to buy now, capitalizing on the 'fear of missing out' principle.
Imagine you discover an incredible discount which is due to expire in 24 hours, would you feel the pressure to buy within the timeframe?
Time restraints can positively influence consumers but the freedom to do it within a timeframe can also be encouraging.
Soft deadlines provide an opportunity to reassess your strategy based on real-time results.
If a coupon code has a soft deadline, i.e. no specific time to purchase by and receive savings, this offers an advantageous level of flexibility.
The offer will remain on the market for longer, luring customers in for a longer duration, and consumers will feel relieved and intrigued by the concept of around the clock savings.
Establishing a balance of soft and hard deadlines will help you benefit from coupon code strategy.
With experimentation you'll develop a method best suited to your individual needs and requirements.
Set Clear Objectives

This is essential across multiple business functions, but especially important in reference to directing traffic to your company.
Without realistic goals the scope of achievement reduces significantly.
Key objectives for devising a coupon strategy stem from understanding why your business needs a coupon campaign, to addressing whether you seek repeat customers or simply desire an increase in short term sales.
Though your campaign will be accompanied by basic objectives, this will create scope to monitor, compare, analyze, and even duplicate your campaign.
Here are some common goals for establishing a coupon strategy, some of which should be consistent with your current situation:
Brand Awareness
Increase Sales
Build an Email List
Reduce Cart Abandonment
Establish Repeat Customers
Your strategy should be based on your most important objectives, not the other way around.
This underlines the importance of establishing clear goals and objectives in advance to avoid running before you can walk.
Crafting your strategy based on careful planning is a measured approach which will be elevate your shot at success.
Ultimately your campaign will be run off the back of your goals and objectives, which should be clearly communicated to all stakeholders to create alignment and consistency.
If you're keen to work on your coupon code strategy, explore one of many WooCommerce Plugins which will make your life considerably easier!