Easily Add WooCommerce Points & Rewards Features To Your Store
The #1 WooCommerce Loyalty Program Plugin
Grow Your Repeat Purchases, Reward Your Best Customers
Bring your most loyal customers back to your store with a WooCommerce loyalty program. Help them earn points & rewards in WooCommerce for making orders, leaving reviews, commenting, making an account + more!
Customers Can See How
Many Points They're Earning
This WooCommerce loyalty program plugin is designed to be a bolt on addition to your store. It slips right into the natural workflow of WooCommerce.
Smartly add small, customizable notices to signal to customers throughout their purchase journey so that they can see and understand how the points work.
Customers Self Manage &
Redeem Their Points
No one likes an admin management headache – that's why our Loyalty Program WooCommerce plugin is designed with self-service in mind. It's 99% handsfree for the store owner.
Customers can view their balance and redeem points at any time via the new My Points page on their My Account area.
It's easy to use and helps them through the process of redeeming their reward.
Admin Reports & Manage Points Easily
As a store owners it's important for you to have a handle on how your WooCommerce loyalty program is performing.
This includes being able to know how many points are out there in your customer base, what their value is, how many people have redeemed and what value of coupons are waiting to be used.
You can also easily manage people's points and see what actions earned them their rewards.
Lots Of Ways To Earn Extra Points
There's lots of ways your customers can earn WooCommerce points & rewards with our Loyalty Program plugin. 
It's super simple to configure and you can turn the options on/off based on your needs with the flick of a switch.
To set up a new earning action, simply turn the action on and configure how many points the users will receive for doing that action. 
No custom code necessary and no messy templates to override. It's a true no-code solution for running a loyalty program in WooCommerce.
In 5-Minutes You'll Have Your Own WooCommerce Loyalty Program
Getting Started With Loyalty Program (How To Add Reward Points In WooCommerce)
One of the main challenges of running an online store is trying to retain your customers. With so much competition out there, it can be difficult to attract repeat orders from your site visitors. This is where reward points for WooCommerce store come into play.
By using an incentive such as a loyalty program, you can get your customers to spend more money and return to your store to make another purchase.
In this post, we'll take a closer look at loyalty points and how they work. We'll then show you how to add reward points for WooCommerce orders in a few simple steps. Let's get started!
What Reward Points Are (And How They Work)
Reward points are a common incentive used by brands to encourage customers to make additional purchases. This scheme can be very effective. In fact, a recent study shows that in the past year, 45 percent of consumers made one to three purchases due to incentives like loyalty points.
There are several ways you can implement reward points into your online store. For example, customers can earn points when they spend over a certain amount of money. You could also add different points for different products.
These points can then be redeemed for coupons. For instance, 100 points can translate to a 20 percent discount on the next purchase or a free gift.
If you have a WooCommerce store, setting up a loyalty points system can be a pretty straightforward process. Out of the box, WooCommerce does not offer a rewards program. However, you can use a powerful tool like Loyalty Coupons for Woocommerce plugin from Advanced Coupons to easily launch a loyalty program and introduce reward points for purchases made at your store.
Our plugin gives you all the tools you need to create a point-based reward system for your WooCommerce store. For instance, you can offer points for multiple actions, from placing orders to commenting on blogs and leaving reviews. Let's take a closer look at how it works.
How to Add Reward Points for WooCommerce Orders (Easy Way)
To get started, you'll need to purchase our Loyalty Program for WooCommerce plugin. Alternatively, you could choose our All-In-One Bundle plan offered with Advanced Coupons Premium, which gives you access to both of our WooCommerce plugins.
Step 1: Activate both the Loyalty Program plugin and Advanced Coupons Free plugin
All of the plugins from Advanced Coupons including Loyalty Program for WooCommerce need the free Advanced Coupons Plugin to run.
Just click the green button to download and then you need to activate the free plugin.
After activating both the Loyalty Program for WooCommerce and the Advanced Coupons for WooCommerce Free plugin, you can simply access the Loyalty Program features by navigating to Coupons > Loyalty Program in your dashboard.
Step 2: Customize your reward points for WooCommerce
Now that your plugin is all set up, it's time to configure your reward points. Start by heading to Coupons > Loyalty Program, then click on the Settings tab.
By default, our loyalty program awards one point for every dollar spent, and rewards can be redeemed once users collect 10 points. However, feel free to modify these settings any way you wish:
For instance, if you change the price to points earned ratio to 5, it means that users will get 5 points for every dollar spent. Meanwhile, the Points to price redeemed ratio option enables you to set a value for your points. For example, if you set a ratio of 50, then 50 points are worth one dollar.
Once you're done, you can select the Points Earning option in the side menu to access more settings. In the Points Calculation section, you can choose the costs you want to factor in when calculating reward points, such as taxes and discounts:
You can also select the minimum threshold for earning points. For example, customers may only be eligible to collect points if they spend at least $50 per order.
Next, we have Points Messaging. This section lets you customize the messages that users will see when they are able to earn points:
These messages will appear on the cart page, checkout page, and individual product pages. If you don't want to display the message, simply erase the text from the relevant field.
As an example, here's what this message will look like on a customer's cart page:
Now, let's move on to Point Amounts. Here, you can select the actions that will help users earn points:
You can also define the number of points for each section. For instance, users who comment on a blog post may receive 20 points. You also have the option to set breakpoints for spending over a threshold and select promotional periods during which users will receive extra points.
Step 3: Set the conditions for using reward points
Finally, you might also want to set a few conditions for using reward points. On your Settings page, click on Redemption Expiry in the menu: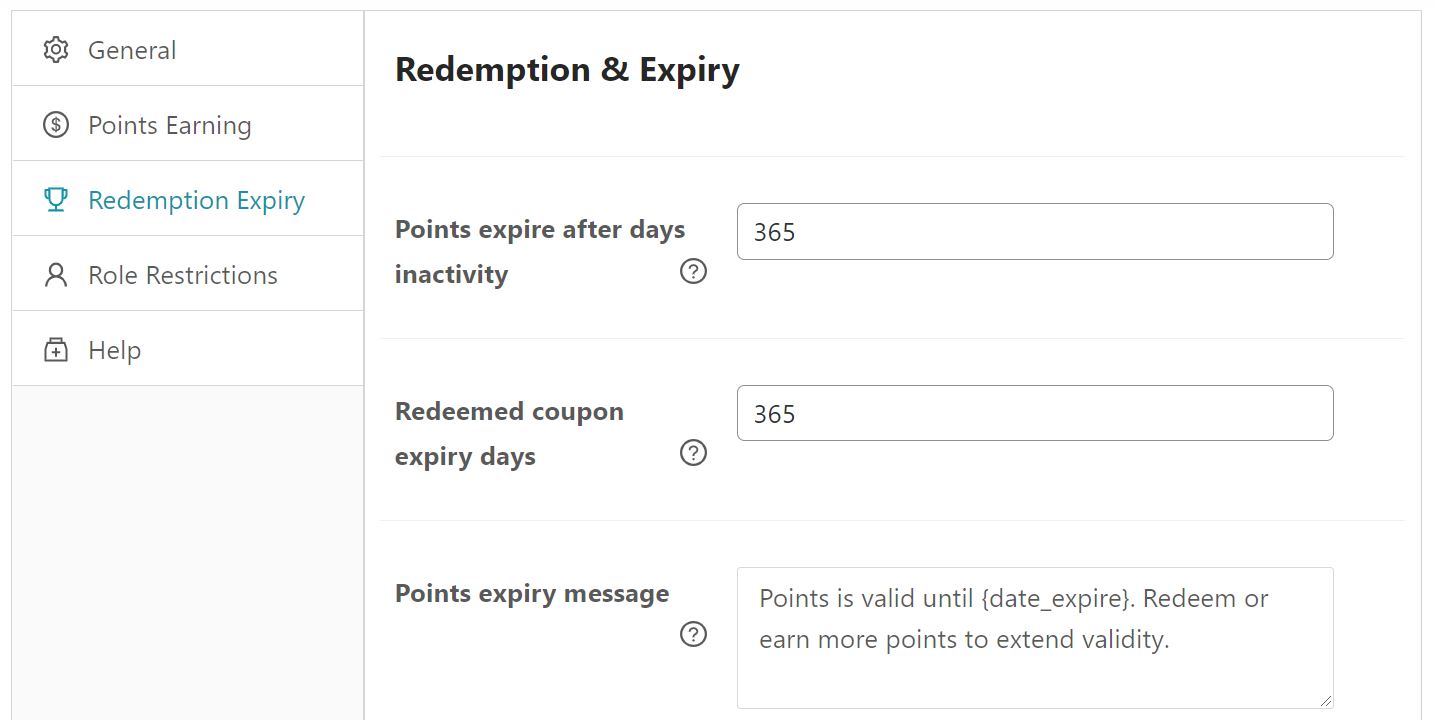 Here, you can define an expiry time for inactive reward points, and set the number of days that a coupon will be valid for after being redeemed. You can also customize the expiry message for your customers.
Additionally, you may want to prevent particular users from accessing points. To do this, select the Role Restrictions option:
Next, click on the field and choose the user roles you want to exclude from your loyalty points program. These users will not see the points feature in their accounts and checkout pages.
That's it – your reward points system is now up and running. You might want to visit your site on the front end to ensure that your shoppers can easily see the reward points when browsing through your shop.
Get The Best WooCommerce Loyalty Program Plugin