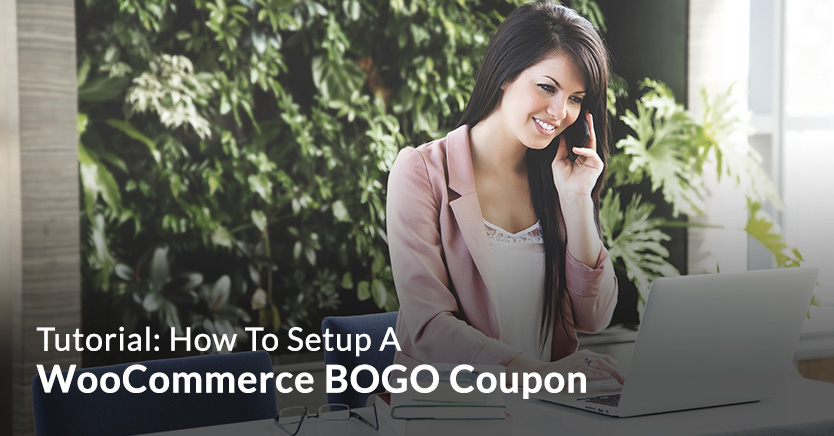 Are you looking to set up a WooCommerce BOGO coupon? Looking for the best WooCommerce BOGO plugin to help you do it?
This article will take you through creating a BOGO pricing deal in WooCommerce.
WooCommerce BOGO Coupon
What exactly is a BOGO? It sounds weird!
BOGO is an acronym that stands for Buy One, Get One which is a type of pricing deal very popular in retail.
For example: "Buy 2 T-Shirts and Get 1 T-Shirt Half Price"
A BOGO coupon, therefore, is a coupon that your customers can use to redeem one of these deals.
In WooCommerce, it's actually not possible to run a BOGO style promotion unless you have an extension that adds the features needed to the store.
There are many plugins around that do this, but perhaps the simplest, and most comprehensive, of them is Advanced Coupons.
Advanced Coupons is an extension plugin for WooCommerce that adds extra features to your standard coupon interface. One of those features is for running Buy One, Get One style deals.
Here's what the interface looks like for BOGO deals: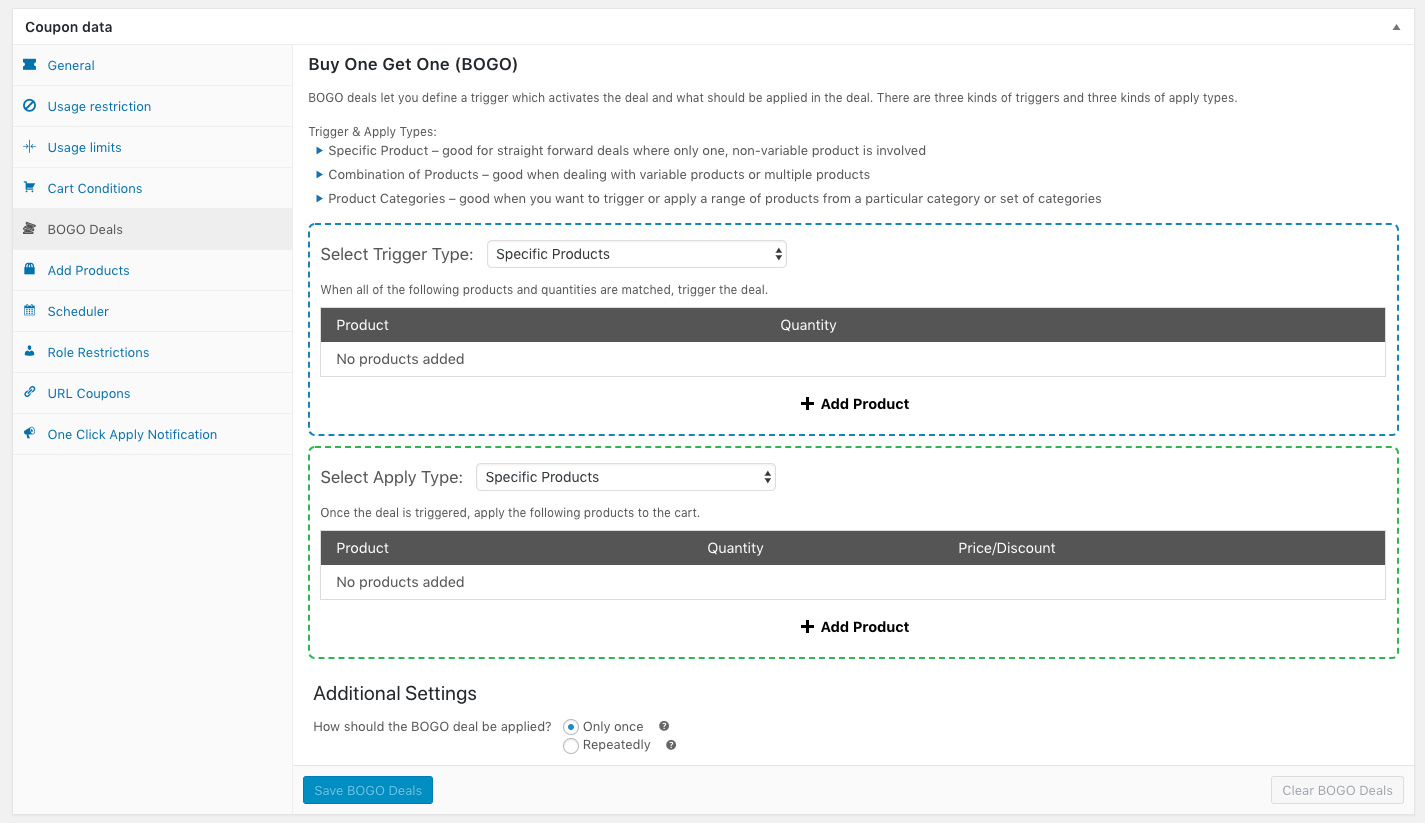 This interface you're seeing here is part of Advanced Coupons. If you don't have Advanced Coupons installed right now you won't have very many settings tabs down the side here when you go to add a new coupon.
Advanced Coupons has a lot of great features. BOGO is just one of the major ones and the one we're concentrating on today.
How WooCommerce BOGO Coupons Work
As you can see by the screenshot above, there are a few options for WooCommerce BOGO deal coupons with Advanced Coupons. We've designed the interface to be quite simple but more flexible than other solutions at the same time.
Here is a comprehensive video tutorial which shows you how to use the BOGO deals features in Advanced Coupons:
BOGO deals if you aren't familiar are the kind of deals where you buy something and get something else.
Here are some examples:
Buy a coffee pod machine and get a free pack of coffee pods
Buy a coffee pod machine and get your first pack of coffee pods half price
Buy 2 pairs of shoes and get a third pair free
Buy 1 t-shirt and get another t-shirt half price
Traditionally doing this in WooCommerce has been really hard if not impossible. There are some plugins out there that claim to do it, but when you go to actually use them they're restricted to only catering for a couple of these BOGO types, not all of them.
All of the mentioned BOGO deals are possible in Advanced Coupons. There's heaps of flexibility too so you can run even more types of BOGO deals too.
To understand how BOGO coupons work, you'll need to understand the three trigger types:
Specific Products
Any Combination of Products
Product Categories
What is a Trigger Type?
A trigger is what causes a BOGO deal to become active. It is what the system sits there waiting for in order to give the customer the deal.
Think of it like, under what conditions should a customer get this deal.
For example, if they need to have a certain coffee pod machine product in their cart, you would specify it here.
The Trigger Type is determining how that trigger works.

Specific Products
The specific products trigger type lets you choose to trigger a BOGO deal when there are specific products in the cart.
Meaning you have to specify exactly what products should be in the cart and in what quantities before the deal becomes active.
This is good for cases where the product you are promoting is exactly known such as a certain model of a coffee pod machine.
Any Combination of Products
You also can choose whether it should trigger on any combination of a list of products. This is handy for promotions where they're allowed to have any combination of a set of products but the products have no other particular grouping.
It will trigger the deal as long as there is any combination of those products in the cart as long as the total quantity requirements are met.
This type is also handy for running BOGO deals on Variable product types which is where many other WooCommerce BOGO plugins fail. You can specify all of the variations of a product in here and it will treat every variation like an individual product (which is how WooCommerce actually sees them too).
For example, if you have a t-shirt promotion where they need 2 shirts in the cart. If you offer a specific shirt in blue and red and green, they can choose any combination of those and as long as the overall quantity is 2.
Product Categories
And lastly, you can choose whether it should apply based on a product category.
For example, any 2 products from this specific category/categories.
This works really similar to the Any Combination of Products trigger type, but it just uses all products in that category or categories at the specified quantities.
What is an Apply Type?
The Apply Type focuses on the "get" part of the deal. What should they get, specifically, if the deal has been triggered. It's called "Apply Type" because it is focused around what is being applied as part of this deal.

Specific Products
The Specific Products Apply type means they get a specific product at the quantity you say. You can also tell it to override the price, give a % amount off that product, whatever you need.
And because it's a specific known product in a known quantity, the system will actually add it for them.
It adds that product or products to the cart automatically to reduce the amount of work the customer has to do.
Any Combination of Products & Product Categories
Next is the Combination Products and Product Categories types and they work a little differently. I'm going to talk about them together because essentially they behave the same.
When a customer triggers a deal, what the system then needs to do in order to fulfill the deal is have the "Apply" product put into the cart.
Because the system doesn't know exactly which product to put in the cart, this is where we need some intervention from the customer. In short, they need to select the products they want.
How does the customer know when/which products to add?
As mentioned when you use the Any Combination of Products or Product Categories apply types, the system will not know which products the customer wants to add to their cart, so you need to tell them.
For this, the plugin lets you define a message that will show to the user in this situation. It's called a BOGO notification.

You can customize this message however you want, for example:
Notice setting:
Yay! You've just triggered the 2-for-1 t-shirts deal, add one more product from the T-Shirts category and you'll get it for free!

Button Text:
Choose Free T-Shirt

Button URL:
http://example.com/product-category/tshirts-clothing/

Notice Type:
Success
When the deal is triggered and the coupon is added it would look something like this on the cart: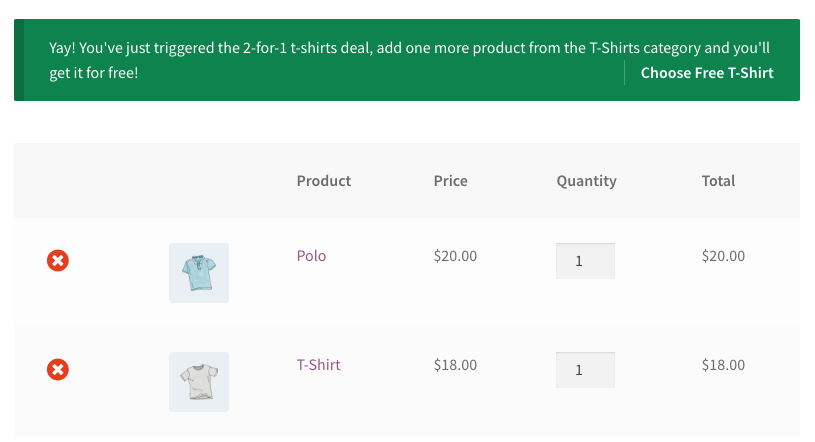 This message serves as the instructions for what to do next, but it doesn't actually add the products. You should direct them to the area on your site where they can add the correct products (eg. the product category or shop page).
How customers claim the products in the deal [UPDATED APRIL, 2019]
Once a customer triggers a deal, they now need to apply the product for the Apply portion of the BOGO.
Previously, Advanced Coupons used to make you add an extra button called the "Add as deal" button.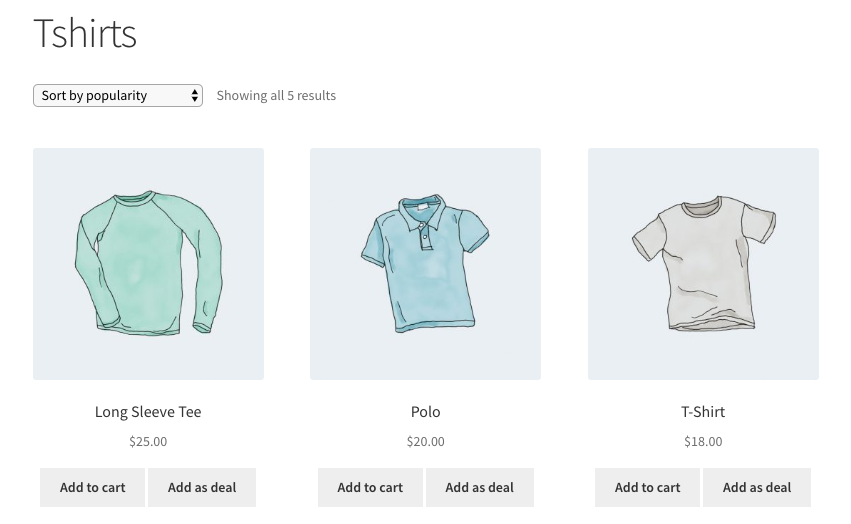 In April 2019, we released an update that makes the whole adding products for the deal process MUCH simpler for your customers, all they have to do now is goto the product they want and add to cart as normal. There is no extra button or process to do.
Once they click through on the notice (or navigate to the correct place themselves) they will be able to choose a product to add.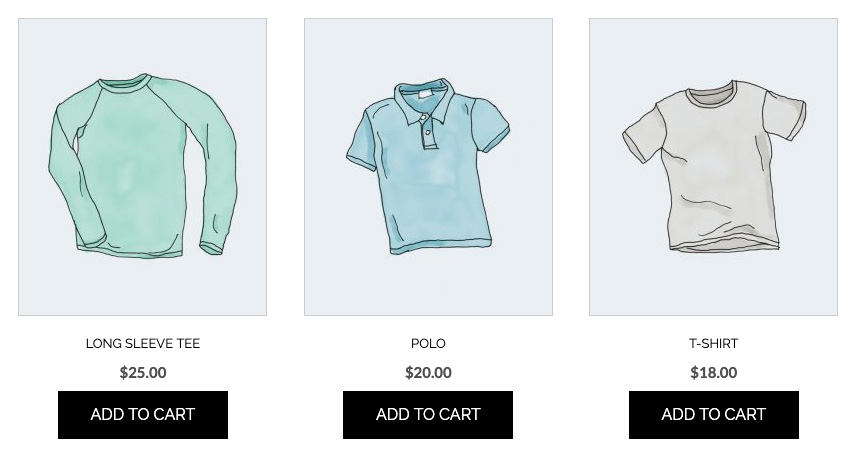 This can be done from the shop, category archive, single page or even just by adjusting quantities on the cart itself. It doesn't really matter. Advanced Coupons is smart enough to detect which product to give.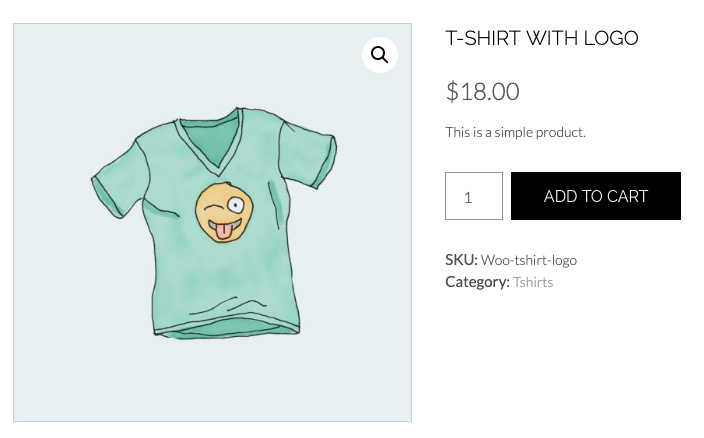 Once they add the product as part of the deal to the cart, the plugin takes care of the rest. Making sure that the terms of the deal (the Apply conditions) are met.
In this case, the third shirt was given with 100% discount: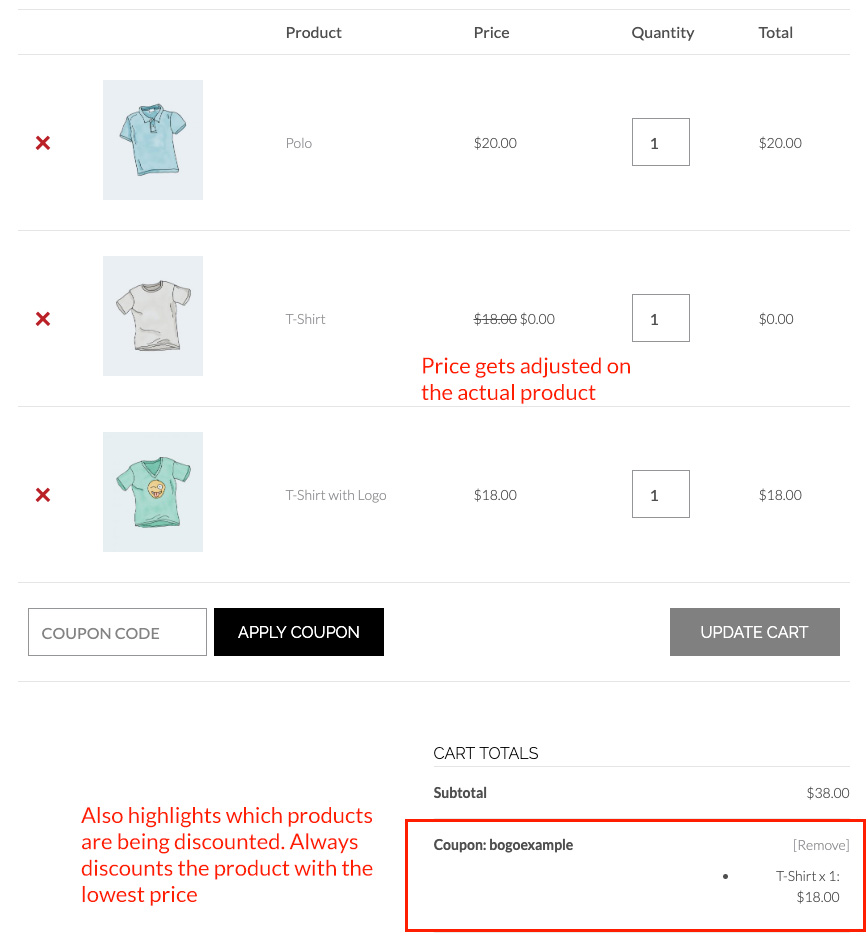 The great thing about this is that if they remove one of the products which triggered the deal, and that means the trigger conditions are no longer met, then the coupon will be removed along with the product that was applied as part of that deal.
Likewise, if another product that gets added which also qualifies, but is cheaper, the deal will swap it over to that product instead.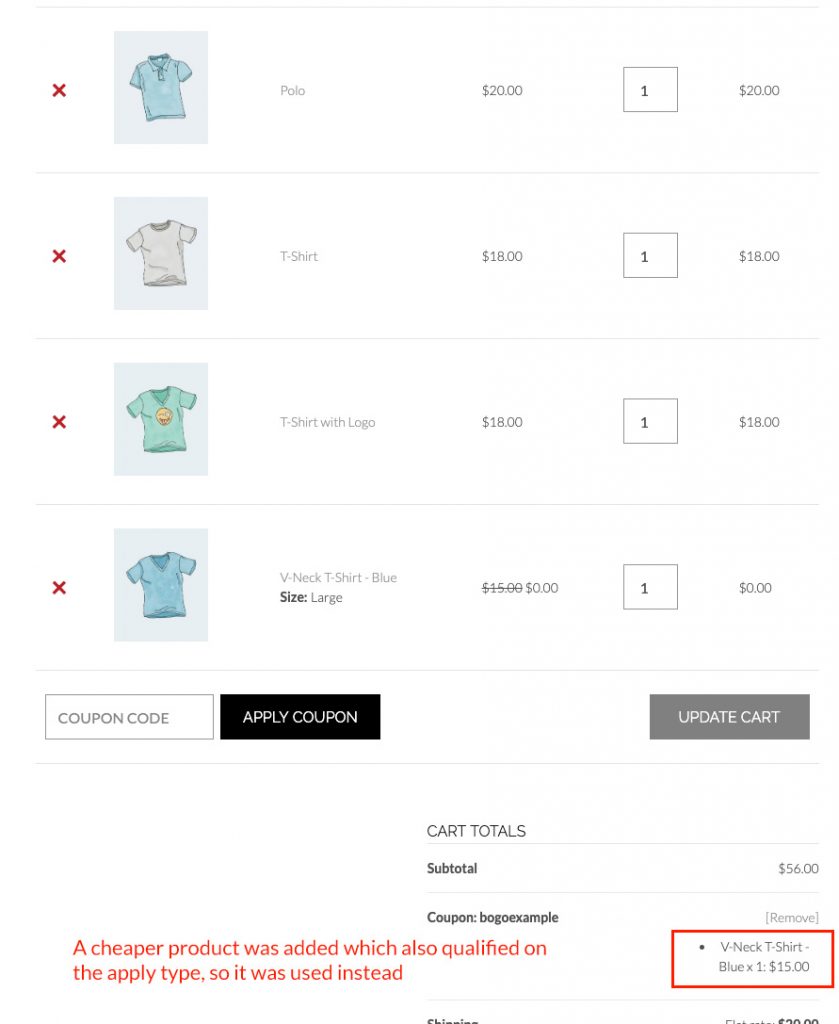 It makes it impossible for the customer to claim the deal without satisfying the deal terms first or claim for most expensive products than they are entitled to.
Advanced Coupons has your back Mr/Mrs. Store Owner 😉
Automatically Applying WooCommerce BOGO Coupons
So can you take this one step further?
Yes, the next logical step is to automate the application of the deal and for this, we will introduce two other features:
Cart Conditions
Auto Apply
Cart Conditions lets you determine whether a coupon should be allowed to be applied or not. Here's a little article which explains what conditions you can test for.

When you try to apply the coupon it will check the cart conditions you have set and if it doesn't match it will not allow the coupon to be applied.
This is great when you want to test for conditions like whether certain products are in the cart or whether there are products from a certain category in the cart.
In our example here, we want to also pair this with the Auto Apply feature.

Auto Apply lets you apply WooCommerce coupons automatically. It will apply only when the Cart Conditions that you have set are true.
Both of these features working in tandem mean that you can have a coupon like a BOGO deal be triggered automatically, surprising and delighting the customer.
WooCommerce BOGO Plugin
So to wrap up, yes, it is possible to run BOGO deals in WooCommerce.
Advanced Coupons is possibly the most comprehensive, yet easiest to use, especially from the customer's perspective. It's also very flexible too. As a store owner you're able to run all kinds of deals you couldn't run before.
Remember BOGO is just one part of Advanced Coupons, if you want to see what else Advanced Coupons has to offer, just head over to the pricing and features page for a full rundown.