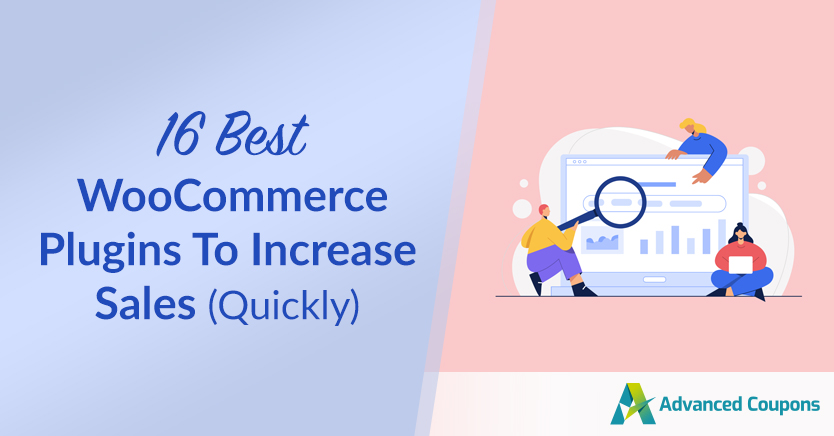 Are you looking for WooCommerce plugins to increase sales on your store? There are different strategies that you can try, from offering coupons and discounts to running competitions and growing your email list. However, these sales techniques can feel a little challenging for small business owners. 
Fortunately, there are several tools that can make your life easier. By adding a few powerful plugins to your online store, you should be able to attract more customers, increase your client retention, and get more subscribers.
Best WooCommerce Plugins To Increase Sales
In this post, we'll look at some of the best WooCommerce plugins to increase sales. Let's get started!
Offering coupons can be an effective way to encourage shoppers to spend more money at your store. While this feature is already available on WooCommerce, its functionality is a bit limited.
Our Advanced Coupons plugin comes packed with a variety of advanced options. This includes coupons for discounts and free shipping.
Our plugin also enables you to set some conditions and rules for coupon usage. For example, you can define the requirements that must be met before shoppers can use their coupons. You can also restrict the availability of coupons to certain user roles.
Price: You can get started for free. If you run a large store, you might want to opt for the Premium version.
Email marketing can be a powerful sales strategy. Customers who are happy to provide their email address are also likely to be interested in your latest offers and products.
OptinMonster is a flexible popup builder that helps you get more subscribers and maximize your conversions. For instance, you can create a popup ad that prompts customers to enter their email address in order to receive a promo code.
The plugin also enables you to personalize your popups, so that each ad is shown to the right person at the right time. You can also use its split testing feature to find out which pages are yielding the most conversions.
Price: You can get the free plugin or take out a premium plan.
Another way to boost your sales is to hold giveaways and contests. This can also help you drive more traffic to your site, as some users might share your competition with friends and family.
RafflePress helps you create a giveaway campaign in just a few minutes. It also makes the entry process super easy for users, which can help boost participation in your content.
This plugin can also help you grow your email list. This is because users must enter their email address when submitting their entries. Moreover, RafflePress integrates with popular social media platforms, including Facebook and Instagram. Thus, you'll be able to promote your giveaway on different channels and grow your following.
Price: You can install RafflePress on your site for free. For more advanced features, you can get the pro version.
If you're thinking of taking your wholesale business online, you'll need a tool to help you set up special pricing for your products. You'll also need to define some purchasing conditions for retailers.
This is where Wholesale Suite comes in. This plugin integrates with WooCommerce to help you manage your wholesale transaction more efficiently.
Wholesale Suite comes with a lot of handy features. This includes a variety of pricing options, as well as the ability to create certain shipping and payment gateway for wholesalers. The plugin also helps you attract more wholesale customers with a streamlined ordering process and a registration page.
Price: The plugin is available for free. However, you'll need to upgrade to the premium version to enjoy more features.
Starting a loyalty program for your online business can help encourage customers to make additional purchases from your store. A recent study shows that in the last year, 45 percent of consumers have made one to three purchases due to incentives like loyalty points.
Our Loyalty Program for WooCommerce plugin helps you set up a point-based reward system for your orders made at your store. These points can then be redeemed for coupons, such as a discount or a free gift at the next purchase.
With our plugin, you can reward customers for performing different actions on your site. For example, customers can earn points for leaving a product review, completing a purchase, and commenting on a blog post.
Price: We offer different premium versions and you can also get this in the Advanced Coupons bundle.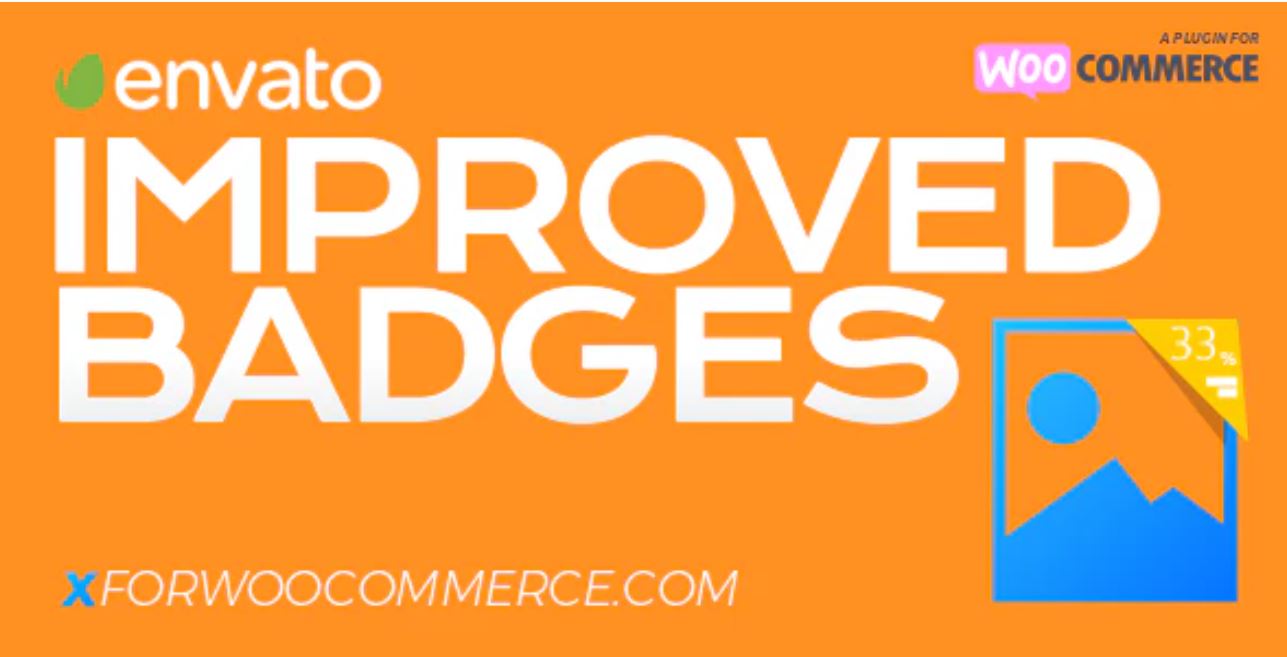 Everyone loves a good sale. However, if your promotions are not immediately visible to your site's visitors, you may be losing potential conversions.
Improved Sale Badges is a WooCommerce add-on that helps you add impactful sale badges to your products. It comes with over 30 unique designs, as well as customization options to help you tweak the badges so that they match your branding.
You can use these badges to display discounts in percentages or the amount of money saved. You can even add a countdown timer for the sale period, and add your own custom text to the badges.
Price: You can purchase a regular licence from Envato.
When done right, Search Engine Optimization (SEO) can help boost the visibility of your store in search engines. This can result in higher traffic to your site and more sales.
To get started, you'll need to install a powerful tool such as All-In-One SEO. This user-friendly WordPress plugin provides you with a vast selection of features to help you improve your SEO and rank higher in Google Maps.
The plugin also lets you control how your content looks when shared on social media. It enables you to easily add title tags, meta descriptions, and keywords for your WooCommerce product pages.
Price: The Lite version of the plugin is free. You can also upgrade to the pro version.
Studying your audience's behavior is essential for business success. Analytics give you an indication of what's working, and what's not. This data can also point out areas for improvement.
Besides being a powerful analytics tool, MonsterInsights is also one of the best WooCommerce plugins to increase sales. This tool integrates with Google Analytics to provide you with in-depth data about your traffic, audience, and site performance.
Moreover, MonsterInsights comes with specialized tracking for WooCommerce. It displays valuable data to help you increase your sales, including your total revenue, average order value, and top products.
Price: You can use the basic version at no cost, or upgrade to MonsterInsights Pro to access more tracking features.
Prompting first-time visitors can be a bit challenging. Users who just happen to land on your site might feel a bit unsure about making a purchase from an unfamiliar place.
While nothing beats word-of-mouth marketing, there are other means you can use to gain a person's trust. TrustPulse helps you leverage the power of social proof with real-time purchase notifications.
The plugin lets you customize the message and type of activity that your store visitors will see. For instance, users might see a notification that informs them of recent purchases made by other individuals. If they can see proof that other people are also buying items from your shop, they might feel more confident about their own purchases.
Price: There are different premium plans available.
Most shop owners would agree that customer service can make or break your business. However, if you run an online store, the lack of face-to-face contact can make interactions with customers a bit more challenging.
LiveChat facilitates instant and efficient communication with your visitors. Thanks to this platform, you'll be able to chat with clients in real-time and solve their problems in a timely manner.
You could also combine human interaction with chatbots. Thus, clients will be able to reach you any time of the day. LiveChat also integrates with a variety of apps, including Facebook, Messenger, and WhatsApp.
Price: LiveChat is a premium plugin.
Reaching out to clients can help you generate more conversions. For instance, you might want to remind them that they still have some items in their shopping cart, or that a product that they were interested in is now on offer.
PushEngage is one of the best WooCommerce plugins to increase sales. This tool tracks every visitor's behavior and sends them automatic push notifications. The messages are tailored to the user's needs.
With PushEngage, you can also set up automatic drip campaigns and schedule time-sensitive promotions. You'll also have access to A/B testing and in-depth analytics to help track your conversions.
Price: You can get started for free, or upgrade to a premium account.
If you're not making enough sales, you may want to check the visibility of your products. For instance, small images and unclear descriptions may be negatively impacting your conversions.
Yith Quick View helps you solve this problem. Thanks to this plugin, your site visitors will be able to view larger photos of your products and read the descriptions in bigger text. You'll just need to add a button that will open a modal window with the product summary.
Price: The plugin is free.

Shoppers might be unable to complete an order if the shopping cart button on your store is not easily accessible. WooCommerce Menu Cart enables you to add a cart icon in your navigation bar.
You also get a variety of customization options. For example, you can choose to display the cart along with the items or the price. You can also adjust the position of the button in your menu.
Price: Free with a pro version.
Enabling customers to shop in their preferred currency can be another way to increase conversions. Aelia WooCommerce Currency Switcher makes it easy for shop owners to display prices and accept currencies in different currencies.
The plugin allows you to set exchange rates and prices manually, or opt for automatic calculations. You can also enable automatic currency selection, based on the customer's shipping and billing address.
Price: This is a premium plugin.
Running an online business can be exhausting. If your store is powered by multiple tools and features, you may struggle to stay on top of things. In this case, a plugin like Uncanny Automator can be a lifesaver.
This handy tool lets you set up automatic processes for various tasks. For example, you can choose what happens with different form submissions and product purchases. This will streamline your workflow and free up a lot of your time so that you can focus your efforts on growing your business.
Price: Free with premium options.
If you're still looking for the best WooCommerce plugins to increase sales, you might want to check out Metorik. This e-commerce plugin helps you run your store more efficiently by providing you with real-time reports and product insights.
Metorik also comes with a lot of other useful features, including email automation and data segmenting. It also enables you to send abandoned cart emails to encourage users to complete their orders.
Price: Metorik is a SaaS tool that hooks up to your store.
Conclusion – Top WooCommerce Plugins To Increase Sales
There are different ways you can boost your sales. For instance, you host competitions, run promotions, or send newsletters. Fortunately, there's a broad range of tools that can help you reach your business goals.
In this post, we looked at some of the best WooCommerce plugins to increase sales. Advanced Coupons and Loyalty Program for WooCommerce enable you to incentivize your customers with points and coupons. Meanwhile, email marketing tools like OptinMonster and PushEngage can help prompt undecided users to complete an order.
Do you have any questions about the tools mentioned in this post? Let us know in the comments section below!