Advanced Coupons – The Best Free WooCommerce Coupon Plugin
Trusted by over 15,000+ WooCommerce store owners worldwide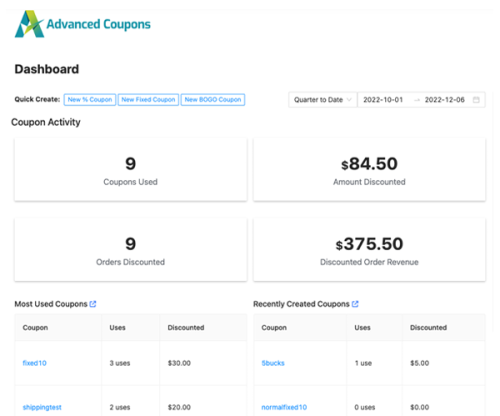 The Indispensable Coupon Extension Trusted By 15,000+ Store Owners Worldwide
Our mission is to be that indispensable free WooCommerce coupon plugin and marketing discount tool.
We're well on our way to making that happen. Thousands of store owners are powering up their promo codes with Advanced Coupons.

"Advanced Coupons for WooCommerce Coupons is a full-featured plugin that handles all coupon options that I can imagine."

"Elle tient ses promesses en offrant déjà beaucoup dans sa version gratuite. Et elle se rend carrément indispensable dans sa version Premium."

"This plugin achieved what I needed and with the help of the support, I was able to get a specific requirement up and running in no time!"
"I ran into an issue requiring support (not a problem with the plugin) and I'm happy to report they responded in less than 24 hours."
"It works perfectly as described, very seamless and even the free version is amazing, I am gonna upgrade very soon. Keep the good work guys!"
Get Better WooCommerce Coupons With Advanced Coupons Free Plugin
The Most Flexible WordPress Coupon Plugin Tool For Your WooCommerce Store
A Whole Range Of New WooCommerce Discount Coupon Types
& Promotion Options For Your Store!
WooCommerce is a great tool for setting up an online shop, but when it comes to promoting that store the coupon features included are underpowered and often leave store owners wanting more flexible promotion options.

That's where the Advanced Coupons WooCommerce coupon plugin free version comes in.
Advanced Coupons will turn your store into a promotion powerhouse with a host of great smart coupon feature extensions. You can have it add WooCommerce free products, run Buy One Get One deals, add special coupon rules/cart conditions, do discount code scheduling, have coupons auto-apply themselves, promote coupon codes using URL coupons, creative shipping coupon deals, and loads more!