Advanced Coupons For WooCommerce
Get Better Results With Better Coupons
 14-day 100% money back guarantee. Expert email support.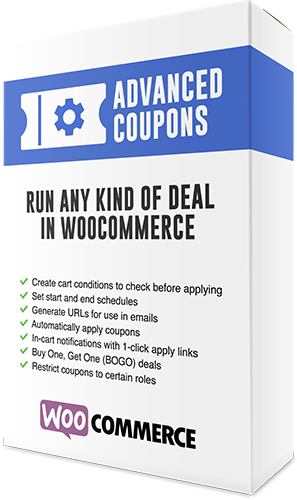 Happy Store Owners Using Advanced Coupons
Stores around the world are turning to Advanced Coupons to make their store marketing better.

Peter Boxall

(Store Owner)
5

5/5 Stars
"I use this thing religiously. The amount of styles of deals that I'm now able to do is awesome. Definitely couldn't run my store without it anymore."

John Banitsiotis

(Agency Owner)
5

5/5 Stars
"The clients we build stores for have always been frustrated by the default coupon options in WooCommerce. With Advanced Coupons they just have much more flexibility than before."

Christopher Michael

(Store Owner)
5

5/5 Stars
"I've needed some relatively unique coupon-based pricing rules for a long time, that I could never accomplish until I found Advanced Coupons, it's made things a lot easier for how I run my promotions!"
Features That Bring More Customers To Your Store

Bob Dunn

(WordPress Expert)
5

5/5 Stars
"For most shop owners, using coupons on their WooCommerce online stores is essential. But basic coupon features don't always give enough flexibility and creativity for running the best customer deals. That's where WooCommerce Advanced Coupons plugin comes in."

Colin Newcomer

(Freelancer)
5

5/5 Stars
"If you offer a lot of deals at your store, you'll love the flexibility that the plugin gives you. And because Advanced Coupons is based on the native WooCommerce coupon functionality, you can keep using any other coupon workflows at your store."

WP Mayor

(Industry Blog)
5

5/5 Stars
"Coupons have such great ability to transform your WooCommerce store into a money-making powerhouse, you just have to structure them right and have the right tools behind you."
Cart Conditions
Check for certain conditions to match prior to applying a coupon. You can mix and match conditions to create complex rules for your coupons.
Conditions you can check for include:
Product Quantity In The Cart
Product Category Exist In The Cart
Customer Logged In Status
Allowed Customer User Role
Disallowed Customer User Role
Within Hours After Customer Registered
Within Hours After Customer Last Order
Cart Quantity
Cart Subtotal
Has Ordered Before
Loyalty Program
Run a loyalty program for your store. Let your customers earn points on orders and have them self-redeem coupons.
You set what a point is "worth" in the system
Name your points. Eg. Loyalty Points, Doggie Rewards, Baby Credits… whatever you like!
When a customer orders points are given based on their spend
When the customer is ready, they can turn their points into a coupon
It's easy – just like using any other coupon – so there's no learning curve for customers
Points are only accumulated on actual money spent & you can't get points on top of points
Buy One, Get One Deals (BOGO)
Easily run BOGO deals that match the "Buy" X quantity of a particular item or items from a particular group of products/category and "Get" X quantity of a particular item or items from a particular group of products/category.
Add Products With A Coupon
Have products automatically added to the cart when a coupon is applied. You can also choose to override the price, apply a fixed discount to that item's price, or apply a % based discount to that item's price. You can even have the coupon add multiple products.
Start & End Schedules
For time sensitive deals, configure a start and end schedule for your coupons. This allows you to automatically turn on/off a coupon and supply a message for when it's outside of those times.
Restrict User Roles
Run a store with multiple user roles? You can restrict which user roles are allowed to use a coupon at a high level. This means you can create deals just for wholesale customers, deals just for guests, deals just for registered customers… and it works with whatever special user roles you have on your store.
Automatically Apply Coupon
Once you define your Cart Conditions (see above) you can choose to have your coupon automatically applied. When this feature is in action it will monitor your customer's cart to see if the conditions you set have matched. When they match the customer will have the coupon automatically applied to their shopping cart.
One-Click Coupon Notifications
If you have a special deal you'd like to tell people about you can use Coupon Notifications to tell them when they get to the cart and give them a single button to click to apply a coupon they are eligible for. This message only shows up when the Cart Conditions (see above) that you define have matched. It's similar to the auto apply feature, but instead you get to give some messaging and a button before applying the coupon.
URL Coupons
Make your coupons just "too easy" for your customers to use with URL coupons. You can provide a URL that, when visited, will apply the coupon. You can use these links anywhere, some suggestions include email campaigns (attached to nicely designed buttons), support messages, live chat, Facebook and more.
Shipping Overrides
Want to override the cost of a particular shipping method with a coupon? Using shipping overrides you can run campaigns that let you override the price, apply fixed discounts or % based discounts to specific shipping methods. Imagine being able to say "Last Minute Special: 50% off Express Shipping!"
Have a question about this product? Contact us, we'd love to hear from you.