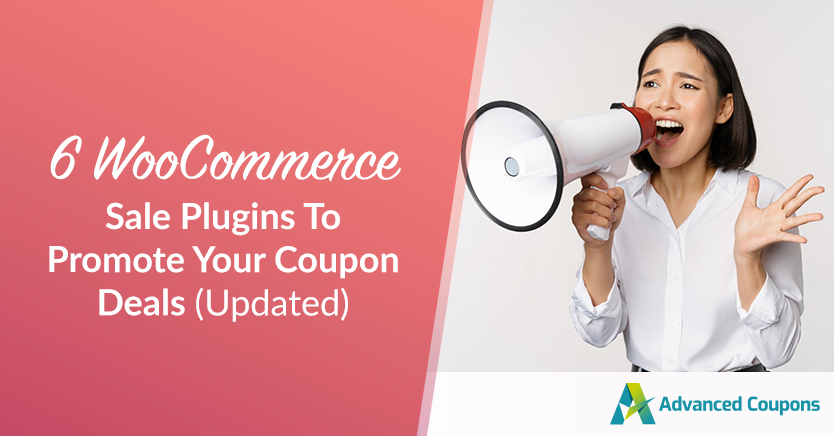 If you want your WooCommerce store to grow, then you need to promote your deals using the ideal marketing tactics for its audience. With the right WooCommerce sale plugins, you'll be able to promote deals using coupons, push notifications, and much more.
There are a lot of choices when it comes to picking the best WooCommerce sale plugin. Whichever option you choose should depend on what type of marketing you think will resonate the most with your customers. If you want to go all-in, though, you can also use multiple sale plugins.
In this roundup, we're going to introduce you to our six top WooCommerce sale plugins that you can use to promote products and deals on your store. Let's get to it!

You're probably already familiar with our Advanced Coupons plugin. In a nutshell, the plugin takes WooCommerce's existing coupon system and gives you a whole lot more options to play with.
Using Advanced Coupons, you can create almost any type of coupon that you can imagine. That includes discount and free shipping coupons, offers that only work for specific user roles, and much more.
Advanced Coupons also comes with a powerful cart conditions system that prevents coupons from activating unless users or their purchases meet the criteria that you set. If you want to use coupons to promote your deals, this is the plugin that you want to use.
Price: Free with a premium license available.
OptinMonster is an all-in-one popup builder and marketing tool for WordPress and WooCommerce websites. Using OptinMonster, you can create highly customizable pop-up adverts and email subscription forms.
You can use these adverts to remind users they items in their cart when they're leaving, showcase limited-time sales, offer one-off coupons, and much more.
Although popups sometimes get a bad rap, they can be incredibly effective when it comes to increasing online sales. As long as the popups that you create don't negatively impact the customer experience, they should prove to be a boon to your store.
Price: Free with premium licenses available.

The PushEngage plugin enables you to send push notifications through your website. That way, if users choose to subscribe, you'll be able to send them notices about new offers, limited-time sales, and pretty much anything else that you can think of.
On average, around 7.8% of users engage with push notifications. That's a fantastic clickthrough rate and using PushEngage, you can start sending push notifications without too much fuss.
The plugin supports notifications on all major browsers and it enables you to segment your audience to send unique messages. On top of that, you can A/B test push notifications to find out what works and what doesn't.
If you're using Advanced Coupons, you can take advantage of push notifications to send limited-time coupon offers, which could help you increase sales dramatically.
Price: Free with premium subscriptions available and you'll need to connect with the PushEngage platform for the plugin to work.
TrustPulse is one of the most unique WooCommerce sale plugins in this list. At first glance, it might look like another push notification plugin, but this tool is all about tapping into your user's Fear of Missing Out (FOMO).
What the plugin does is enable you to set up in-store notifications that show visitors each time someone makes a purchase, adds an item to their cart, subscribes to your email list, and much more.
When you put all those notifications together, it makes your WooCommerce store feel much more alive. More importantly, TrustPulse helps you provide social proof. That is to say, show visitors that there are other users who trust you, which can help them decide to convert as well.
Price: Free with premium subscriptions available.
Affiliate marketing is a massive industry that accounts for over $12 billion in sales globally. Up to 81% of online brands admit that they run affiliate programs, which tells you something about their efficacy.
AffiliateWP enables you to set up an affiliate program for your WooCommerce store so you can tap into that global market. Using this plugin, you can enable users to sign up for your program, track their sales, set affiliate rates, and even manage payouts directly.
The plugin basically takes care of everything for you. Affiliates will be able to generate their own referral links and decide how to market your deals. All that you have to do is keep an eye on their numbers and choose which products you want your affiliates to promote.
Price: AffiliateWP is a premium plugin.

This WooCommerce sale plugin does precisely what its name does. Using WooCommerce Product Bundles, you can take multiple products from your store and bundle them together so customers only need to make a single purchase.
In most cases, you'll want to offer slight discounts on your bundles so they're more attractive to customers. If you have three items worth $10 in a bundle, you can discount the entire thing to $25, to give you an example.
If you don't want to set up bundles yourself, the plugin can also enable customers to do so on their own. With personalized bundles, you can set a minimum and maximum quantity of items that customers need to add to their carts to generate their own bundles.
Beyond bundling, the plugin also includes features to include product add-ons and upsells. Overall, this plugin is a fantastic choice if your store carries products that synergize with each other.
Price: WooCommerce Product Bundles is a premium plugin.
Conclusion
Using the right WooCommerce sale plugins can enable you to promote your products and increase purchases dramatically. Thanks to WooCommerce's popularity, there's no shortage of options to choose from.
Some of our top picks for WooCommerce sale plugins include TrustPulse, which enables you to tap into customers' FOMO, and AffiliateWP. If you're looking for something more flexible, though, Advanced Coupons provides you with a robust coupon system that you can use to offer highly-customizable deals.
Do you have a favorite WooCommerce sale plugin that you'd like us to take a look at? Tell us about it in the comments section below!