Today we're looking at how Advanced Coupons customer Arianrhod Aromatics uses coupons to grow their store.
What you're about to learn is what a focus on creative coupon offers and a willingness to experiment to find offers that resonate can get you.
I love how Arianrhod Aromatics have committed to testing offers and creating ways to reward their loyal customers. Let's get stuck in and find out how they're using Advanced Coupons to market their store better.
#1 – Subscriber Welcome Offer
Like many other stores, Arianrhod Aromatics has an offer to encourage customers to subscribe.
This offer is a coupon for $5 off the customer's first purchase of $50 or more. The coupon is valid for a single use per account and is their third most-used coupon this year so far.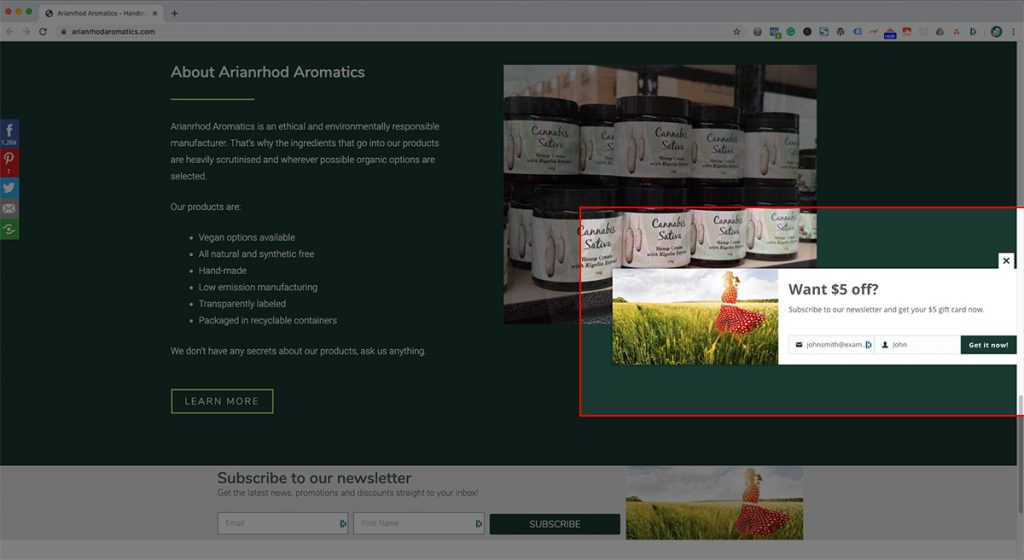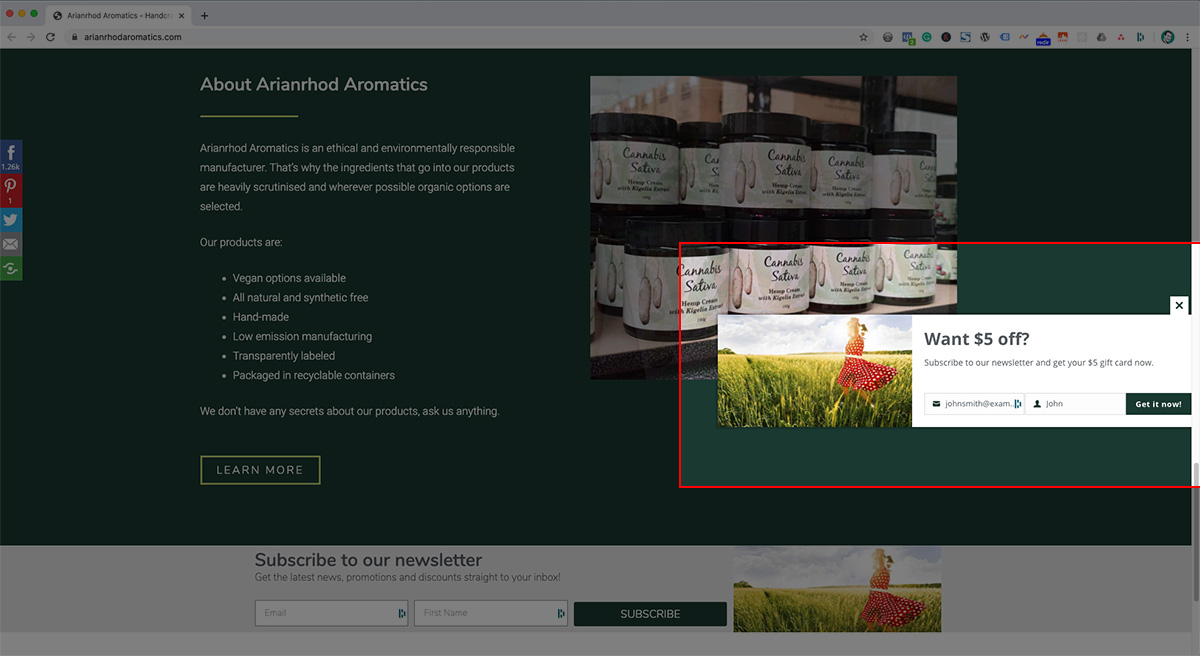 When a customer enters their email address, they are shown the coupon code immediately on the website. They are also sent an email with the coupon. This one is pretty straight-forward but very effective!
This year so far, it has been used 19x times with an average order value of $104.42. That's double the minimum spend required to use the coupon and making its 'cost' to Arianrhod Aromatics about 2.5%. Very low for the revenue generated.
#2 – Subscriber & Customer Re-Engagement Offers
Arianrhod Aromatics has a series of re-engagement offers for subscribers that received the welcome offer but haven't made a purchase in certain time frames.
There is a similar series of re-engagement offers that use the same coupons. This is for past customers who haven't come back to make another purchase in certain time frames. The offers increase in value over time and can only be used once per account.
These ones don't get used quite as much as their other coupons. They have been significant contributors though to re-activating past customers and engaging new ones.
These offers got a spike in usage over the first 6 months after they were implemented. They went to about 1500 people on their list simultaneously who already met the criteria.
They have tapered off now. It just go out intermittently to newer subscribers and as past customers begin to meet their criteria.
This year, the first discount tier so far has been used 3 times with a minimum order value of $60. It also generated average order values of $100.
Historically, from when the coupon re-engagement sequences were first activated, there has been a fairly consistent 2:1 ratio between re-activating past customers and engaging non-purchasing subscribers generating revenue at an average cost of about 7.5%.
The second part of this re-engagement sequence doesn't get used very often. By this point, most subscribers would have purchased if they are going to. Most past customers would have already gone back to buy again if they are going to. However, this one aims to pick up the last few stragglers. They just might be tipped over the edge to make a purchase with a slightly bigger discount.
In this case, we already know the average order value is around $100 anyway. The minimum order value to use this coupon is $100. It gets them the biggest discount available outside a regular promo.
The average order value with these coupons actually comes out at $114.78 at a cost of 8.7%, only marginally more than the previous coupon offer in the sequence.
For things that happen automatically in the background, these coupons bring in revenue that would have otherwise been lost.
#3 – Rewarding Repeat Customers (3 Ways)
Arianrhod Aromatics understands that advertising and remarketing to existing customers is always cheaper than getting new customers and focus on rewarding repeat customers in 3 unique ways.
#1 – A One-Click Apply Coupon for returning customers
As a loyalty promo for recurring customers, they show a coupon that is only valid for customers who have previously purchased certain member-only products.
If those customers come back and buy the same member-only products again, then Advanced Coupons comes up at the checkout telling them they are eligible for a loyalty discount.
They can then click to apply their 10% off loyalty coupon. This is done with the One-Click Apply Coupon feature.
Because the loyalty discount is promoted to customers through offline channels as well. We wanted to make sure that customers know when they have gotten the discount.
We found that auto-applying the coupon meant people didn't always realize that they had received the discount. If they did, they weren't necessarily sure why.
We also found that on some orders, applying the loyalty discount would cause customer orders to drop below the free shipping threshold. On some of these orders, the free shipping would save them more than the loyalty discount and so customers wanted to be able to choose which way gave them the best-priced order.
So, we opted to go with the click-to-apply route to give customers flexibility and ensure they knew they had the discount.
This coupon is Arianrhod Aromatics' second most-used coupon of all-time. Also, the most popular this year with 46 uses generating average order values of $139.52 at a cost of 8.9%.
#2 – Capturing Market Stall Customers As Repeat Customers
The most-used coupon of all time is a variation on this.
This particular coupon is given out at their market stalls and to customers purchasing directly from their physical store in Murwillumbah, NSW, Australia.
At these locations, member-only products can be purchased by non-members. Those non-members receive a coupon offer to get a discount on repeat purchases if they become a loyalty member online and use the coupon.
As many of the market stall customers are tourists and would otherwise be once-off buyers, this approach aims to turn them into loyal, repeat customers.
This coupon is the number one most used coupon overall. However, with the closure of markets and physical locations, usage has dropped this year. Nevertheless, this year it has generated the highest average order values of $164.13 at a cost of 9.1%.
#3 – Birthday gifts
Another loyalty reward we are now doing this year is a birthday gift voucher. This voucher takes the form of a coupon that can only be used once per year per customer.
We decided to do something different with this coupon. It's meant to be a birthday gift afterall, so the order minimum for use is only $5.
This one is a little slow in the uptake since we need to get birthdays from existing members before they start to receive the offer.
So far, we've seen a mix of regular customers take up this offer combined with re-engaging customers who haven't purchased in a long time and haven't responded to other engagement offers, and subscribers who didn't take up the $5 off welcome offer.
We don't have enough data yet to say there is a definite skew towards one particular kind of customer. It does seem to be working across the board though generating an average order value of $84.79 at a cost of 11.8%.
This low order value and higher cost of sale reflect the $5 minimum order requirement combined with what is one of the largest dollar value discount offers that Arianrhod Aromatics has regularly available.
Even so, the cost is still relatively low overall. It could likely be improved by increasing the order minimum but it is meant to be a birthday gift. I don't know about you, but I always hate receiving birthday 'gifts' that require me to spend more than the gift is worth to get the gift. That isn't really a gift in my books.
Right now, we are also in the process of implementing a loyalty points program to further reward repeat customers. We are using the built-in loyalty functionality that is part of Advanced Coupons to do it.
It's super simple and it is ready to go right now. We are just putting together some instructional videos for customers so they can see how to earn and redeem their points and then we are ready to go!
It was super easy to set up with Advanced Coupons. Now members can redeem loyalty rewards on any products. Not just the exclusive member-only ones, so we are hoping to see similar order values (around that $120-$140 mark) at similar costs (around 8-9%).
#4 – Specific promos
Then of course, there are various other coupons we use for specific promos.
The ability to assign complex rules on coupon requirements in Advanced Coupons has given us the ability to create targeted offers that we can track much more effectively than simply putting products on sale.
It has allowed us to do some really cool things like member-only access to sales before they are open to the public.
Key Takeaways & Thanks
For me the key takeaways from this are:
Use coupons to bring people into your net (welcome offer, repeat customer offer in physical stores, etc)
It's cheaper to market to your existing customers rather than spending lots to get new customers
Reactivating customers is a great way to capture extra revenue that most stores forget about
Coupons don't just have to be about a flash sale, you can (and should) get creative with your offers
Many thanks to Arianrhod Aromatics for helping us with this case study. We love that you're using Advanced Coupons so much to help grow your business. We'd also like to thank Matthew from Terramedia who assists Arianrhod Aromatics with their website and marketing strategy.
Want to market your store better, just like Arianrhod Aromatics?
Here's what you need to do (what are you waiting for?!)…
Download the free version of Advanced Coupons.
Compare the free version and the Premium version – upgrade if you feel it will help your store, with a 14-day money-back guarantee there's literally no risk to you.
Review the case study above again for ideas and commit to running your first campaign. You won't regret it.