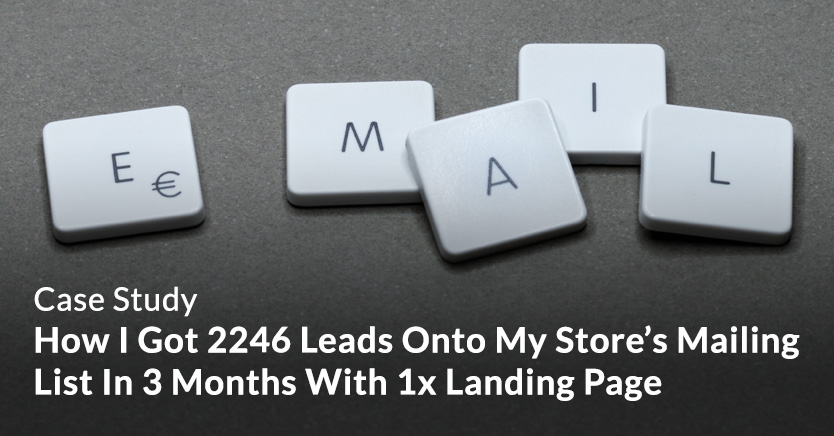 This is the story of how I got 2246 leads onto my mailing list in 3-months, using just one landing page…
The company I'm talking in this case study is Wholesale Suite.
Wholesale Suite is a set of extensions we make for WooCommerce for adding wholesale features. The store exclusively sells these digital software products, we don't sell anything else.
As you'll see in this case study, there's something to be said for focus on one thing. It's a pattern I've used over and over again in business and it's served me well.
So how did I get 2246 people onto my mailing list in such a short amount of time? That's what we're going to cover here.
Three Main Factors
There was just three main factors that went into the mix:
A great guide
A single landing page
The right traffic
A Great Guide
There's a lot of people out there that advocate building 100's of "giveaways" in order to bait people onto your mailing list.
It's said that you then scatter those opt-ins on your site via content upgrades, slide-ins, pop-ups, full-screen takeovers, exit intents…
You also have to vary it up too because apparently, people who land on Blog Post A might want something different than people who land on Blog Post B.
So for the 100's of different giveaway items you end up with hundreds of permutations based on hundreds of topics and hundreds of potential needs of your visitors.
Boy… That sounds like an awful lot of work.
And… well, I'm kinda lazy I guess.
I made just 1x guide and I pushed that to all my visitors.
Here's my logic:
1. My guide is highly relevant to the pain point of my target customers
The guide is about how to add wholesale to your WooCommerce store.
That's exactly the thing my product solves (and solves well) and it's my primary focus of what I want to help my customers with.
Makes sense to offer them what I can help them with, right?
2. My guide is really comprehensive & really useful
It's big. Like 30-40 pages of in-depth quality instructional information that really does do what it says on the tin. It helps them solve the problem of adding wholesale to WooCommerce.
3. My guide is actionable right away
Not only is it big and comprehensive, it's actually useful right away.
My ideal customer could download it, read it and have a solution implemented that afternoon on their store.
4. And finally, I know who I'm selling to (IMPORTANT)
I'm selling to WooCommerce store owners that like to DIY, agencies and freelance designers/developers that are wanting to add wholesale features to a WooCommerce store.
Because I knew that in detail when I asked myself what those people wanted, it was pretty damn obvious. They wanted a guide that would tell them how to add wholesale to their store.
This laser focus of knowing who it is I'm targeting, I believe, is why I routinely get 55-70% conversion rates on my landing page for the guide (more stats on this below).
It's that old adage in business of "know who you're selling to and give it to them."
A Single Landing Page
When I first offered my guide I did the thing conventional wisdom teaches us: offer it straight up in an optin popup.
It did okay, 2-3% conversion rate which apparently is pretty good.
But then I wanted to run some paid ads to it and see if I could get more downloads.
Well, I had to build a landing page to do that.
So I decided to test an assumption at the same time.
What if I split tested all of my optins with a Yes/No optin instead.
I'd just seen this feature launched on OptinMonster (the tool we use for our optins and lead collection) and decided to give it a try.
Here's the new optins in Yes/No:
I created my landing page which hasn't actually changed much over the years. Below is what it looks like at the moment.
I followed the same simple guiding principles:
Reiterate the pain points
Talk to the desires of the audience I want to attract
Note that I said, "the audience I want to attract".
This, I think, is an important point and it took me a while to realize the importance of it.
More and more, I'm realising that it's not about reacting to what you see your current audience is asking for, it's realising that you have a goal of attracting a certain ideal customer.
The more you can speak to that specific ideal customer, the more of those customers you'll get.
In putting together the landing page for the guide I tried to follow some conversion rate optimization best practices:
Clear the distractions – In my experience simple is better in most cases (unless you're trying to win a design award) and your landing page should only have 1x clear goal. This means get rid of header menus, footer links, links to social media and anything else that is distracting from the goal.
Advertise the benefits – I tell people what benefits they're getting and what they're going to learn. As the copywriting pros say, be benefits focused.
Test – specifically, I tested between directly having a form embedded on the page vs. a 2-step form – for me having a 2-step process where they had to click a button to show the form converted better but I've heard of people experiencing the other way around.
In short: Hit on the main points and make sure it's clear what to do.
Could it be better? Sure!
Could I test other things to improve the conversion rate? Sure!
Some things that come to mind that I still want to test are:
Adding a graphic – I've seen a 70%+ conversion rate on some other websites I own (like this one for instance) and the main difference to the design is a book graphic
Trust badges – conventional wisdom says show social proof, so some trust badges might help here
Social proof – maybe showing the number of downloads or some testimonials might help too
I'm pretty happy though because the current page is converting at 55-61% (depending on which way you look at it… again, more detail below).
The Analysis
Ok, ok, here's the juicy bit you've been waiting for. The analysis!
Let me break it down and show you by the numbers how I got 2246 leads onto the mailing list in 3 months.
Traffic Breakdown
According to Google Analytics, from 2019-01-01 to 2019-03-31 there was:
4071 total unique page views to the landing page
1399 coming from organic SEO
998 coming from Google Ads
680 coming from Facebook/Instagram (both organic + ads)
The rest were from misc organic referral sources
Our biggest source of both guide downloads and sales is and probably always will be (unless I have a massive breakthrough with Facebook ads!) organic SEO. Mostly Google traffic.
We invest a lot in creating articles that attract the kinds of people I know want to solve the big overarching problem of "how to add wholesale to WooCommerce". This helps us stay relevant to the customer plus also send that relevant traffic straight to our landing page (to download our relevant guide!)
Conversion Numbers
As far as conversion numbers for the guide downloads go:
If you're doing the numbers right now, here's a quick translation: 90%+ people who landed on the landing page also clicked the button.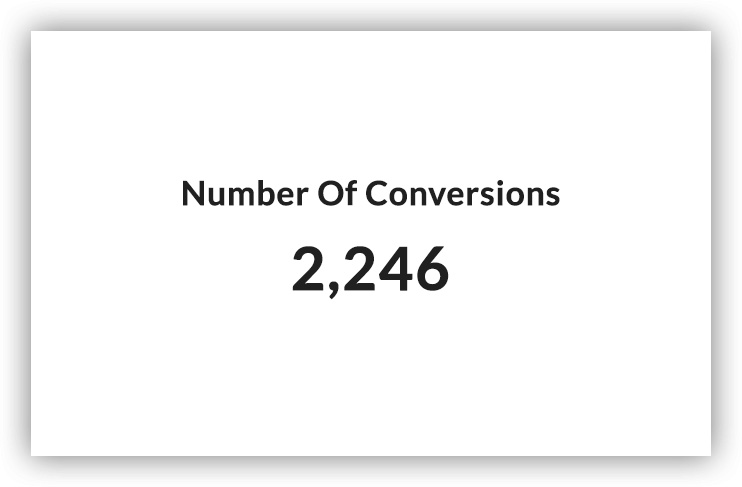 That means 61.29% of button clickers opted in to get the guide.
Or, looking at it another way, 55.19% of all landing page viewers opted in to get the guide.
Screenshot for proof:
1x Guide, 1x Landing Page, 1x Product
I hope you've enjoyed this little case study. I'm always blown away when I look at the figures and really overjoyed that the guide I put together is so useful and helpful to my target customers.
Like I said in the intro, there's power in focus.
When you go to make your next funnel, keep in mind this was all achieved with:
1x guide (written over a period of 2-3 weeks)
1x landing page (put together in an afternoon but tweaked with small changes dozens of times after that); and
1x product (we make the best wholesale solution for WooCommerce and I'm damn proud of that).
Any questions, just ask away in the comments and I'll do my best to answer them 🙂