Starting a wholesale store isn't precisely what we'd call simple. Most WordPress e-commerce plugins are designed for retail stores, which leaves you, as a wholesaler, without a lot of options to choose from.
That's not to say there aren't any options, though. Two of the best options at your disposal are the Wholesale Suite and the WooCommerce B2B plugin. In this article, we'll compare both sets of tools and help you decide which one is the best option for your store. Let's get to it!
An Introduction to the Wholesale Suite
The Wholesale Suite is a collection of three premium plugins, which are Wholesale Prices, Wholesale Order Form, and Wholesale Lead Capture. At the suite's core is the Wholesale Prices plugin, which enables you to create custom wholesale user roles and assign special prices to them.
There's a free version of the Wholesale Prices plugin that you can use and its premium counterpart unlocks even more features. One of the best aspects of the Wholesale Suite is that you can buy each plugin separately or purchase the suite as a whole.
That modular approach means that you only need to pay for the exact features that you need. Moreover, each plugin contains a multitude of options that make creating and managing a wholesale store easier.
In the following sections, we're going to be reviewing the Wholesale Suite as a whole, going over its pros and cons. Before that, though, let's talk about the WooCommerce B2B plugin.
Price: The entire Wholesale Suite, including all three core plugins, starts at $148 per year for a single-site license. You can also buy a license for each plugin separately, with all of them starting at $49.50.
An Introduction to the WooCommerce B2B Plugin
Although this plugin includes B2B in its name, WooCommerce B2B also enables you to set up a wholesale store for 'regular' customers. In a nutshell, this plugin enables you to create custom wholesale user roles, set different prices for each of them, overhaul the user registration system, and much more.
At first glance, both the Wholesale Suite and WooCommerce B2B share a lot of features, so we're going to compare both tools across different categories to help you make a decision.
Price: A single-website license for WooCommerce B2B costs $149 per year.
Wholesale Suite vs WooCommerce B2B Plugin: 3 Key Points Compared
Since your primary goal is to create a wholesale store, we're going to focus on the features that both tools offer to make that process easier. Let's start with user registration.
1. Wholesale User Registration
One of the fundamentals features of wholesale stores is being able to offer discounted prices to bulk buyers. There are several ways to achieve that, including:
Offering coupons for discounts
Setting private products for wholesale buyers only
Offering special prices for wholesale user roles
Although we're big fans of coupons (for obvious reasons), approach number three works the best for most wholesale stores. That's because it's flexible and it enables you to set multiple price levels for different user roles.
With that in mind, both the Wholesale Suite and the WooCommerce B2B plugin enable you to create custom user registration forms. In WooCommerce B2B's case, users get to select what user role they want to opt for on the initial signup:
The Wholesale Suite gives you control of the registration through one of their plugins called Wholesale Lead Capture. Using that plugin, you can create unique registration forms for each type of wholesale user role in your store:
Both plugins enable you to approve wholesale user registrations manually. However, the Wholesale Suite also enables you to turn on auto-approval.
It lets you create a unique wholesale application form which gives wholesale customers the special treatment required and separates them properly from consumers.
2. Wholesale Price Configuration
When it comes to product pricing, both wholesale tools offer a similar set of options. With the WooCommerce B2B plugin, you can set wholesale prices for individal products or configure specific discounts for each user role in your store:
Both plugins enable you to set specific prices for wholesale items by accessing their WooCommerce product pages. Here's the menu that Wholesale Prices uses: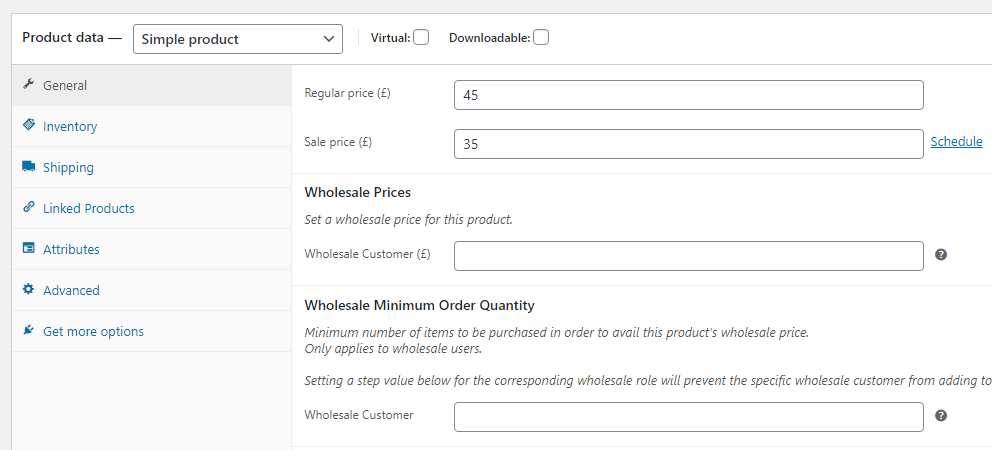 One advantage of Wholesale Prices over WooCommerce B2B is that the former gives you more control over specific wholesale settings for each product. You can use the plugin to configure minimum order quantities, variable prices depending on the size of the order, and even add multiple discount rules for individual items: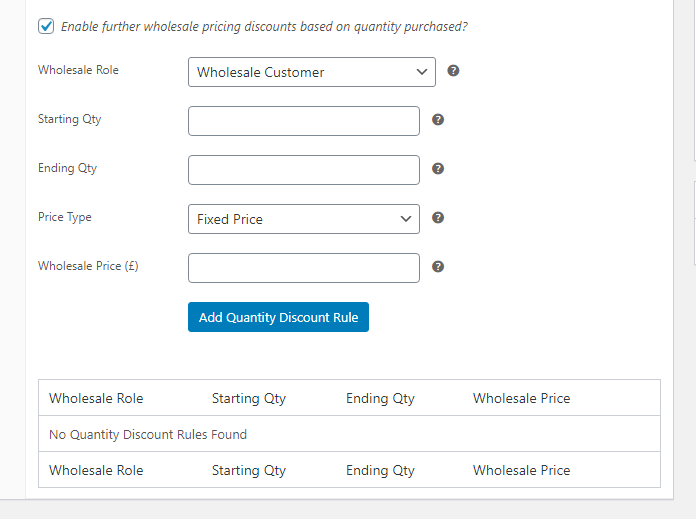 The WooCommerce B2B plugin enables you to do all those things, but not for individual products. Instead, you get to configure rules for spefic wholesale user roles: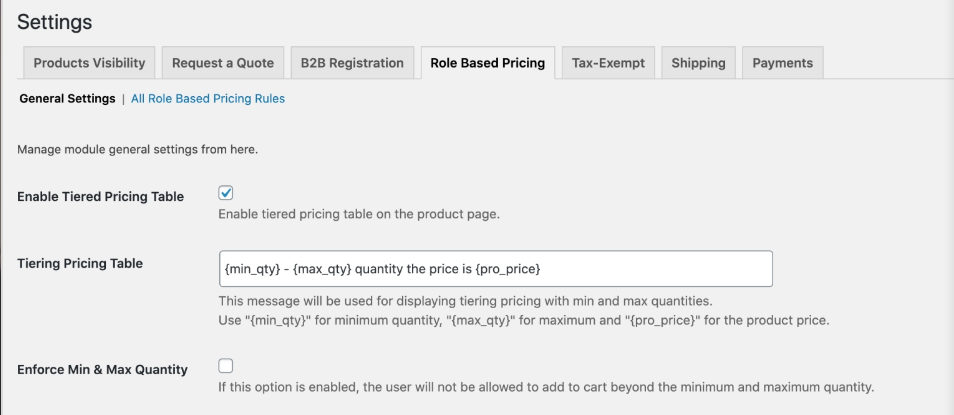 Overall, both plugins provide you with fantastic control over wholesale prices. However, the Wholesale Suite comes with more micromanagement options if you need it.
3. Browsing Wholesale Inventory
Since wholesale users buy products in bulk, you need to adapt your WooCommerce's store experience to simplify that process. Unlike with retail stores, you don't want to limit customers to adding products to their carts one item at a time.
The WooCommerce B2B plugin understands this, which is why it enables wholesale customers to enter the amount of stock that they want to buy within each product page:
Another exciting feature that WooCommerce B2B offers is that it enables you to add the option to request a quote for specific products. That means that your best wholesale customers can reach out if they want to negotiate special pricing:

The Wholesale Suite takes a different approach to navigating products. Its Order Form plugin enables you to create a shop page designed from the ground up for wholesale customers:
Using the Wholesale Suite, customers can navigate your entire inventory within a single page. They can see how many products you have in stock, check out SKU codes, choose item variations, and add as many items as they need to their carts in a single go.
The result is a much more streamlined experience that's perfect for bulk purchases.
Conclusion
The WooCommerce B2B plugin and the Wholesale Suite both offer a lot of features that can enable you to set up and manage a wholesale operation on top of WooCommerce.
If you want to use a single plugin to manage everything, WooCommerce B2B can be a great option. The Wholesale Suite, however, enables you to choose which plugins to use or to get the entire set of tools. There's even a free version of Wholesale Prices that you can try out for yourself.
Do you have any questions about WooCommerce B2B or the Wholesale Suite? Ask away in the comments section below!