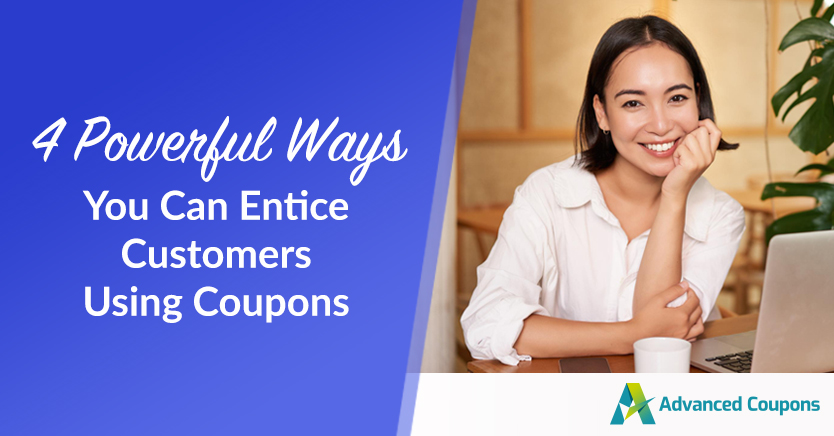 It can be challenging for any business owner to entice customers into their store. Thankfully, data proves that sales promotions in the form of coupons are extremely effective at attracting new clients.
In the United States alone, most people consider the use of coupons an essential part of shopping. 2018 saw around 70% of the nation's adults searching store websites for digital coupons. In 2019, a survey of 1,000 participants demonstrated that 92% of shoppers used coupons when purchasing products. Furthermore, a 2020 survey showed that 88% of its respondents shopped using coupons.
Additionally, studies reveal that more than 50% of Americans between 18 and 39 years old consider digital coupons to be extremely important.
All these figures clearly present one fact: a lot of people use coupons. It's not hard to imagine why. After all, everybody loves a discount. Used properly, these discounts can net you a fortune in sales.
For this reason, powerful online tools now exist allowing business owners to create their own coupon deals. For example, our Advanced Coupons plugin for WooCommerce lets you create exciting sales promotions, such as BOGO deals, fixed price discounts, and more. Such promotions can dramatically boost the number of people you draw to your store.
But what, exactly, are the advantages coupons can offer your business? And what strategies can you employ to ensure your coupons entice customers to do business with you? Read on to find out!
Offer Coupons To Entice Customers To Your Store
Simply put, coupons entice customers to your business. By increasing the traffic to your website, they can boost your sales and thus increase your revenue. And the greater your profits, the easier it is for you to achieve your business objectives.
Coupons can do other things. For instance, they can raise brand awareness so that more people learn about your store. They can build customer loyalty, encouraging customers to 1) purchase products from you regularly and 2) avoid purchasing products from other stores. Furthermore, coupons can supply you with a quick cash infusion, which can prove crucial when money is tight.
These days, thanks to the internet, consumers can access coupons digitally. These are easier to acquire and use than yesteryear's physical coupons. Additionally, business owners can use technology to target specific demographics, making coupons more impactful.
Now that we have a good idea of how well coupons can serve your business, let's jump into the 4 ways you can use coupons to entice customers into your store.
4 Ways You Can Use Coupons To Entice Customers
Below are 4 simple coupon strategies that you can employ to entice customers to do business with you.
1. Use limited-time offers to trigger the urge to shop
A limited-time offer is a special deal that has a deadline. For example, your coupon can lower a product's price for three days, after which said price goes back to normal. The time limit encourages people to buy your product before the promotion expires.
As Psychology Today states, limited-time offers are extremely effective if you want to entice customers. This is because, in addition to generating social media buzz, such offers trigger regret and increase the sense of urgency. These are powerful motivators. After all, nobody likes missing out on a fantastic deal that lets them purchase items at reduced prices.
Fortunately, Advanced Coupons lets you schedule your coupon deals to take advantage of such motivators.
2. Use coupons to reward loyal customers
Loyalty programs offer incentives that encourage your customers to keep using your services. Thus, they can build customer loyalty, which in turn can provide you with a stable income source. Furthermore, loyal customers are more likely to tell others about how amazing your store is, which can send new shoppers your way. As a result, you boost your sales and gain a profit.
As you may have already guessed, you can use coupons to reward customers for staying loyal to your business. So consider using a Loyalty Program plugin for WooCommerce alongside digital coupons to make your clients love doing business with you!
3. Use various coupon platforms
You can offer your customers coupons in various ways.
We've already mentioned loyalty programs. However, you can also reward coupons to customers after they've purchased certain products or spent a specific amount of money. You can provide new customers coupons upon registering on your store. Consider sending them coupon codes via email, as well.
4. Create visually attractive coupons
Standing out amongst your rivals is a great way to entice customers.
One way to do this is by creating unique and visually arresting promotional materials on your website when announcing your special deals. Considering making the coupons themselves appealing to the eye to ensure they stick in your shoppers' minds.
When creating your graphics, use striking colors and images so that they capture people's attention. If you can, hire top-notch artists to design all your coupons and marketing materials. While these efforts will cost you extra, the increase in sales they can encourage can considerably offset said costs.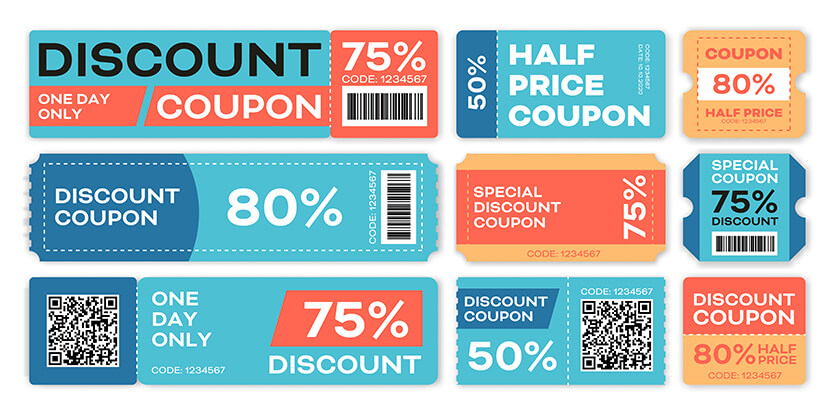 Conclusion: Use Coupons To Entice Customers To Do Business With You
Sales promotions in the form of coupon deals can entice customers to purchase items from your store. For this reason, coupons are essential to the success of your business.
In summary, to attract buyers to your store:
Do you have questions about how to use coupons to attract customers to your store? If so, please let us know in the comments section below!