Did you know that having great email marketing tools can go a long way toward improving your company's conversion rate? Your customers will be much more likely to take the action required to make purchases if they feel like their emails are getting responded to and answered quickly.
As a digital marketer, you understand the importance of automating as many processes as you can. Perhaps one of the most critical is your email automation platform.
With that in mind, we thought it would be a good idea to put together a thorough—but by no means exhaustive—list of some of the top-ranking automation tools. Read on!
1. Klaviyo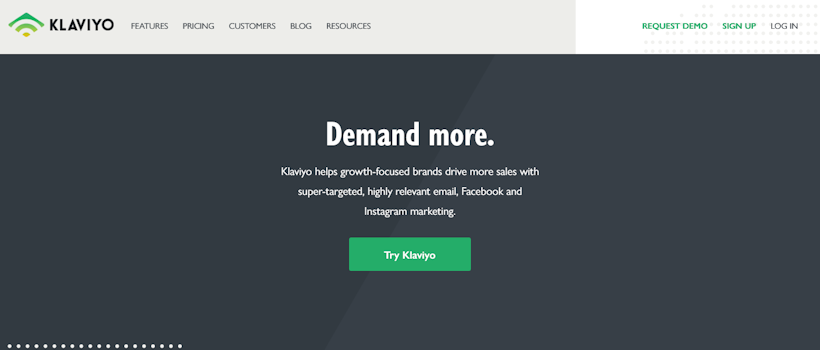 Designed and built with e-commerce in mind, Klaviyo's advanced email marketing tools have a lot to offer.
Klaviyo offers standardized pricing for users that have up to 150K contacts on their list. If your list is larger than that, contact them for pricing. For a tiny list of 250 contacts, you can send 500 emails for free. At the 150K range, the price is $1,700.00 per month. One of the perks of being in that range is you get a Dedicated Customer Success Manager. Other than that, everyone has access to the same feature, regardless of their price plan. Which is nice.
Klaviyo isn't meant for marketers who send the occasional email. This is an advanced platform crammed with features like one-click integrations, ROI-based reporting, segmentation based on behavioral browsing, and more.
But all that comes at a cost as mentioned above. At 600 subscribers the price is $50 per month, compared to ConvertKit, at $29 for 0 – 1K subscribers. It also has a fairly steep learning curve.
2. Drip
Like the above, Drip is another powerful email automation tool. It offers advanced features and a clean UI. For those new to such programs, it may be a bit confusing since there are so many options to choose from. It integrates well with all major e-commerce platforms and offers excellent reporting options.
As far as negatives go, there seem to be a lot of complaints about the lack of font choice and some back-end glitches around fonts in general, but overall, that's it. Hardly a serious problem.
Drip offers 3 levels of pricing starting at $49 for 2,500 subscribers.
3. Campaign Monitor
It's easy to use with a simple WYSIWYG editor. Campaign Monitor offers powerful segmentation options, allowing you to tailor your campaigns around individual interests.
One problematic point is the inability to update or edit your clients and segments. Initially adding to a segment is easy, but should you ever need to make changes, this needs to be done manually for each contact. There's no way to do a merge.
Campaign Monitor offers 3 tiers of pricing with their basic level starting at $9 per month for 2,500 subscribers.
4. ConvertKit
Moving back to a pricier tool—but not as pricy as Klaviyo—ConvertKit excludes some features from lower-tier customers but that's limited to platform migration.
So if you have a small list or no list yet, that may not be a big issue. You can fine-tune their extremely flexible segmentation system which will allow you to laser-focus your campaigns.
On the negative side, if you like to make a splash with visuals, you're limited in that area.
ConvertKit offers 4 levels of pricing starting at $29 for 1,000 subscribers. Which only seems expensive until you look at Klaviyo's pricing model.
5. OptinMonster
Unlike ConvertKit, OptinMonster offers a good selection of pre-made templates for users to build their emails on. From there you customize anything you want in the easy-to-use visual editor.
They also have excellent trigger and targeting rules, meaning you can set up triggers on things like exit intent or target based on geolocation. And for those that are fans of A/B split testing, you have the ability.
One problem with this platform is the limitation in form fields. All you get is a name, email, and phone number. That might be a deal breaker for some.
OptinMonster offers 4 levels of pricing with the lowest at $19 per month.
6. Metorik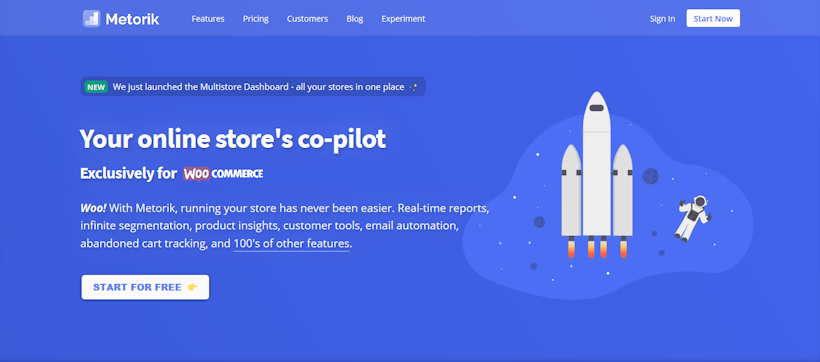 Exclusively for WooCommerce stores, Metorik allows you to manipulate your store's data with endless segmentation and laser-targeting automation. You can even generate unique coupons with each email.
Excellent tracking allows you to pull reports that show you everything you need to know about your open rates and sales.
Oh, and as a bonus? It's multilingual and available in 10 languages!
Metorik has a 4-tier pricing system, starting with their Small plan that allows for 500 orders and costs $50 per month.
7. Privy
Want to build your list? New to email automation platforms in general and not sure you want to pay for something you might not need?
You'll quickly realize you need an email automation platform, but I get not wanting to invest in something right away.
Enter Privy has a very respectable free plan which will allow you to send up to 3,000 emails per month. If you want to move up to something that offers a few more features, the next tier up is $24 for unlimited email, but you still need to move to the higher plans to get all the bells and whistles.
But you will get features like cart abandonment emails, coupons, and behavioral/geographic segmentation. Which means that $24 is a very good deal.
8. Advanced Coupons for WooCommerce
Another WooCommerce-specific tool, Advanced Coupons is an excellent automation tool that will allow you to create cart conditions—even complex ones—that will be checked before a coupon is applied.
You can schedule the start and end dates for your coupon campaigns and use user roles to restrict coupons. The best feature, especially in line with our topic, you can generate URLs to a coupon to be used in email campaigns.
You have 2 options for pricing, and those of you who hate the trend of subscription models will love this. You can go with the yearly $119 plan for one site, or if you have many sites you can choose the unlimited sites option for the price of $238.
9. ActiveCampaign
With seemingly endless automation ActiveCampaign gives you options like autoresponders based on an array of conditions, full automation of your contacts, and list management, not to mention its own CRM that will let you add notes to your contacts, fire off direct messages and set up appointments.  
They also have a new feature that enables you to send targeted messages to your site's visitors. Some might find the Dashboard somewhat complicated, but for the most part, this is an impressive platform
ActiveCampaign has a four-tier pricing model, with the first tier at $9 per month for their Lite plan which includes 500 contacts and a limited amount of features.
Conclusion
The best way to stay in front of your customers is through regular email marketing. But the problem is, most e-mail marketing efforts are not being rewarded with a profitable return on investment. Here's a summary of the email marketing tools we covered in this article:
Hopefully, there's something for everyone in this selection. Whether you're just starting to build your list, you have a limitless budget and run campaigns that mean you need a ton of functionality, or you're looking for something specific to your WooCommerce store!