Running a giveaway for your store is a great way to increase attention to your products and grow your audience. But is there a way to grow your audience while also growing your sales? The answer is to use coupons smartly throughout your giveaway.
In this article, we'll show 5 ways you can make the most of the attention you're getting with your giveaway by strategically using coupons.
Before we dive in, you're probably wondering…
Do Coupons Really Work With Giveaway Contestants?
The answer to that question is yes!
You can definitely increase your sales by strategically applying coupons during your giveaway. It all comes down to how you do it.
And the good thing is that, since giveaways let you grow your following up to 70% faster than any other type of growth mechanism, you'll be positioning yourself to profit big time by using the following ideas.
Plus it's not hard when you use RafflePress.
5 Ways You Can Use Coupons With RafflePress To Grow Your Sales
RafflePress has loads of options for running your giveaway and with a few specially-crafted coupon strategies alongside it you can use it to grow your sales even more quickly than before. Below we'll look at each coupon strategy in more detail and explain how you can use them to skyrocket your sales during and after your giveaway.
1. Unlock a coupon when they maximize their entries
You can implement this easily in RafflePress using a couple of things.
First, you should add a special note in the description of the giveaway so that people are informed they need to complete all the entries to unlock the coupon.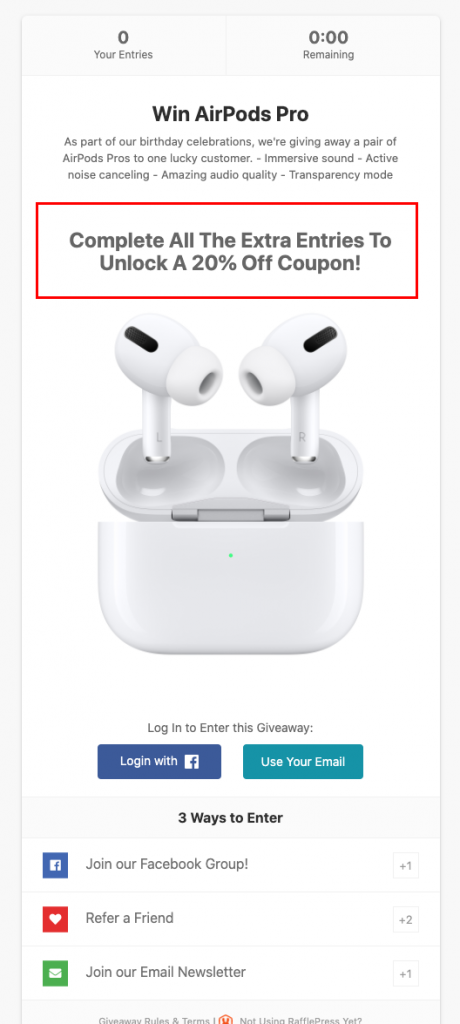 Next, you need to tell RafflePress to redirect the contestant to another page after they complete all the entries. This is called a Success Redirect.
The great thing about using a success redirect on another page is that you can personally congratulate them for maximizing their entries plus more fully explain the coupon and the offer.
2. Runner up coupon offer
So they didn't win. The story doesn't need to stop there though! A great way to re-engage people is by giving all the contestants who didn't win an irresistible coupon offer.
As they say, you need to "strike while the iron's hot". So sending a communication to all the people who didn't win is usually well received.
A coupon is a perfect follow on to a contest because there will be people on the list that really loved your product and want to buy one regardless of the fact that they didn't win.
You need something with impact to win people over, so making it related to the giveaway is a great idea.
Additionally, make sure the offer is irresistible; utilizing a BOGO deal offer is a great option.
"Buy One, Get One" type offers are incredibly popular in the offline retail world but they're a little harder to implement in the online world so you'll need a special tool to achieve it.
In WooCommerce, you can use the Advanced Coupons plugin.
Even their free plugin lets you create simple BOGO offers where customers can buy a certain number of a product and get another for free.
Some examples include:
Buy 2 T-shirts and Get 1 Free
Buy 1 Body Oil and Get 1 Face Serum Travel Size for Free
Buy 1 Pair Of Sunglasses & Get A Backup Pair For 50% Off
3. Add an irresistible coupon to email verification emails
And speaking of irresistible offers, another option is to utilize the "Email Verification" email to place an offer.
In RafflePress an Email Verification email is sent to entrants when they join the giveaway. You can edit what is sent to the contestant by going to Settings->Email Verification.
The key to making this work is relevance. If you're having a giveaway for a new range of beach towels, make the offer about beach towels as well.
4. Create a daily deal coupon offer
Daily deals are a great way to keep bringing people back to your store over and over. They work exactly as it sounds, as a recurring offer that resets daily.
In Advanced Coupons, you can create a coupon that resets its usage statistics each day. This can be great for creating a deal with a limited number of uses each day.
Next, you need to tie the coupon into your giveaway by creating a Visit a Page action. You will use this to send the user to a specific page on your website where you highlight the daily offer.
Finally, you need to let the contestant get extra entries each day by having them view your daily deal page.
To do this you just need to enable the Allow Daily Entries setting for that action. Easy peasy.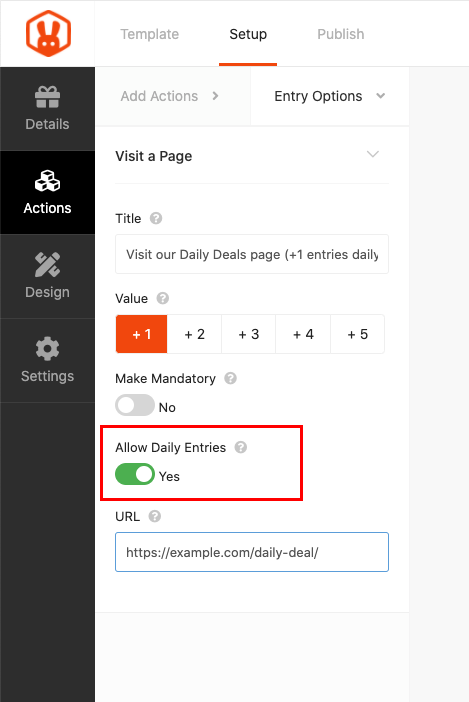 5. Retargeting coupons
When it comes to advertising on Facebook, retargeting is far and away one of the cheapest ways to reach people who visited your website.
Retargeting works because you're basically talking to people who have already had an engagement with you of some sort.
In this case, that engagement is with your giveaway. See where I'm going with this?
We've talked about this giveaway retargeting strategy before in our article on how to increase your sales with giveaways. Simply apply a retargeting pixel by using the Success Tracking Scripts section on RafflePress.
Next, we take this strategy to a new level by adding coupon offers.
Getting super specific with your giveaway contest can really increase the conversion of those ads.
Try a retargeting ad like the following:
And there you have it!
I hope this article has brought you some unique ideas about how to use coupons during and after your giveaway.
Remember, only using RafflePress to build your giveaway can give you instant access to powerful extra entry actions, success scripts, success redirects and so much more which lets you run these kinds of promotions with ease.
Click here to get started with RafflePress.
Conclusion
Using coupons is a great idea to make the most out of the attention you are already having while running a giveaway. It's a good way to recoup the money you spent for the prize but if done correctly it can even increase your sales and profits.
Here are the ways you can use coupons during or after a giveaway:
Do you have any questions about how to use coupons during & after a giveaway? Let us know in the comments sections below!