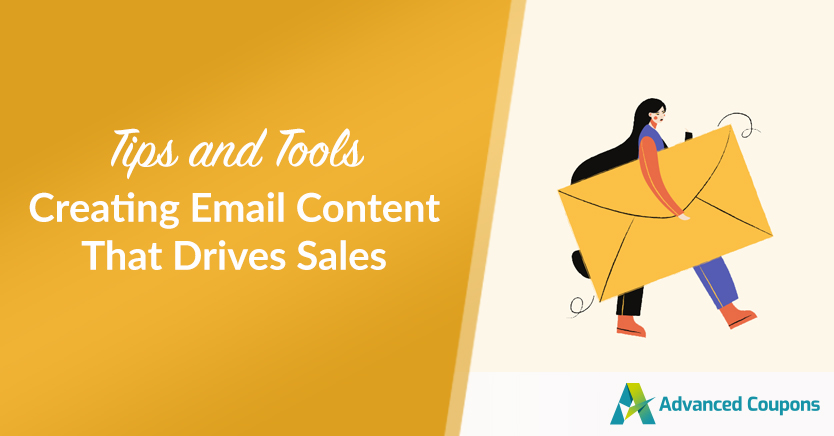 Building a scalable, competitive, and sustainable business in today's marketing environment is only possible when you make the most of all the content marketing channels, especially email content. And yes, that includes email marketing too. Even though email marketing is one of the oldest marketing strategies, it is still known to deliver the highest ROI. For every dollar spent on email marketing, you get almost $42 back!
A well-executed email content marketing strategy can be the key to boosting brand awareness, generating qualified leads, and of course, driving repeat sales. But when you are just getting started with an email marketing campaign, it is difficult to know where to focus your content creation efforts. You might end up wasting a lot of time in employing strategies and tactics that are of little to no use in driving sales for your business.
In this article, we'll provide you with some actionable tips for creating effective and profitable email content that'll help you drive more sales. But before we get to that, let's take a look at some tools that can help you in the process.
Email Content Marketing: Tools to Help You
1. Narrato
If you're looking for a software that aids you in creating high-quality content for your email marketing campaigns, then Narrato is the tool for you. This is an all-in-one AI content planning and creation platform that takes care of all kinds of content a business needs.
Here are some of the key Narrato features useful for creating email content:
Not your average content editor: Narrato comes with a feature-rich content editor that makes it easier to create high-quality content.
Grammar and readability tool: Narrato's content editor also provides content optimization suggestions. The grammar checker tool highlights spelling errors, grammatical errors, excessive use of passive voice, and excessively long sentences/paragraphs. The tool also provides a readability score for your content, making it easier to edit content as you go.
AI writing and SEO tool: This Narrato feature allows you to create amazing email content at super speed. The AI writer auto-generates content for a variety of use cases. Use it to create cold emails for your product/service, generate compelling subject lines, or an email outline. The content improver can help you enhance your already drafted content, while the sentence expander and Write for Me functions can help complete your stories.
Free image search and Canva integration: You can also search for no-attribution images and create graphics to go with your email content from the platform itself.
Custom content templates: This Narrato feature can be incredibly useful for ensuring consistency in your email content structure. You can create your own email content templates with rich text, plain text, and attachment fields, and apply them to content tasks. You can also specify word and character counts for text sections.
This one tool can be a game-changer for taking your email content marketing to the next level. Narrato also offers content writing services, with Narrato Marketplace. This is a content marketplace where you can avail the services of thousands of quality-vetted freelance writers.
2. Drip
If you're looking for an affordable tool for building visually beautiful email marketing campaigns, then Drip is the solution for you. This is a great email marketing tool that allows you to send targeted and personalized emails to your subscribers. The platform is well-equipped to support the email marketing needs of individuals, teams, and businesses too. The point-and-click editor and the library of pre-built templates make it easier to create branded emails that are sure to attract viewers.
Other useful features of this tool are:
Campaign Templates
One-Off Emails
Email Address Capture
Lead Scoring
Subscriber List Management
Email Blasts
Subscriber Tagging
Process Automation
Workflow Builder
Performance Tracking
Split Testing
100+ integrations
Reports
Drip Campaigns
The most exciting feature of this tool is the visual workflow builder. Besides helping users with targeted email campaign creation, it can also be used to automate the email marketing workflow and capture more leads.
3. Klaviyo
Klaviyo is a dynamic email software built specifically for e-commerce marketers. With this easy-to-use tool, you can personalize, optimize and also monitor your email marketing campaigns to drive greater conversions.
WYSIWYG editor: The powerful tool comes with an easy-to-use editor that simplifies email creation. You have the option to choose between numerous responsive templates for your emails. You can also optimize emails for different devices.
Segmentation features: This robust email marketing system is built to support segmentation. It allows you to create targeted email campaigns by providing you with important behavioral and transactional data. The tool makes it easier to exclude or combine segments, and also set the criteria for each segment.
Integrations: The tool integrates with several other tools like Shopify, Salesforce, Magneto, and ZOHO. With Klaviyo's Open API, you can even create custom integrations as per your needs.
4. Campaign Monitor
Campaign Monitor is another great email content marketing tool that makes it easier to create personalized email campaigns for subscribers and customers. It allows for easy optimization with the help of advanced analytics and detailed reports, and comes with a wide range of features, like:
Drag-and-drop email builder: The Campaign Monitor email builder tool simplifies the process of creating stunning emails. You can use professional-looking templates to create unique emails, suitable for different devices.
Customization and segmentation options: This tool allows you to send personalized and relevant messages to your subscribers with the help of the list segmentation feature.
Email marketing campaign automation: Just add customer/subscriber information and the email automation feature will keep your campaigns running in the background.
Interactive analysis: The best thing about Campaign Monitor is that it provides you with relevant insights about the effectiveness of your email marketing campaigns in real-time. You can see how your subscribers are engaging and sharing the email content. You can also test the effectiveness of the CTAs attached to the email.
5. Maropost
This is a tool that will help you personalize your email marketing campaigns. Maropost allows you to create emails with dynamic content, smart scheduling, and 98% deliverability every time.
Here are the key features of this tool:
Send emails to your prospects by addressing them with their names
Segment, develop and schedule dynamic email content based on the insights derived from customer data
Add compelling subject lines that attract the recipient's attention.
Email Journey Builder: Use the Maropost drag-and-drop email editor to design a personalized email copy, with images, text, buttons, and more. No HTML knowledge necessary.
Built-in campaign monitor to track the number of emails that are making it through
7 Great Tips for Creating Email Content
1. Start off by creating email content templates
Before you get started with email content creation, it's a good idea to create a blueprint of what you want it to look like. This blueprint is known as the email template. It should ideally cover all the components that will be included in your email, like –
The sender's name: Besides the subject line, this is the first thing that the recipients see. Whether it is your business name or a person's name, this will be key in establishing the trust of the audience.
Subject line, and the messages it should state for different types of emails.
A preheader, following the subject line, for making the email opener more compelling.
Brand logo and website: Decided where all of this should go in the email.
Headline for introducing the body of the email content
Length of the content and takeaway section
Email footer
An email template will ensure that your brand image and voice of tone remain consistent across all emails.
2. Educate your customers
Before writing your email content, research the needs, motivations, and pain points of your audience, so that you can provide them with solutions accordingly. Your email content marketing strategy shouldn't be limited to promoting your products. Consider educating your audience with actionable solutions to their issues
Test out different topics, and see which ones resonate best with your audience. You can then include these topics in your email content marketing strategy. This Is a great technique for building credibility and authority in the eyes of the audience.
3. Provide your audience with value
One of the biggest mistakes content creators and marketers make when writing email copies is that they end up droning on about the features of their product. It's important to change your approach to provide more value to your customers.
A better way to promote your product in an email is by stating how it can benefit your audience. Benefits appeal to the emotions of the audience. They'll also help you build a stronger connection with them. The product features are something that they'll see eventually, but to get them to convert into buying customers, you need to show how the product can help them in their growth.
4. Increase your click-through rate with a clear CTA
The whole point of the email marketing campaign is to get more people to use your products. To get the people to click through to the landing page, you need to have a call to action (CTA) in your email. When adding CTAs, always make sure that it is clear and focused.
Many marketers are in the habit of adding multiple CTAs in their emails, which is not the best strategy. Too many different CTAs will leave the reader confused. This can distract them from the message. Instead, stick to your primary CTA, and incorporate that into different parts of your email.
Use the CTA to guide your readers to take a specific action. You can tell them about the benefits they can gain from clicking through. Also make sure that the CTA, the email, and the landing page are all in harmony.
5. Personalize your emails
Personalizing your emails can go a long way in getting more prospects to convert. According to an Accenture report, 91% of customers in a survey stated that they are more likely to go with a business that provides them personalized offers.
Consider adding personal elements wherever possible. Here are some ways you can personalize your emails:
Segment your email list according to their behavior.
Address your prospects by their name.
Craft the email message in such a way that it addresses their specific needs, interests, and issues.
Focus your content location based on their location.
Customize your subject line to make it more targeted.
Email personalization tools can help you in the process.
6. Make sure that your emails are visually appealing
This seems like an obvious point, but there are still many brands that end up creating very bland-looking text-heavy emails. To ensure that your email stands out to the readers, it's important to consider its visual appeal too. After your subject line, this is what keeps them hooked, encouraging them to read the whole email.
Here's how you can make your emails look great:
Write the email content in the form of short paragraphs, and don't forget to include phrases and keywords that stand out to your readers.
Make the email content skimmable by including bullet points and subheadings.
Add images to your email content, but make sure they are relevant. The images should not overtake the content.
Ensure that the email looks good on both desktop and mobile devices.
7. Link out to your social media
To build the audience's trust in your brand, it would be useful to include links to your social media profiles. The best way to include this is along with the call to action. You can also add some social share buttons on the email to encourage your readers to share the email within their network.
Conclusion
Carefully crafting impactful and thoughtful emails will always bring you the results you want. The key lies in striking a balance between driving traffic and building a relationship with the audience. With the tips and tools provided in this article, you'll be able to create effective email content that your readers will look forward to. This, in turn, will help in driving greater traffic and more sales to your business.