Are you looking for a way to take advantage of the holiday shopping frenzy? Offering holiday deals is a great start, but if you really want to maximize your end-of-the-year sales, you'd be wise to try out multiple holiday marketing strategies like offering holiday gift cards.
That's where holiday gift cards come in. Giving new and existing customers the opportunity to purchase in advance can help boost your holiday profits. What's more, you can pair WooCommerce with an easy-to-use extension to create these festive vouchers in no time.
In this post, we'll discuss the importance of preparing early for the holiday shopping season. Then, we'll show you how to create digital holiday gift cards in WooCommerce, providing examples and advice along the way. Let's get to it!
Why It's A Good Idea To Prepare For The Holiday Season Early
From Black Friday to after-Christmas discounts, consumers have come to expect major deals over the holiday season. In fact, holiday sales are increasing each year. Plus, a growing percentage of these festive purchases are made online.
With so many juicy online deals tempting shoppers, you'll want to go above and beyond to make sure your e-commerce store stands out among the rest. Ideally, you should prepare your online shop well ahead of time. To put it simply, if you don't smooth out the kinks in your holiday offerings early, you could miss out on tons of early-bird shoppers.
One great way to diversify your seasonal deals well in advance is by offering digital holiday gift cards on top of your usual traditional gift cards:
According to Statista, the growing global gift card market is expected to reach 510 billion in 2025. The sheer size of this number alone tells us that if you're not offering gift cards, you're likely missing out on a good chunk of profit.
Consumers overwhelmingly favor the convenience of gift cards. In fact, 48 percent of shoppers say they're more likely to give them this year. The best thing about them is that they are a guaranteed sale, whereas a discount may never be taken advantage of.
Gift cards can be especially useful around the holidays when your customers have a long list of presents to buy. If they're out of time and ideas, gift cards can be a lifesaver. From picky teenagers to friends at the other end of the country, almost everyone loves to be able to pick their gifts.
How To Create Holiday Gift Cards In WordPress
One of the best things about working with WordPress is that it allows you to use straightforward tools like WooCommerce. As you may already know, you can choose from tons of WooCommerce extensions to give your store added functionality.
If you're looking for an option that can help you create and manage a variety of different promotions, you might consider our Advanced Coupons Premium and Advanced Gift Cards plugin:
Advanced Gift Cards can enable your online store to sell gift cards to your customers for their friends, family, and loved ones.
On top of that, when you get Advanced Coupons Premium you'll get access to all sorts of features that can help you manage and optimize your promotions all year round. These include options for BOGO deals, shipping coupons, and more.
Plus, if you really want to maximize your profit potential, you can opt for an Advanced Coupons bundle that includes our Loyalty Program plugin. This is ideal for converting gift card customers into repeat buyers by offering reward points every time they order from your store.
Once you've installed and activated your plugin (ensuring you have the Gift Cards option), all you'll need to do is create a new gift card product. In the Product Type dropdown, you'll see the Advanced Gift Card option:
Simply select it and complete the necessary details to finalize your gift card. You can also add a custom image.
Since you'll be designing a holiday gift card, we recommend including a seasonal design that reflects the occasion to make it more exciting for the recipient of the gift card. It's as simple as that!
4 Best Holiday Gift Card Examples
Now that you've seen how easy it is to create a holiday gift card, we're going to dive deeper into the details. Let's take a look at some of the best holiday gift card examples out there.
1. Sephora
Since Sephora is one of the most iconic make-up and beauty companies of our time, it's no surprise that it's running top-notch holiday marketing and coupon campaigns. In addition to its classic and holiday gift card offerings, Sephora even allows customers to personalize digital presents:
Offering such a diverse collection of gift cards is a great way to appeal to the largest number of customers. To do this, you may want to create an entirely new product category (and subcategories) dedicated specifically to gift cards: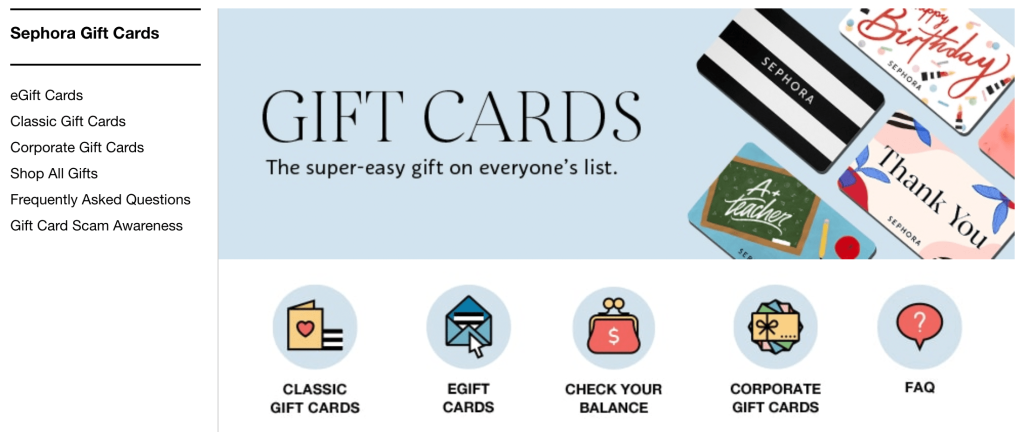 This will allow users to more easily navigate and discover the exact holiday gift card they are looking for.
For example, you could create a category for Classic Gift Cards, like Sephora, but you could also include a holiday section for customers who are excited by the festive aesthetic. If you run a B2B business, you might even want to create a corporate gift card subcategory.
2. Amazon
If you're looking for inspiration for your holiday gift cards, Amazon is another great place to find them. This is mostly because of the sheer size and scale of its offerings. When it comes to seasonal gift card options, Amazon has it all: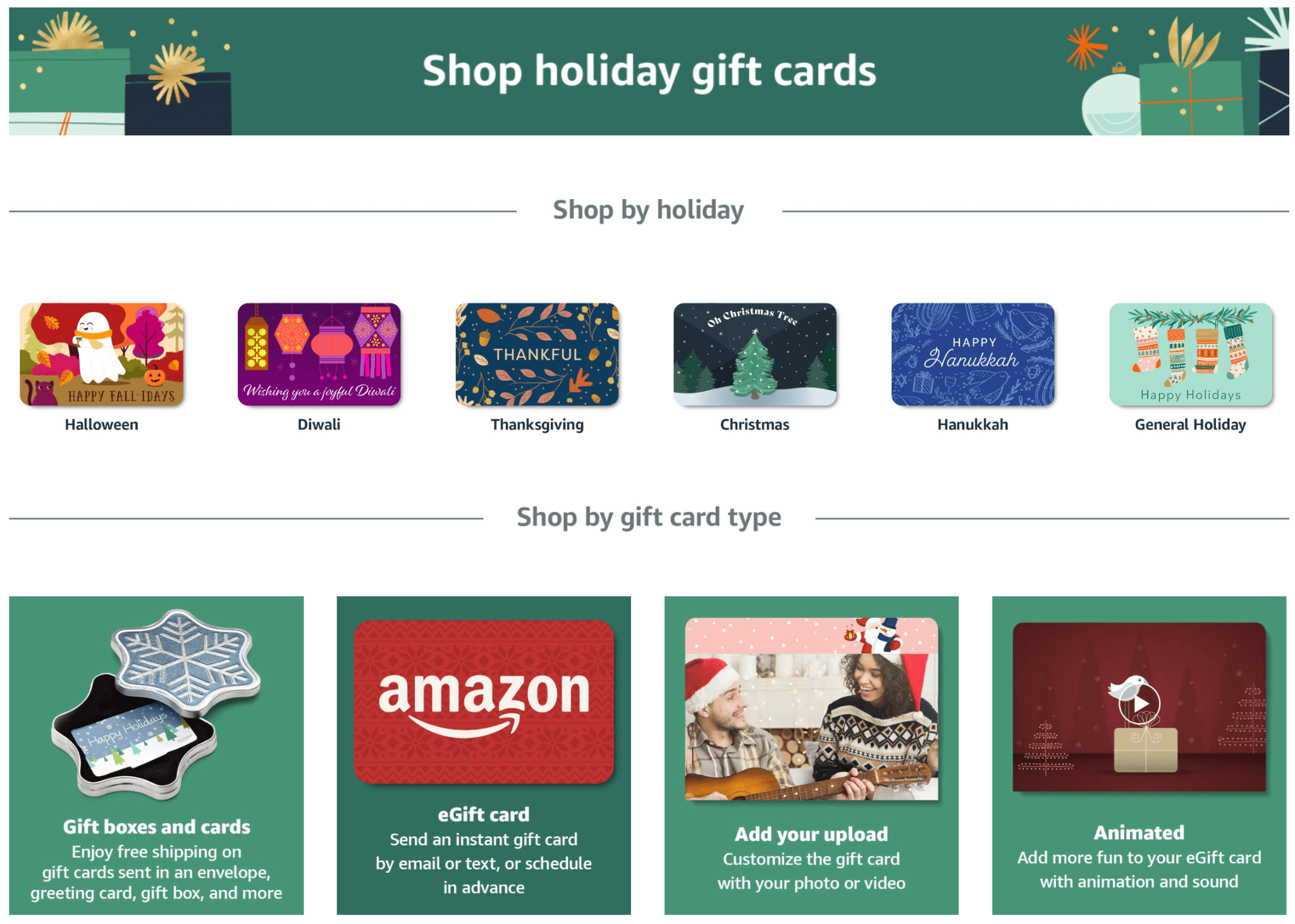 From Christmas to Diwali, this e-commerce giant offers up a highly inclusive seasonal product list. Admittedly, if you're a small business, you may not have the resources or the need to create such an exhaustive list of holiday gift cards.
3. Nintendo
If you have any young gamers in your life, you may already know that Nintendo also offers a fantastic gift card line-up:
While Nintendo doesn't have any specific holiday gift card designs, all of its options are extremely eye-catching and fun. They are strongly aligned with the video game company's visual brand, presenting major characters on each gift card. For example, you can opt for a card featuring Princess Peach, Luigi, or even Link.
Nintendo also does a good job of providing plenty of options in terms of pricing. For instance, you can gift as low as $10. Providing a wide scale of pricing options is recommended if you want to appeal to the largest amount of people.
4. Walmart
Gift cards can be especially useful if you run a larger e-commerce store with a wide variety of everyday items. That's because gift cards for this type of online store make extremely practical presents. This is perhaps why this works so well for Walmart's online shop.
Instead of providing gift cards that are heavily branded with its own logo, the way Nintendo does, Walmart goes all out by creating unique designs. What's more, Walmart makes an effort to each of its target demographics.
For example, nearly 11 percent of Walmart's consumers are Hispanic. While they don't make up the majority, they can still find holiday gift cards that appeal to their culture at Walmart:
Customers can even buy a Dia de Los Muertos gift card. This 'Day of the Dead' holiday voucher features vibrant colors and an emblematic candy skull design. From Father's Day to Halloween, Walmart provides a vast collection of cards for every occasion.
When it comes to your online store, you'd be wise to appeal to your unique audience in a similar fashion. Additionally, as you may have noticed in the example above, Walmart allows users to choose a custom amount for its gift cards. This is also recommendable if you want to give your customers more control over their gift choices.
Conclusion
When it comes to e-commerce, the holiday season brings lots of potential for growth and revenue. However, offering simple discounts may not be enough if you want to make the most of the online festivities.
Luckily, holiday gift cards can help you reach your end-of-the-year sales goals. Using Advanced Gift Cards, you can provide customers with fun vouchers that are aligned with your visual brand. When you present inclusive holiday options in an exciting way you'll be able to maximize your gift card profits.
Do you have any questions about how to use gift cards during the holiday season? Let us know in the comments section below!