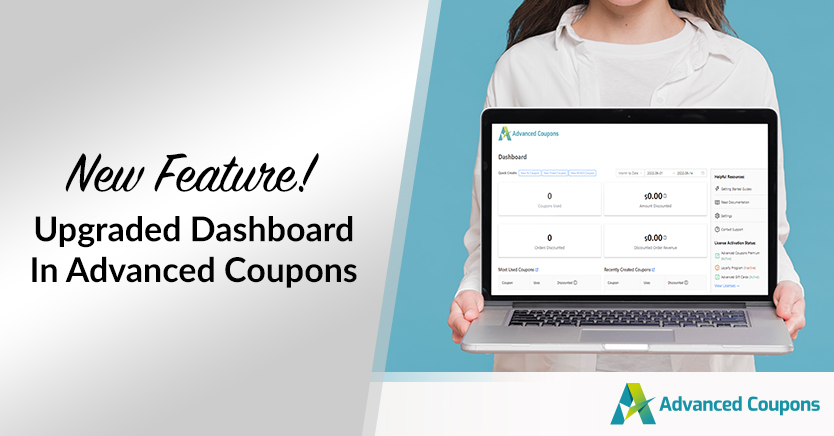 We've been hard at work making major changes (and upgrades) to our Advanced Coupons plugins to ensure that you don't miss out on the benefits of having an up-to-date and efficient store. This is also why we're beyond excited to announce that the new upgraded dashboard for Advanced Coupons Free Version 4.3 is now up and running!
This dashboard not only gives your platform a new look but also more convenient access to critical stats! So, if you haven't updated your plugin yet, now is the perfect time to do so.
Why Do I Need To Update My Advanced Coupons Plugin?
We love seeing the constant evolution of WooCommerce; all of the Advanced Coupons suite of plugins are built to help streamline your store's operations.
Keeping up with the changes is great for your business. Here's why:
Keep up with WooCommerce compatibility – we constantly test our plugins to ensure that they work with the most recent WooCommerce versions.
To get access to new excellent features (like this dashboard!)
To ensure the safety of your store – security and bug fixes are typically included in updates, so it's really important to stay up-to-date to keep your store protected.
What's New In Advanced Coupons Free Version 4.3
We've been working on an enhanced dashboard for Advanced Coupons over the past few months to make it more comprehensive and responsive to the things you require quick access to.
While the previous versions did their work flawlessly, we wanted to create a fresh interface that would help you increase your efficiency and overall coupon marketing productivity.
Therefore, the Advanced Coupons dashboard in Version 4.3 shows a well-organized summary report on coupon usage. We also built it to show relative information about our other plugins, Loyalty Program, and Advanced Gift Cards.
Here are some of the exciting features we prepared for you:
Quick Create Coupon Links
Report Period Selector
Advanced Coupons Report Widgets
Loyalty Program Report Widgets
Advanced Gift Cards Report Widgets
Easily Available Helpful Resources
License Activation Status
We can't wait for you to try this out, so let's go over it one by one!
An Overview Of The Upgraded Dashboard For Advanced Coupons Free Version 4.3
To start, log in to your WordPress admin dashboard. Next, click on the Coupons tab, and then the Dashboard submenu:
Quick Create Coupon Links
After the page title, there are buttons that allow you to instantly create coupons for the following discount types:
Percentage-based discounts
Fixed cart coupons
BOGO (Buy One, Get One) deals
Report Period Selector
Then, beside the quick create links, you can adjust your period selector option to specify the data you want to be displayed below. You can choose from the following options:
Week to Date
Month to Date (default)
Quarter to Date
Year to Date
Last Week
Month
Quarter
Year
Custom Range
Note that when you choose a custom date, you automatically change the principal selector value to "Custom Range."
Report Widgets
These are the stars of the show as they display a comprehensive summary of your coupon usage.
Based on this feature's selected report period range, the system collects the report data via the internal REST API endpoint.
The following are the report widgets included in the free plugin:
Coupons Used
Amount Discounted
Orders Discounted
Discounted Order Revenue
Most Used Coupons
Recently Created Coupons
Store Credits Added
Store Credits Used
When the module for store credits is active, the corresponding report widgets are deactivated. Likewise, the upsell widgets will be hidden when their related plugin is activated.
Loyalty Program Report Widgets
This feature is added to your dashboard if you have our Loyalty Program installed.
Loyalty Program report widgets display two things:
Points Earned
Points Used
This report widget's data-collecting script is only available in the Loyalty Program plugin, and it's only introduced to the dashboard reports page via a filter hook.
Advanced Gift Cards Report Widgets
Similarly, the following report widgets are only available when the Advanced Gift Cards plugin is enabled:
Gift Cards Claimed
Gift Cards Sold
Helpful Resources
Additionally, you can now easily access our helpful resources section, which is available in the dashboard's sidebar.
You can choose from the following links:
Getting Started Guides
Read Documentation
Settings
Contact Support
The settings link is the only internal link in this area, and when clicked, it will take you to the settings admin page. Furthermore, when you only have the free plugin installed (and no premium plugins), the "Contact Help" link will direct you to the appropriate wordpress.org support page.
However, when at least one of our premium plugins is active, the "Contact Support" link will redirect you to the Advanced Coupons website support page.
This will then show you all of our knowledge-based articles for quick help and our support link if you need to make a support request.
License Activation Status
Next, you can also check out your license activation status in the dashboard page's sidebar, just beneath the Helpful Resources section.
For you to easily monitor and manage your licenses, this section displays the license status for the following premium plugins:
Advanced Coupons Premium
Loyalty Program
Advanced Gift Cards
Then, to reflect the status of the plugin's license, the system automatically displays the labels next to them:
Active – when the license remains active
Inactive – when you have not yet activated the license
Expired – when the license has already expired
Conclusion
We designed the new dashboard in Advanced Coupons Free Version 4.3 to make your WooCommerce coupon marketing experience more convenient, accessible, and efficient.
Here are some of the exciting new features that we can't wait for you to try:
To make the most of this upgrade, download our Advanced Coupons All-In-One Bundle here! We hope you love this new dashboard as much as we loved creating it. If you have any questions about this new feature, feel free to comment below.