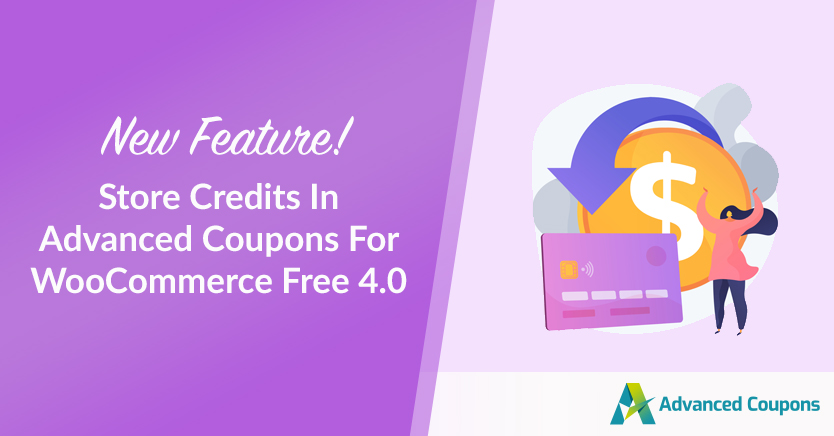 We are thrilled to announce Store Credits, an additional feature in Advanced Coupons for WooCommerce Free 4.0. We constantly strive to upgrade and introduce new features to keep up with the demand of your growing business and we're really happy to announce this much-requested feature today!
Advanced Coupons for WooCommerce Free 4.0 now offers store credits to level up both the seller's and consumer's experience. And in this article, we will discuss all about them. Let's get into it!
What Are Store Credits?
Store credits are a commonly used mechanism to give customers an "account" with your business, it's a great way to handle customer service situations, refunds, and a proven way to influence consumers to come back to your store to buy again.
Providing a robust store credit system is a great way to boost your sales and grow your store.
The Advanced Coupons for WooCommerce Free 4.0 store credits feature allows you to seamlessly add a store credit account to the profiles of your customers.
You can then give them store credit on their user account and they'll be able to them during checkout towards payment for the products or services rendered.
Why Use Store Credit?
Using store credit provides many advantages to your loyal buyers. Giving it to customers is something they will truly appreciate.
In businesses, some benefits of using store credit include:
Allowing your customers to make several transactions until the accumulated credit is drained.
It can be used for refunds or as compensation for customers who have experienced concerns about your product or service.
E-Commerce shops can also sell store credit coupons to users for personal use or to be given as gifts, and more (more coming on this front soon!).
Where Can I See Store Credits For Customers?
To see store credits for your buyers, simply go to Coupons, Store Credits then your Store Credits Dashboard will be displayed.
The Dashboard tab will show how many unclaimed and used credits are on your store.
An extensive list of your customers can be found in the Customer tab. This section allows you to manage their credit balance in your e-Commerce shop.
To view the full details of your buyer's store credit history, simply click the View Stats button. It will display the customer's Credit Status, Sources, and History.
Note that both administrator and the shop manager can easily change the store credits of a customer. They can add or deduct store credit by simply clicking the Adjust button.
Store Credits On My Account Page
Another important section in the Advanced Coupons For WooCommerce Free 4.0 is the Store Credit Tab. It allows you to smoothly check the Credit Balance of customers.
Store Credit As Payment
Your customers have the option to use the balance of their store credits to pay for the products they ordered. They can place whatever amount they desire to pay using their accumulated and available store credit. They can also settle the difference using other payment methods offered on your website.
Note that if the customer opts to pay for the product using a portion of store credit or in full, it will be considered as a discount in the order details section.
Refund To Store Credit
With the exciting addition of store credit in Advanced Coupons for WooCommerce Free 4.0, you can now smoothly refund a customer through store credit as an option. This is just like the usual WooCommerce process to refund but it modifies the reimbursement into a credit balance.
The accumulated credit balance can be used to purchase other products in your e-Commerce shop.
To do this option, simply click on the Refund option located on the Edit Order page.
There you have it! We hope you enjoy our new store credit feature for Advanced Coupons for WooCommerce Free 4.0. If you have any questions, comments, or feedback, we are happy to assist you. Please feel free to send us a message anytime.
The basics of this function are available in the free plugin. If you want to seamlessly manage your e-Commerce store and increase sales, we highly suggest you purchase the high-powered Advanced Coupons Premium All-In-One bundle.
This highly-rated plugin is currently used by 15,000+ store owners. It lets you:
create "Buy One Get One" deals using a single, group, or whole product categories;
provide coupons that automatically add items to the cart;
reward your devoted buyers with loyalty program points that they can use later;
efficiently schedule coupons for customer use,
automatically add coupons when cart conditions are met;
allow your buyers to use coupons by a URL;
make better shipping deals than offering free deliveries,
and many more.
We are enthusiastic for you to experience Advanced Coupons!
If upon purchase you find that Advanced Coupons is not what you are looking for, we offer a 100% No-Risk Money Back Guarantee over the next 14 days upon buying.
Conclusion
Offering store credit has numerous benefits for loyal customers, and it is a gesture that customers genuinely value. The good news is that Advanced Coupons for WooCommerce Free 4.0 has taken this concept to the next level, enhancing both the seller's and consumer's experience.
In this article, we delve into all the aspects of store credits, including how you can get started with it using Advanced Coupons:
Do you have any questions about store credits? Let us know in the comments!