The Coronavirus has kind of caught us all with our pants down and although it's been ramping up over the last few months it's only just now starting to show its effects on online store owners.
Some challenges that store owners are facing at the moment are:
Slow down of delivery from suppliers
Slow down of delivery to customers
Closed physical retail stores
Reduced wholesale ordering (for those that sell to wholesale customers)
Reduced online retail orders as people tighten their belts and are spending less on non-essentials
Fortunately, as online store owners, we are well-positioned to weather this crisis and although it might have people on edge, people are still spending money and going about their lives.
How we choose to adapt to the present circumstances will determine how your online store weathers the crisis, so today I wanted to write a few positive thoughts and ideas about how businesses can continue to promote themselves, online especially, in the midst of all that is going on.
#1 – Create A Site-wide Deal
Site-wide deals are great for one thing – stimulating sales across the board.
Use a tool like OptinMonster to put a sitewide banner across the top of your store advertising the discount and use Advanced Coupons to auto apply that 20% off deal to all orders (just don't set any cart conditions and it will apply to everything).
#2 – Use BOGO Deals Instead Of Straight % Off
BOGO (Buy One Get One) style deals are a win-win proposition.
If you use them correctly you can still make a good profit as a store owner while giving your customers the feeling that they've walked away with a good deal.
For example, you could run a 30% off deal… OR you could run a "Buy 3 Get 1 Free" deal instead.
Why would you run the latter over the former? It's simple math.
Example:
$100 product
$30 cost price
$70 profit margin
Take 30% off equals $70 revenue or a $40 profit margin.
Now let's use the same product in our BOGO type deal.
$100 product / $30 cost price / $70 profit margin
Times 3 is $300, minus 1 product for free, equals $200 revenue
Minus the cost of 3 products being $90 and you have a $110 profit margin. I'll take that any day of the week.
When you mix in the fact that you can do BOGO deals mixed across categories or ranges of products or mixed with different products together (think "buy 2 donuts and get a free coffee" style) and you have a fun and interesting promotion type.
You can run BOGO deals in WooCommerce with Advanced Coupons.
#3 – Free Roll Of Toilet Paper With Every Purchase!
I included this as a bit of a joke based on a conversation I was having with a business friend. But there's a serious side to it actually…
Giving bonus items unexpectedly is a great way to incentivize a sale.
What kind of bonus items can you give?
Product samples
Any old stock items you need to move anyway
Low-cost items
Lightweight items so they don't cost you more to ship
Could you include a sample of a new product line in all orders that aren't ordering that product?
Could you get some folding cardboard popups created?
Do you have access to small hand sanitizer bottles? Pop one of those in!
Magnets, keychains, caps, shirts, any kind of merchandise for your brand.
Get creative with what you can include so that you can surprise and delight your customers.
#4 – Sell Digital Vouchers
People still have birthdays, weddings, celebrations even if we're in the midst of a worldwide pandemic. You might not be able to attend them because, you know, lockdown and all, but gift cards are a great digital gift item and as a store owner you could take advantage of this fact.
Can you make a gift card product available on your website and send customers a PDF they can give to their friends and family?
This could be a great way for you to encourage orders without actually having to ship goods immediately.
#5 – Take Invoice Payments
If you sell at a wholesale level then letting your wholesale customers pay later via invoice is a great way to still take orders.
At this time, what your customers might need is financial relief and knowing that they won't have to pay for the goods they need to keep their business going right away might be welcome news.
#6 – Reactivate Old Customers With An Offer
You know what they say, marketing to existing customers is a good deal cheaper than marketing to brand new customers. Some say it's even up to 5 times cheaper.
Can you reactivate your old customers who haven't ordered in a while with a special offer?
If it's been over 12 months since they last ordered it's a pretty sure thing they weren't ever going to order again. So giving them a fairly decent percentage off to come back and shop again is actually low risk. These are sales you wouldn't have made in the first place.
#7 – Combine Products Together For A Discount
Amazon does this marvelously when you purchase multiple related items together in one transaction.


Bundling products together, especially if you add a discount, lets you cross-sell and increase the overall value of an order, working on that AOV (Average Order Value).
But another way to think of this as well is not as a cross-selling initiative but as a great lead-in for people to sample multiple product offerings at once.
I have seen stores doing very well selling "Variety Packs" of their most popular product lines.
#8 – Create Shipping Incentives
Shipping is always a hot button for consumers and everyone loves getting a deal on it.
Usually, it's just about giving free shipping or giving free shipping once they hit a threshold.
But you can also do other types of shipping offers using Advanced Coupons.
#9 – Promote Partner Products That Are Better Placed At The Moment
If your company is selling something that is truly optional and your sales have sunk to nothing, then maybe you need to recognize that your products aren't the only thing you can sell.
The value is in your list after all, and those people are needing specific services.
Just this morning I received an email from a consumer goods retailer here in Australia called JB HiFi who normally sells boatloads of TVs, Bluray players, gaming consoles, games, computers, etc.
They're a big national company, but since people aren't really visiting their normally very popular stores at the moment, they're thinking outside of the box and partnering with Webex with an affiliate offer.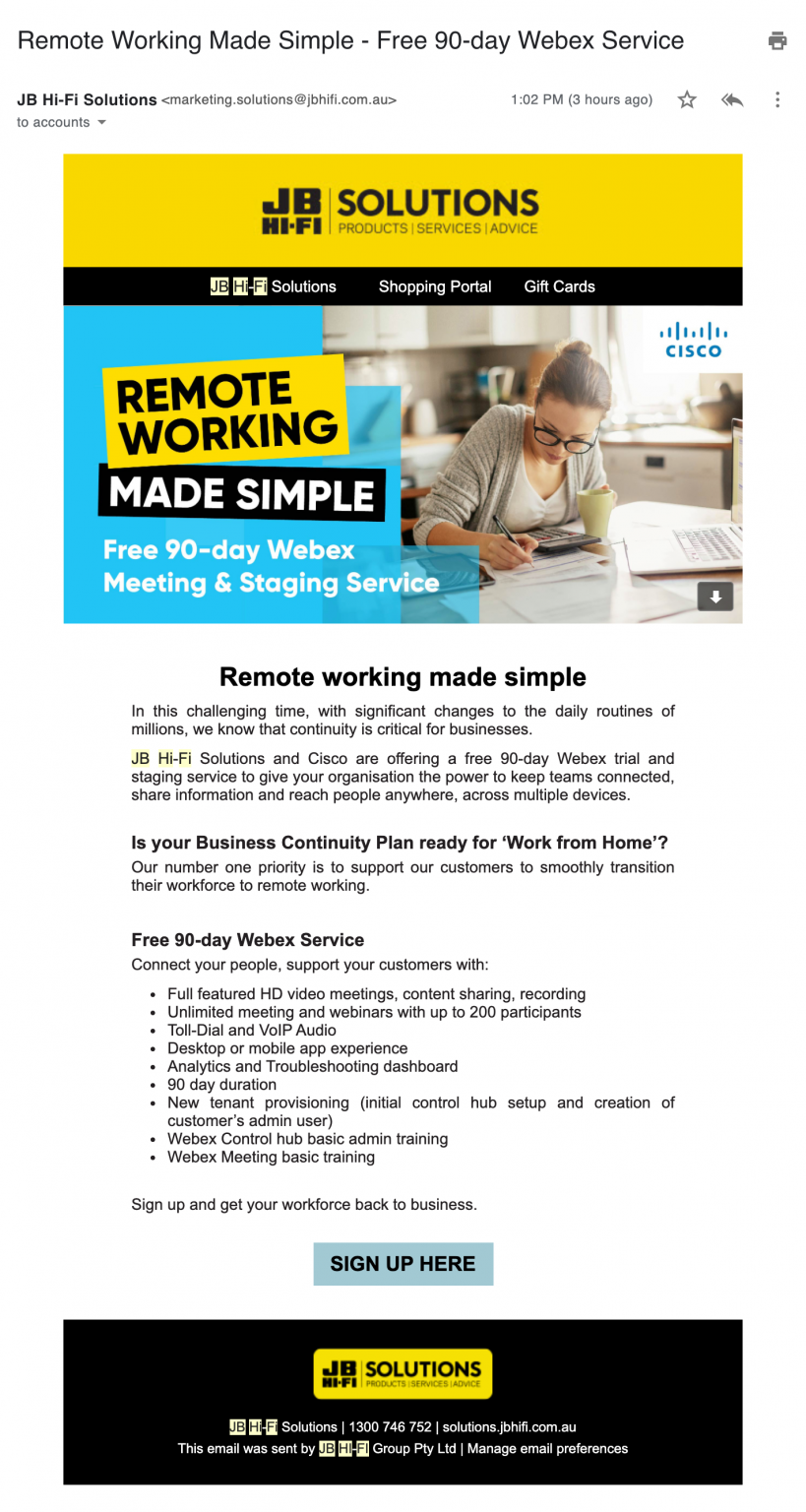 Webex is having a great time of things with the remote working boom that is happening off the back of this pandemic that is pushing people to stay indoors.
So, joining forces, JB Hi-Fi gives access to their extensive customer lists with a relevant and timely offer and gets paid a kick-back either per click or per lead.
Are there businesses you could promote to your list that are better positioned in the market given the current circumstances that you could promote an offer for?
Make sure it's a relevant offer for your customer base though, or it won't convert.
#10 – Create A Course
A trend late last year that I was seeing with some e-commerce store owners was running in-person events and training seminars around topics in their niche.
For example, a company selling art supplies was running in-person "wine and art" nights as a supplement. It taught people a little about art, sold some art supplies to tipsy patrons, and groups walked away happy after a great night of laughter, wine, and painting.
Fast-forward to today and you're probably not going to be exploring adding in-person events, but you can do the next best thing which is to create a digital course.
Using a plugin like MemberPress to do this makes this almost too easy.
Set up your course materials, drip feed them if you want, and start enrolling people.
Even if you don't charge people for the course (which I do recommend you charge them because it will make them value the information more) you can use the course to gain extra exposure to people that otherwise wouldn't have interacted with you or your company.
Last Tip: Communicate
My final tip, and conclusion to this article, is to remind you to communicate with your customers.
A lot of people go into a hermit hole and forget to talk to the people they're doing business within a situation like this. The best way to work yourself out of this is by communicating.
Communicate frequently:
Be helpful
Don't be sales-y (it's not the right time for this)
Be upfront about shipping costs
Be upfront about delivery windows
Tell people what you're doing for the cleanliness of your goods
Let people know what you're doing as a company
Have a great COVID-19 promotion tip for your fellow store owners? Leave us a comment below!