This post will show you how to make a coupon that discount shipping in WooCommerce.
We're using a tool called Advanced Coupons which adds a bunch of extra features to your standard WooCommerce coupons, one of which being shipping overrides.
This is WAY more than just your normal boring "free shipping" deal.
Imagine being able to do things like:
50% off express shipping for a limited time!
Last-minute free express shipping before X date
50% discount on courier shipping within your home city
…. I think you get the idea!
What it lets you do is override the shipping cost for any of your shipping methods in your defined shipping zones on your WooCommerce store.
When the customer selects the shipping zone you've defined, the coupon will give the customer the discount.
The good thing is, it's also compatible with other features in Advanced Coupons like the Cart Conditions, Auto apply, etc.
That means you could even do neat stuff like:
Free shipping when you have 2 or more of Product A in the cart
Half price express shipping on orders over $100
etc
And you can even have it automatically apply or apply with a one-click notification button, so no remembering coupon codes required.
How To Create A Shipping Override Coupon In WooCommerce
I made you this neat little tutorial video which takes you through the steps.
Subscribe to Advanced Coupons
If you can't watch the video, here are the steps laid out for you:
Step 1 – Name your coupon appropriately
The first step is to choose a proper name for your coupon. Naming your coupons appropriately will save you a lot of hair-tearing and tears in the future because things will be easy to find.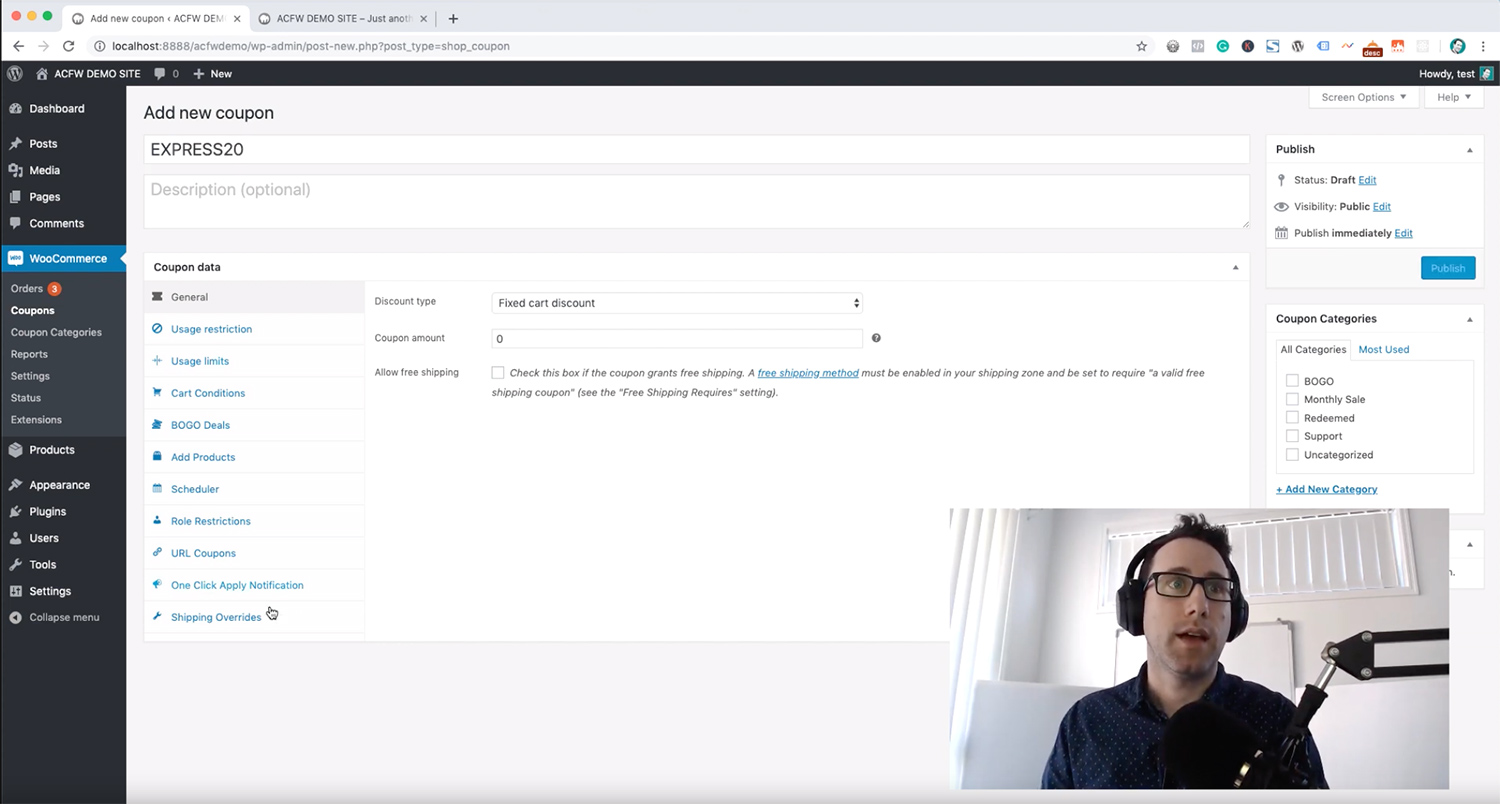 Step 2 – Shipping Overrides feature
Navigate to the shipping overrides feature. You'll see this in the left-hand tabs on the coupon edit screen.
Advanced Coupons adds a lot of other features as well to your coupons, the shipping overrides is just one of them.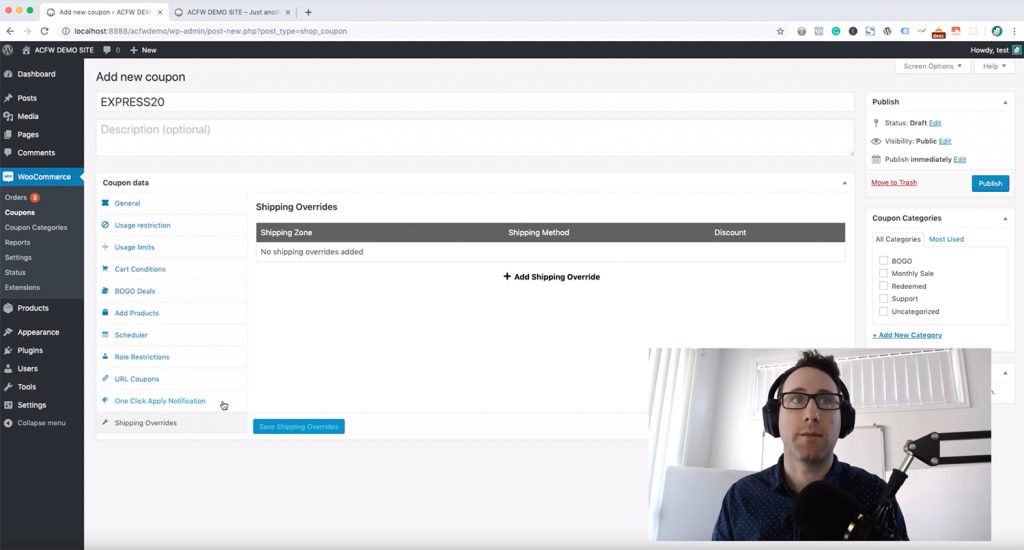 You will find a table here where you can add a shipping override. Click the + Add Shipping Override button and it will add a line to the table.
Step 3 – Set Up The Shipping Method Discount
When you click the + Add Shipping Override button you get a new line where you can choose the shipping zone:
Choose the zone you want to target and it will then refresh the next box for the shipping methods available in that zone. Choose the shipping method you want to target:
Then you can set what kind of discount you want. You can choose from a price override (meaning you set the price) or a discount by percentage or a fixed amount.
In the end, it should look like this:

Since the user can only ever choose one shipping method, you can use one shipping override coupon to discount many methods and it will handle them all.
For example, if you're discounting express shipping but you have multiple express shipping methods across different zones, just add extra lines to the table by pressing the + Add Shipping Override button.
Step 4 – Test
When it comes to putting deals together, testing is a MUST.
If you don't test your deal on the front end of your site, you're risking a broken process which would look bad and leave you scrambling if it went live like that.
A quick test on the front end of the site reveals that the discount is working when the shipping discount coupon is applied.
You might be wondering why it does the discount on a new line in the cart totals?
For shipping, the discount goes in as a negative fee. This is because there are several restrictions on how shipping is handled in a cart situation.
Using a negative fee also lets the system show what happened on the backend when viewing the order so you will know which shipping method was discounted.
Using WooCommerce Coupons For Shipping Discounts
I hope this tutorial has given you a few marketing ideas for your WooCommerce store!
Discounting shipping is always a well-received promotion for customers. Advanced Coupons makes it much easier to achieve this kind of promotion in WooCommerce.