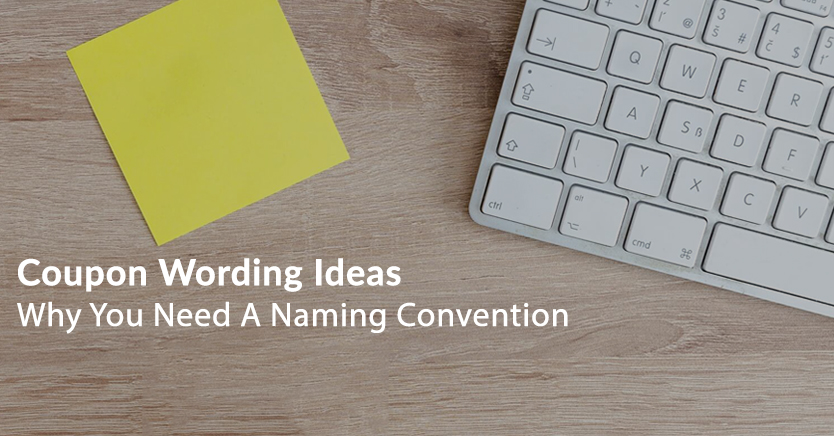 Are you struggling with coupon wording ideas? Find yourself repeating the same coupon names over and over?
By the time you've run tens or hundreds of promotions, all of your coupon names might start blending into one. They all start sounding the same and sometimes you might end up with coupon naming clashes where you've used the same coupon before in the past and can't use it again.
That's why having a naming convention can be really important for your coupons.
The way you word your coupons can help with the positioning of your deal, reducing confusion among your customers regarding what the deal is about, reduce support headaches with people struggling to redeem the deal, and give you some sanity surrounding coming up with new coupon names.
How Coupon Wording Affects Positioning
Coupon wording is very important because it effects:
The way customers respond to your deal
The perceived value of the deal
How easy/hard it is to redeem the deal
The wording you use needs to back up the perception of value or saving they're receiving.
Thinking about the positioning of the deal can help. For example, instead of using the phrasing "50% off" try using "Buy 1, Get 1 Free!" which has much more punch and results in a better outcome for you as the store owner (selling two items at 25% off each vs. 1 item for half price).
You also don't want to introduce coupon names that are overly complicated.
There's nothing worse than a coupon code like 7GVft6yxbsk3gdCm.
While this is pretty much guaranteed to be unique, these types of coupon codes are untypable and will only result in frustrated customers.
Clarity Is Extremely Important
Making sure that your coupon is worded very clearly can help you avoid a lot of issues:
Confusion about what they get with the deal
Confusion about how to redeem the deal
Post-purchase support issues
I suggest using obvious coupon names that reflect the deal and what they're getting.
For example, instead of wording your coupon vaguely such as "BIRTHDAYDEAL" try being more specific with "25OFFBDAY2018".
The latter explains the purpose (a coupon for your birthday) plus what they get with the deal (25% off their next order) and for what year it was.
How Coupon Wording Ideas Can Be Implemented In A Naming Convention
Naming conventions are something borrowed from the engineering world where clear naming avoids a lot of confusion in complex systems.
Coupons can get complex when you have 1000 of them, so before you get to that point, it's smart to implement a naming convention for your own sanity.
I recommend something along the lines of this:
Deal + Coupon Purpose + Date
To illustrate this would come out like this:
10OFFWELCOME2018 – a coupon to welcome new customers and reward them with 10% off their first order.
50OFF2NDTSHIRTMARCH – a coupon to grant half price on the second t-shirt for the month of March.
BONUSEOFY2018 – a coupon to redeem a bonus product during an End Of Financial Year sale for 2018.
OVER100FREEWIDGETJUNE – free product giveaway in the month of June for orders over $100.
These are some coupon wording ideas to illustrate the usage of this naming convention in action.
To summarize, implementing a naming convention will let you and your customer easily identify the promotion, what it's for and when it's for. These hints are great to avoid confusion about the coupon, set the positioning and keep things clear. It also has the added bonus that you'll be unlikely to repeat the same coupon name again by mistake.