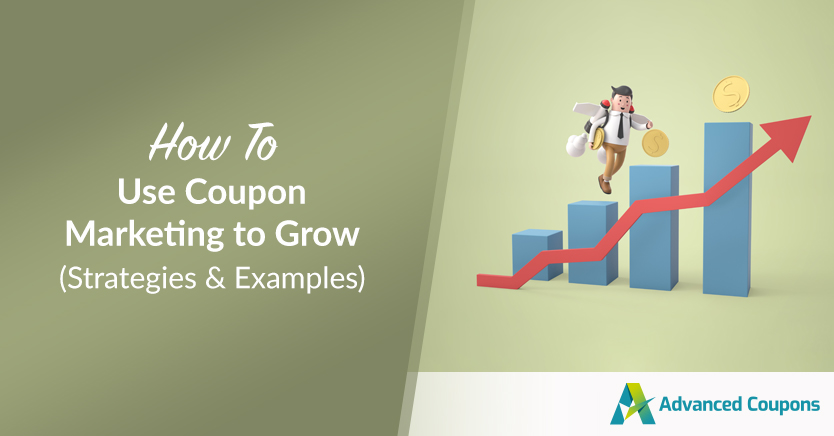 Experienced entrepreneurs may tell you that there are no shortcuts to success. That might be true in some cases, but with effective coupon marketing, you can grow your customer base and increase sales – fast.
One of the earliest, well-documented examples of coupon marketing was Coca-Cola back in 1887, but digital coupons require new strategies. From promo codes to SMS discounts, there are many ways you can grow your e-commerce business using this timeless marketing approach.
In this article, we'll talk about the benefits of using online coupons and share some strategies you can try. We'll also answer some frequently asked questions about coupon marketing. Let's begin!
An Introduction To Coupon Marketing
Coupon marketing is one of the oldest and most reliable marketing strategies there is. Vouchers, discounts, and special offers are all types of coupons you can use to reach new customers and boost sales.
While physical coupons were once the primary method, digital coupons are becoming increasingly popular, even for brick-and-mortar stores. This is partly because distributing digital coupons is extremely convenient.
If you have a WooCommerce store, the Advanced Coupons plugin gives you all the tools you need to set up and share your own digital coupons. Whether you want to run a BOGO deal, free shipping special, or bulk purchase discounts, Advanced Coupons makes it easy to market coupons on your WordPress site.
The Benefits Of Coupon Marketing
Coupons are a versatile tool in any marketer's toolbelt. They can be used to achieve a number of objectives, and of course, coupons have many benefits. Now, let's go over a few of them!
Attract new customers
Coupons are an excellent way to attract new customers. There are several methods you can use to accomplish this. A few examples include:
Free items (usually with a purchase)
Unusually high discounts
All of these methods do a good job of attracting attention. That's why they're a great way to encourage new customers to make their first purchases.
For example, offering 50 percent off on first-time purchases is often enough to motivate many visitors who have been browsing your site to finally take the plunge. While you may not make a lot of money on this initial purchase, you might have just gained a lifetime customer.
The idea here is that at least some of these first-time buyers will become repeat buyers later on. If you offer a high-quality single-use product, it will be difficult to resist re-ordering it, even if the tag is steeper the next time. Alternatively, if you offer items that last much longer, shoppers will now trust that your brand delivers excellence, and they'll be more likely to come back.
Increase sales
Sometimes companies need a boost in revenue or to offload certain products. Coupons are a great way to increase sales in the short term, whether that be with a blanket or targeted discounts.
For instance, a company looking to earn a little more revenue before the end of the fiscal year might release a 20 percent off coupon to promote additional purchases. While this isn't a huge discount, it can motivate many customers to buy something they've been considering at full price. While the profit will be lower, earning 80 percent of revenue on a sale is better than none!
Another good tactic for increasing sales with coupons is to target specific items. For example, say your company is launching a new product and sales are starting off slowly. By offering a 50 percent off coupon for that product, sales are likely to pick up. Once the item is moving and people are talking about it, the coupon can be removed.
Collect data
Digital coupons also offer the opportunity to collect data from your customers. While many of your site visitors won't bother to sign up for an email list on their own, they are more likely to if a coupon is involved.
That's why gifting a one-time $20 off coupon (or any other amount) to customers who sign up for your email promotions can be a great way to grow your email list. You can also keep track of coupon usage to learn more about who your customers are and how they shop.
To do this, you can offer unique coupons through different avenues to see which gets used more. You can also cross-reference other information like shipping addresses and area codes to see who is ordering from you the most geographically. This data can help you build better-targeted marketing campaigns.
Common Types Of Coupons
Once upon a time coupons were exclusively slips of paper handed out or cut from newspapers. As e-commerce and mobile devices become more popular, new coupon types are popping up. Below are some popular examples.
Digital coupons and mobile coupons
Digital coupons are the way to go for websites and apps. These coupons can be easily distributed via email, social media, or even in your digital shop itself:
Mobile coupons are a form of digital coupon specifically designed for mobile devices, usually smartphones. The advantage of mobile coupons is they can be used both online and in-person. For example, a mobile coupon can include a barcode that can be scanned by a physical cash register. As long as a customer has their phone with them, they can use a digital coupon.
Digital and mobile coupons can also be used online. While there are a few methods for managing them, the concept is the same as a physical coupon.
Coupon codes and promo codes
Coupon codes (also known as promo codes) are one way to facilitate the use of digital coupons. These methods simplify the need for coupon tracking or management procedure.
In a nutshell, a coupon code is a unique and specific code, almost like a password, that can be shared with customers. When that code is entered during checkout, the coupon discount is automatically applied:
While some back-end work is needed to set up this type of coupon, the delivery and use of promotional codes are highly convenient. This can greatly improve the user experience for your customers. Advanced Coupons gives you the tools to generate and manage coupon codes, handling most of the back-end work for you.
SMS coupons
SMS coupons are a less common, more specific form of mobile coupons. What defines an SMS coupon is that it is delivered via text message.
These text messages can provide a coupon link or a standard coupon code. While SMS coupons aren't as popular these days, they might work well for the right audience. Keep in mind, though, that you'll need a robust list of customer phone numbers to make this an effective strategy.
Giveaways and vouchers
Vouchers and giveaways involve providing something for free. As an example, a voucher for a free drink at a restaurant could be spent in place of money.
Giveaways are similar, though they are usually attached to a coupon deal with additional stipulations. For instance, a free item giveaway coupon may require another purchase to be made or shipping to still be paid, in addition to presenting the coupon.
Both giveaways and vouchers are great ways to attract new customers. While customers may be reluctant to shop at a new store for any number of reasons, they are more likely to check it out if they know they'll get a free 'gift'. This strategy is particularly well-suited to social media platforms, which you can use to simultaneously encourage follower engagement.
5 Effective Coupon Marketing Strategies
Below are five proven coupon marketing strategies that you can start using today to reach new customers or achieve other marketing objectives.
1. Get customers to your shop with special offers
First-time buyer coupons are a great way to grow your customer base. There are a number of ways you can do this, but it often involves creating a one-time use coupon that is so generous it's hard to resist.
This type of coupon is usually tracked by email address to ensure that only one coupon is used per person:
Special offers can be a great way to get customers to make their first purchases at your store. Plus, once they've gone through the process of their first checkout, they'll be more likely to come back if they like your products.
2. Use discounts to move slow-selling products and overstock
One of the oldest sales strategies in the book is offering a discount on slow-selling products. This way, you can kill two birds with one stone by offering coupons for specific items you are looking to get rid of. Here are a few common reasons why businesses might want to target specific products:
To speed up sales on slow-moving products
To unload overstock (perhaps as a result of a double-shipment)
To kickstart sales for a new product
By offering coupons for products in these categories, you get all of the advantages of coupon marketing in addition to encouraging customers to make those specific purchases. You can even set a threshold to encourage bundle offers and move items faster!
3. Offer digital coupon sign-ups for lead generation
As we mentioned, trading coupons for contact information is a great way to build an email list. There are a few ways you can do this. It usually involves requesting an email address and/or phone number, then sending a digital coupon discount as a 'reward' for signing up:
The major benefit of this strategy is that it gives you the means to contact a potential customer with other offers or promotional material. Keep in mind that you'll need to have users opt-in to those communications, otherwise you risk running into legal trouble down the line.
The Return On Investment (ROI) is easy to measure here in most cases. For example, if you offer a $10 coupon for signing up for your email list, you're likely getting a sale and a new customer contact for only $10.
4. Market your brand with giveaways
Giveaways offer a remarkably fast way to grow your customer base. Everybody loves free stuff, so by offering it up, you can easily motivate shoppers to visit your online store.
Even if they don't buy anything during that visit, it is more likely that they'll return to your shop after being there once before. Maybe a product will catch their eye while they're claiming their free gift, or perhaps creating an account was the motivation they needed to make a purchase.
There is an obvious cost here (the free item), but this can be reduced by turning your giveaway into a contest. Rather than everyone getting a free item, only a select number of winners will.
This can reduce the 'freebie' excitement somewhat, but it's still a great way to gain visibility through shares and contact information from contest entries. Even if not many people enter the contest, you'll still have at least one excited potential shopper: the winner!
5. Attract shoppers with seasonal promo codes
Seasonal sales provide lots of coupon marketing opportunities, from kicking off the holiday season with Black Friday and Cyber Monday deals to offering end-of-summer sales. You can even take advantage of the less celebrated holidays such as Presidents' Day:
Seasonal promo codes work as well as discounts in any other scenario, with the added benefit of customers expecting and looking forward to them on the calendar. What's more, these are perfect 'limited-time offer' coupons.
Furthermore, around major holidays like Christmas, customers tend to be more likely to pull out their wallets. As such, you'll want to advantage of the shopping frenzy with seasonal promo codes!
Coupon Marketing Frequently Asked Questions (FAQs)
In case you have any lingering doubts about coupon marketing, we're now going to go over some of the most frequently asked questions about this approach.
How do you promote coupons?
Coupons can only be effective if your audience is aware of them. Luckily, there are many ways to promote digital coupons to reach the masses.
Social media is the perfect place to promote coupons. If your offer is good enough, users might even take to sharing your coupon themselves!
Another obvious place to promote your coupons is on your website's homepage or other high-traffic landing pages. Customers visiting your site are likely to see coupons on these pages, and since they are already there to shop, there is a good chance that they will make use of your coupon as well.
Advanced Coupons has a lot of tools that can help you promote coupons. You can use our plugin to create a coupon that you can embed just about anywhere. This includes on your site, on social media, or via email.
Are coupons considered marketing?
While less direct than say, a television commercial, coupons achieve many of the same benefits as other kinds of advertisement. Positive side effects of coupon marketing include:
People knowing about your company (even if they don't use the coupon)
Attracting new customers to shop
Generating hype around your business
In fact, coupons are often included in marketing budgets and even used in tax calculations in some cases. So in short, yes, coupons are commonly considered a less direct form of marketing.
How do coupons attract customers?
This one is simple. Shoppers like to save money. A coupon tempts customers to shop by offering savings that are hard to pass up. Those already familiar with your company may be motivated to make a purchase with the promise of saving money.
Meanwhile, those unfamiliar with your business or on the fence about buying may just need the nudge of a coupon to convert. Extremely good deals like free item vouchers, BOGO coupons, or high-percentage discounts can get both new and old customers excited about visiting your store.
Are coupons advertising?
Again, in an indirect sense, yes. Buzz-worthy coupons can get shoppers talking about your company and increase your visibility.
A good example is free giveaways. While you are losing money giving away a product for free, what you are gaining is exposure and customers coming to your shop to redeem their freebies.
Coupons are also a great excuse to create an ad. Whether that be through social media, an email list, or through SMS, distributing coupons is a good reason to contact your customers.
Imagine a big sign in the front window of a coffee shop that reads "Free Latte Vouchers Inside!" This is a form of advertising, and likely to get a lot of customers entering the store! Indirectly, coupons unlock a lot of advertising possibilities.
Conclusion
If you want your online business to succeed, you need to come up with the best online business ideas. Similarly, you'll need to attract new customers and keep past shoppers coming back. These are crucial to any marketing strategy, and coupons are a great way to accomplish them all.
Some tried-and-true coupon marketing strategies you can use are:
Get customers to your shop with special offers.
Use discounts to move slow-selling products and overstock.
Offer digital coupon sign-ups for lead generation.
Market your brand with giveaways.
Attract shoppers with seasonal promo codes.
Do you have any questions about how to use coupon marketing to grow your online business? Let us know in the comments sections below!