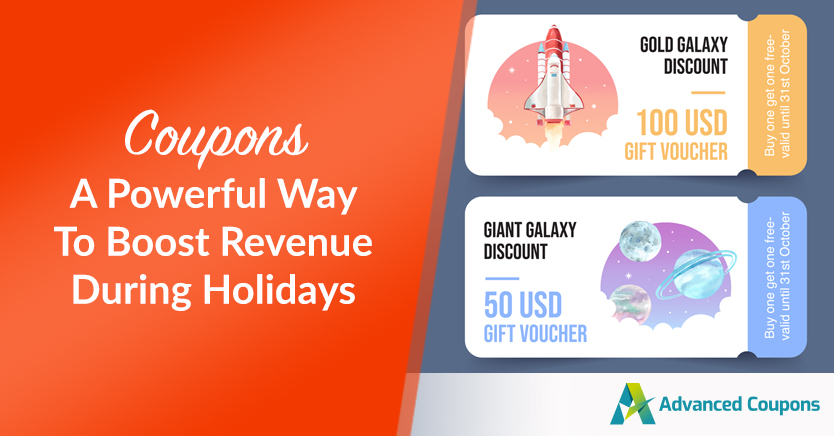 While holidays can offer your business many opportunities to boost revenue, they're also occasions during which competition is steepest. So how do you stay ahead of your rivals during celebrations such as Christmas, Valentine's Day, and Independence Day?
If you're the proud owner of an online store, there are various strategies you can employ to take advantage of holiday shopping surges. One of the most effective among them is the use of coupons.
Those using WooCommerce for their online store, for example, can benefit from Advanced Coupons. This premium plugin lets you create exciting and lucrative sales promotions, including fixed price discounts, BOGO deals, URL coupons, and more. Such coupons are often a huge draw for customers especially during holidays, helping you make a killing when shopping is high on most people's list of priorities.
In today's article, we'll discuss the many ways coupons can boost revenue during holidays. We'll also talk about the different types of coupons you can use to maximize your profits. So read on!
How Coupons Can Boost Revenue And Help Your Business During Holidays
Below, we list the many ways coupons can dramatically improve your sales during holidays.
1. They attract new customers
Using coupons is a great way to bring new visitors to your online store.
The reasoning behind this is simple: customers love lower prices. In a CouponFollow study, 84% of their 1,300 survey respondents stated that price influences what they purchase. 61% even said that price is the major determiner of their buying behavior.
The same report demonstrated another truth: shoppers often look for ways to save, and among the best ways to do that is to use coupon codes. 96% of the survey respondents admitted to actively searching for online coupons before buying something. On the other hand, 51% said they looked online for coupon codes almost every time they shopped online.
Of course, an item sold at a discount is often more attractive than one that's being sold at full price. Coupons can therefore persuade customers to purchase items they would otherwise avoid.
Add all this to the fact that people do far more shopping when a big celebration is just around the corner, and it's easy to see why coupons are especially helpful during holidays.
2. They raise brand awareness
The greater the number of new customers your business attracts, the more your brand awareness increases.
Satisfied customers will remember your store, making it more likely that they'll be converted into regular patrons. And if a sales promotion is particularly impressive, there's a good chance they'll tell friends, loved ones, and colleagues about it – which is essentially free advertising for your business!
This recognition is especially vital for new businesses and can go a long way in boosting sales during holidays.
3. They're inexpensive and efficient
As stated in the previous point, coupons can create positive word of mouth about your business, allowing you to promote your store for free. It also won't cost you a dime to promote coupon codes via your website and social media channels. This is especially important during holidays, when people are actively seeking sales promotions.
But giving away coupons is, in itself, an affordable way to let people know about your products and services. With one click, for example, you can email digital coupons to a massive audience, which can lead to a huge influx of customers.
True, discounts do lead to diminished profits. However, by avoiding expensive advertising campaigns that may not even produce desired results, your earnings will be far greater than your losses. Not to mention you can minimize said losses by using strategies such as offering only a single coupon to each customer, limiting your redeemable coupon count, and more.
In short, coupons can help boost revenue by letting you avoid costly marketing campaigns.
4. They increase customer loyalty
Special offers are enticing to customers, encouraging them to avail of your services instead of a competitor's. And frequently giving away coupons will make your patrons feel rewarded for using your online store, which in turn can promote loyalty toward your business.
Building customer loyalty can contribute to the success of your business. According to studies, existing customers spend around 67% more than new customers. Improving customer retention by 5% can raise earnings by 25%. In addition, acquiring a new customer is 5 to 25 times more costly than retaining one.
Try combining your coupon deals with a marketing strategy such as the Advanced WooCommerce Loyalty Program to further cultivate customer loyalty!
Boost Revenue Using These Different Types of Coupons
You can boost revenue using various types of coupon deals. Let's explore some of the most effective ones!
1. Percentage discount coupons
The percentage discount is among the simplest ways to sell products or services at a reduced price. All you have to do is to determine how much of a product's regular price you'd like to shave off.
For example, you can offer a 30% discount for shirts costing $30 so that customers can buy them for $21.
2. Buy X Get X deals a.k.a. BOGO deals
A BOGO (Buy One Get One) deal is a type of deal where you let customers buy a certain number of products, then give them one or more products as a result of their purchases.
You can, for example, create a deal where a customer can get a specific beanie for free if they buy two shirts. Or you can award them a hoodie of their choice if they purchase a t-shirt and a cap.
3. Store credit cashback coupons
The store credit cashback coupon is another way to boost revenue via discounts.
This coupon returns a fixed cash amount, in the form of store credits, to a buyer upon making a purchase. Alternatively, it can the cashback can be a percentage of the item's cost.
This customer can then spend their accumulated store credits to purchase other items.
Advanced Coupons Premium gives you complete control over your percentage discount, BOGO, and cashback strategies. This allows you to create exciting and powerful sales promotions sure to attract customers and boost revenue.
Conclusion: Use Coupons To Boost Revenue During Holidays
People tend to do a lot of shopping during or in preparation for holidays. As such, it's to your best benefit as a store owner to take advantage of the shopping surge whenever a big celebration is imminent.
Coupons are a great way to boost revenue during holidays. To recap, they can help your business by:
Three types of effective coupon strategies include:
Take advantage of the powerful coupon strategies using our Advanced Coupons Free Plugin. Upgrade to Advanced Coupons Premium for even more exciting features!
If you have any questions about how coupons can benefit your business, leave us a message in the comments section below!