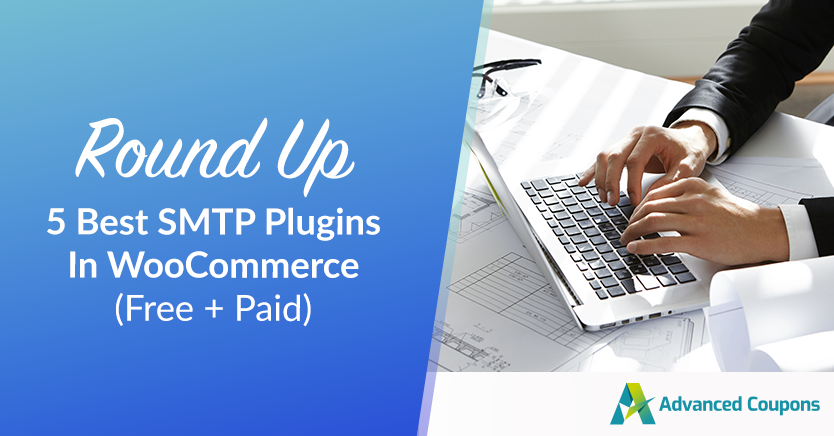 Do you ever get annoyed by a bunch of annoying and sketchy emails flooding your inbox? Or maybe you're frustrated because the emails you send to your customers keep ending up in their spam folders or getting rejected by other email servers. If this is the case, explore WooCommerce SMTP plugins.
Essentially, SMTP serves as the standard way for sending and relaying outgoing emails between email servers on the internet. These plugins help improve the email delivery process, enhance security, and facilitate integration with various services.
In this article, we shared the top 5 SMTP plugins in WooCommerce today. And don't worry, we won't just throw a bunch of names at you; we'll give you a rundown of each plugin and let you know what they'll cost you. So, let's dive right into it!
Why You Need An SMTP Plugin For Your WooCommerce Store
As a business owner, you know that communication is the lifeblood of your company. It's what keeps everything running smoothly and connects you with your customers and partners.
That being said, the way you send and receive emails is a critical component of your day-to-day operations. However, in order to ensure smooth email functionality, having an SMTP (Simple Mail Transfer Protocol) plugin in place is a must.
I know the term might sound a bit technical, but it's basically a nifty tool that ensures your emails go where they need to go without any hiccups.
For instance, you may have encountered a frustrating situation where a large-scale promotional email you sent out didn't reach its intended recipients entirely. Even worse, some of your emails end up flagged as suspicious and buried in spam folders, leaving your marketing efforts in the dust.
Frustrating? Well, that's exactly what happens when you don't have an SMTP plugin locked in. As you can imagine, such issues not only waste valuable marketing resources but also reduce opportunities for higher conversion rates.
But of course, these tools do more than just prevent your emails from being junked. They also help in:
Email logging and tracking
Communication scalability
Adding an extra layer of security
SMTP As A Protective Measure
While the first two benefits are crucial for a successful WooCommerce store, the added security provided by an SMTP plugin is a topic worth emphasizing.
This is because as a store owner, you deal with loads of customer order information, including their personal details and payment data, all sent and received through emails. Now, without an SMTP plugin, that data is left wide open, vulnerable to all sorts of cybercrime risks.
Trust me, you don't want that. Customers trust you with their sensitive information, and any compromise in security could lead to a loss of trust and reputation, ultimately impacting your business's success.
5 Best WooCommerce SMTP Plugins In 2023 (Free + Paid)
Now that we've got a good grasp on just how crucial SMTP plugins are for your business, let's get down to the exciting part: the 5 BEST WooCommerce SMTP plugins of 2023:
If you're facing problems with WordPress emails not being sent or getting flagged as spam, there's a fast and effective solution available: WP Mail SMTP.
This powerful tool is designed to tackle these issues head-on by ensuring proper authentication of your emails and delivering them through reliable third-party services. However, what sets WP Mail SMTP apart is its remarkable integration with all the top secure SMTP providers.
It's incredibly versatile, allowing you to connect seamlessly with the best provider that suits your business requirements and budget, no matter the volume of emails you need to send.
Here are more features to consider:
White Glove Setup
Email Log
Email Reports
Open & Click Tracking
Backup Connections
Smart Email Routing
Email Failure Alerts
Weekly Email Summaries
Pricing: WP Mail SMTP operates on a freemium model, offering users both a free version and a premium version. For those seeking advanced features and enhanced functionality, the premium option is available with pro licenses starting at just $49 per year.
FluentSMTP is another noteworthy SMTP plugin worth considering for your WooCommerce store. Like WP Mail SMTP, it focuses on enhancing email deliverability.
However, what makes this plugin stand out is its unique email routing feature. This functionality allows you to intelligently route your emails through various email-sending services simultaneously, based on specific conditions.
Here are more notable FluentSMTP features you might need:
Email Logs
Resend Emails
Daily/Weekly In Details Reporting
Native API Connections
Amazon SES
Integration with Microsoft 365
OAuth2 for Gmail/Google Authentication
Pricing: FluentSMTP is a free plugin.
Easy WP SMTP stands as another well-known SMTP solution tailored for WordPress. Just like WP Mail SMTP, it comes with a free and paid version.
With the free version of Easy WP SMTP, you can effortlessly set up SMTP on your website through a straightforward settings section. However, compared to other plugins, it offers fewer options for mailers. For instance, it can only connect with:
SendLayer,
Sendinblue,
Mailgun,
or SMTP.com
Now, if you opt for the Pro version, on the other hand, you unlock even more possibilities. Upgrading grants you access to additional mailers such as Amazon SES and Microsoft 365/Outlook.
This expanded range of mailers empowers you to tailor your email delivery system to suit your preferences and requirements, allowing you to make the most out of your WordPress site.
Pricing: Easy WP SMTP's basic license starts at $49/year.
SMTP Mailer is another simple yet effective plugin that enables you to set up a dedicated mail server to manage all outgoing emails from your website. By taking charge of the wp_mail function and utilizing SMTP instead, it enhances the reliability and efficiency of your email delivery.
What's great about SMTP Mailer is its compatibility with various plugins that use the WordPress Mail function. It has been thoroughly tested with popular form and contact form plugins, including:
Contact Form 7,
Jetpack Contact Form,
Visual Form Builder,
Fast Secure Contact Form,
and Contact Form by BestWebSoft.
Pricing: SMTP Mailer is free.
Last but not least, another option worth considering is Post SMTP. With its user-friendly configuration wizard, you'll be guided through every step, from the initial setup to sending test emails.
What sets Post SMTP apart from the other plugins is that it goes beyond simply integrating with the WordPress SMTP library, PHPMailer. Instead, it takes things up a notch by using the robust Zend_Mail.
This upgrade ensures that your emails are never lost in the abyss of PHP mail() again, providing you with a reliable and fail-safe email delivery system.
Here are other Post SMTP features you might want to check out:
Commercial-grade Connectivity Tester to diagnose server issues
Log and resend all emails; see the exact cause of failed emails
Supports forced recipients (cc, bcc, to) and custom email headers
Security Support: SMTPS and STARTTLS (SSL/TLS)
Fire-and-forget delivery continues even if you change your password
Set up an app password in your Google account.
Pricing: Post SMPT is a free plugin. However, if you want more advanced features, you can get add-ons with prices starting at $39.
Conclusion
With an SMTP plugin in place, you reduce the chances of them ending up in spam folders. Moreover, the plugin ensures that all the emails you send are encrypted and well-protected, safeguarding sensitive information and maintaining the privacy of your communications.
While there may be a whole bunch of these tools out there, we've compiled 5 of the best SMTP plugins in 2023 in this article:
Do you have any questions about this article? Let us know in the comments!