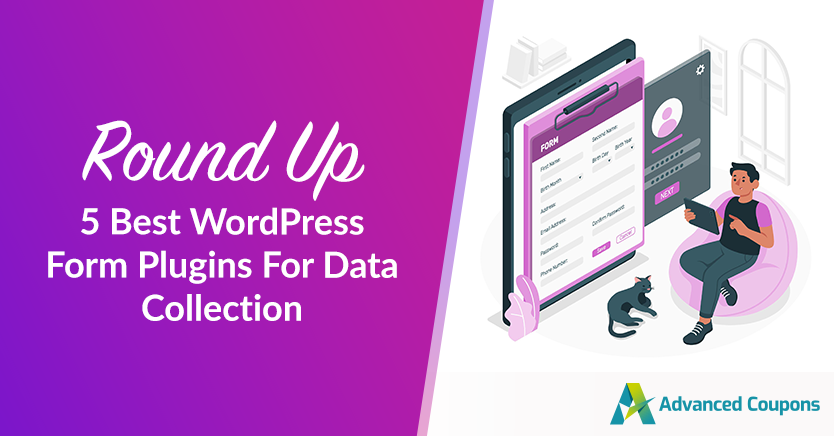 Your WooCommerce store thrives on the flow of information, as it guides your decision-making, fuels your marketing campaigns, and enables you to deliver exceptional experiences to your valued customers. And at the heart of effective data collection lies the power of WordPress form plugins.
In this article, we'll provide 5 of the best form plugins available in WooCommerce:
These will help you identify the best tool for optimizing your data collection strategy. Additionally, we'll go over the importance of having a reliable form plugin that's completely integrated into your store. So, let's get into it deeper!
Why You Need WordPress Form Plugins For Data Collection
Running a successful online business, whether it's a small boutique or a large e-commerce enterprise, requires effective collection and management of customer data. In fact, it has become more than just an option—it's an absolute necessity.
Why is collecting and managing customer data so crucial? Well, it's quite simple really…
By gathering accurate and relevant information, you can enhance your customer service as well as boost your sales by offering personalized solutions.
Take, for example, having access to your customers' birthdates. Armed with this information, you can easily send them birthday discounts, making them feel special and valued.
According to Econsultancy, businesses that leverage customer data to personalize their marketing campaigns witness an average increase of 20% in sales. Similarly, a whopping 91% of consumers are more inclined to shop with brands that offer personalized offers and recommendations.
However, utilizing customer data doesn't end with sending birthday discounts! You can also use data collection as means of improving your store's inventory management.
For instance, a study conducted by Statista reveals that 41% of retailers use data to optimize inventory replenishment and reduce stockouts.
By carefully tracking sales patterns and understanding customer preferences, you can make informed decisions based on data to minimize stockouts. Moreover, your records can ensure that you always have the right products available for your customers.
This helps enhance their shopping experience and ultimately drives more sales for your business!
Top 5 Best Form Plugins In WooCommerce
Are you looking to create contact forms, order forms, subscription forms, or any other form of that nature? We've got you covered! In this guide, we handpicked some amazing plugins that are known for their reliability, versatility, and user-friendliness.
With these incredible WordPress form plugins, you can effortlessly:
Collect and manage customer data
Increase conversions
Provide your users with an exceptional experience on your WooCommerce store
So, what are we waiting for? Let's dive in and discover the top 5 options that are available to you:
1. Wholesale Order Form for WooCommerce
Do you run a WooCommerce store? Are you eager to offer your customers a seamless and speedy ordering experience? Then you absolutely need to check out the WooCommerce Wholesale Order Form plugin. Trust us, this is the ultimate order form plugin in the market!
This awesome plugin provides a user-friendly wholesale ordering form with a product table interface. Plus, it allows an entire catalog on a one-page layout, no page reloading, and many more. Your customers will love how easy it is to browse and add products to their cart.
But that's not all! Yep, there's more!
Wholesale Suite recently upgraded this plugin, providing even more exciting and hot features like:
Versatile Add to Cart elements that give your customers more buying options
Exciting product display options that showcase your products in the best possible light
A mobile-friendly card-based presentation that makes ordering easy from any device
Full language switcher compatibility for customers in different languages
Aelia & FOX currency switcher integration for accepting payments in multiple currencies
Vastly enhanced speed performance for faster processing
And much, much more!
Pricing: starts at $49.50/year. If you want to check it out for FREE, however, they have a free version of the Wholesale Order Form plugin here.
2. Formidable Forms
On the other hand, if you're on the lookout for an exceptional contact form plugin, look no further than Formidable Forms! This powerful tool not only allows you to create basic contact forms but also dynamic forms that adapt based on user input.
What sets Formidable Forms apart is its ability to create surveys complete with Net Promoter Scores (NPS) and star ratings. As such, it lets you generate reports with visually appealing graphs, making it a breeze to analyze form data.
And the best part? You can effortlessly showcase these charts in your posts or pages.
Here are some more reasons why Formidable Forms is the right choice for you:
WooCommerce support: This plugin integrates seamlessly with WooCommerce, allowing you to effortlessly add custom WooCommerce forms to your product pages.
Email autoresponders: Additionally, you can set up automatic email responses to individuals who fill out your contact form & provide them with confirmation emails in no time.
Employee-referral form: Take advantage of the handy form template provided by this plugin, which lets your employees refer their friends and family to work for your business.
Pricing: starts at $39.50/year for basic licenses.
3. WPForms
With over 5 million active installations and an impressive 11,000+ 5-star reviews, WPForms has rightfully earned its status as the most popular WordPress form builder on the market.
Designed to be user-friendly yet powerful, WPForms allows you to create various types of forms effortlessly. Whether you need contact forms, user registration forms, subscription forms, login forms, order forms, or customized forms, WPForms has got you covered.
Additionally, WPForms offers a ready-made widget that enables you to embed forms with just a click of a button, seamlessly integrating them into your pages, posts, and sidebars. Check out the key features and benefits of this awesome plugin:
Access to pre-built contact form templates
An intuitive drag-and-drop interface that allows you to easily customize your forms
Multi-page forms that enhance the user experience
Geolocation feature that provides location information about your users
Form abandonment feature that captures email addresses even if visitors don't complete the form.
And many more!
Pricing: starts at 49.50/year. You can also access this plugin for free with WPForms Lite.
4. Ninja Forms
When it comes to simplicity and customization options, Ninja Forms is a fantastic WordPress form plugin that hits the mark. This user-friendly plugin allows you to build forms with ease and tailor them to your specific needs using various add-ons.
The best part? The basic version of this contact form plugin is available for FREE in the WordPress plugin repository. Let's explore some key features and benefits of Ninja Forms:
Easy-to-use WordPress form builder: Ninja Forms provides a straightforward interface that makes form creation a breeze.
Customization with add-ons: With Ninja Forms, you have the freedom to choose the specific features you require for your forms. The plugin offers a wide range of add-ons that allow you to enhance and customize the functionality of your forms according to your unique needs.
Seamless integration with marketing services: Ninja Forms effortlessly integrates with popular marketing services such as Active Campaign, Campaign Monitor, Constant Contact, and AWeber.
Ninja Forms strikes a perfect balance between simplicity and flexibility, offering you the tools you need to create customized forms without any hassle!
Pricing: starts at $49/year for a basic (personal) license.
5. Gravity Forms
Finally, when it comes to feature-packed form builders for WordPress, Gravity Forms is an absolute powerhouse. Designed with developers in mind, this visual form editor offers advanced functionality that sets it apart from the rest.
Let's delve into the key features of Gravity Forms:
Visual form editor: Gravity Forms provides a user-friendly visual editor that allows you to build and design your WordPress forms in real-time. No coding is required!
Conditional logic: With Gravity Forms, you can apply conditional logic to your forms, enabling you to show or hide form fields, sections, pages, or even the submit button based on user selections. This level of customization ensures a seamless and tailored user experience.
File uploads: Need users to submit files or photos along with their form? Gravity Forms has you covered with its file upload fields. This eliminates the need for back-and-forth communication to gather necessary files at a later stage.
Save and continue: It lets users save their progress and continue filling out the form at a later time.
User-generated content: Take advantage of front-end forms offered by Gravity Forms to allow users to create WordPress posts directly from your website. This feature is perfect for creating user-generated content and engaging your audience.
It's worth noting that Gravity Forms does not offer a free version.
However, if you're planning to use it across multiple sites, the cost becomes a negligible factor compared to the immense value and functionality it brings.
Pricing: starts at $59/year.
Conclusion
In the fast-paced world of e-commerce, efficiently collecting and managing customer data is vital for running a successful online business.
When it comes to WooCommerce, for instance, having top-notch WordPress form plugins become essential to capture customer information, process orders, and provide a seamless shopping experience. In this article, we shared our top 5 picks for the BEST form plugins in WooCommerce:
Do you have any questions about the form plugins we discussed in this article? Let us know in the comments below!