We've been hard at work listening to your feedback and improving our Advanced Coupons product line. And today's update is a big one!
The team and I are incredibly excited to bring you some great new features to WooCommerce.
Loyalty Program for WooCommerce is a new plugin by the team at Advanced Coupons that lets store owners create a loyalty points & rewards program. It's now easy to reward your best customers and increase revenue from repeat orders.
Loyalty Program for WooCommerce
We all know that loyal customers buy more and one of the best ways to get customers ordering again is to engage them with a loyalty program.
It's a practical, sure-fire way that store owners can use to reward their best customers with points.
And you'd be in good company too! Loyalty Programs are a tried and true way to increase customer satisfaction and get them to purchase again and again.
The WooCommerce Loyalty Program extension works just like those reward cards that you get at places like coffee shops, car washes, and other similar places – only we've adapted it for online use within WooCommerce!
How Does Loyalty Program for WooCommerce Work?
Loyalty Program for WooCommerce is a brand new WooCommerce plugin that lets you start a loyalty points program on your store. Its basic functionality goes like this:
Set the value of a "point" on your store
Your customers now earn points for making purchases
Once they get enough points, they redeem them for coupons
Which they can then use on future orders (when making even more purchases!)
Cycle, rinse, & repeat!
You can even set it so that your customers can earn points in lots of other interesting ways like leaving product reviews, commenting on blog posts, registering a new customer account, making their first order, spending over a certain amount, and even extra points during a special promo period!
How About Reporting?
As a store owner, it's important to be able to see how many points are active in the system. After all, these can one day be turned into real money.
It's also nice to be able to see what actions are responsible for earning the most points, right?
In Loyalty Program all of this information is at your fingertips in the admin dashboard.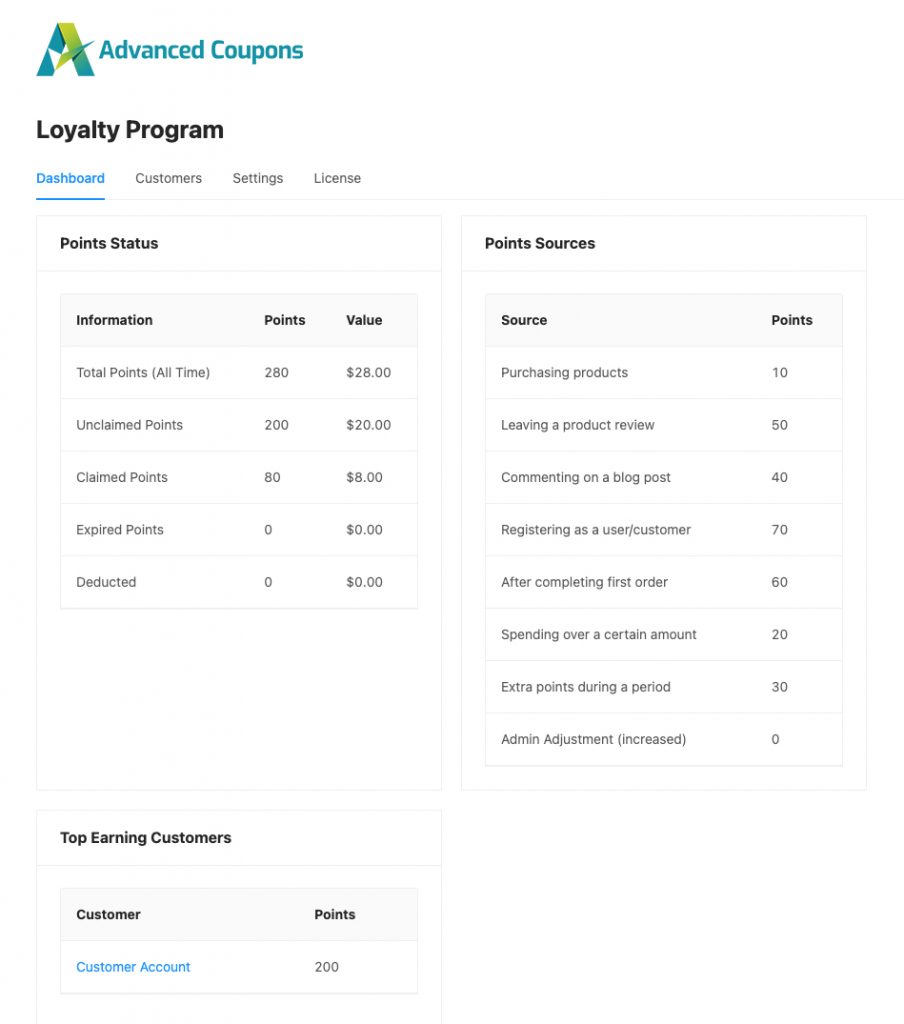 Full Audit Log & Customer Controls
You can also drill down to a specific customer and see a full audit log of their earning actions, redemptions, and admin changes.
Ready To Add A Loyalty Program To Your Store?
Loyalty Program for WooCommerce is the best way to add a WooCommerce points & reward programs to your store.
If you'd like to learn more about what Loyalty Program plugin can do and what the pricing is like, please head over to the features & pricing page here.