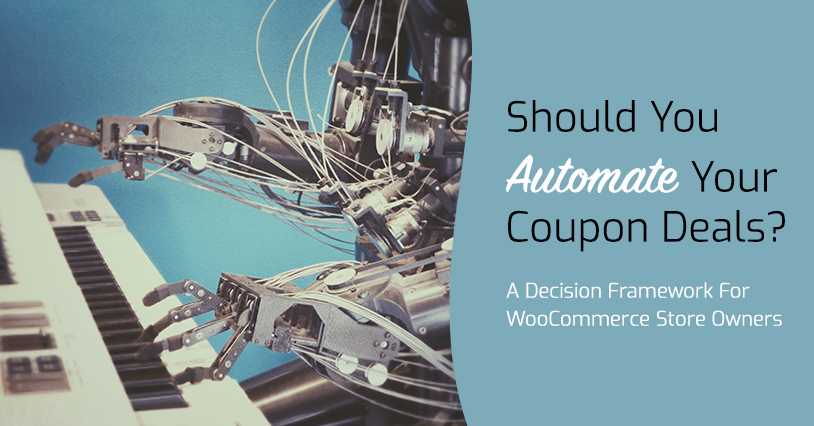 Are you trying to decide if you should automate your coupons in WooCommerce?
For customers, automating a coupon deal is can be a great way to reduce friction and potential coupon code errors. It makes it easier to claim an offer.
For store owners, think of it as "greasing the wheels" on your promotion. This can lead to better uptake rates and more sales for your store.
What Does It Mean To Automate Coupon Deals?
Automating a coupon deal essentially means that the user receives the deal automatically instead of having to apply a coupon code or do some extra task to activate the deal.
Customer love it because it reduces the amount of work they have to do.
For store owners, it can mean less coupon code related support and more sales due to the surprise factor and ease of receiving an offer.
Cases Where It Makes Sense To Automate Coupons
There are some really good situations where applying automation to your coupons can help:
Follow up purchase offers (Cross-sells)
Site-wide discounts
These are just some of the times when using an automated coupon can help with offer uptake.
To know whether you should automate your coupons though, we should really consider the benefits and downsides properly.
Benefits Of Automating Coupon Deals
There are many benefits of automating your coupon deals on your WooCommerce store. For me there's three that really stand out:
Less friction for the customer
Reduce "my coupon doesn't work" support questions
Surprise and delight
Less Friction – reducing the amount of friction that a customer experiences when processing their order is always going to be a win for your store.
When we talk about reduced friction for coupons, it means removing the need to type the coupon, apply the coupon automatically, or maybe making it apply with just a click.
Reduce Support – support is another area where you can make significant gains.
Administration related tasks are one of the e-commerce businesses' biggest expenses. Support is an administrative task that will never go away but you can and should do anything you can to reduce the volume of support emails/live chats that you are receiving.
Surprise & Delight – when a customer feels they are getting immense value vs. their effort is when they will purchase.
Delighting your customers with a surprise offer or a coupon that gives them an unexpected gift or discount is a great way to encourage that feeling.
Downsides Of Automating Coupon Deals
But it's not all sunshine and rainbows in automation-land. There's also a number of downsides to automation that don't often get talked about. In particular, there's two I'd like to zoom in on:
Things could go wrong with your workflows
You don't get to do the "big event" type promotions
Things Go Wrong – yes, things sometimes go wrong. In particular, the workflow might have a bug that could have unexpected side effects.
For example, a coupon might overlap without you knowing, or a customer might receive two email offers at once by accident depending on what they purchased.
These kinds of things can cause confusion and ill-feelings so make sure you double-check everything when it comes to automation.
Big Events – another downside is that you might not get to do big event type promotions as often.
You might be used to doing these big events monthly or fortnightly to your whole audience, and while audiences do experience customer fatigue if you run offers to them over and over again, they are generally very effective and keep the sales coming.
How To Personalize Automated Coupons
I think the key to good coupon deal automation is all in how you personalize it.
At the end of the day, personalization means taking into account the customer's circumstances.
For me, the best kind of offer is a personalized offer. Meaning, the offer relates directly to the circumstances the customer finds themselves in.
This is best illustrated with an example:
Customer purchases a laptop from your store
They receive the laptop and are happy with the purchase
After a couple of weeks, they receive an offer for a backup service
Keeping the offer aligned with the customer's previous purchases is a great way to personalize.
Again, it is much more than just starting your emails with a "Hi [customer.first_name ]", its about thinking through their circumstances and responding with an accurate and high-value offer for the situation.
How To Have A Coupon Apply Automatically With Advanced Coupons
Lastly, and although we have a full guide on how to automate coupons with Advanced Coupons, I want to take you through how to quickly apply a high-value automation with Advanced Coupons.
If you don't need the coupon to apply automatically, you can do this for free with the free version of Advanced Coupons.
If you want the coupon to apply automatically you'll need the Auto Apply feature which is part of the Premium version of Advanced Coupons.
Click here to compare the versions and see pricing for Advanced Coupons.
WooCommerce Coupon Automation: How to offer 10% off after cart subtotal reaches $200
In this example, I'll show you how to automate a coupon that gives 10% off after the cart subtotal reaches $200.
The first step is to set your coupon discount. Choose the Percentage discount type and set the coupon amount to 10. This means 10% off will be applied to the cart when the coupon is applied.
Next, you need to set the Cart Conditions. We want to only allow this coupon to apply if the cart's subtotal is more than $200.
Lastly, and this is what you will need the Premium version for, is the Auto Apply feature.
When you enable Auto Apply, the system will continuously check for the Cart Conditions you set to match.
In this case, it will wait until the cart subtotal is more than $200 and then it will apply the coupon.
You can also set a message in the Additional Settings for the Cart Conditions which gives you a way to tell people they're almost qualifying and what they need to do to get the deal.
I hope this article has helped you weigh the pros and cons of automating your coupons.
If you'd like to learn more about Advanced Coupons I encourage you to compare the features between the free version and the premium version.