Over the course of time, push notifications have grown to become one of the most effective tools to engage and retain your audience. It helps keep your WooCommerce store at the forefront of their minds. Therefore, it is highly important to have reliable push notification plugins at your disposal.
With the help of push notifications, you can deliver real-time updates, personalized offers, and engaging content directly to your customers' devices, ensuring they never miss out on your latest products or promotions. Additionally, you can leverage this to reduce abandoned cart rates in your store.
In this article, we provided a list of the top 7 WooCommerce push notification plugins that can supercharge your store's marketing! We'll dive deep into each plugin, exploring its key features, ease of use, compatibility, and pricing. So, let's get into it!
What Is A Push Notification And Why It Helps Your Business
Have you ever received a notification from your favorite app or website announcing a promotion or new release? Well, that's exactly what a push notification is! These little pop-up messages appear on your device, delivering important updates, exciting offers, or interesting information.
The beauty of push notifications lies in their ability to capture your target's attention instantly. They appear directly on the screen, demanding immediate focus and prompting them to take action.
According to a study by Localytics, push notifications achieve an average click-through rate of 7.8% across industries, surpassing email marketing. Similarly, a study by Leanplum revealed that personalized push notifications can increase conversion rates by four times compared to generic messages.
All of this can be attributed to the sense of urgency that push notifications create.
Just imagine going about your day when suddenly your smartphone buzzes with a notification about a flash sale. Naturally, you'd feel compelled to click through as soon as possible, wouldn't you?
In the same way, push notifications also help in recovering abandoned carts. For example, according to MoEngage, sending push notifications to users who abandoned their carts can result in a 20% increase in conversion rates. This is because push notifications serve as a helpful reminder about your brand.
7 Best WooCommerce Push Notification Plugins
Now that we understand the importance of having a push notification strategy, let's talk about the tools and solutions that can simplify this task for you!
In this comprehensive guide, we've compiled seven of the top push notification plugins for WooCommerce. Keep in mind that the best choice will depend on how well it aligns with your unique business model. Rest assured, though, that everything listed here has been thoroughly proven and tested to enhance your conversion rates.
So, without further ado, let's get into the nitty-gritty and explore these options:
1. PushEngage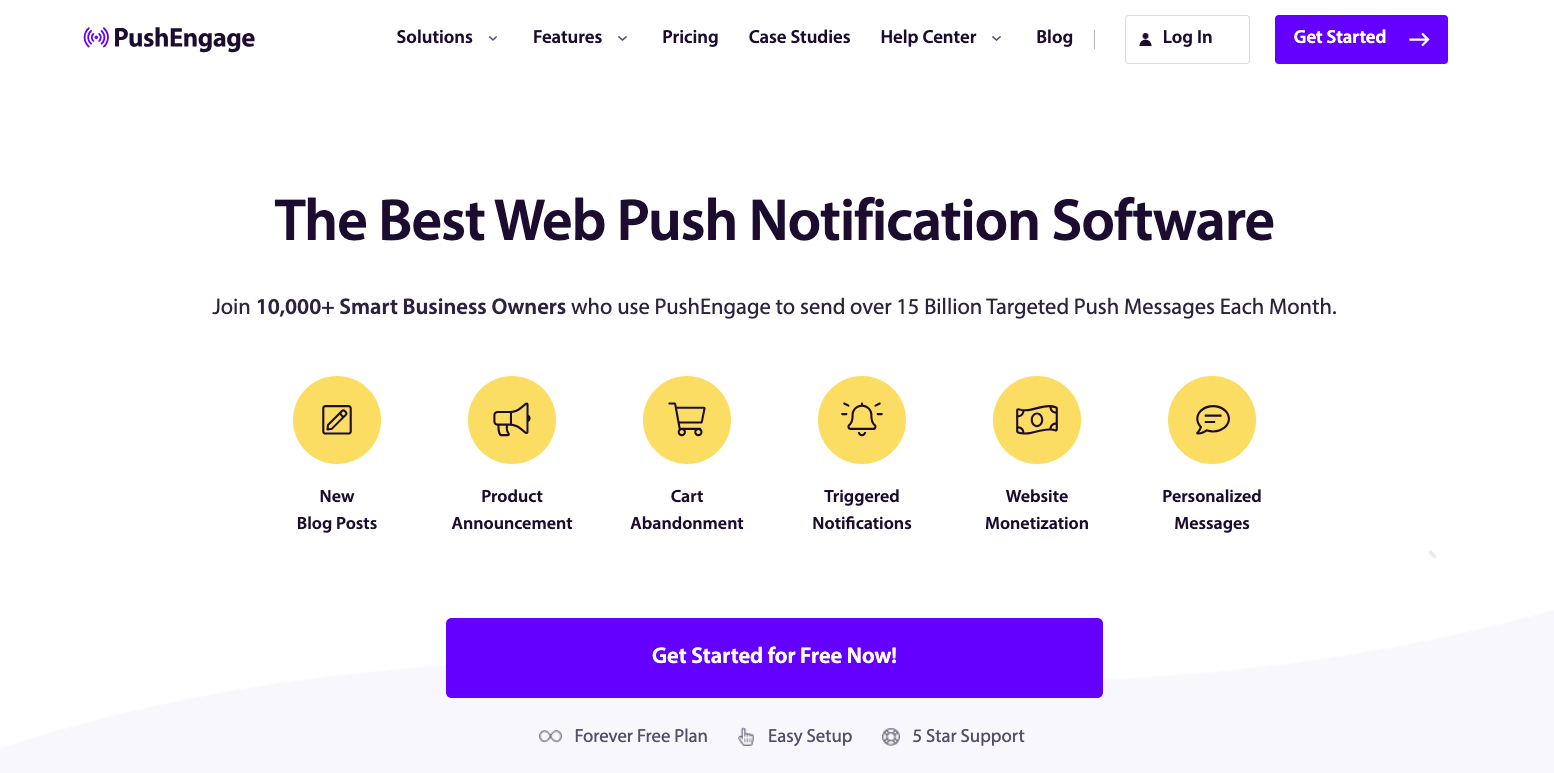 PushEngage stands out as the ultimate push notification software that not only delivers exceptional performance but also boasts user-friendliness and cutting-edge growth features. With its seamless integration and effortless setup, this tool synchronizes flawlessly with your WordPress website, allowing you to activate push notifications within seconds.
Here are some of its key features:
Triggered Notifications
Customizable Opt-Ins
Custom Domains & Branding
Cart Abandonment Reminders
Dynamic Segmentation
A/B Testing
Advanced Analytics
TurboSend & Scheduling
Moreover, while the free plugin provides impressive foundational capabilities, it is with the premium plans that PushEngage truly shines. These paid options unlock the full potential of the software, offering intelligent analytics and remarkable automation tools that elevate your notification game to new heights.
Premium pricing starts at $9/month for a business license.
2. OneSignal
OneSignal stands tall as the industry leader in self-serve customer engagement solutions, providing a comprehensive range of communication channels such as:
Mobile Push Notifications,
Web Push
Email,
SMS,
and In-App messaging.
However, what truly sets OneSignal apart is its exceptional ability to seamlessly integrate with WordPress, making it a breeze to set up your push notification campaigns in just 15 minutes!
Additionally, this powerful plugin goes above and beyond by offering integrations with renowned analytics platforms, content management systems (CMS), and eCommerce solutions.
With seamless connections to tools like Amplitude, Mixpanel, Segment, HubSpot, Shopify, WordPress, and many more, OneSignal ensures that you can leverage the full power of your existing tech stack to enhance your customer engagement efforts.
Here are some of its notable features:
Journeys
Personalization
Segmentation
Real-time analytics
A/B testing
API and SDKs
Live Activities
Finally, the best thing about this is that it's yet another freemium plugin. The free plugin provides free access to all channels. However, message limits may apply.
On the other hand, if you want premium access, you can start with its growth license at $9/month.
3. PushAlert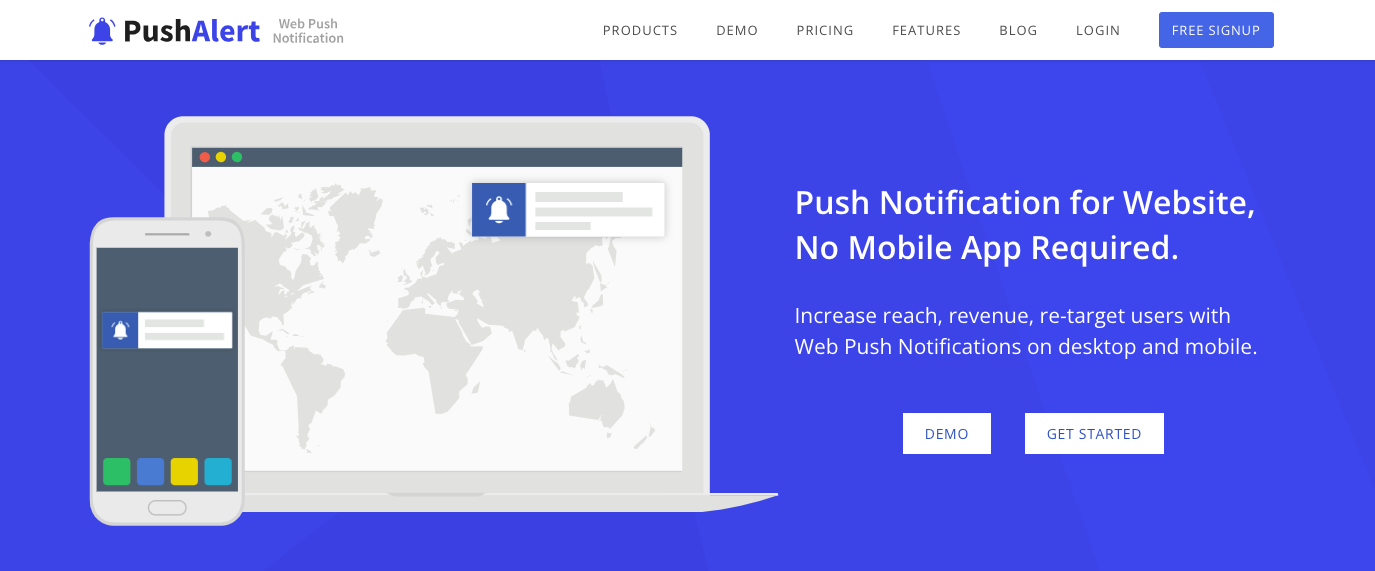 PushAlert emerges as an excellent choice for those seeking precise targeting, effortless A/B testing, and comprehensive analytics when it comes to web push notifications. This powerful tool enables you to increase your reach, boost revenue, and effectively re-target users on both desktop and mobile devices.
Moreover, one of PushAlert's standout features is its customizable subscribe prompts.
By seamlessly integrating PushAlert into your website, visitors will automatically be prompted to subscribe with just one click, eliminating the need to ask for email or other information.
Here are additional features you might want to consider:
Easy setup (1-click subscribe)
Dynamic segmentation
Triggered notifications
A/B Testing
Abandoned cart notifications

In-stock notifications
Price drop and shipment alerts

Seamless APIs
Conversion funnels and RSS feed automation
Opt-in box themes
In-depth Analytics
While PushAlert offers a free plan that caters to up to 3,000 subscribers, to truly unlock its premium features, opting for one of the paid packages is recommended. Pricing for this plugin starts at $12/month for a basic license and $39/month for a premium one.
4. Webpushr
Webpushr is a versatile platform that supports all popular web browsers, ensuring compatibility with:
Internet Explorer,
Google Chrome,
Mozilla Firefox,
Safari,
and Opera.
This broad browser support enables the seamless delivery of web push notifications to a wide range of users. Additionally, it is fully integrated with various apps and web services. So, whether you're using familiar tools or looking to explore new possibilities, Webpushr enables you to leverage web push technology to its fullest potential.
For instance, Webpushr allows you to automate web push notifications for various scenarios. You can set up automatic notifications for new RSS items, ensuring that your subscribers receive timely updates.
Additionally, you can trigger web push notifications when you publish a new WordPress post, maximizing the reach and impact of your content.
Here are more standout features of this powerful plugin:
In-browser messaging
Custom prompts
Uptime monitoring
Data privacy & Ownership
Effortless migration
Powerful user segmentation
Automatic web push
Powerful API
Non-HTTPS support
Finally, like the other 3 plugins, Webpushr comes with a free plugin for up to 10k subscribers. If you want to go beyond that, however, pricing will start at $29/month for up to 50k subscribers.
5. Pushwoosh
Pushwoosh offers a comprehensive solution to maintain constant communication with your customers throughout their lifecycles.
One of the key features of Pushwoosh is deep personalization. This feature allows you to tailor your messaging to each individual customer. You can customize content in their preferred language, ensuring that your messages resonate with them on a personal level.
Additionally, you can leverage geo-based data and event attributes to deliver messages that align with the specific context and preferences of your users. This level of personalization enhances the relevance and impact of your communication.
Similarly, Pushwoosh also provides robust campaign management capabilities. Whether you want to send broadcast messages to a broad audience or transactional messages triggered by specific actions, Pushwoosh's platform consolidates all these features into one convenient solution.
Here are more features to check out:
Omnichannel approach
Segmentation
Flexible triggers & actions
99.9% service uptime
GDPR Compliance
Integration with third-party services
To get started, Pushwoosh offers a basic license for developers at $7/month for the first 1,000 subscribers. Each additional 2,000 subscribed users incur an extra cost of +$5 per month.
6. Truepush
Truepush is a highly reliable and free browser push notification service that has gained trust among users. It provides advanced features, such as:
Intelligent segmentation,
RSS to Push,
Triggers,
Easy migration,
Real-time analysis,
Opt-in styles,
and Customizable welcome notifications.
All of these set it apart from other services in the market. These robust features empower users to maximize the impact and effectiveness of their push notification campaigns.
Furthermore, one of the key advantages of Truepush is its seamless integration process, which takes just 5 minutes to set up. This quick and hassle-free integration ensures that users can start leveraging the benefits of the push service promptly.
Additionally, Truepush boasts a user-friendly interface, making it easy for individuals with varying levels of technical expertise to navigate and utilize the platform effectively.
Overall, this powerful plugin excels in providing advanced features to enhance campaign performance, making it a convenient choice for users. By utilizing Truepush, you can save up to $1200 per month while engaging your users with the comprehensive features and capabilities offered by the tool.
7. SendPulse
SendPulse is an all-in-one marketing and sales tool that can significantly boost your profits, streamline your workflows, and create happier customers. With its comprehensive features, you can effortlessly send emails, SMS messages, create chatbots, and deliver web push notifications.
While SendPulse is a comprehensive marketing solution, we'll focus specifically on its Web Push solution for the benefit of this guide.
SendPulse's web push notifications plugin houses the ability to deliver notifications even when users are offline. This ensures that your messages reach your audience at their convenience, maximizing engagement and impact for your store
Additionally, the platform provides advanced personalization and segmentation options for web push notifications. You can tailor your messages based on individual user attributes and behaviors, making your notifications more relevant and engaging. Similarly, the segmentation feature allows you to target specific segments of your audience with customized notifications.
Here are additional SendPulse features for web push:
Custom subscription requests
Web push automation
A/B Testing
Offline notifications
Developer API
Mobile notifications
Like the rest of the plugins, SendPulse has a free version of the web push plugin. This covers up to 10,000 subscribers. However, if you're looking for a more extensive solution, its pro version starts at $15.20/month for 30,000 subscribers and above.
Conclusion
Push notifications are a clever and strategic way to engage customers, promote products, and improve the overall shopping experience. These messages have been shown to be an efficient strategy to promote conversions, increase customer loyalty, and optimize income due to their ability to reach customers instantaneously on both desktop and mobile platforms.
Fortunately, setting up push notifications in WooCommerce is easy with the right plugin. And in this article, we shared 7 of the best push notification solutions that we know of:
Do you have any questions about push notification plugins? Let us know in the comments!