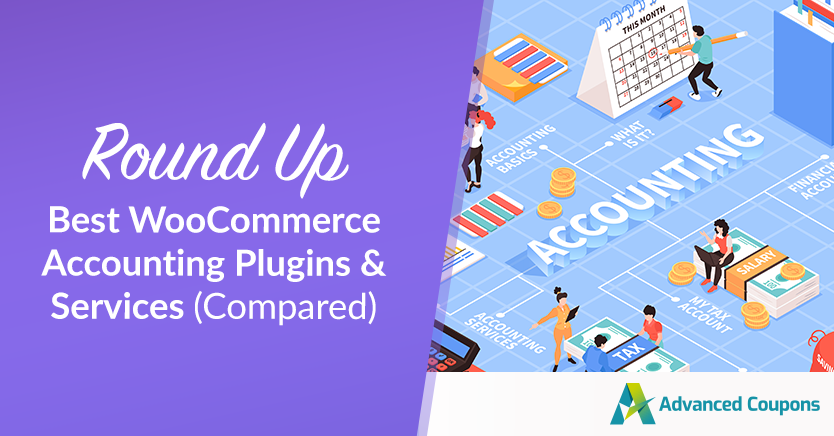 One of the biggest challenges in running a WooCommerce store is accounting. Proper accounting can prevent your store from going under. In 2022, there's no reason to rely on pen and paper to manage the numbers. Instead, you can rely on WooCommerce accounting solutions that help you keep track of all the expenses and earnings that you incur.
There are plenty of accounting software options that integrate with WooCommerce. Using the right WooCommerce accounting integration will help you track your cash flow accurately and ensure that you're always on top of expenses.
In this article, we'll talk about why you should use accounting software for WooCommerce. Then we'll go over multiple WooCommerce accounting options that you can use and discuss how to integrate them with the platform. Let's get to it!
Why You Should Use Accounting Software For Your WooCommerce Store
WooCommerce offers several accounting features out of the box. The e-commerce plugin enables you to keep track of sales without leaving the WordPress dashboard. You can even generate custom sales reports for specific dates on demand:
The plugin enables you to see reports for both orders and earnings. You can also use WooCommerce to track tax-related costs. Those are all fantastic features, but the default WooCommerce reports are not as in-depth as they could be.
More importantly, running an online store involves a lot of costs that WooCommerce doesn't enable you to track out of the box. For example, you have to consider inventory repositioning costs, employee salaries, website maintenance, and more.
Using a single WooCommerce accounting solution that enables you to track all of those elements simultaneously is one of the best things that you can do for your business. Having access to all of the numbers within a single software platform means that nothing will slip by you.
3 Best WooCommerce Accounting Plugins And Services
For this section, we're going to explore the best accounting software options that offer WooCommerce integrations. All of these integrations work using plugins and we'll recommend our favorite options for each. Let's start by talking about Quickbooks:
QuickBooks offers a suite of accounting, payment processing, and payroll software. The software suite is most popular for its accounting features. Thousands of businesses, both online and offline, rely on QuickBooks to manage their books.
What accounting features you get access to depends on the QuickBooks plan that you choose. The basic Simple Start plan enables you to:
Track income and expenses
Manage receipts
Track sales tax and manage deductions
Generate invoices and process payments
Generate income and expense reports
In short, that plan includes all of the features that you need for WooCommerce accounting. You can always sign up for a QuickBooks plan and enter every data point manually.
However, the right plugin will enable you to sync your WooCommerce store with your Quickbooks account so the software can track income and expenses automatically.
Our favorite plugin for that job is QuickBooks Sync for WooCommerce. The plugin connects your store with QuickBooks and sends over information about sales, taxes, customers, and inventory.
One of the main advantages of using QuickBooks Sync for WooCommerce is that the plugin gives you access to QuickBooks metrics within WordPress. You'll be able to review incoming and outgoing expenses without leaving the dashboard and configure what data QuickBooks has access to.
Price: QuickBooks Sync for WooCommerce is free. However, you need to pay for a QuickBooks license to get access to the accounting software. QuickBooks plans start at $25 per month.
Xero is an accounting solution that offers plans for freelancers, small businesses, and large organizations. With Xero, you can generate invoices for WooCommerce orders, which helps you keep track of your store's revenue.
The Early Xero plan enables you to generate up to 20 invoices per month, which is definitely not enough for most WooCommerce stores. If you plan on using Xero, you'll need to opt for the Growing plan, which costs $34 per month and enables you to generate unlimited invoices.
Using Xero, you'll also be able to track bills, and bank transactions, and obtain short-term reports concerning your store's cash flow. The easiest way to connect Xero with WooCommerce is by using a Zapier integration:
The advantage of using Zapier for Xero WooCommerce integration is that it's free. Once you set up the connection, WooCommerce will submit new orders to Xero automatically. Xero, in turn, will generate invoices without you having to lift a finger.
There's also an official Xero plugin that you can use to integrate the accounting solution with your store. With this plugin, you'll be able to use Xero to generate invoices, manage inventory, and generate sales reports. The Xero plugin costs $79 for a yearly license, but it offers a more in-depth integration than Zapier does.
Price: Xero plans with unlimited invoices start at $34 per month and using Zapier is free.
FreshBooks is an all-in-one accounting solution for freelancers and businesses that's a perfect fit for online stores. Using FreshBooks you can generate sales invoices, track expenses, process payments, and generate reports. The software includes options to help you generate balance sheets, bank reconciliation summaries, and compare incomes with expenses.
In short, FreshBooks can help you keep track of all the money your WooCommerce store brings in and how much you're spending. FreshBooks offers a broad range of plans, with options starting at $15 per month (for up to five clients).
If you're not interested in tracking invoices for unlimited clients, the Lite FreshBooks plan can be perfect for a WooCommerce store. As far as integration goes, FreshBooks enables you to connect your account with WooCommerce using either Zapier or Integromat.
Integromat works very similarly to Zapier in that it enables you to connect multiple platforms and configure them to work together. Using either service will enable you to submit data from WooCommerce to FreshBooks.
After integrating WooCommerce with FreshBooks, the accounting software will be able to generate invoices automatically. You'll also be able to sync orders, map taxes, and more.
Price: FreshBooks plans to start at $15 per month. Both Zapier and Integromat will enable you to connect FreshBooks with WooCommerce for free.
Conclusion
Accounting is critical for any business that takes itself seriously. Running an online store doesn't mean that you shouldn't pay attention to the numbers. There will always be expenses to track and without proper WooCommerce accounting software, you might miss a lot of critical information.
There are a lot of WooCommerce accounting integrations and plugins that you can easily set up to help you manage your store. These are our three top picks:
QuickBooks: You can use the QuickBooks Sync for WooCommerce plugin to connect both platforms.
Xero: WooCommerce connects with Xero through a simple Zapier recipe or the Xero plugin.
FreshBooks: You can integrate FreshBooks with WooCommerce using Zapier or Integromat.
Do you have any questions about which WooCommerce accounting solution to use? Let's talk about them in the comments section below!