A great way to boost customer loyalty is to enable WooCommerce store credit on your store. For store owners, a reliable store credit system can help your customer retention. The great thing about store credit is that it's flexible, being able to be used in marketing situations, such when paired with gift cards, and also in support situations, such as when granting refunds.
The store credit feature in Advanced Coupons Free Plugin does all of this and opens the doorway to much more as well.
We're always working to help your business grow and the store credits features in Advanced Coupons will help you upgrade the buying and selling experience for your customers.
This article will teach you how to use store credit. We will also discuss the benefits of using store credits when you should give store credits to your customers.
How WooCommerce Store Credit Differs From Reward Points
Reward points are one of many productive ways to maintain customer relationships and express appreciation to your repeat buyers. According to a statistic by smallbizgenius, 58.7% of internet users believe that earning points from rewards and loyalty is an essential feature in shopping online.
Your followers earn reward points from specific tasks such as making their first purchase, registering a new user account, referrals from friends or family members, leaving a pleasant review, participating in a blog comment, and more. Also, reward points are always on the account of a customer.
Store credits and reward points share a common feature- they can be used as payment for items in a store. Store credit can also be used when a buyer returns products bought from a shop unlike loyalty points. They receive store credits instead of receiving full cash as a refund.
3 Reasons Why It's Worth It To Provide Store Credits
Ultimately, according to collected research from Oberlo, established online retailers focus first on improving their customer service. With that, they use store credits to:
1. It will increase loyalty and customer retention
A reliable store credit system provides customers with added motivation to continually patronize your store. Aside from your well-tested products and great customer support, they will continue to buy items from your store as you offer the use of store credit.
2. It can motivate customers to spend more
When a store provides a reasonable return policy, customers are more likely to buy more from your store and spend more money. With this, store credit allows more flexible returns and it creates a trustworthy relationship between your e-Commerce shop and your customers.
3. WooCommerce store credit is great for product returns
Returns and exchanges are the most unpleasant event for any store owner. For customer retention, an e-Commerce shop can give store credit in addition to, or instead of offering full reimbursement.
When Should Your Online Business Give Store Credit?
Businesses all over the world use store credits on the following options:
As store credit cards, finances, and transfer
Shops give store credits every time they allow customers to settle their purchases gradually or later.
For return and exchanges
When a buyer decides to return or exchange an item, e-Commerce shop owners usually give store credit in addition to or instead of offering full reimbursement.
Loyalty rewards
Store credit is used in rewarding customers using a loyalty program. The accumulated points can then be used to buy other products in the shop.
Gift cards
Generally, when a consumer buys gift cards, they are purchasing store credits to be used by another consumer within a specific period.
How To Use WooCommerce Store Credits In Your Store
First, you'll need to install Advanced Coupons. The great news is store credits comes with the free version. Click here to get Advanced Coupons Free plugin.
You can find the Store Credits Dashboard by simply going to Coupons->Store Credit.
To check unclaimed and used credits in your store, go to the Dashboard tab.
The Customer tab contains a comprehensive list of your customers. This section lets you manage their credit balance.
If you want to see the full detail of a buyer's store credit history, just click the View Stat button. It will then present a customer's information such as their Credit Status, Sources, and History.
The administrator and shop manager has access to the information. They can also modify a customer's store credit. To adjust, simply click the Adjust button.
WooCommerce Store Credit On My Account Page
The Store Credit Tab is an important section on how to use store credit as it lets your customers check their store credit balance.
How To Use Store Credit As Payment
Customers have the choice to use the balance of their store credit to settle the products they purchased. They can put their desired amount to pay with their available and collected credit.
They can also settle the difference through other specified methods of payment offered on your website.
Take note that if a customer chooses to pay for the product using some of the store credit or use it all, it will be shown as a discount in the order details section.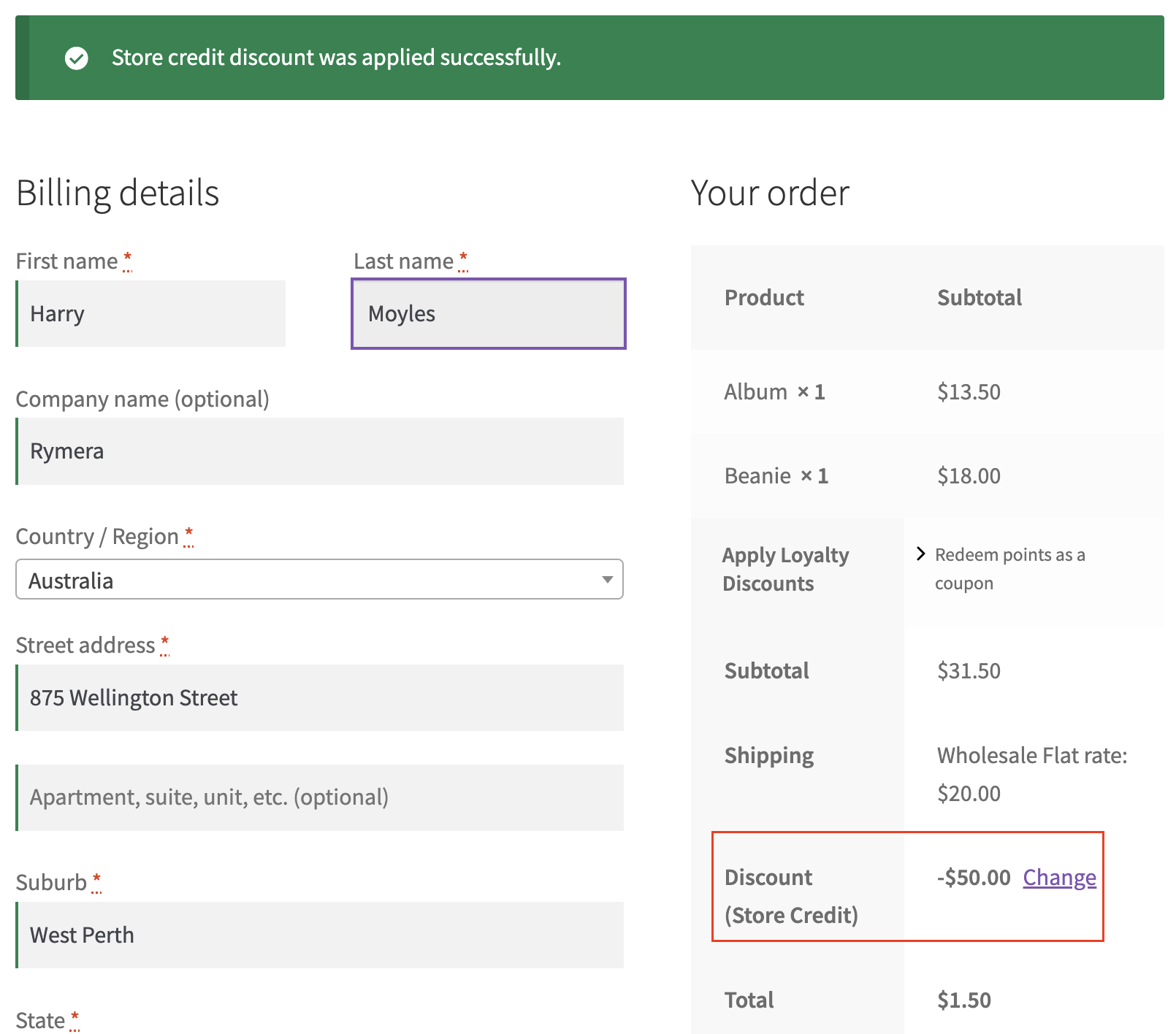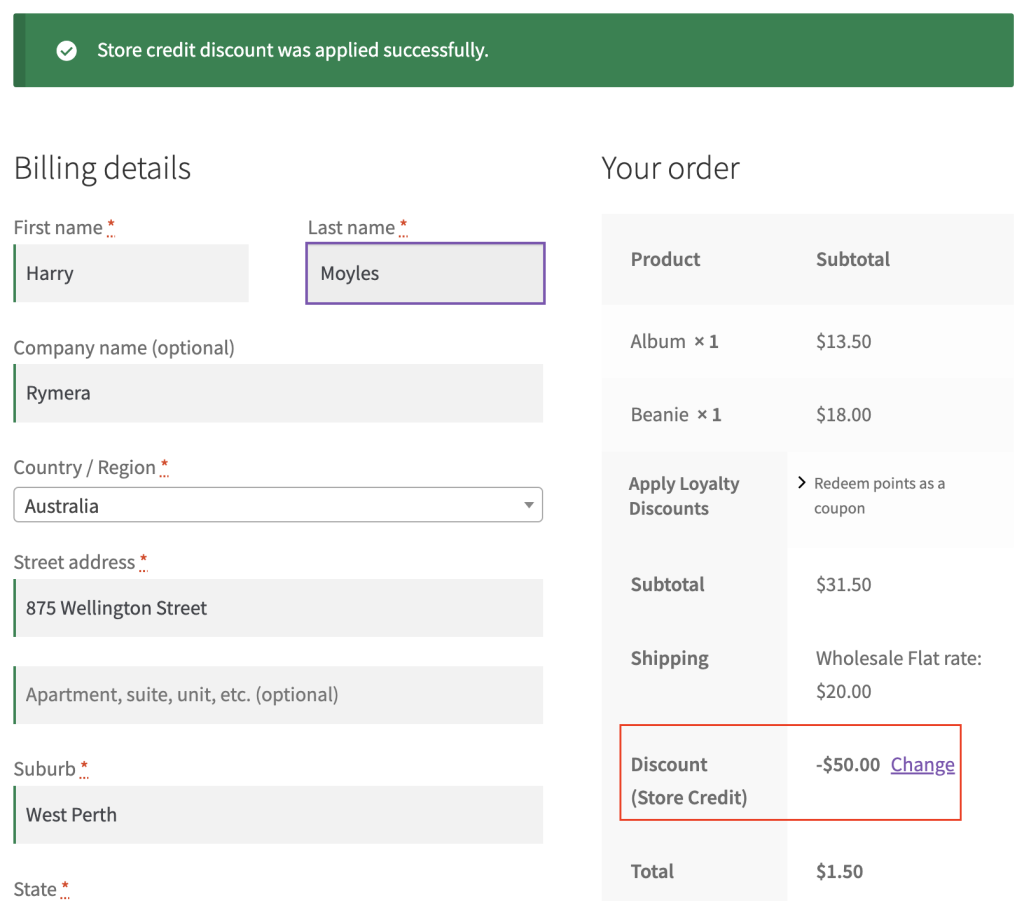 How To Refund Using Store Credit
Advanced Coupons' store credit feature allows you to refund customers using store credit.
The reimbursed amount is changed into a credit balance and customers can use it to buy other items in your e-Commerce store, savings you from having to send actual money back to them.
Just click the Refund option found on the Edit Order page to proceed.
Pro Tip: If you are going to offer refunding to store credit, be sure to adjust your refund policy on your website to reflect the change.
Conclusion
The store credit feature in Advanced Coupons is a powerful and versatile tool that can benefit any store.
It promotes customer retention, increases sales, and lessens revenue loss for businesses. With store credit your customers will buy more and come back again and again to use up their balance.
Another great way to leverage store credits is to start selling gift cards which can be redeemed for store credit. For this you can use the Advanced Gift Cards plugin.
We hope you enjoy using the store credits feature to grow your store!