Consumers' perceptions of businesses today are heavily influenced by online reviews. 94% of consumers claim to have avoided a company after reading a poor review. So, if you want to keep your store afloat, one of your top goals should be to deliberately accumulate positive reviews.
It makes sense from this point to learn how to ask for customer feedback and guarantee a consistent flow of more and better ratings. Customers would gladly attest to your services if you're already providing them with memorable experiences, after all.
In this article, we further explain why social proof is important and how you can use it to position your store better in the market. We also shared six clever ways to ask for reviews in WooCommerce. Let's get into it!
Why Reviews Are Important
93% of consumers claim that online reviews influence their shopping decisions. Therefore, it is not an exaggeration to suggest that online reviews have a significant impact on the success of your business.
Consider your most recent online purchasing experience. What, other than the price, caught your attention the most? Would you buy a product that more than 400 customers have given a rating of 1? Obviously not!
This is a byproduct of how important reviews are. Having positive ratings boosts a company's legitimacy as an online store all the while increasing sales. On top of that, you can charge premiums for your products as long as it's backed by a solid rating!
If a company has a good reputation, customers will spend up to 22% more for particular products.

Similarly, products are 270% more likely to sell than those with no reviews when they have as low as five reviews.
On the other hand, building trust is the main goal of online reviews and testimonials for consumers. And that's especially true for online purchases as customers are unable to inquire about products from salespeople before making a purchase.
Here are a few more reasons why online reviews are essential to your consumers:
Give customers social proof that your business is credible.
Develop audience trust in your brand.
Validates your authority and expertise in the e-commerce industry.
9 Clever Ways To Ask For Reviews In WooCommerce
Reviews are undeniably important to growing your WooCommerce business. In fact:
4 out of 5 Americans, per Online Reviews Statistics, check customer reviews before purchasing.
53% read reviews to ensure they don't get taken advantage of, 61% read reviews to ensure the product or service works, and 79% do so to ensure the quality of the product or service.
Every month, reviews help 83% of consumers find new items. In addition, 7% of customers need to read at least 20 reviews before they have enough faith in a business.
Asking for feedback directly is one of the best ways for a store owner like you to take advantage of social proof perks. Of course, you can just improve your products and services and wait for people to naturally be happy with them and recommend you.
But this guarantees nothing. Meanwhile, as long as you're not being unduly pushy or doing it in exchange for a reward, asking can speed up this process by a mile! Here are some clever ways to do this:
1. Prepare the template.
Even if you serve the best offering, only a handful of your customers will leave a review. In fact, not every satisfied customer will gladly leave a review on your site!
There are various reasons for this. For instance, if your market is made up entirely of busy people, it's likely that they won't have the time to write up favorable reviews, even if they are satisfied. Others, however, might simply have forgotten about it.
Making a review template for your customers can be valuable in this case. Plus, using this approach will allow you to solicit feedback without having to say it outright.
However, one of the things you need to take into account when preparing the template is the length of the survey. Long and tedious questionnaires wouldn't be well received by your customers. In fact, about 75% of customers are only willing to answer anywhere from one to five survey questions.
2. Send an SMS review request.
When compared to email and social media, SMS can occasionally be a superior option because you can almost always count on your customers to read the SMS. There's a good probability that you'll also acquire your reviews if it only requires a few clicks.
Sending an SMS review request may also feel more personal for your customers. This will make them feel that their input is valued and appreciated. Likewise, it's more likely that people will take your offer into consideration right away if you provide an incentive in exchange for their review via SMS.
3. Ask for reviews in exchange for store credit.
Giving your customers store credit can be an effective method to increase repeat business and promote consumer loyalty. Alternatively, offering store credit may work effectively as a review incentive.
Both parties profit when store credits are issued following product feedback. More reviews mean more social proof and authentic consumer testimonials for your offerings. Meanwhile, earning store credit means more "money" for your customers to use on future purchases from you.
Fortunately, it is rather simple to ask for reviews using store credit as an incentive nowadays! All you have to do is download two plugins on top of your WooCommerce account: Uncanny Automator and Advanced Coupons' Loyalty Program.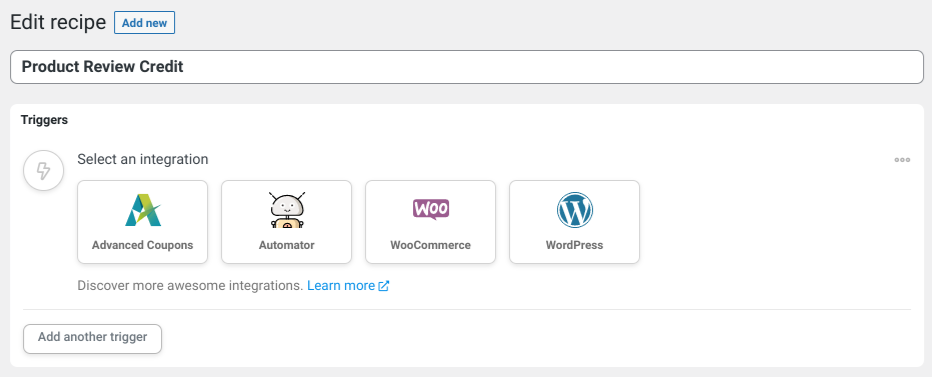 Uncanny Automator can help you automate store credit. You can set it up to react when a user performs a particular activity, such as adding store credit once they left a review in your store.
Advanced Coupons' Loyalty Program, on the other hand, has built-in features for offering store credit and customizing the conditions. This makes integrating WooCommerce store credits for product reviews into your loyalty program easy!
4. Send a post-purchase email with a review link.
Up to 80% of reviews, according to the Spiegel Research Center, come from follow-up emails requesting that customers review their purchases. Additionally, after sending customers a direct link to leave ratings, brands can foresee a rise in their average star rating.
Sending follow-up emails when asking for reviews is a no-brainer, and many WooCommerce businesses actively do this as part of their strategy for building their social proof. However, what many fail to do is send targeted emails with a link to the review landing page right after the purchase.
Asking for reviews promptly is one of the best ways to guarantee that you acquire them. Right after a sale, people are typically at their happiest. They get more enthused as a result of receiving their package; thus, they are more likely to leave a favorable review!
This effect is known as the reciprocity principle in sales psychology, which states that people are more inclined to reciprocate when you do something kind for them or give them something.
5. Make a follow-up phone call.
However, you should have a backup plan in case your emails don't perform! In this scenario, go for a more personal approach to requesting feedback: follow-up phone calls.
Again, even the happiest and most-contented consumers put off the chore of reviewing, frequently indefinitely, because it can get tedious most of the time.
Additionally, consumers are bombarded and fed up with emails from companies requesting them to visit their websites and leave reviews, which makes it even more likely that they will ignore a typical request to provide a testimonial on a review platform, for instance.
One way to address this is by directly connecting with your most-recent customers.
Discussing products, in general, tends to come more naturally. Therefore, if you want to scale your strategy, you might want to consider taking advantage of the veracity of these word-of-mouth recommendations by calling them one by one and asking for a recorded interview.
Obviously, this can be draining. But there's no glory without hard work, right? Besides, you can cherry-pick customers you believe would take part in this gig. Just remember to give them something in return for their time and exposure!
6. Offer loyalty points or rewards for a review.
Aside from store credit, you can also give away loyalty points and rewards in exchange for their review. This simple reward can go a long way in motivating your customers not only to leave a review but to earn points to use for purchases in your store in the process.
In a PowerReviews study, incentives were found to be the single most effective technique to quickly generate a large number of reviews. In all, 73% of consumers claim that if given an incentive, they would be encouraged to leave a review.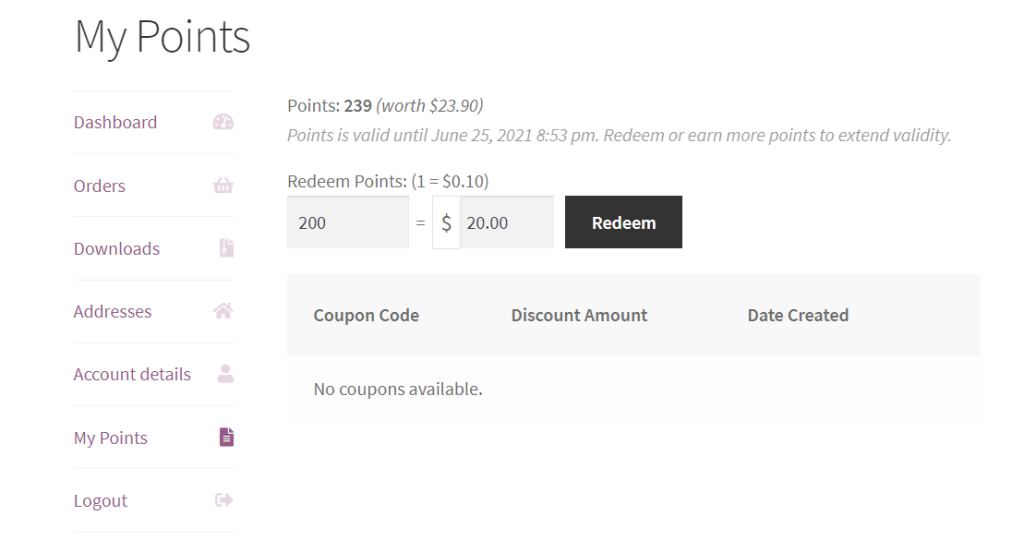 In WooCommerce, you can offer points easily with Advanced Coupons' Loyalty Program. On top of gaining more reviews, this easy, quick, and effective plugin allows you to motivate your consumers to:
Place and increase orders
Obtain points for purchases
Establish a minimal earning and redemption criterion.
And a lot, lot more!
If you think this is exciting, you may want to read more about WooCommerce's customer review rewards system via a loyalty program here.
Conclusion
One of the most effective customer acquisition and retention strategies available today is asking consumers for reviews. This is so because they contribute to the development of your online reputation, greatly increase brand trust, and offer the type of social proof required to affect consumer behavior.
There's no doubt that reviews can make or break your e-commerce store. In this article, we walked you through six clever ways you can ask for positive reviews in WooCommerce:
Prepare the template.
Send an SMS review request.
Ask for reviews in exchange for store credit.
Send a post-purchase email with a review link.
Make a follow-up phone call.
Offer loyalty points or rewards for a review.
Do you have any questions about asking customers for reviews? Send us a message or let us know in the comment box down below!