Thank you emails are an essential part of any customer-focused business. They let your customers know that you appreciate their support. The first thank you email after a customer places an order is especially important because it reassures them they're valued and that their purchase was successful.
It's also a great time to introduce new features or make other changes based on feedback. However, if your first email after a customer places an order is missing one or more key things, your second and later thank you emails may not be as effective.
In this article, we'll discuss 6 major components of an order thank you email that you might miss out on. We also provided some helpful references for you to get started quickly. Let's dive deeper!
Order Thank You Emails
Did you know that, on average, order thank you emails get the best open and click rates of ANY email you could send to your audience? ConversionXL quotes that order thank you emails (a.k.a digital receipts) get "an average 65.0% open rate, a 10.4% click rate, and a 1.4% conversion rate."
If you run any email marketing campaign, you'll immediately recognize those numbers are insanely good.
So what are you missing from your order thank you emails that would maximize your chances of getting those numbers? What goes into the anatomy of an order thank you email to make it sing?
We've broken down the structure and components of the perfect order thank you email. This can help you tick the boxes and ensure you follow best practices:
1. Start With A Big Thanks!
First up, recognize that your email is going to an actual human. And not only that but a human that opened their wallet (or their company's) and gave you some money in exchange for goods/services.
I think a thank you (and even a round of applause) is for your newest customer!
Starting with a big thanks is a nice light way to open the email. It also makes them feel great about purchasing from you:
2. Simple Subject Line
If you've ever studied email marketing in any detail, you'll notice the ones that get the highest email open rates are often the ones with the most straightforward subject lines.
Think about it. Your customer is expecting certain wording regarding their order receipt email. Using anything overly fancy will likely confuse them.
Additionally, combining a simple subject line like "Your Receipt" or "Your order from Example.com" with their expectation that it contains something important will ensure your email is opened pronto.
Do anything to complicate that formula with tricky wording and risk your email being missed or mistaken for something else!
3. Information Related To The Purchase
For example, because our company sells digital products (WooCommerce extensions), we give our customers some helpful information about what to do next with the product they just purchased and downloaded.
This includes links or details on how to install the product. It also includes a link to our help database should they get stuck.
Can you think of anything related to your products that they'd want to know about?
This might include things such as:
Warranty registration
Installation instructions
Care instructions
Returns policy
Usage instructions
You never know when this might come in handy for your customers. Personally, I've been known to forget who I purchased an item from. Looking up an order thank you receipt in my inbox is an easy way to find the website again!
4. Where To Get Support
Customer support is the new sales, as they say.
So you must always be upfront about where they can get after-sales support for the products they just purchased. If something isn't adding up, you don't want to frustrate them with hard-to-find information further.
One of the first places customers often look is their receipt to see if there are any details on how to claim support.
5. Ask For Feedback
While I believe the best time to ask for a review is just after they've received their items (you could estimate the days and schedule it with your post-purchase sequence), you can also include this request for review/feedback in your order thank you email too.
There's nothing wrong with asking for feedback. It would be best if you allowed them to share their thoughts. If you don't capture it in this controlled way, you'll likely push them to social media anyway.
Furthermore, capturing a product review is a great way to use that customer's energy about your product for future marketing!
6. Add A Coupon Offer
Finally, one of the most effective things you can do business-wise for your order thank you emails is to add a re-ordering coupon!
As mentioned in the opening quote of this article from ConversionXL, these emails get, on average, a 10.4% click rate and a 1.4% conversion rate. That's a HUGE opportunity for you as a store owner to generate extra revenue.
With Advanced Coupons extension for WooCommerce, you can restrict your coupons to customers who recently ordered certain products. This best and highest-rated coupon plugin in WooCommerce will take your coupon marketing to the next level!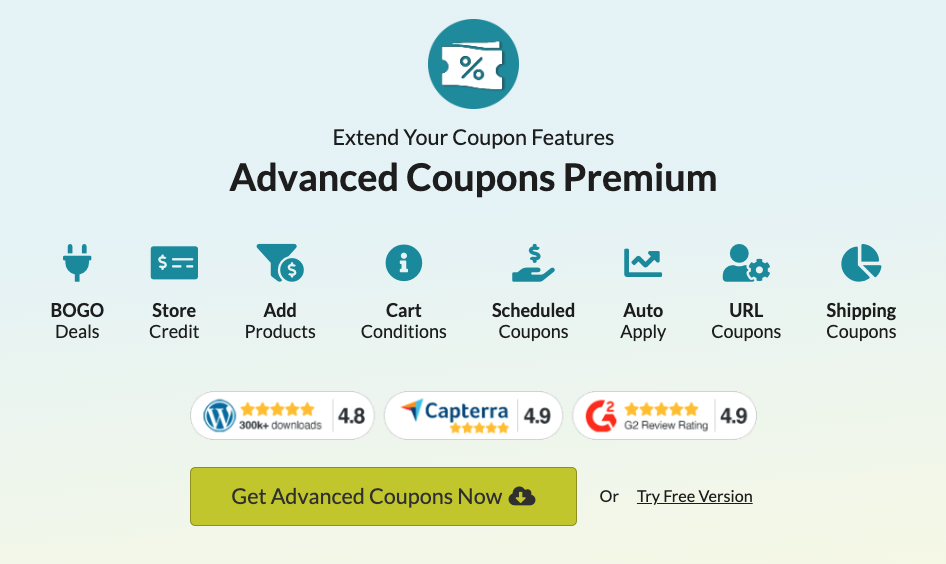 Another way to approach this would be to show them deals for related products. This could encourage a quick purchase of something else related in your store.
Conclusion
Thank-you emails are an important part of any customer's experience. They allow you to thank your customers for their business and provide a much-needed opportunity for your brand to build loyalty by emphasizing the value they've received from you.
However, many businesses make mistakes or miss out on essential factors when it comes to their thank-you emails. And in this article, we shared six things you can add to your order thank you email:
Start With A Big Thanks!
Simple Subject Line
Information Related To The Purchase
Where To Get Support
Ask For Feedback
Add A Coupon Offer
As a bonus tip, we recommend Advanced Coupons extension for WooCommerce to spice up your coupon offer. This way, your customers will feel even more valued and loved. Do you have any questions about order thank you emails? Let us know in the comment box below!