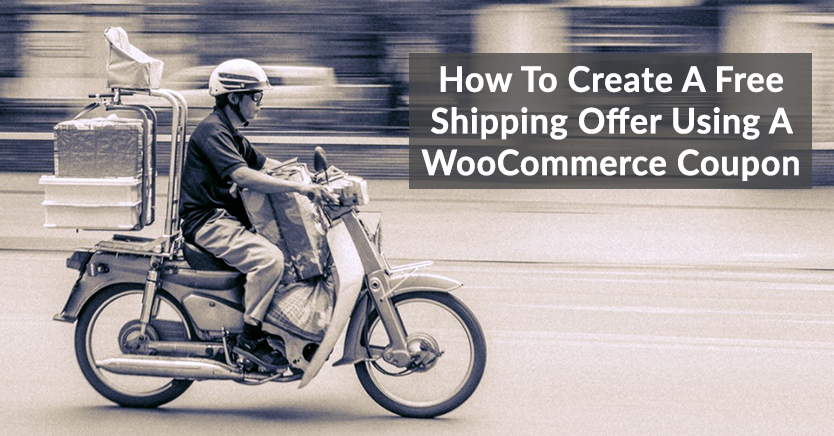 Want to create a free shipping offer at your WooCommerce store?

In this post, we'll show you how to create a simple free shipping offer using WooCommerce's built-in coupon functionality.

Then, you'll learn how you can use the Advanced Coupons plugin to enhance your offer with functionality like scheduling your coupon to automatically run during certain dates, adding restrictions (like only offering free shipping for certain products), letting users apply the free shipping offer by clicking a button or URL, and a whole lot more!

Let's dig in…
How To Create A Free Shipping Offer Using Native WooCommerce Functionality
For basic uses, you can create a free shipping offer using built-in WooCommerce functionality.

This method works in a pinch, but there are some limitations when it comes to scheduling your coupon, restricting access, and offering other features to incentivize shoppers to make a purchase.

In the next section, we'll show you how the Advanced Coupons plugin can help you fix those limitations.

For now, though, here's how to create a free shipping coupon in WooCommerce…
Step 1: Enable Free Shipping Method
To get started, you need to create a shipping method for your free shipping discount.

To do that, go to WooCommerce → Settings. Then, click on the Shipping tab and edit the shipping zone for which you want to create your free shipping offer: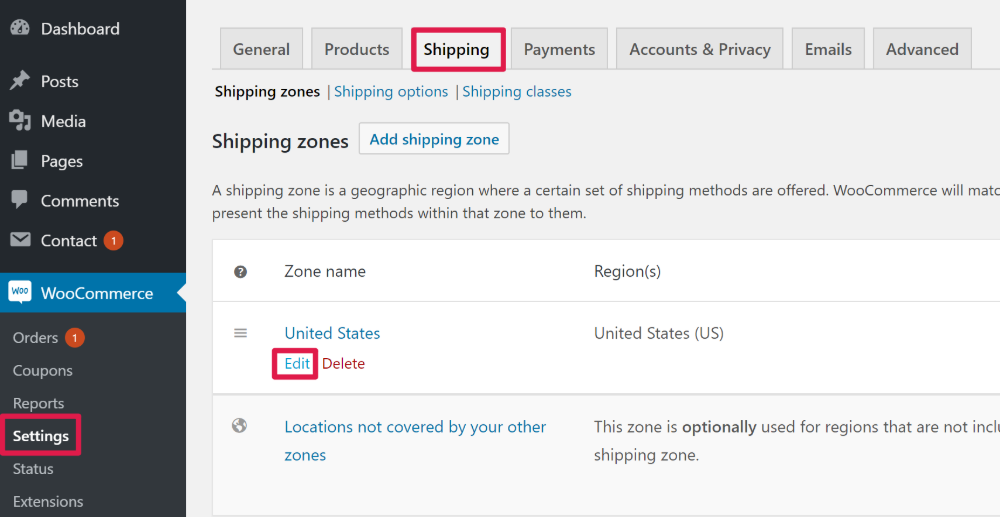 Then, click the Add shipping method button: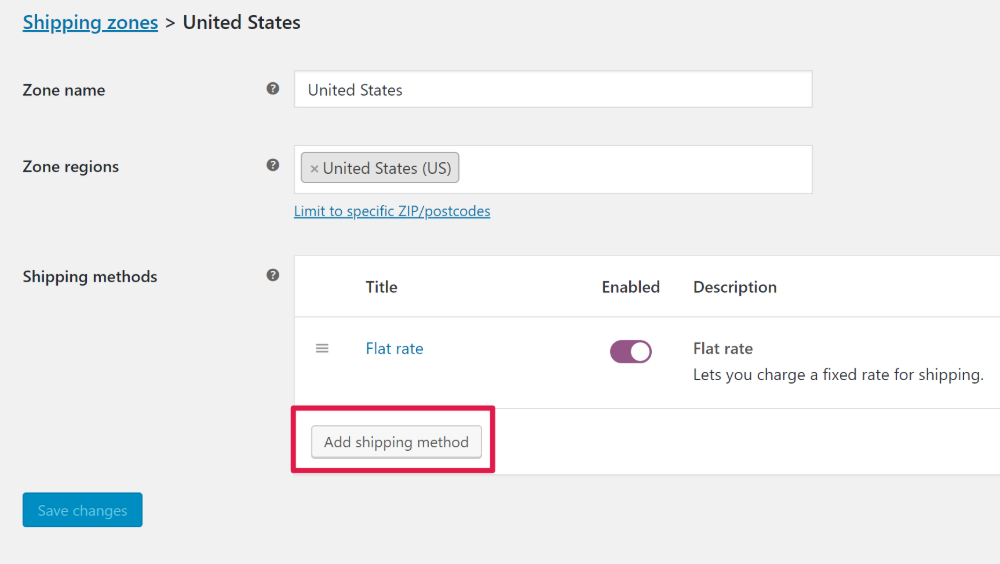 In the popup, choose Free shipping from the drop-down and then click Add shipping method: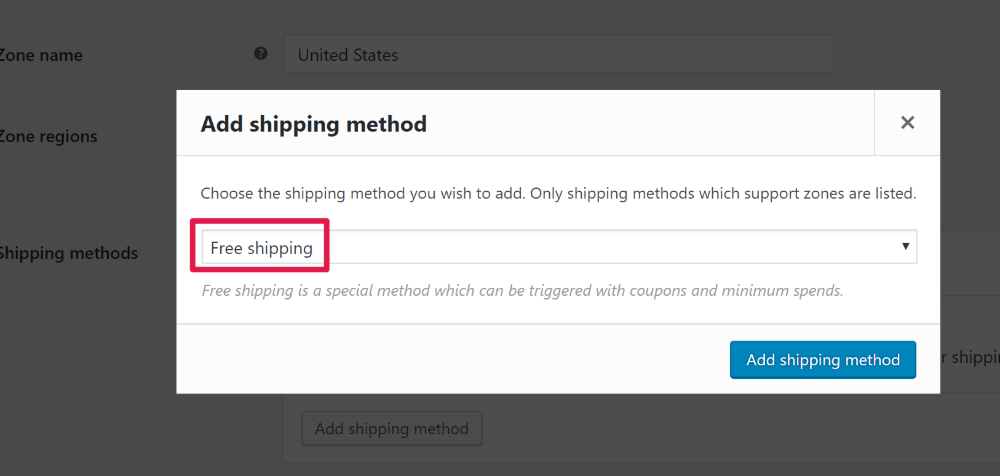 Then, edit the new free shipping method that you just created: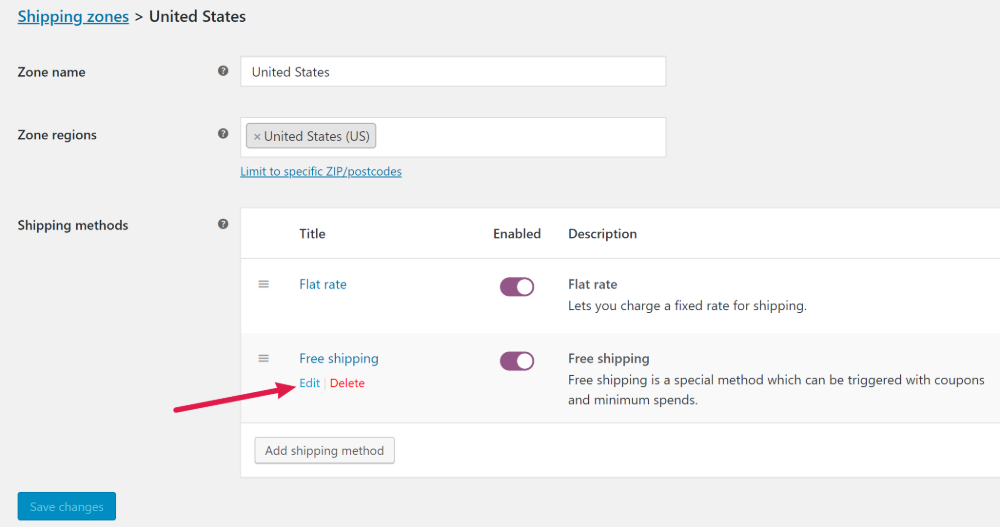 In the popup interface, use the Free shipping requires… drop-down to select A valid free shipping coupon. Then, save your changes: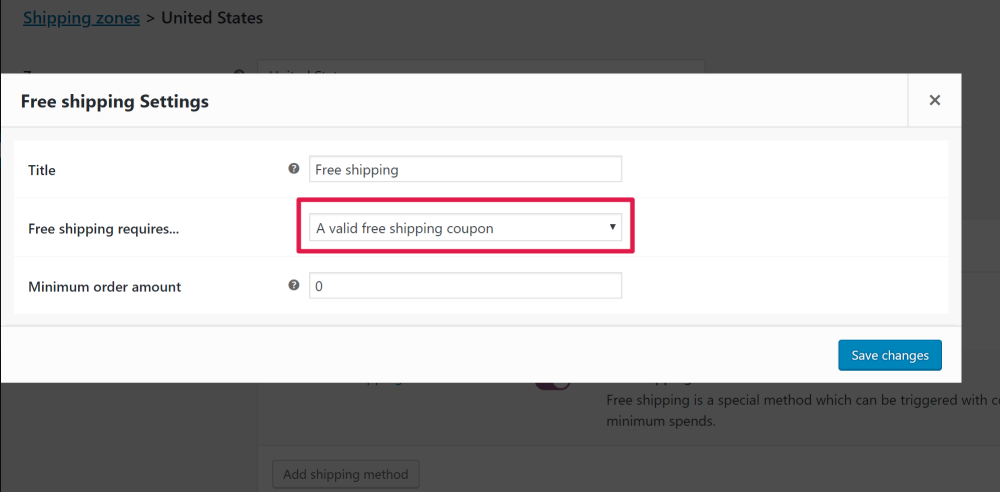 Step 2: Create A Free Shipping Coupon
Next, you're ready to create the actual free shipping coupon that shoppers can use to take advantage of the free shipping method that you just created.

To do that, go to WooCommerce → Coupons and click Add coupon: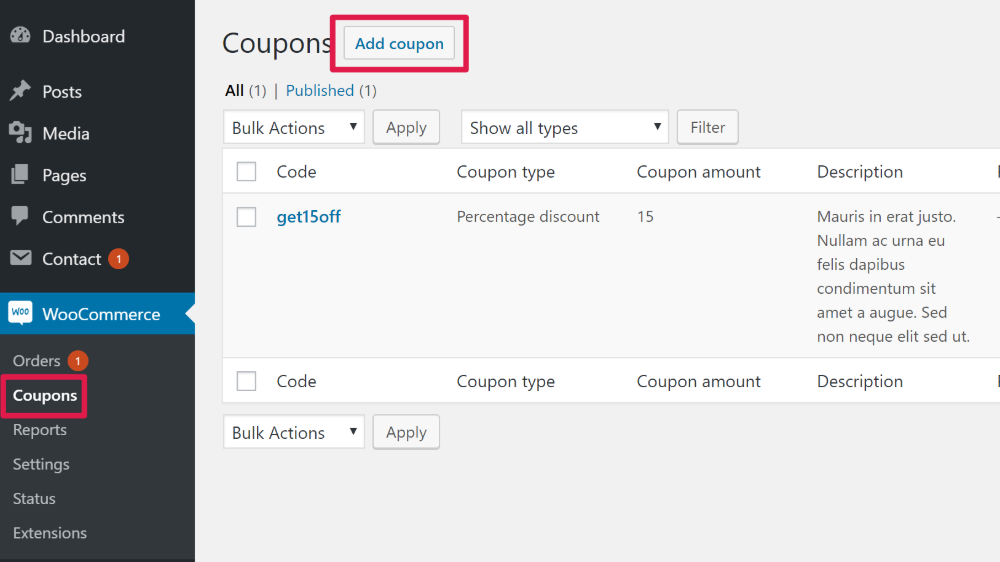 In the next screen, enter the coupon code that you want to use at the top and then check the box for Allow free shipping: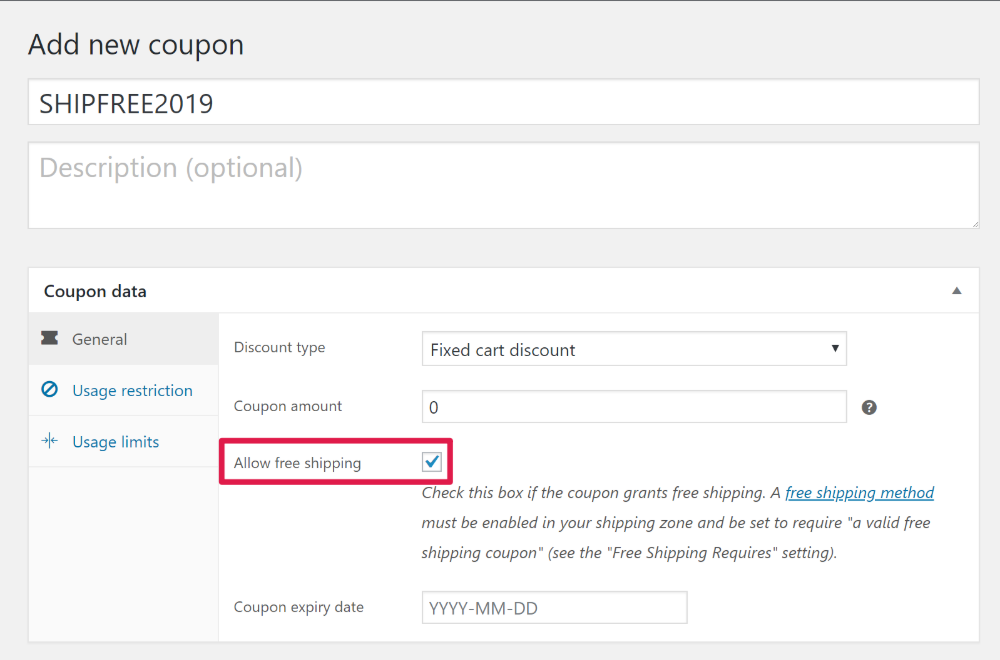 If desired, you can then use the Usage restriction and Usage limits tabs to restrict access and usage of your coupon. For example, you could only let shoppers use the coupon for orders of $50+.

Once you're finished, click the Publish button to make your coupon live: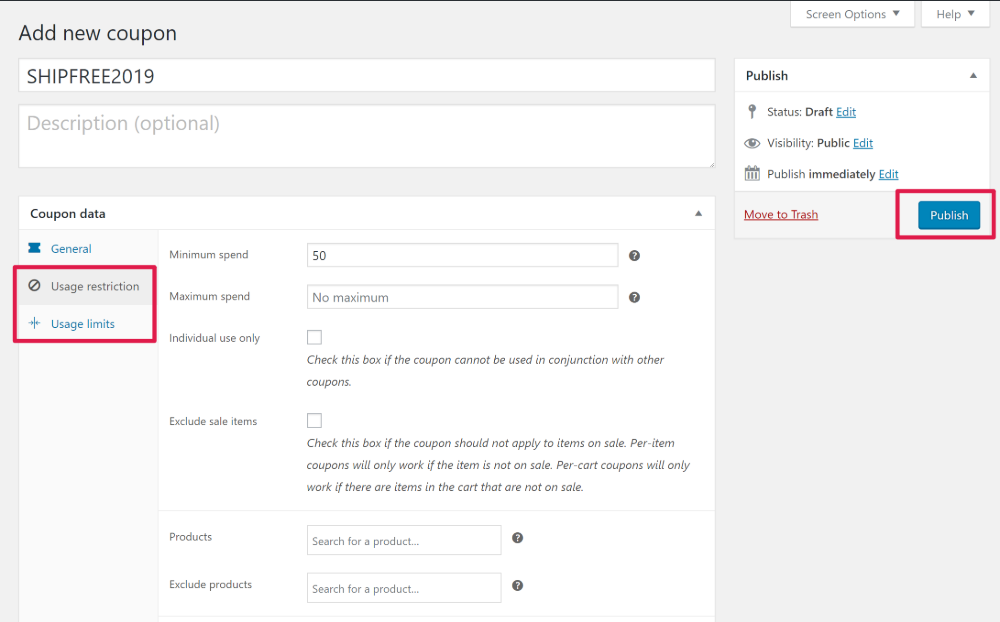 And then customers will be able to apply the coupon in their carts or during checkout: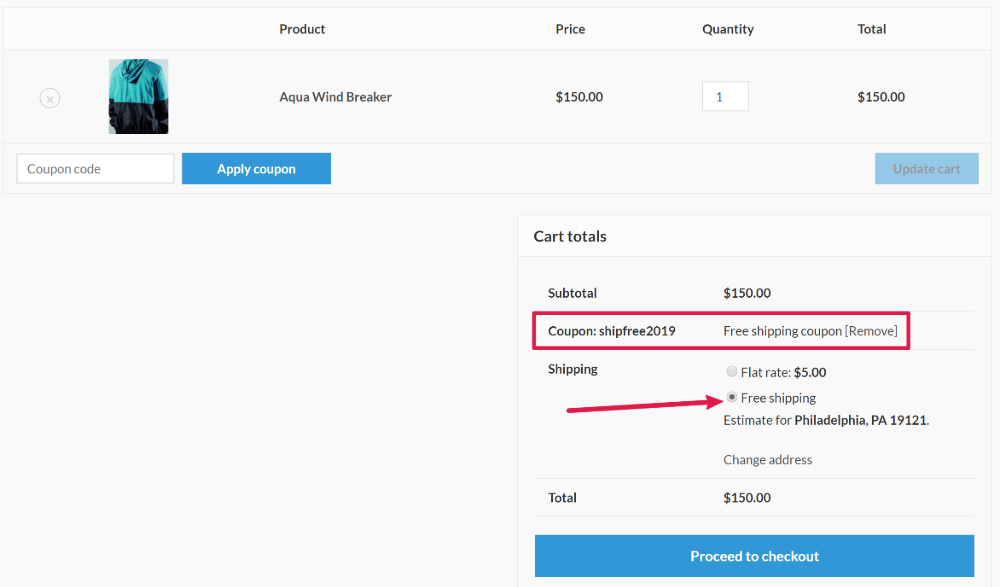 If you run into any issues, check out our WooCommerce free shipping not working troubleshooting guide.
How To Enhance Your Free Shipping Offer With Advanced Coupons
Advanced Coupons is a WooCommerce plugin that lets you run more intelligent coupon campaigns.

While you can use it to create any type of coupon, it also works perfectly with free shipping coupons and will let you create some interesting types of offers.

Here are some of the things that you'll be able to do with this plugin that you can't do with the default WooCommerce coupon functionality:
Schedule start/end dates for your free shipping coupons. While the native functionality lets you set an expiry date, there's no way to schedule a start date. With Advanced Coupons, you can set up time-sensitive campaigns to run automatically.
Automatically apply the free shipping coupon in shoppers' carts based on a variety of conditions that you can choose.
Restrict coupons to certain user roles. For example, you could create a special free shipping coupon that's only available to paying members at your site.
Show coupon notifications with a "click-to-apply" button. For example, you can display a notification when the user meets the conditions to use the free shipping coupon.
A whole lot more!
Advanced Coupons for WooCommerce adds its functionality to the native WooCommerce coupon feature. So to get started, you'll repeat the exact same steps that you saw above to create your basic free shipping coupon.

Only now, you'll have a whole heap of new options in the regular WooCommerce Coupons interface, contained in a bunch of new tabs on the side:

Here are some of the things that you can set up in these tabs…
Create A Start/End Date For Your Free Shipping Coupon
To schedule your free shipping coupon to only run during certain dates, go to the Scheduler tab. There, you can enter a Coupon start date and Coupon expiry date. You can also customize the messages that appear if a shopper tries to use the coupon before or after it's live: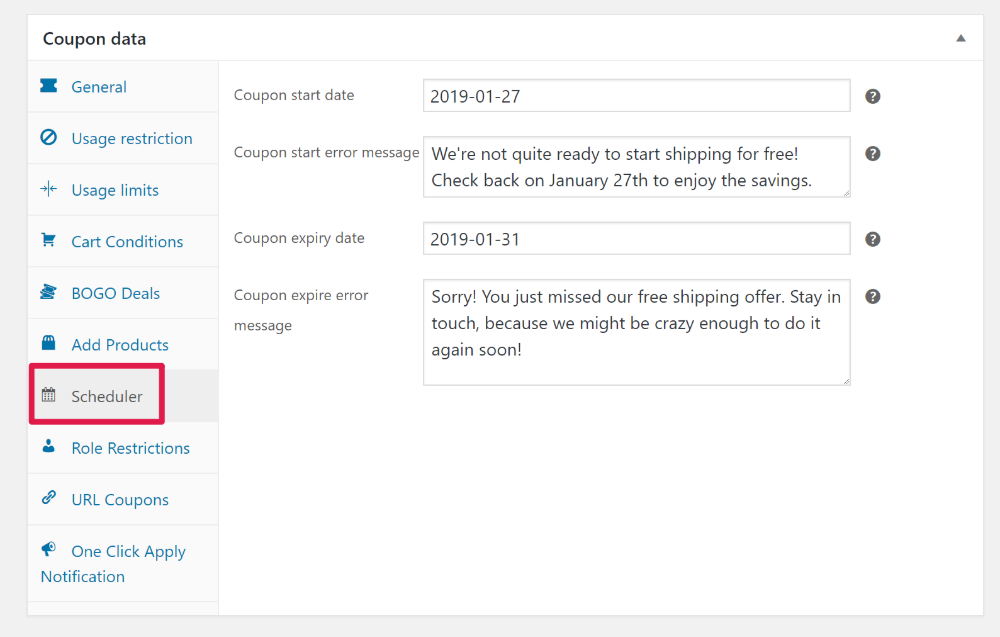 Below, you can see how the message appears when a user tries to enter the coupon before the deal starts: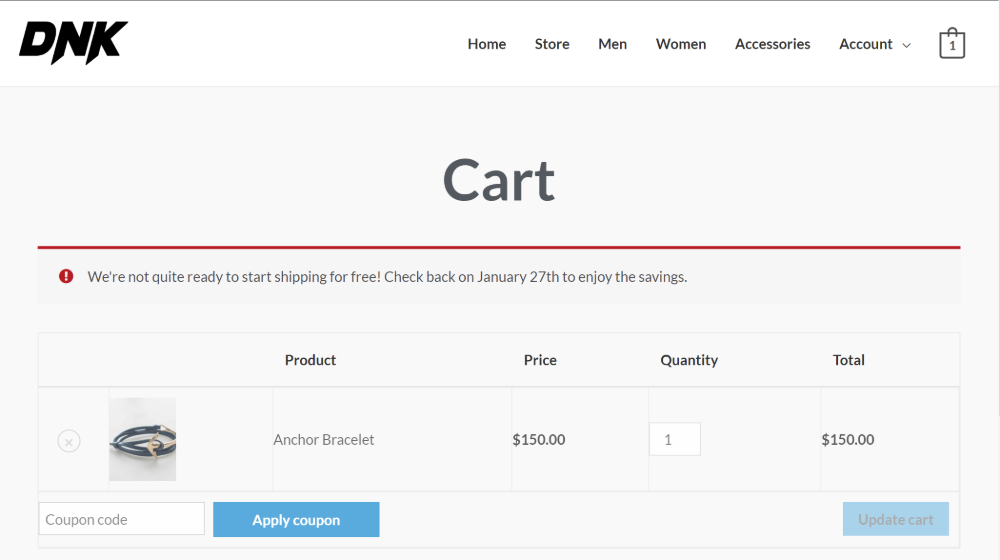 Give Shoppers A One-Click Apply Button When They Meet Certain Conditions
If your free shipping coupon has restrictions, such as a minimum order amount, Advanced Coupon's One Click Apply Notification feature is a great way to give your shoppers a little extra motivation to finish their order once they qualify for the free shipping coupon.

Instead of forcing them to remember to apply the coupon, this feature will pop up a notification as soon as the customer meets the criteria. Then, the shopper just needs to click the link to automatically apply the coupon in their cart:

To create your own notification, go to the One Click Apply Notification tab. Then, check the box to enable the feature and enter the text you want to use for the button and message: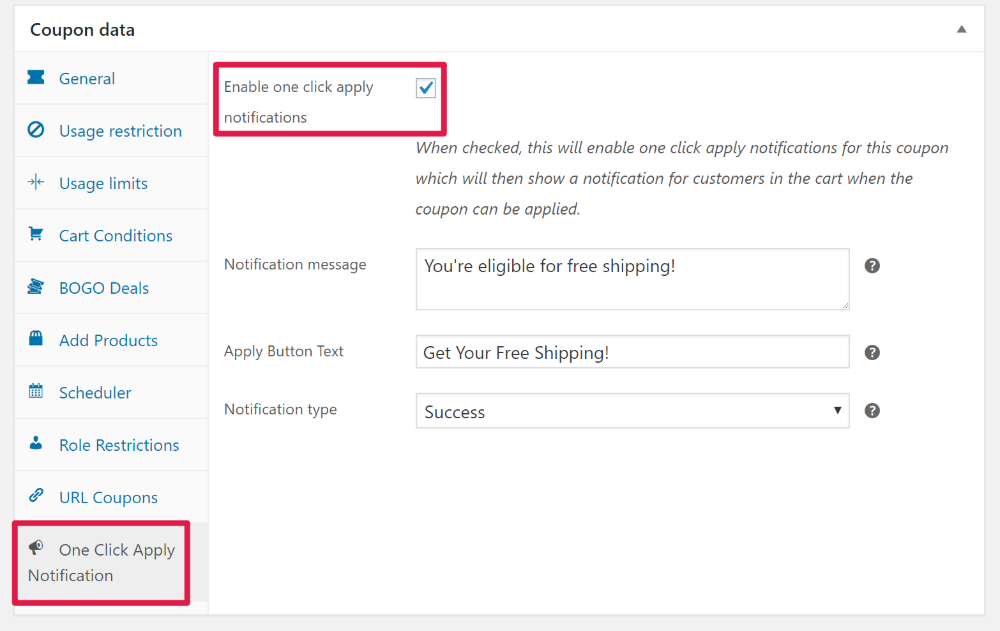 Restrict Free Shipping Coupon To Certain User Roles
Want to limit who can take advantage of your free shipping coupon by user role? You could offer targeted free shipping coupons to:
Members at your membership site or online course
Vendors at your multi-vendor marketplace
Guests
Any other user role!
To enable this functionality, go to the Role Restrictions tab and check the box for Enable role restrictions.

Then, you'll be able to choose exactly which roles are able to use this coupon, as well as enter an error message that displays to other user roles: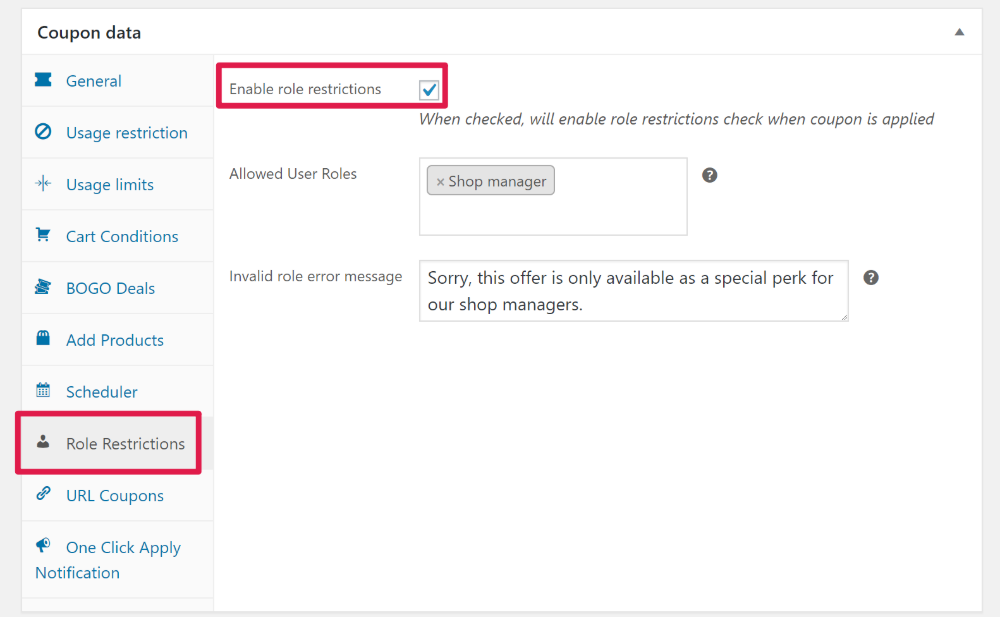 Create A URL That Automatically Applies Free Shipping
For another way to make it easy for shoppers to access your free shipping deal, you can use Advanced Coupons' URL Coupons functionality.

With this feature, you can share a special URL that automatically applies the free shipping coupon when people visit it.

This is especially great if you're promoting your free shipping deal on social media. All you do is share the link to your social followers and they'll be able to take advantage of the deal right away.

To configure this feature, head to the URL Coupons tab. There, you can get the URL, as well as add a custom redirect and message. For example, you can automatically redirect people to their carts and give them a success message like this: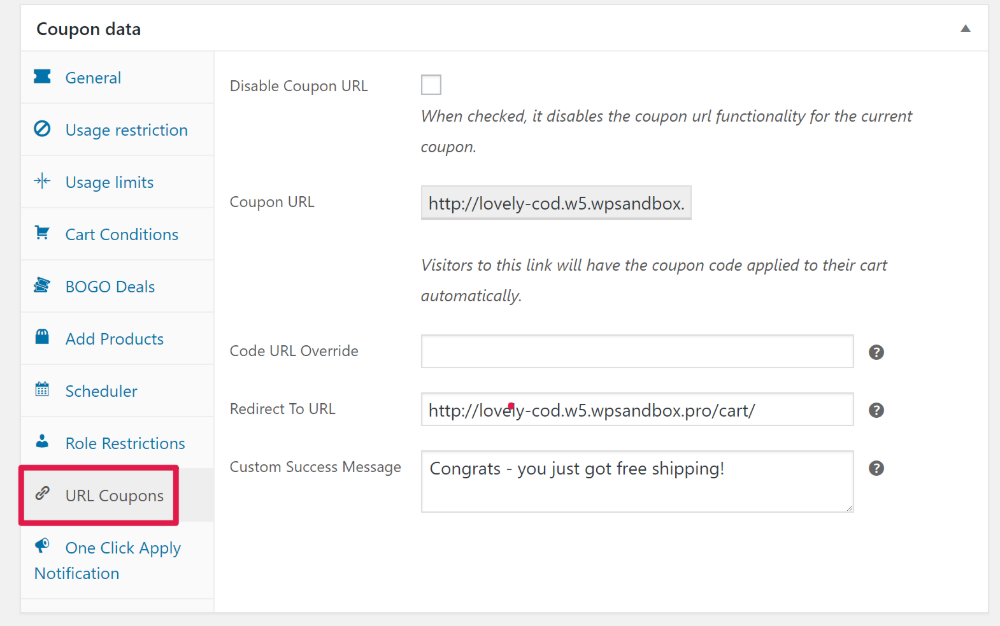 Get Creative With Cart Conditions
We've highlighted a few specific situations above, but the powerful thing about Advanced Coupons is that it lets you create your own unique situations using its Cart Conditions feature.

Here, you can add a variety of conditions to your offer, including:
Product quantities
Order subtotal or quantity
Customer logged in status
Customer user role
Within X hours of last order or registration date
Whether the customer has ordered before or not
You can mix-and-match these rules to create your own custom scenarios:

For example, you could offer free shipping on certain products or certain quantities of products. Or, you could offer free shipping as a special loyalty perk for customers who have placed at least one order.
Create Your WooCommerce Free Shipping Offer Today!
If you just want to create a simple WooCommerce free shipping coupon, you can use WooCommerce's built-in functionality to set up a free shipping offer.

Then, if you want more flexibility to control how that offer functions, as well as user-friendly features like a one-click apply button or a shareable coupon URL, the Advanced Coupons plugin can help you extend that existing WooCommerce functionality in a variety of ways.

To get started, head here and choose the plan that's right for you.