The more you reward customers for visiting your online store, the more you encourage them to avail of your services. But how, exactly, can you make every store visit a positive experience for your clientele?
There are many ways to reward customers so they keep coming back for more. You can, for example, offer them discounts in the form of coupons and gift cards. Today, however, we'll be exploring how you can use the WooCommerce Loyalty Program to reward site visitors for leaving comments on your blog posts.
Before we get into that, however, let's discuss some of the advantages and disadvantages of enabling blog post comments.
The Pros And Cons Of Blog Post Comments
There's currently a debate on the pros and cons of offering site visitors the ability to leave blog comments.
According to experts, one of the downsides of giving your users this freedom is that it can lead to an accumulation of comment spam or poor-quality comments. There also seems to be no correlation between the number of comments a post receives and the number of views or links said post gets.
So, what are the upsides of letting visitors leave blog comments? For starters, it deepens the relationship between the reader and the blog. It also helps you understand what people are looking for when they visit your site. It could even increase a post's keyword count, which has the potential of driving more traffic to your website.
However, perhaps the most important reason to allow people to leave blog comments is the fact that you can reward them for it via a loyalty program.
Why You Should Reward Customers For Leaving Blog Comments
The loyalty program lets you reward customers with points.
Points can then be redeemed into store credits which, once accumulated, can be used to purchase items. Think of it as an exciting, gamified way to offer buyers discounts – and as we all know, discounts are extremely effective at boosting sales, promoting customer loyalty, and boosting your reputation.
How To Reward Customers Points For Leaving Comments (3 Easy Steps)
Setting up your store so that it rewards customers for leaving blog comments is super easy. Just take note of the following steps!
1. Activate the WooCommerce Loyalty Program
Before you can get the Loyalty Program to work, you'll need to have purchased and installed WooCommerce for your store.
Once you already have WooCommerce, simply purchase the Loyalty Program, then activate it by heading to your dashboard, navigating to Plugins, and clicking on Activate.
2. Allow customers to earn points
Now that the Loyalty Program is active, you can configure its settings. Navigate to Coupons > Loyalty Program, then click the Settings sub-menu.
Under Settings, select Points Earning.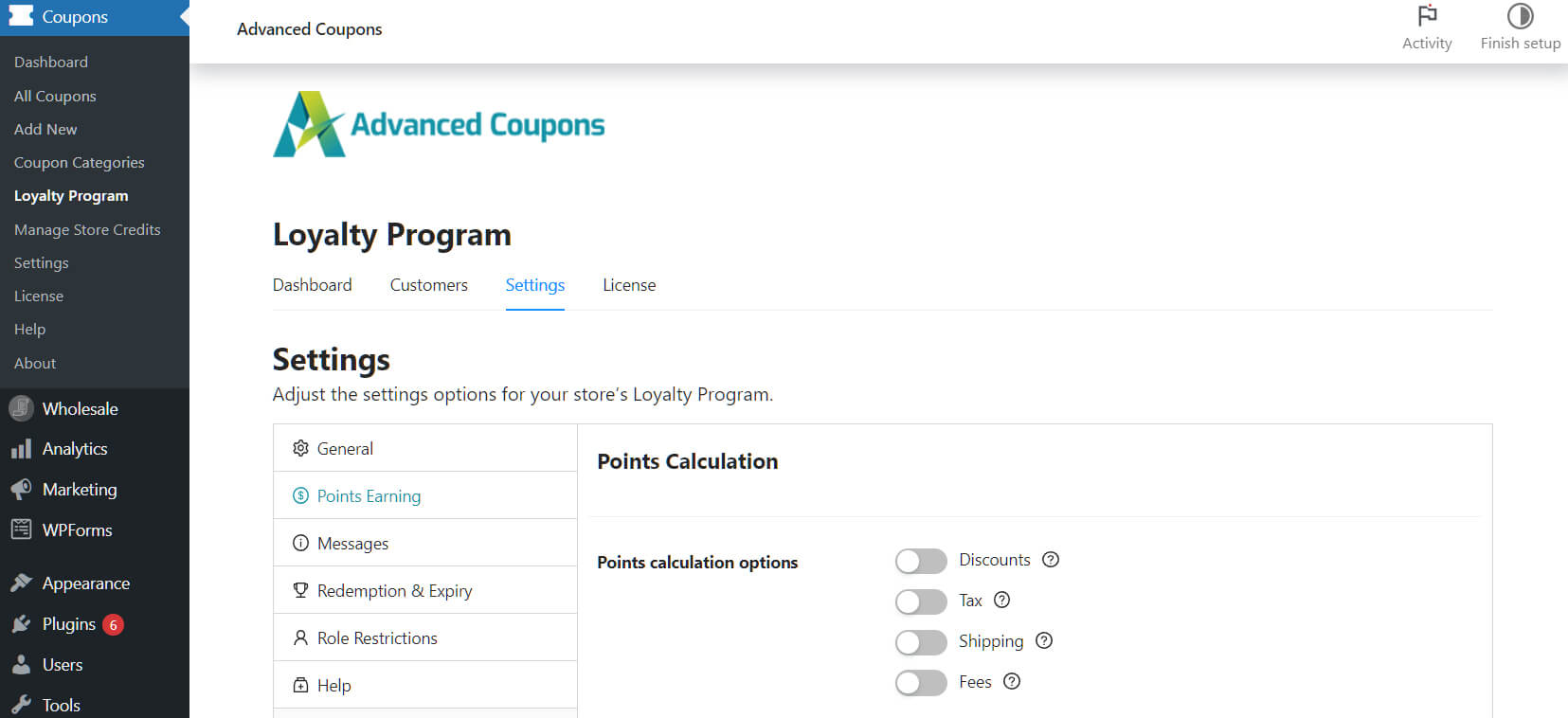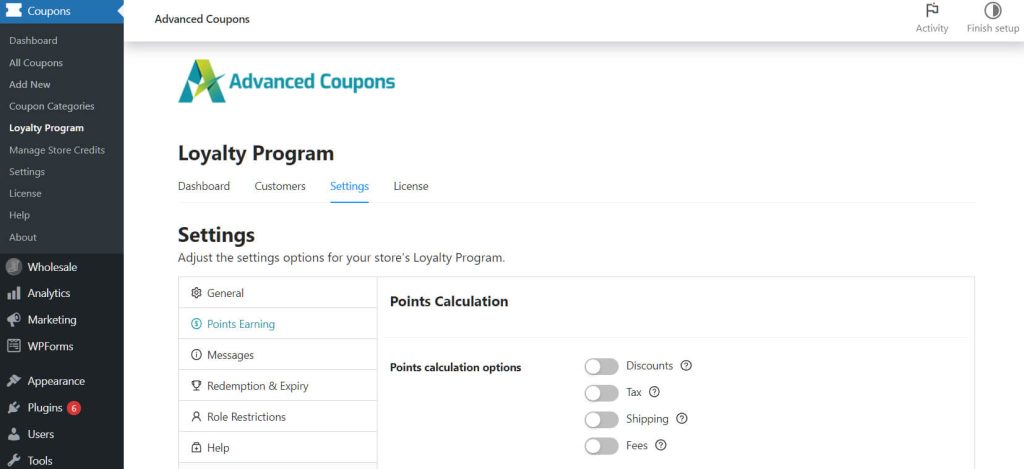 Scroll down to Actions that earn points. This section allows you to select which actions site visitors can take to gain points.
For the purposes of this article, you should click on "Commenting on a blog post." This will reward customers points every time they comment on a blog post.
Clicking "Commenting on a blog post" will expand the section, allowing you to set the number of points this action will provide each commenter with. For example, setting the points to 100 means a customer gains 100 points every time they leave a comment on a blog post.
3. Customize the monetary value of points
Now that customers can earn points by leaving blog comments, it's time to determine the value of these points when converted into Store Credits.
Head to Coupons > Loyalty Program, then click the Settings sub-menu.
Under Settings, select General.
Pay attention to the Points to price redeemed ratio. This allows you to define the value of each point. For instance, setting the points to price redeemed ratio to 5 means 5 points are worth $1.
Therefore, if a site visitor earns 5 points every time they leave a blog comment, they can redeem $1 worth of store credits for every 5 points they accumulate.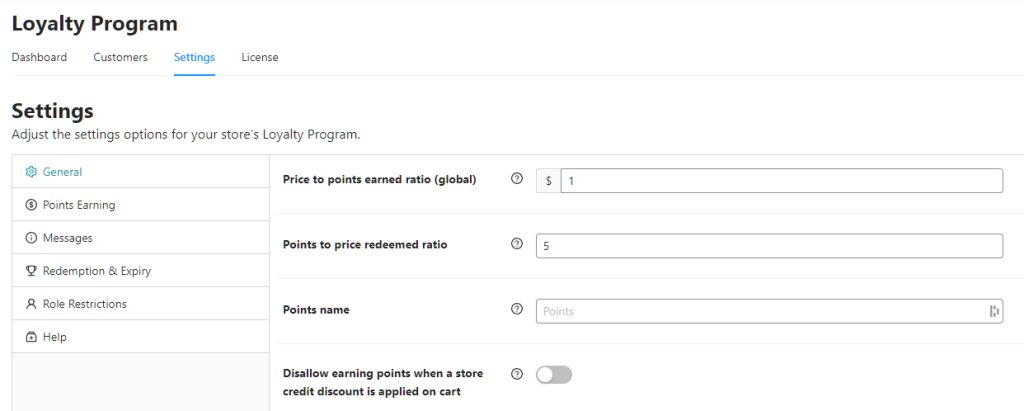 Other considerations
Exploring the Loyalty Program settings will reveal other ways you can reward customers.
For example, in Actions that earn points, you can choose to award points for other actions, such as "Leaving a product review" or "Spending over a certain amount."
Minimum threshold to earn points lets you determine the minimum amount of money a customer needs to spend before they can become eligible to accumulate points.
Redemption & Expiry allows you to give points an expiration date, motivating customers to use them as soon as possible. You can even set the minimum and maximum points that a customer can convert into store credits.
For a more detailed guide on how to set up your Loyalty Program, click here.
How customers can redeem points
Customers can self-manage their points and redeem them into store credits at their convenience.
Customers can redeem their points on your site's "My Account" customer interface and the checkout page.
Take note that customers need to create an account before they can earn or redeem their points.
Conclusion
To run a successful business, you'll have to entice people to keep returning to your store. And a great way to convert site visitors into repeat customers is to reward them for certain actions.
As discussed in this article, you can reward customers points for the comments they leave on blog posts. They can then redeem said points into store credits that they can use to purchase items from your store at discounted prices. This strategy can enhance sales, cultivate customer loyalty, and improve your reputation.
To recap, you can reward customers for leaving blog comments by following 3 easy steps:
Lastly, remember that there are other considerations that you should take note of and that you should explain to your customers how to redeem their points.
Do you have any questions about how you can use the WooCommerce Loyalty Program to reward customers for leaving blog comments? If so, leave us a message in the comments section below!