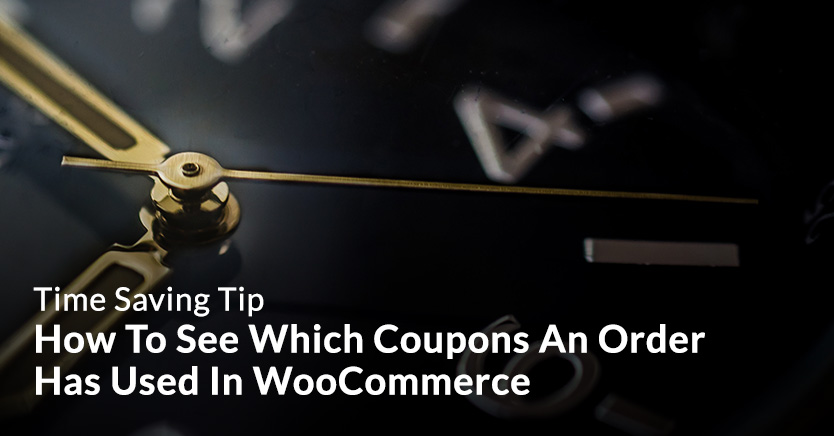 When it comes to coupons in WooCommerce you might be wondering why things are the way they are. The Orders screen especially doesn't treat coupons very fairly. It's hard to see at a glance which coupons have been used on an order.
In a busy online store, coupons are a common occurrence thing and it is rare that orders come through without them.
It makes sense to be able to quickly view which coupons were used by whom.
I often find myself checking recent orders when I know a promotion is just starting to run to get an idea of whether people are claiming the deal or whether there are any problems.
How To See Coupons Used On An Order
By default, the only way to view which coupons are used on an order is by looking at the order itself by going all the way into the Edit Order screen.
You'll find the list of coupons that were used on the order right underneath the order items list on the bottom left-hand corner.
The Order Quick View Issue
The problem with the above method is that you might have heaps of orders. Opening up the edit view for each one is very timely.
That is actually why WooCommerce core team created the Order Quick View feature which lets you view vital order information directly from the List View.
But do you notice something wrong with this picture? There's something missing. Something important. You can't see the coupons that were used!
The totals reflect the discounted amount, but there is no information about the coupons at all.
How To Show Coupons On The WooCommerce Order Quick View
In order to show the coupons on the WooCommerce Order Quick View section, you'll need Advanced Coupons.
Advanced Coupons is our extension for WooCommerce that lets you extend the capabilities of coupons in WooCommerce. It makes coupons better in a lot of ways.
One of those ways is by making the information about them more accessible. This includes adding a list of used coupons to the WooCommerce Order Quick View popup.
So now you're able to see the coupons that were used on the Order much quicker than going all the way into the Edit View of the Order.
Most store managers just use the Quick View for processing orders anyway, so this really is a massive timesaver.
Want this on your site too? Advanced Coupons has a lot more to offer as well. Check out the pricing & features.