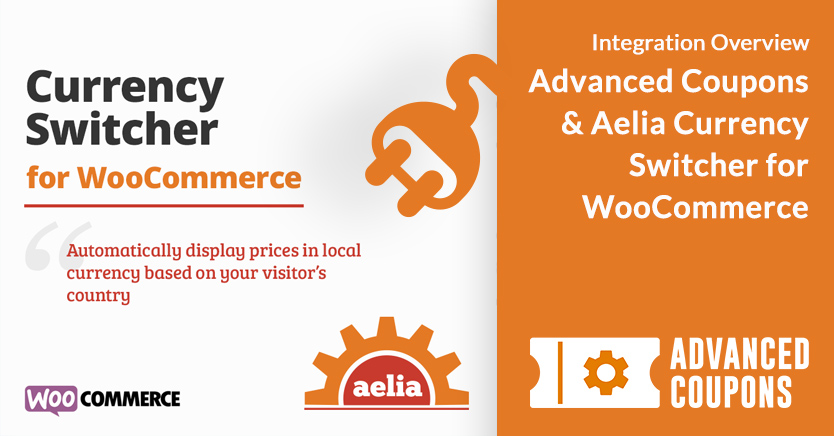 If you've been looking to display prices and accept payments in multiple currencies on your WooCommerce store it's pretty hard to go past Aelia's Currency Switcher for WooCommerce solution.
It's an extremely comprehensive and actively developed plugin for WooCommerce that handles all things multi-currency for your store.
For savvy store owners that are using the Currency Switcher by Aelia, we're happy to announce that Advanced Coupons now integrates with their multi-currency solution so that your coupons will be fully multi-currency aware.
The Problem With Coupons & Multi-currency
The issue is when you are running a multi-currency store that you don't want your coupons giving discounts only in the base currency and assuming that all customers are using that currency.
For example, a $10 off coupon, when viewing the site in Euros shouldn't just minus 10 from the subtotal. It should calculate what the discount would be in Euros given the exchange settings in Aelia's solution.
Advanced Coupons has a lot of additional features for coupons that let it do things like add products to the cart when a coupon is applied with special pricing. That might be a special $ off or overriding the price for the user of that coupon.
In these cases, it should as discussed above, also give the discount in the selected currency or the overridden price in the selected currency being used for the cart session.
So now that we know about the problem, let's look at how it works:
Video Overview: Advanced Coupons and Aelia Currency Switcher for WooCommerce Integration
Subscribe to Advanced Coupons
In the above video, I go through some of the ways Advanced Coupons integrates with Aelia's Currency Switcher for WooCommerce so that your coupons are now aware of the currency being used.
Add Products
The add products with a coupon feature is a favorite of our customers. It automagically adding a product to the customer's cart for them.
In many cases, the price is also overridden at this point which is where the currency integration comes in. It will automatically translate the discount amount so that the given discount is also changed based on the given exchange.
BOGO Deals
BOGO deals are also affected by this integration. If you think about the structure of a BOGO offer you'll know why.
Take an offer like this: "Buy 2 Widgets at full price ($10), Get 1 Widget at $5"
The "get" part of the deal also needs to be currency aware, so that if they are buying the full-priced at $10 widgets and the "get" part says to take $5 off the price of the 3rd widget, it does so in the currency the user has selected to use for the cart session.
Shipping Offers
Our shipping offers functionality lets you not only give "free" shipping. You can also discount your other shipping methods too.
Often people use this to do things like $10 off express shipping or similar.
For this reason, it also needs to be multi-currency aware. It will automatically translate that discount amount you set in the base currency to the user's selected currency.
Loyalty Programs
You can also run a full loyalty program in WooCommerce with Advanced Coupons and because of this it also needs to be currency aware.
For example, if the customer is getting a discount and that discounted amount has been changed to another currency, the total amount of points that would be earned for the order should be aware of this.
How To Enable The Integration
The good news is that there is very little work for you to do as the store owner.
In fact, the integration is mostly behind the scenes. As long as you have configured your exchange rates on the Currency Switcher settings you are good to go. Advanced Coupons will automatically trigger the integration.
Click here to get Aelia's Currency Switcher for WooCommerce.
Click here to get Advanced Coupons for WooCommerce.