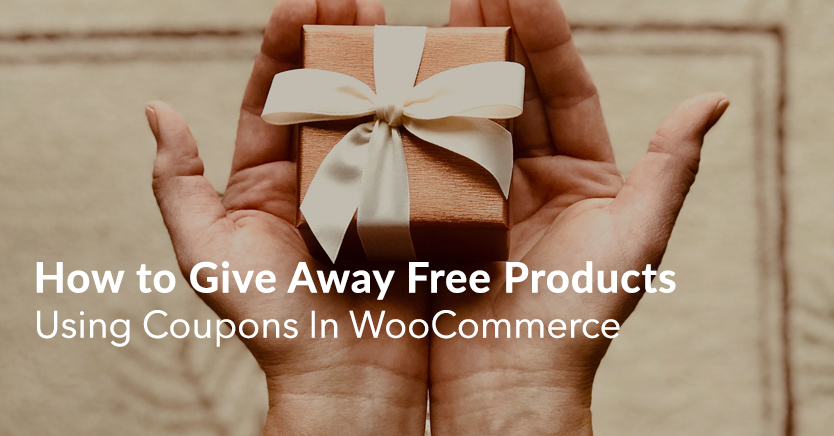 WooCommerce free gift coupons – the act of using a coupon to give away a free product – can be a very effective way to incentivize your customers to make their purchase or purchase a bigger amount.
It can generate a huge amount of interest in your products and can be a fantastic incentive.
It's also a low-cost way to get people interested in new and exciting products via product samples.
Reasons you might want to give away a free product with a coupon:
A promotion or deal (satisfy some condition and get a free product, eg. orders over $50 get a freebie)
As exposure for a new product
Giving customers sample sizes of related products (great for upselling on their next order)
Bundling of supporting products where you still want to sell those items separately
This article will show you how to give away free products with a purchase in your WooCommerce store.
WooCommerce Free Gift Coupons
In WooCommerce, it's traditionally been very hard to give away free products with a purchase based on the condition that they're buying certain items.
Actually, it's pretty much impossible with just the default WooCommerce.
The reason is that the default coupons can only restrict the usage of the coupon. It doesn't let you define additional actions to take after the coupon has been applied which is what you really need to pull this off.
The closest I figured that you can come with just the default WooCommerce features is to create a coupon that gives a 100% product discount and restrict it to so that it only applies if that particular product is in the cart.
But that is very inconvenient for the customer because they need to know which specific product and they need to add it to the cart themselves.
It also isn't great for the store owner since they can't also restrict it so that it only applies when a specific product is in the cart. Or whether the user is logged in/out, or whether they're a guest or not, or whether they've purchased a particular product in the past.
In short, it's too restrictive to actually use in a real-life store scenario.
Implementing WooCommerce Free Gift Coupons With Advanced Coupons
So if WooCommerce can't provide this feature natively, what is the solution?
It's a tricky requirement, but our plugin Advanced Coupons for WooCommerce can handle this with its "Add Free Products" feature.


This advanced coupon feature that is unlocked when you install the Advanced Coupons extension lets you define a product to add to the cart when a coupon is applied.
It's as simple as selecting what specific product to add, by searching for it by name, then defining how many of that item give and whether you want to override the price.
You can override the price by telling it exactly what price to give the product (eg. $0.00), by a percentage amount or a fixed discount amount.
When the coupon is applied it will add the defined product/s to the cart. Simple right?
Here's a video on how it works:
Additional Restrictions You Can Apply
Adding a free product is just the beginning.
Beyond that, you can also use the coupon for other things such as giving a further discount or applying restrictions to when they can use the coupon.
You can also do things like:
Have the coupon automatically apply when it detects that it's eligible
Present the user with a notice when the coupon is eligible to be applied. Also, provide them with a 1-click button to apply it
Restrict the usage of the coupon based on other factors such as their subtotal amount or whether they have certain other products in the cart, or whether they have ordered something before.
This last point will be of great importance to you if you want to give away a product but only if they're ordering something else specific.
In this case, you need to use the Cart Conditions feature in Advanced Coupons extension.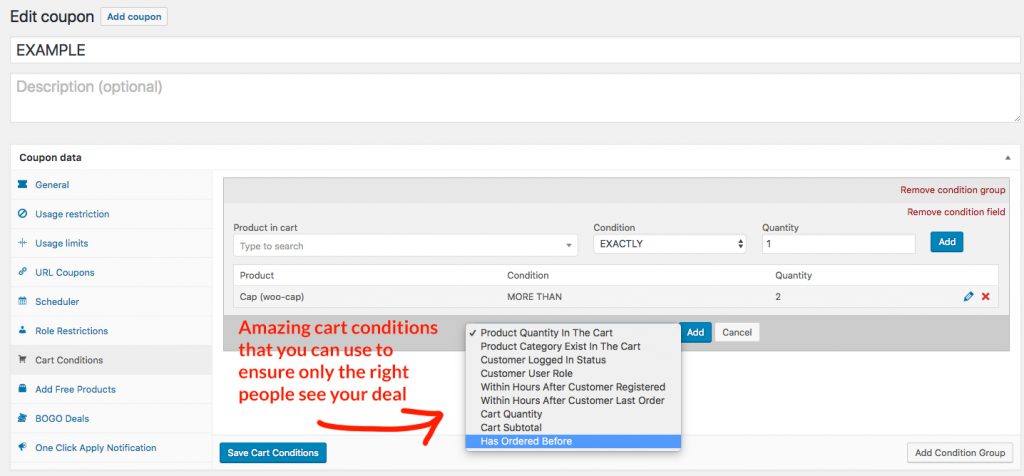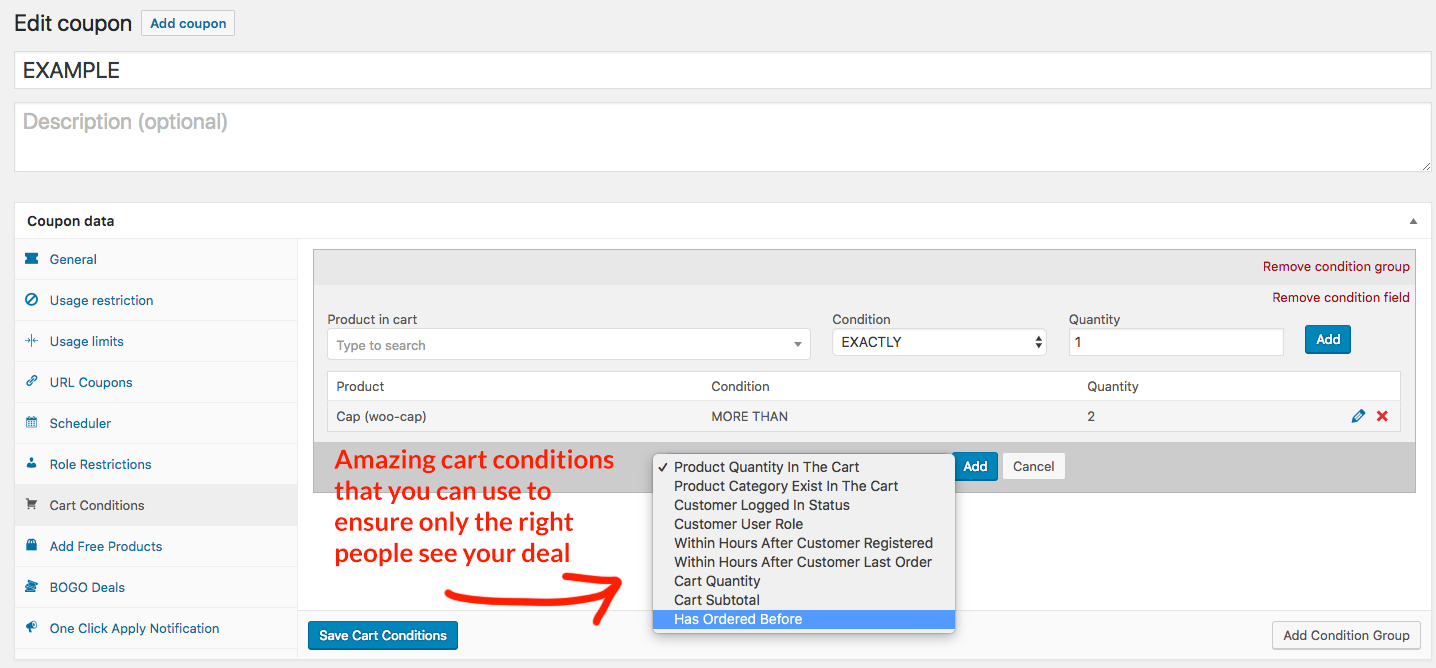 You can build up cart conditions with amazing flexibility because it works like a "rules engine". Meaning you can define all of the things that need to be true before that coupon (and therefore the free product) can be applied to the customer's cart.
Let's illustrate with an example: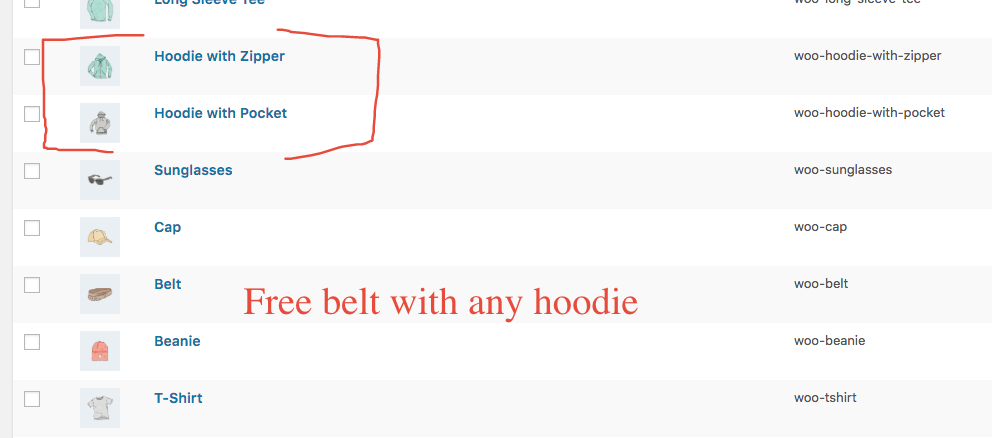 Imagine you want to give away a free belt but only if the customer has a Hoodie product from the Hoodies product category in the cart.
You can define this restriction with Cart Conditions quite easily.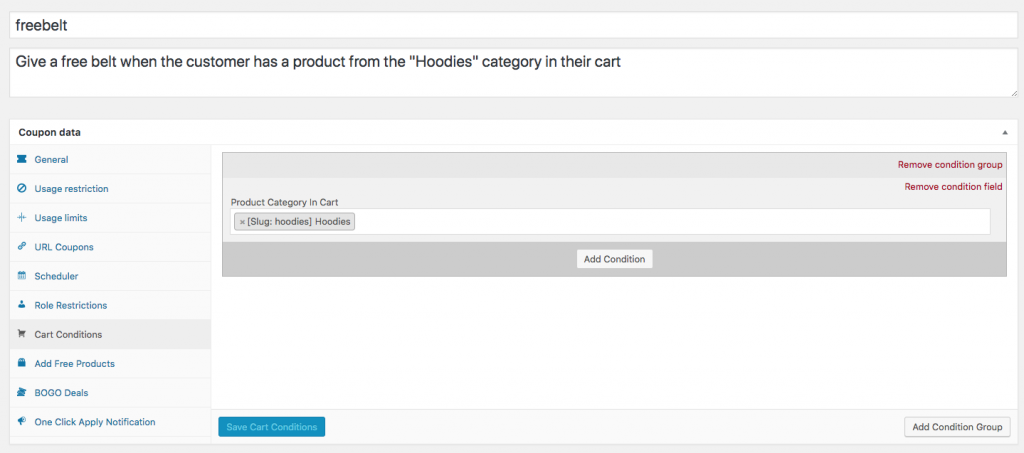 Next, you just need to define that they get a free Belt on the application of the coupon.
This took me a grand total of 30 seconds to create the conditions for and I have a fully functional coupon that can be used in a deal on my store.
Examples Of Free Product Deals You Can Run
The amount of permutations of deals you can run is limited only by your imagination.
Here are a few ideas that our customers are using in practice:
Giving away a free product on a customer's second order
Give a free product when customer's cart subtotal reaches a certain amount (to encourage larger orders)
Sample product giveaway when a customer buys a specific related product (great for getting them to experience a new product so you can upsell them on a full-size version on their next order)
Giving free samples of new products for any wholesale order
Promotion where a customer buys a high priced item (eg. a laptop) and they get a free add-on item (eg. a portable mouse)
Adding support products that are required to give away when the main product is purchased (but still having the support product available for straight purchase on the store as well, meaning inventory is tracked for the giveaway items too)… hint: use the auto apply feature for this!
What kind of free product giveaway deals could you delight your customers with?