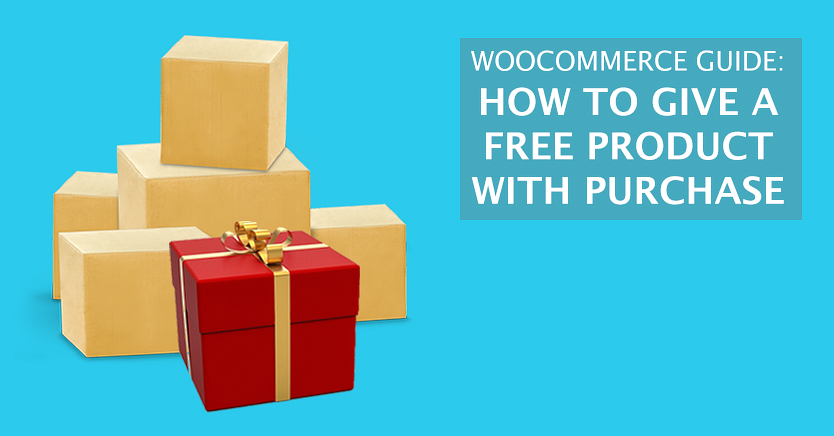 We recently had a customer ask us the following:
Hi there…
Can you please help me with something?
How do I set up a promotion that would basically be: Get a Free X with any purchase!

I don't want to have them enter a coupon code. I just want a free specific item added to every cart for every purchase.

Been trying to set this up, but can't seem to get it right. Can you tell me how?



Firstly, let me say that giving a product along with an order is both a great way to delight your customers, but also a very smart business growth move.
There are several ways that e-commerce stores can take advantage of a strategy like this:
Giving samples of specific new products to encourage orders
Giving a free gift that would delight them as a short term promotion
Using free products as a way to increase customer order size
But how do you actually give a free product with purchase in WooCommerce?
You'll need two things:
Advanced Coupons adds lots of extra features to your standard WooCommerce coupons, but there are three very important (and versatile) features in particular that we'll be using in this guide today:
Add Products – this feature lets you add a product to the customer's shopping cart when a coupon is applied. You can also choose to override the price which is very important here.
Auto Apply – this feature, as the name suggests, automatically applies the coupon to the customer's shopping cart.
Cart Conditions – this feature lets you determine when it should allow the coupon to be applied. Used in conjunction with the above two, it gets very powerful indeed.
I filmed a quick video screencast to show you exactly how to set up a coupon that not only gives away a free product to the customer but also lets you set it up to be auto applied either on every order or only in some cases (by using Cart Conditions).
Step 1: Set Up Your Free Product
The first step is to create or select the product that you want to give away for free.
In my example in the video, I just created a product titled "Free Product" and gave it an indicative price of $10.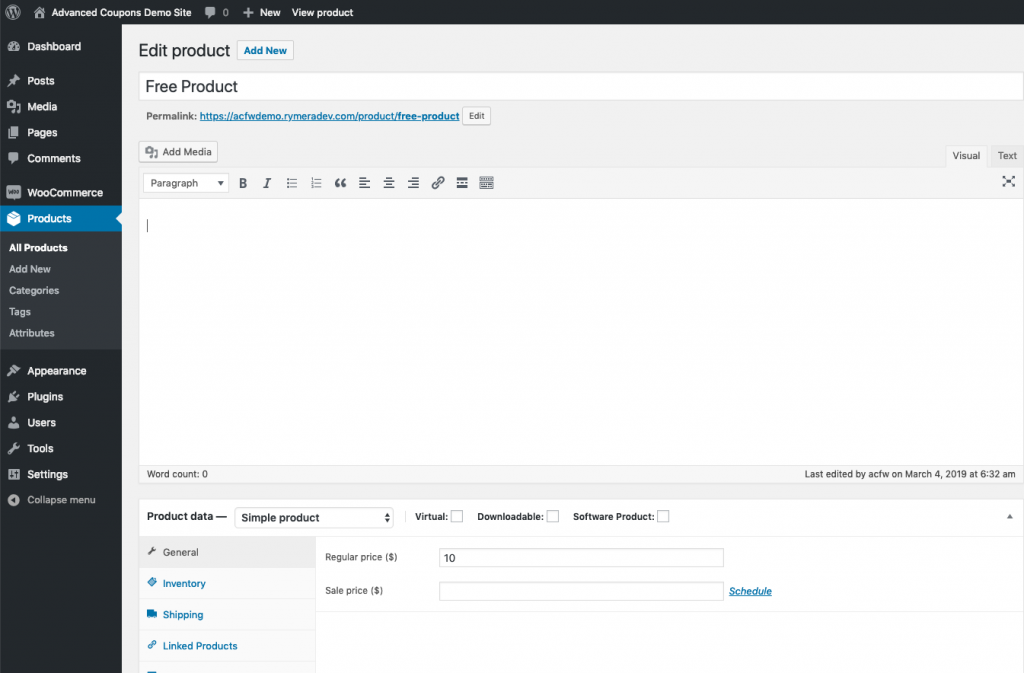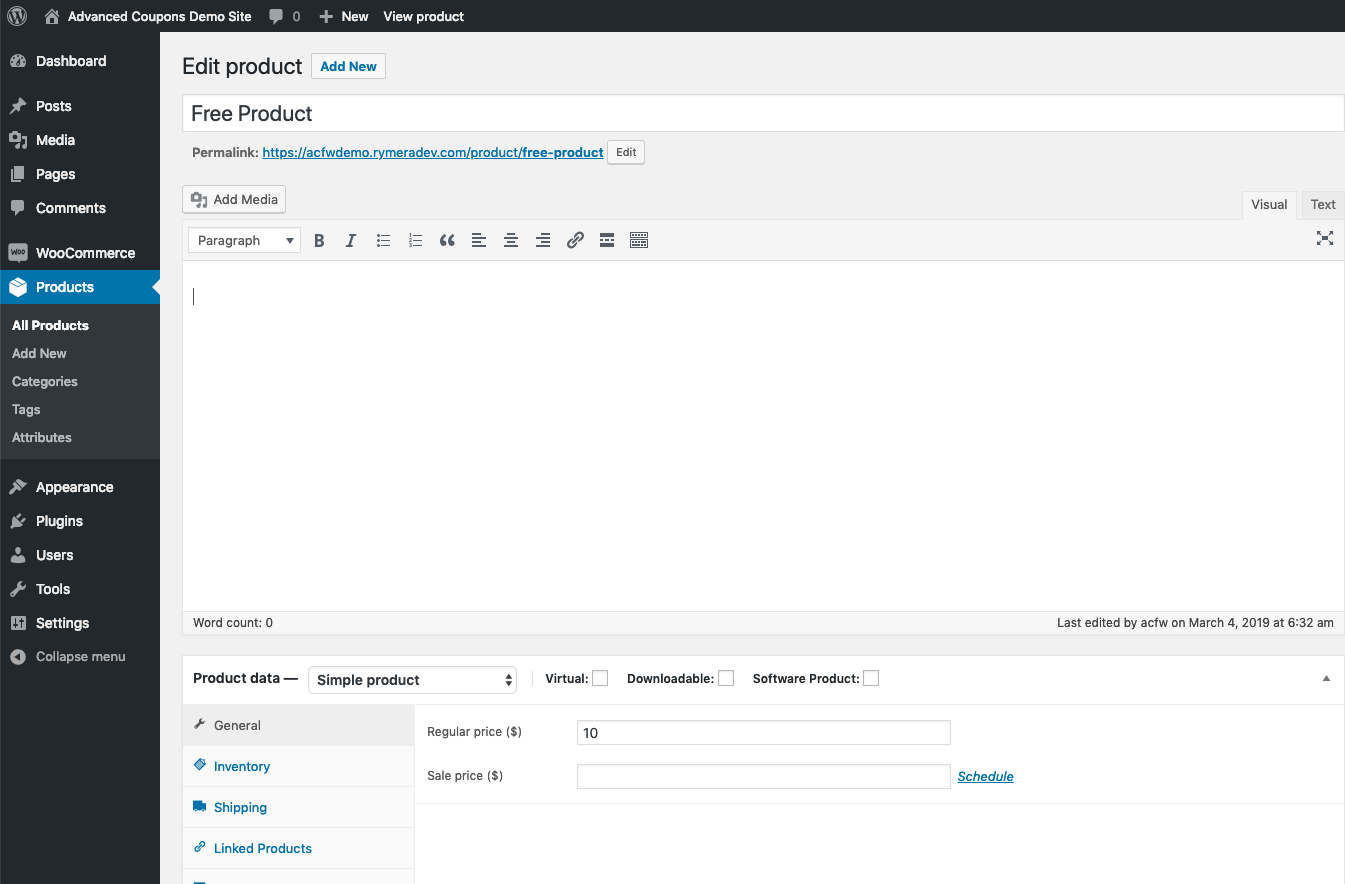 Step 2: Create A Coupon
Next, I created a coupon in WooCommerce.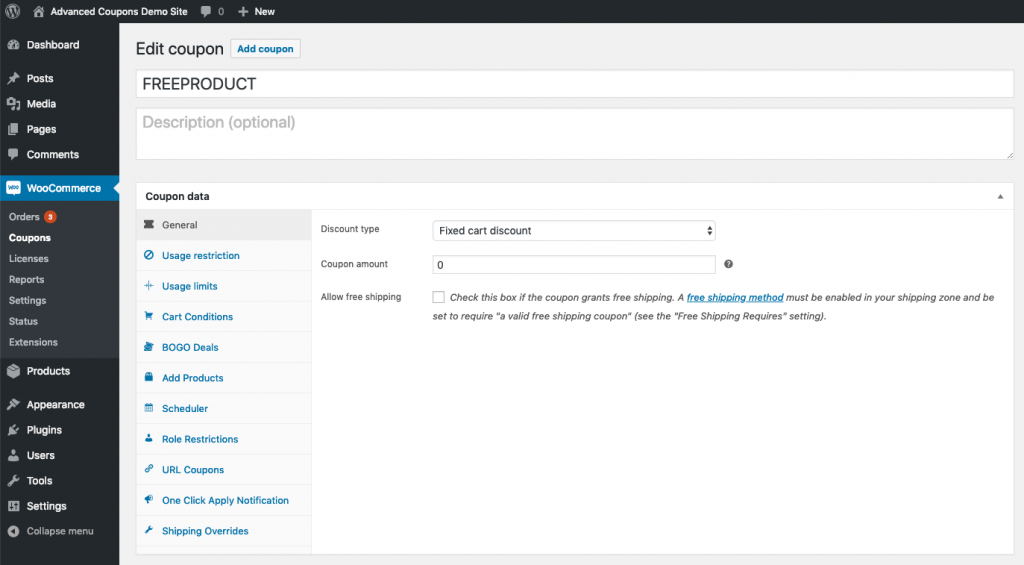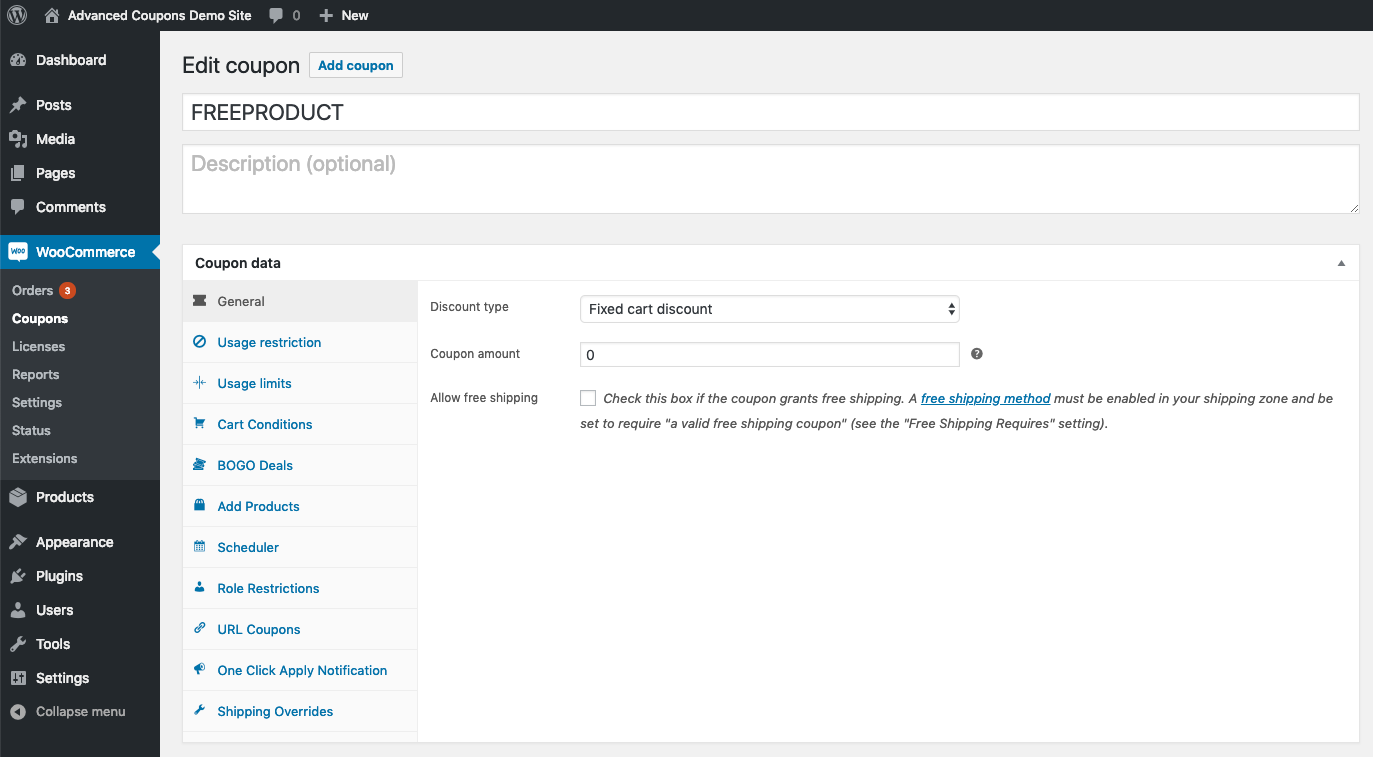 You'll notice in the screenshot here there are probably a lot more tabs down the left-hand side of my interface that you might see in your WooCommerce interface.
These extra tabs are added by Advanced Coupons for WooCommerce.
Step 3: Set Up The "Add Products" Settings
Now the important bit, configuring which product to give when the coupon is applied and in what quantity and what price.
Hit the "Add Product +" to add a product to the table. Searching and selecting the product is easy, just search by name. Then set the quantity you want to give.
The price is where it gets interesting (and fun!)
You can choose from either leaving the price as is (ie. no discount), overriding the price to a specific amount, discounting the product's price via a percentage amount, or discounting the product's price by a fixed amount.


In my example, I chose to override the price and set the amount to $0.00 because I wanted to give it away for free.
Step 4: Set To Auto-Apply
Setting a coupon to automatically apply is easy peasy.
All you need to do is set the checkbox on the right of the screen.

A coupon that is auto applied means that the system will check to see if the "Cart Conditions" has been satisfied.
If you wanted to apply your free product to every single order, regardless of what they're buying or what their cart subtotal is, then you can stop here.
The next step will show you how to create rules for when to auto apply the coupon.
Step 5 (optional): Create Cart Condition Rules For When To Apply The Coupon
Cart Conditions are like rules for your coupon. If they aren't satisfied, then the customer will not be able to apply that coupon.
This is especially important for auto apply coupons because if you don't have any cart conditions defined, it will just go ahead and auto apply it to everything.
If that's your intention, then you're all done!
But if you want to do something interesting that's where Cart Conditions come in.
In my example, I'm going to show you how to apply the coupon only when the cart subtotal is over a certain amount.
You might want to do this if you know that most of your products are $50 or less and you want to encourage people to order multiple items in one order.
In this case, you'd set your free product to be given only when they purchase over $50 worth at once.
Here's how the cart conditions would look for that type of rule:


You can also group and daisy chain conditions and groups of conditions together.
For example, adding an extra condition like testing the user role: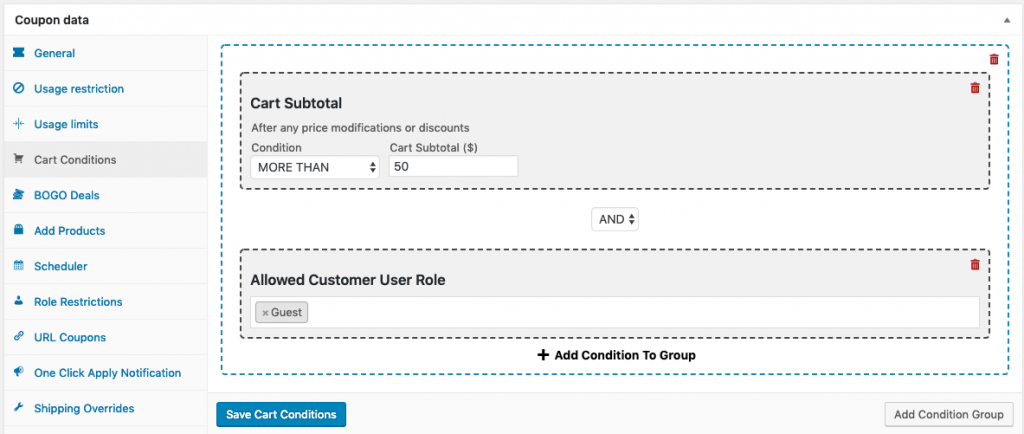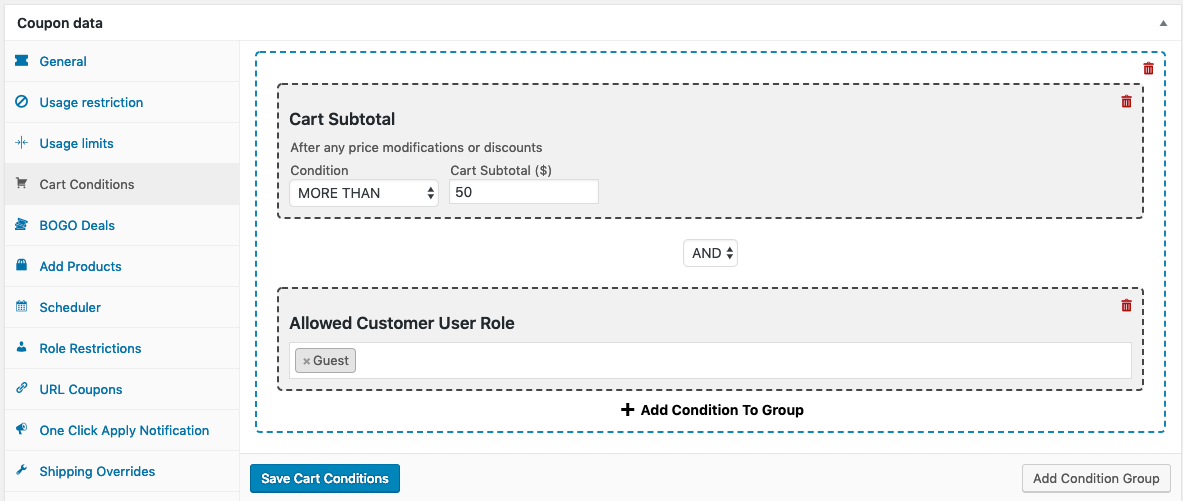 Or even this one where we allow usage in two distinct scenarios: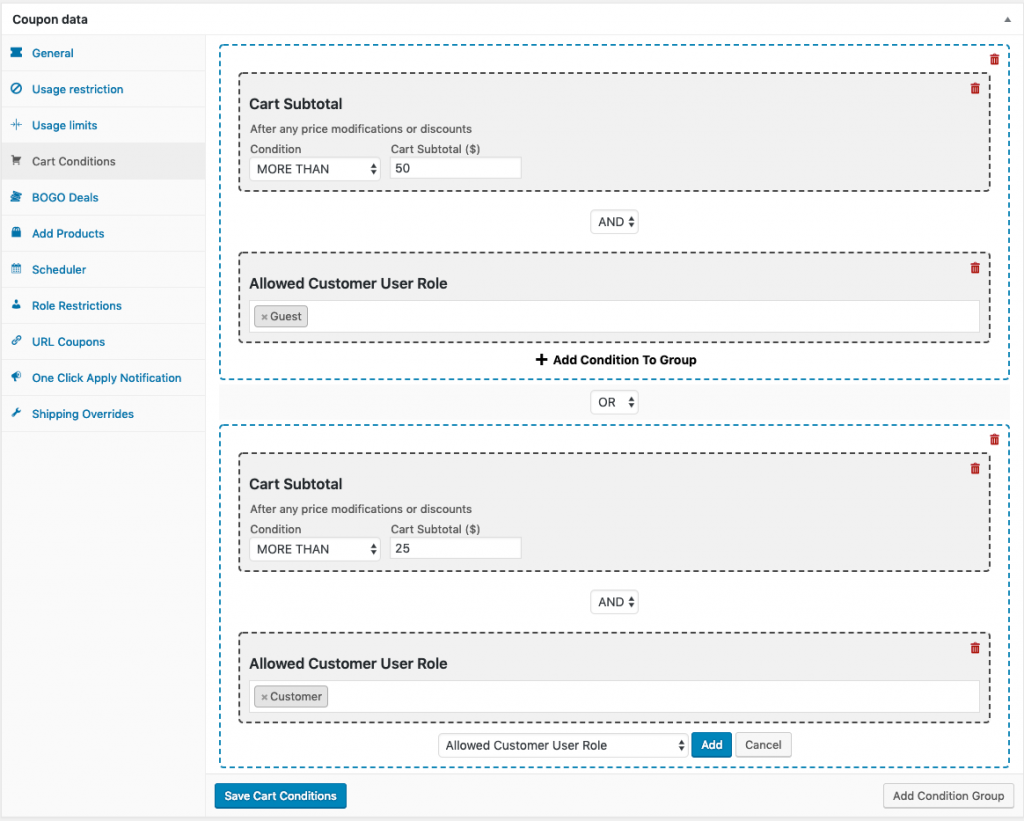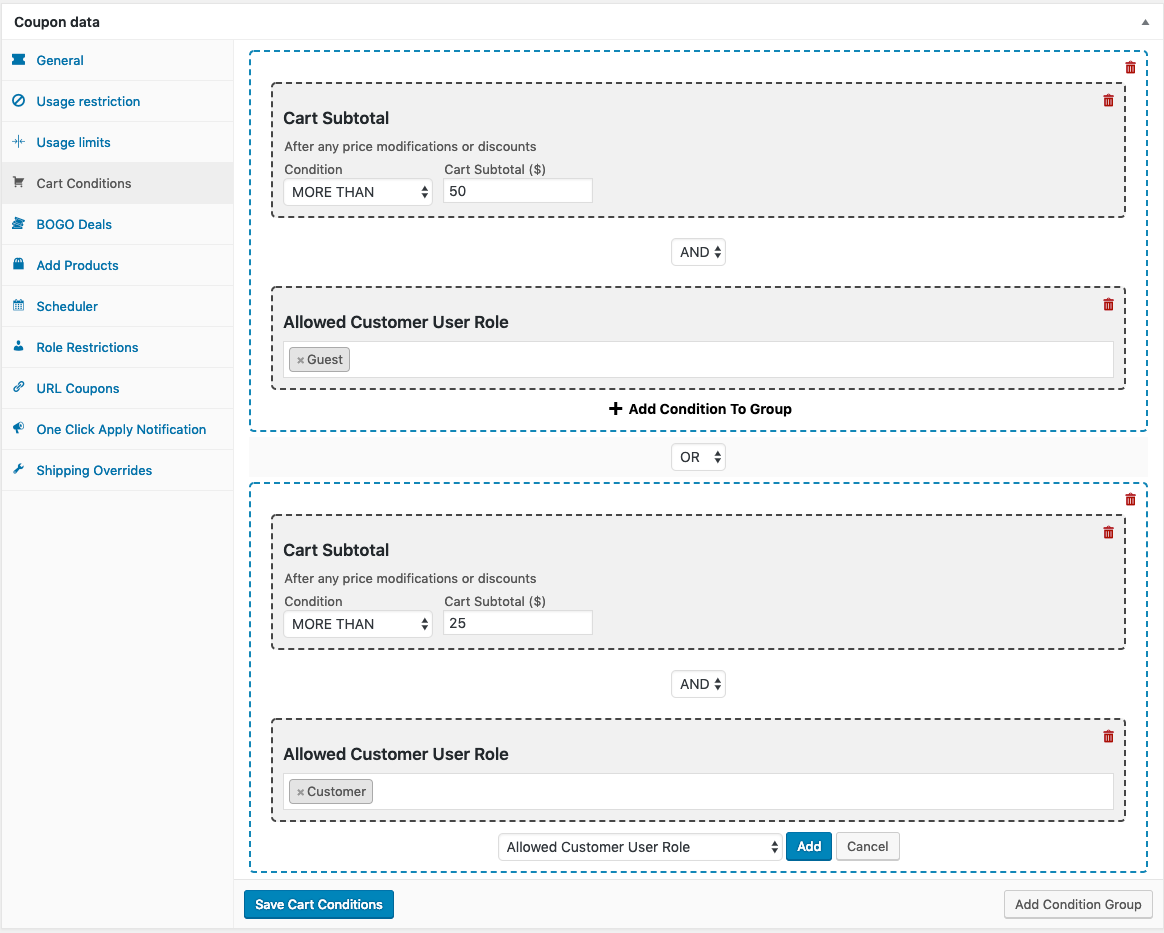 As you can see when you start chaining multiple conditions and condition groups together you can get some pretty powerful rules happening.
Free Products With Purchase In WooCommerce Made Easy
Setting up the coupon only takes a couple of minutes and that includes testing that the coupon is doing what it is meant to do.
The purchase of this guide was to explore the marketing idea of giving away a free product with purchases and to give you the tools to actually accomplish it.
Marketers are only as good as their tools and that is why it makes sense to have a tool like Advanced Coupons helping you achieve this task.