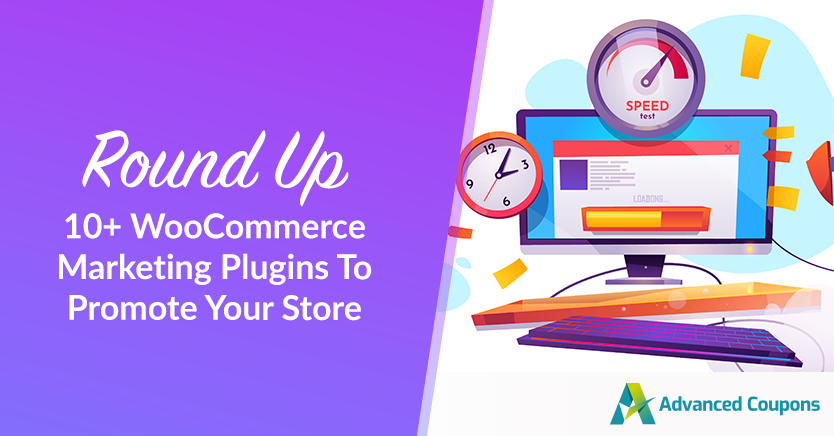 Setting up your WooCommerce store is the easy part. The real challenge lies in effectively promoting your business to attract attention to your products. This requires utilizing all the marketing techniques at your disposal and making use of top-notch WooCommerce marketing plugins to support your efforts.
This is why using WooCommerce marketing plugins is essential to your success. They can help you promote your store by adding extra features to your site. They also automate basic routine tasks to help you expand your reach further.
In this post, we'll discuss what to look for in a marketing tool. We'll then look at some of the best WooCommerce marketing plugins to help you promote your store. Let's get started!
What To Look For In A Marketing Plugin?
There is a broad range of WooCommerce marketing plugins out there. However, it's important to choose the ones that best suit your needs.
Let's look at some factors to consider when looking for the right tools:
Ideally, you'd want a plugin with a one-time cost. Paying an annual fee could add up and become quite expensive, taking away a significant chunk of your yearly profits.
Moreover, the right plugin should enhance the User Experience (UX) of your site, enticing potential buyers to make purchases from your store.
Additionally, you might be interested in marketing plugins that streamline your site's operations. Some tools offer automation features, saving you time and optimizing your workflow by handling tedious tasks.
Lastly, don't forget to check user reviews.
Hearing from other users about their experiences can be valuable. Also, it's a good idea to know what kind of technical support is available in case you encounter any issues while using the plugin. A reliable support system can make a significant difference in your overall experience!
10+ WooCommerce Marketing Plugins To Promote Your Store
Now that we've looked at the most important things to look for in a marketing plugin, here are our top recommendations for WooCommerce tools that can help you promote your store.
Everyone likes coupons and special deals, so one of the best ways to promote your store is to offer your customers a discount. You can do this by using our Advanced Coupons plugin.
Our plugin gives you the ability to offer different types of deals, which can be triggered when at least one condition is met. This includes Buy One Get One (BOGO) deals. As the name suggests, the customer gets one free item when they buy a product.
Another option is to make discounts available on certain products on your site. You can then promote your deals on your social media pages or newsletters.
Moreover, you can use Advanced Coupons to run a loyalty program, where you can award loyalty points based on how much the customer spends. Your clients can then spend these points on future purchases.
Pricing: Advanced Coupons has a free version and a premium version starting at $59 per year.
As your online business starts to scale up, automation becomes the name of the game. You can't possibly do every single manual task by yourself, so leaving the repetitive stuff to automated scripts frees up valuable time in your workday.
This is why Uncanny Automator is worth a serious look. This plugin gives you complete control over what should happen when a user performs a particular action on your site.
For example, you can instruct it to automatically send out emails to a customer, such as satisfaction surveys or coupons, and add their details to a Google Sheet. If you like to have automation working for you 24/7, Uncanny Automator should be on your shortlist of WooCommerce marketing plugins to try.
Pricing: Uncanny Automator pricing starts at $149 per year.
Email marketing is becoming increasingly popular. However, some people may be reluctant to hand over their email addresses. One way to get around this problem is to offer them an irresistible deal.
This is where OptinMonster enters the picture. This plugin provides professional and attention-catching website signup forms. You can simply include your special offer in the form, and add it to your website using one of the pre-designed widgets.
OptinMonster automatically detects when the customer's browser is using AdBlock and will present a personalized message asking them to switch it off. It will also provide you with detailed analytics.
Pricing: OptinMonster pricing starts at $14 per month (billed annually).
Not every visitor to an online store is an immediate paying customer. Some of them need a bit of persuasion and a nudge in the right direction.
PushEngage is a possible solution that gives potential customers a subtle and discreet "push" by showing a pop-up box at the top of the webpage. Supported by all major web browsers, this can be anything from reminding the visitor they have abandoned items in their shopping cart, to providing them with time-sensitive discount codes.
You can also provide download links to freebies or simply leave a nice greeting during a holiday period. Really, PushEngage can be used for anything you can think of.
Pricing: PushEngage has a free plan and a premium plan starting at $9 per month (if paid annually).
One of the most effective ways to promote your online store is to have an army of salespeople do it for you. That's where Easy Affiliate comes in.
This plugin enables you to run a self-hosted affiliate program, where you pay publishers a commission for every sale they bring in. It also makes it super easy for users to register for your program.
With easy-to-read analytics charts, you can see at all times how much money is coming in and who your top performers are. Moreover, the plugin has several anti-fraud measures in place to make sure you're not being ripped off (click fraud is a common problem).
Pricing: Easy Affiliate pricing starts at $99.50 per year.
Google obviously needs no introduction. After all, it's the search engine that can make or break an online business with just one algorithm tweak. Therefore, your marketing efforts need to start with Google Shopping, because the chances are, your potential customers are going to start with a Google search.
Google Product Feed is a WooCommerce plugin that automates sending all of your products to Google Shopping to be indexed. Your product's availability updates in real-time so Google's information on your store is never outdated.
The products are then linked to your AdWords account, so you can seamlessly set up your advertising campaigns. To top it all off, the plugin also pulls in all online reviews for the product and shows them on your Google adverts and WooCommerce review areas.
Pricing: Google Product Feed pricing is $79 per year (billed annually).
Some shoppers may be on the fence about trusting you with your money. In this case, some reassurance can go a long way. Seeing other people buying that same product may convince them that they too can trust your credit card numbers with you.
This is what TrustPulse aims to accomplish with its "social proof" concept. At the bottom of the website screen, users will see a pop-up balloon every time a sale is made. The first name of the customer is shown along with what they just bought.
In an ideal situation, this evokes what's called FOMO (fear of missing out). If a visitor on your site sees other people buying your products, they may feel compelled to buy it too.
Pricing: TrustPulse pricing starts at $9 per month.
If you walk into an offline brick-and-mortar store, it's normally the smooth-talking salesperson who manages to close the deal. This is simply because many people like this face-to-face approach, something which may be lacking with online stores.
LiveChat is your chance to bring some of that personal attention to your online business.
This plugin hooks up to a variety of chat platforms to make your customer service centered on one interface. This can be anything from Facebook Messenger to WhatsApp to Apple Business Chat. When messages come into your store from those platforms, you can reply quickly and easily.
As you chat with users, you can send pre-made product cards showing what you sell. If the customer wants to buy it, they can click "Add To Cart" to buy it. You can also automate certain questions to go to certain members of your team, based on keywords in the query.
Pricing: LiveChat pricing starts at $16 per month, per agent (billed annually).
One of the most important tasks of any online venture is getting your visitors to sign up for your email list or social media accounts. This can be hard thankless work unless you make it fun for your customers.
RafflePress is your friend in this regard. This plugin enables you to run viral giveaway contests, which can help you grow your email list.
You can give something away to your customers for free, in exchange for them doing something for you. This can be something like:
signing up for your email list,
watching a YouTube video on your channel,
subscribing to your Twitter feed,
and many more.
The more actions the user takes, the more chances they have to win your giveaway!
Pricing: RafflePress pricing starts at $39.20 per year.
Analytics plays a big part in determining what marketing campaigns are working, and which ones aren't. To capture that information accurately, you'll need to embed scripts for various trackers on your website.
If you have lots of tracking IDs on your site, it can all become a bit unwieldy. A tool that gives you an easy overview of your analytics trackers will make your life easier.
PixelYourSite provides a page of boxes where you can enter your tracking codes for various web platforms, such as Facebook, Google, Bing, and many others. If you are unsure how to get a particular tracking code, there are links to show you where to go.
Pricing: PixelYourSite pricing starts at $150.
Finally, we can't miss out on Facebook in a list of marketing tools for online stores. Whether you love it or hate it, this social media platform is a tightly integrated part of selling online.
Facebook for WooCommerce will help you set up online stores on Facebook and Instagram. It will be connected and synced to your WooCommerce store, and your US customers can buy directly from you inside the Instagram app. The plugin also simplifies setting up adverts on these popular social platforms.
Pricing: Facebook for WooCommerce is free of charge.
FluentCRM can be an excellent choice if you're looking for a comprehensive marketing automation solution for your WooCommerce. With FluentCRM, you'll be able to design high-converting customer journeys using a visual automation funnel builder. That too, within your WordPress dashboard!
Thanks to FluentCRM's automated WooCommerce integration, you won't have to go through the trouble of manually sorting and mapping your WooCommerce data. It'll ensure more control over your WooCommerce store, and you'll discover many previously unseen insights about your customers!
With the help of its efficient 360-degree customer overview, you can quickly comprehend the nature of your customer and categorize them according to relevant lists or tags. Along with that, you can collect leads, broadcast email campaigns, send triggered email sequences, and of course, guide buyer journeys with automated email marketing.
Thus, using FluentCRM is basically as good as putting your business on autopilot!
Pricing: FluentCRM is free to get started. You can download the plugin from the WordPress repository. The premium plan starts at $129.
If you solely rely on your WooCommerce site for product listings, you may not achieve your desired level of exposure. To broaden your reach and increase revenue, it is crucial to promote your products on popular online marketplaces.
Product Feed Manager for WooCommerce is a reliable plugin that helps you generate accurate products feeds for online marketplaces like Google Shopping, Facebook, Bing, and many other 170+ marketplaces.
This plugin has advanced features like auto-feed update scheduling, custom product filtering, and manipulating feed attributes, so you can create the perfect feed easily to get the best results from marketplace promotion.
Pricing: Product Feed Manager for WooCommerce pricing is $79.99 per year (billed annually).
An online store simply isn't complete without a product gallery! Showcasing your products is one of the easiest and most effective ways to draw customers in. Now, imagine you could create product galleries anywhere on your WordPress site and sell directly from them.
FooGallery PRO Commerce is the ideal solution. It integrates with WooCommerce, allowing you to create product galleries using your WooCommerce product images. What's more, you can add focus to your galleries with Sale Ribbons and Add to Cart buttons, helping to boost your conversions.
This gallery plugin comes with a multitude of features, including advanced customizations, paging, filtering, and more. Plus, you can add watermarking and right-click image protection to your galleries. All of this adds up to customizable product galleries designed to boost your online business.
Pricing: FooGallery PRO Commerce starts at $99.99 per year.
Conclusion
Using the right combination of marketing plugins to promote your WooCommerce online store may help you overtake your competitors and see your profit margins rise.
While there are many different tools that you can use, it's important to look for ones that can improve the customer's experience on your site and help you run your store more efficiently. In this article, we shared the top 13 plugins we can recommend:
Do you have any questions about the WooCommerce marketing plugins featured in this post? Let us know in the comments section below!