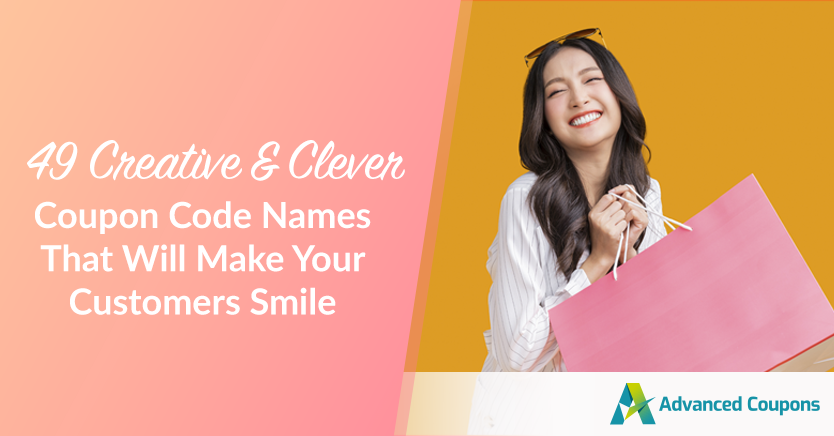 Sometimes it can be difficult to be creative with your coupon names. There are so many holidays, events, deals, and regular sales promotions that it's easy to get names confused. That's why it helps to be clever with your coupon naming.
A creative coupon code name can help:
Make it stand out from the pack when everyone else is running similar sales
Intrigue your customers
Make it memorable
So flex your creative muscles a little bit next time you put together a coupon deal – it can significantly impact your campaign.
Clever Coupon Code Names
To help you out, we've put together a list of 49 clever coupon code names that you can borrow or adapt:
Back To School
Back to school is a popular time for retailers to make deals with customers. It's about getting those kids back on the books and back to school. Big items include school stationery, books, folders, everyday office items, larger things like desks and filing cabinets, and more.
Coupon code name ideas for back-to-school sales:
BACK2SCHOOL
TAKETHEMBACK
BACKONTHEBUS
LITTLELEARNERS
SCHOOLPACK
BONUS IDEA: Create a coupon in WooCommerce that discounts shipping when school term is approaching offering half price express shipping. It will help you catch those last minute shoppers!
Valentines
Valentine's day is a huge retailing day, especially for the flower and chocolate industries, but also for alternative present ideas like accommodation, adult toys, massages, and couples experience packages. There's also the opposite holiday for singles; you could work that angle to capture both the couples and the singles!
Coupon code name ideas for Valentine's day:
LOVERLOVER
ICANSEEITINYOUREYES
LOVEISINTHEAIR
SINGLEANDLOVINGIT
LOVERSDAY
SINGLESDAY
BONUS IDEA: Create a loyalty program on your store to encourage customers to come back for future gift purchases!
Christmas
Christmas is a time for family, feasting, and celebration. While not everyone celebrates Christmas itself, it's always a great time to grab a bargain and enjoy the universal holiday spirit and appreciation of loved ones.
Coupon code name ideas for Christmas sales:
JOLLY15
REDHATWHITEBEARD
FESTIVE10
RUDOLFSDEAL
HOLIDAYSPIRIT
DRINKMAS
BONUS IDEA: Delight your Christmas shoppers with automatically applied coupons for special end of year product deals.
Halloween
Halloween isn't celebrated worldwide, but it's a big event gaining popularity, even here in Australia (where I'm from). You can see spook things up with a coupon deal to suit.
Coupon code name ideas for Halloween:
SPOOKY15
HALLOWEENIE
NOTRICKS
TRICKORTREAT
BIGTREAT
PUMPKIN
BONUS IDEA: Schedule your WooCommerce coupons so that your coupons can't be used before/after the set time for Halloween.
Black Friday/Cyber Monday
If you haven't heard of the massive Black Friday and Cyber Monday sales, you must have been living under a rock. What started as a US tradition of post-thanksgiving sales making has now transformed into a global phenomenon of retail sales goodness.
Coupon code name ideas for Black Friday and Cyber Monday:
BF[YEAR] – (eg. BF2019)
GIFTGUIDE
MYSTERYDEAL
DOORBUSTER
BFCONTEST
SHOPPINGSPREE
BONUS IDEA: People love getting a bargain at Black Friday/Cyber Monday sales, so this year, try making a number of BOGO (Buy One, Get One) WooCommerce coupons. They have great visual appeal while still bringing in decent profit for your store.
Spring Cleaning
When you get the itch to spring clean and start fresh after being cozied up all winter, you'll be in the market for many cleaning goodies like regular cleaning products, vacuums, mops, table decorations, cushions, and more to spruce up your house. Retailers have a massive opportunity here to promote lots of household-related items.
Coupon code name ideas for Spring Cleaning sales:
SPRUCEUP
SPRINGISHERE
WINTERISOVER
SPRINGDEAL
SPRINGINTOSUMMER
BONUS IDEA: Apply a seasonal discount to a category of items in WooCommerce that would appeal to Spring buyers.
Stocktake
Stocktake sales are a traditional way of moving large amounts of stock under the guise of "being overstocked." It's a tried and true marketing tactic where coupons work especially well to attract shoppers.
Coupon code name ideas for stocktake sales:
TAKEITALL
STOCKTAKESALE
BIGSTOCKTAKE
HELPUSMOVE
OVERSTOCKED15
BONUS IDEA: Stocktake is all about shifting big volume so placing a discount based on a cart subtotal threshold is a great idea to motivate buyers to spend more.
Free Shipping
Do you offer free shipping to your customers? A free shipping coupon is a fantastic motivator to get people over an order size threshold. You'll often see it used like orders over $100 get free shipping. With Advanced Coupons, you can create auto-apply coupons that work great for semi-permanent deals like this.
Coupon code name ideas for Free Shipping deals:
SHIPITFREE
FREESHIP
FREESHIPPINGUNLOCKED
SHIPPINGBONUS
BONUS IDEA: Free shipping is just one of the free offers you can offer people in your WooCommerce store.
Welcome Coupons
A welcome coupon can attract people to your newsletter mailing list as a reward for parting with their email addresses. It's a very simple way to increase the conversion rate of your email subscription forms.
Coupon code name ideas for welcome email coupons:
WELCOME10
GDAY10
HELLO10
HOWDY10
WELCOMEABOARD
ALLABOARD
BONUS IDEA: Utilizing a generator to create your coupon codes can be a slightly unconventional approach, but it can be effective.

One option you can explore is Name Fatso's Business Name Generators. By providing an initial idea, these generators can offer you a variety of name options, simply by removing any spaces if they exist. Give it a try and see the diverse range of coupon code names it can generate for you!
Conclusion
When it comes to creating a coupon code that your customers will enjoy, there are several factors to take into consideration. For example, do you want your code to be easy for the customer to find? Or should it be difficult for them to break?
Or maybe you'd rather have a unique code so your customers won't get frustrated trying different codes on the same order? We all know that when something is too good to be true, it usually isn't true. So whether you're creating your coupons or using someone else's, make sure they are valid and fair in terms of price and product quality.
In this article, we came up with 49 creative & clever coupon code names that you can use to ensure that your customers don't get frustrated every time they look for a coupon code or an opportunity to save money on their next purchase! Read on.