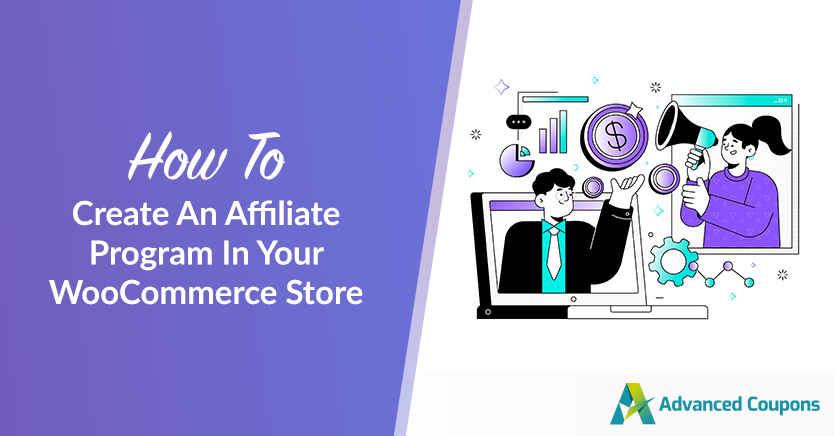 A great method for driving more traffic to your store is incentivizing others to send visitors your way. This is a proven method that comes under the affiliate program model, something that's known for generating more leads and ultimately more sales.
Though affiliate programs are often shunned, they're actually fairly straightforward to initiate. They're performance-based, so you'll conveniently only pay out when tangible benefits have been realized. This is a huge advantage over other marketing methods, especially those which require investment without a guaranteed return.
If you're intrigued by the concept of drawing attention to your WooCommerce store without experiencing the traditional costs of advertising, you're probably wondering what to do next. Fortunately, this article will guide you through the process, and for the purpose of this tutorial, we'll be using the powerful AffiliateWP plugin to facilitate the process. Let's get into it!
What Are The Advantages Of Having An Affiliate Program?
Starting an affiliate program is a fantastic way to boost your business and reach more customers. By partnering with other businesses or individuals who promote your products, you can increase your sales without having to spend a lot of money on advertising.
One of the great things about affiliate marketing is that it's a cost-effective way to get your brand in front of new audiences. You only pay affiliates when they successfully generate sales for you, so it's a low-risk investment.
Plus, working with affiliates can help you expand your reach and tap into markets you may not have reached otherwise. This can be a game-changer for businesses looking to grow their customer base.
Another benefit of starting an affiliate program is that it can help boost your search engine rankings. When affiliates link to your store, it can help improve your SEO and make it easier for customers to find you online.
Finally, working with affiliates can help build credibility and trust for your brand. When other businesses or individuals promote your products, it can give customers confidence in your brand and encourage them to become loyal customers.
Defining the Details of Your Affiliate Program
AffiliateWP enables website owners to easily create and manage an affiliate program. And for this tutorial, we'll walk you through the easy ways to set up an affiliate program with this tool.
Once you've installed and activated the AffiliateWP plugin, you should next turn to the 'Settings' page.
Here you can define the details of your program, set an appropriate commission rate, choose your currency, and much more.
Enable AffiliateWP's WooCommerce Integration
Once that's all settled, you have to next make sure that your program integrates with WooCommerce. You can do this by heading to the Integrations tab and ticking the box next to WooCommerce:
By simply selecting the box highlighted above, all of your product sales will be tracked by the plugin. For instance, when you select 'WooCommerce,' the plugin will automatically produce referral records when customers are directed to your business via an affiliate link.
Affiliate Self-Registration
You can also handle the registrations of those who are promoting your products with AffiliateWP.
You can manually register affiliates, while additionally giving others an opportunity to join your program through the front end of your website.
Accessing this feature is as simple as selecting the box below:
Self-registration goes hand in hand with enabling admin notifications, which will allow you to quickly respond to applications while maintaining control over permissions to promote your store.
The next step is to create the page where your sign-up form can be accessed.
Like most aspects of AffiliateWP, this is easy to achieve with just a few clicks. Simply copy and paste the corresponding shortcode into a new post and you'll add the form to your website:
Once published, the form can be accessed through the main menu on your website.
Alternatively, simply forward the URL of the page to those you want to invite to join your affiliate program.
When applications are submitted, you'll either receive an email notification to let you know, or a visual alert will be displayed on your admin dashboard.
Managing Your Applications
You can capably manage your affiliates from the WordPress dashboard.
You'll find this in the affiliates section of the AffiliateWP plugin, where you can view pending, approved, and rejected applications.
Affiliate applications are easily managed through the plugin, which usefully stores the login details and passwords of applicants. This saves you the hassle of sending out individual instructions to different affiliates who want to access your site.
The moment an application is accepted, users are emailed the details they need to log in to the affiliate section of your website:
Promotional Links
Affiliates, of course, refer visitors to your store, but this process must be tracked. Fortunately, AffiliateWP can do this for you!
Once they're able to access the corresponding section of your website, affiliates can generate the links they'll need to include on their own website to promote your store.
This gives them the opportunity to deep-link to the inner pages of your website, to then target certain products and selling points directly.
To use the affiliate URL in question, users should navigate to the relevant page in your store and copy the address. This can then be pasted into the referral URL generator to create a unique referral address. By doing this procedure, you'll ensure each referral is properly tracked.
Referral Tracking and Account Management
Once affiliates have signed up for your program, they can begin promoting your products.
But how exactly will they go about monitoring their statistics?
Well, simply through the front-end dashboard added by AffiliateWP.
Affiliates can view things like unpaid and paid referrals. The number of visits they're responsible for. Also paid and unpaid earnings and their conversion rate.
There's an extra opportunity for affiliates to attain a graphic visualization of statistics. This is a more useful representation than numbers and writing.
They will also gain access to creatives you've put on there, which they can leverage to further promote your store. They can also configure the email address they'll use to receive payments.
How Do You Track Affiliate Referrals?
Tracking the referrals affiliates send to your store can be achieved from the back end of your website, where you'll discover the 'Referrals' screen in your AffiliateWP pages:
You can view the sales affiliates have generated, alongside generating a payout file for affiliates based on a specified date range:
You can also access referral reports for each affiliate, which can then be used to monitor performance.
Paying Affiliates
From the information you've received on how many sales affiliates have generated, you can create a payout file that corresponds with performance. Sending a mass payout to multiple affiliates is relatively easy. You can even automate payments by installing a Paypal add-on.
AffiliateWP takes another task off your hands by keeping track of who's been paid and who hasn't.
This simplifies the process further as if it isn't easy enough already!
Coupons
Coupons are a great way to attract prospective affiliates, but also permit them to share incentives with their audiences. Fortunately, you can easily create discount coupons in WooCommerce, which work in conjunction with AffiliateWP.
Here, you can associate specific coupons with individual affiliates, creating specific coupons for specific affiliates. This will ultimately help you recruit even more affiliates, who can share discount codes with their audience.
This is a win-win because affiliates can share discount coupons with their audience, while affiliate readers get a bonus discount.
Affiliates earn commission in the process, suggesting the creation of special discount coupons is highly beneficial. If you can get high-profile affiliates on board, you'll be positioned to recruit anyone from podcasters to bloggers.
To unlock these capabilities, start by creating a coupon in WooCommerce:
From the 'Add Coupon' screen, you can then enter the affiliate username you'd like to discount.
This will forever be associated with that user. When the discount coupon is used, your affiliate will be credited with a referral and earning commission.
To make the process even easier, consider using one of many great tools like the Advanced Coupons plugin which works hand in hand with AffiliateWP's solution.
Conclusion
Setting up an affiliate program is one of the most successful strategies to grow sales and attract new customers to your WooCommerce store. An affiliate program lets other website owners or influencers advertise your products to their audiences while earning a commission on each sale.
This post will walk you through setting up an affiliate program in your WooCommerce store, including the necessary tools and techniques to ensure its success. So whether you are a small business owner or an experienced marketer, this guide will help you utilize the power of affiliate marketing!