Providing discounts to consumers can incentivize them to choose your store over the competition. However, unless shoppers are up-to-date with your marketing materials and promotions, they might not be aware of potential deals. That's why it's a good idea to help customers claim coupons during checkout.
Fortunately, there are a few easy ways to help customers claim coupons in your WooCommerce store. These include applying automatic discounts and creating URLs that add the coupon code to the shopper's cart.
In this post, we'll explain why you should consider making it easier for online shoppers to claim coupons in your store. Then, we'll show you three easy ways to do this. Let's jump in!
Why You Should Consider Making It Easier For Customers To Claim Coupons
There are many strategies you can use to help your online store succeed. These include creating a professional-looking shop, promoting your business on social media, and using well-written descriptions and attractive photos for your products.
Moreover, coupons can help your store stand out from the competition. Providing discounts, Buy One Get One Free (BOGO) deals, and other promotions can make your shop more appealing to consumers:
After all, 88% of American shoppers used online coupons in 2022. Furthermore, nearly 2/3 of consumers state that coupons motivated them to complete purchases they were uncertain about. Therefore, offering discounts and deals in your store can convert shoppers who may be on the fence.
However, unless visitors are subscribed to your marketing emails or actively monitoring your promotions, they may not be aware that you're offering discounts. They may even turn to competitors who make their coupons easier to access. That's why it's worth simplifying the process of claiming vouchers in your online store.
3 Ways To Make It Easier To Claim Coupons In WooCommerce
For this tutorial, we'll be using our Advanced Coupons Premium plugin. Our user-friendly tool lets you manage every aspect of your coupon strategy, including creating deals, issuing store credit, specifying cart conditions, and more.
Note that you'll also need a functional WooCommerce store and an activated copy of our free Advanced Coupons plugin for the premium tool to work. Now, let's explore how Advanced Coupons Premium can help customers claim coupons more easily!
1. Auto-apply coupons
One of the best options for helping customers claim coupons is automatically applying discounts to their carts when they meet certain conditions. For instance, you might offer 10% off to shoppers who spend at least $100.
This method is effective because consumers won't need to put any effort into claiming their discounts. Instead, it will be a pleasant surprise when they navigate to their carts.
Fortunately, it's also easy to auto-apply coupons with Advanced Coupons Premium. First, head to Marketing > Coupons and add a new coupon. You can enter your own code or auto-generate one:
Now head down to Coupon data. Here you can choose what the coupon will do. For instance, you might apply free shipping to the order, offer a fixed cart discount of 10%, and determine when the coupon will expire.
Then you'll need to set up the coupon to auto-apply when the customer's cart meets certain conditions. Go to General > Cart Conditions and choose from a different set of rules.
You could offer your coupon only when a customer spends more than $25, for example:
There are plenty of ways to set up different cart conditions. Therefore, we recommend checking out our official documentation for advice.
Finally, scroll up to the top of the page and tick the box under Auto Apply Coupon:
Make sure to Update or Publish your coupon. Now it's ready to go!
2. Use URL coupons
Alternatively, you can use URL coupons to streamline the shopping experience for your customers. When shoppers click on the link, it will automatically take them to your store and apply the discount or deal to their carts.
This method is handy because users will need to exert minimal effort to claim their coupons. Plus, you can easily promote your deals in your social media posts, email marketing messages, and website.
Additionally, it's super easy to create URL coupons. Head to Marketing > Coupons and generate a coupon like you usually would.
Then, open the URL Coupons tab and find the Coupon URL: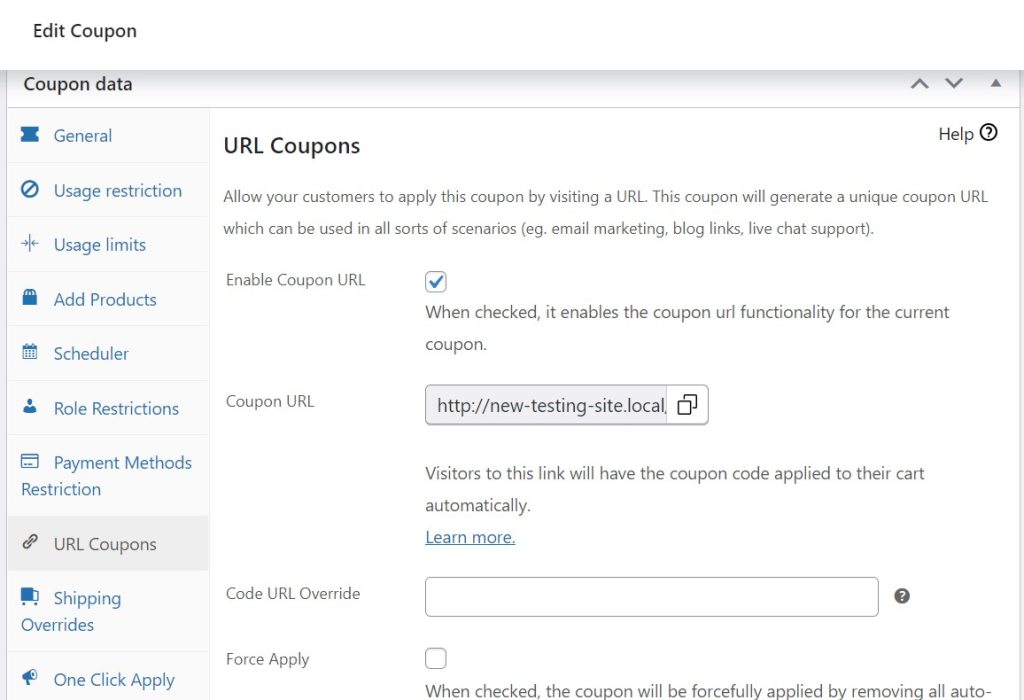 Make sure the box is ticked next to Enable Coupon URL. Then you can copy the link for your coupon, override its URL, and choose where visitors will be sent when they click on it. You can even customize the success message to let customers know the coupon has applied to their carts:
It's that easy! Now it's just a matter of sharing your coupon link with potential customers.
3. Automatically add products
Finally, you can automatically add free or discounted products to shoppers' carts when they meet certain conditions. This method is a great way to implement a BOGO deal or reward customers who spend a lot of money in a single transaction.
Again, you'll need to create a coupon using Advanced Coupons Premium. Then, open the Add Products tab in the Coupon data settings panel:
Click on + Add Product to choose an item from your store. You can then override its price to make it cheaper or discount it by 100% to offer it for free:
Make sure to hit Add and then Save "Add Products" Data.
Note that you can also set up cart conditions to determine who can benefit from your free or discounted item and auto-apply it to their cart. We explain how to do this earlier in this tutorial!
Conclusion
Coupons appeal to customers who are looking for the best price or special deals online. However, it can be tricky to advertise your coupons to visitors and make them aware of the benefits of choosing your products over the competition.
To recap, here are three easy ways to help customers claim coupons with Advanced Coupons Premium:
Do you have any questions about helping customers claim coupons in your online store? Let us know in the comments section below!