Loyalty points that can be redeemed to your store credit? Yeah, it just makes sense, so we made it happen.
Coupons have a major drawback in their power when it comes to boosting repeat purchases. By offering a flexible saving option during checkout, you make sure that your customers are more encouraged by the deal they're getting than the price they see on the final page.
In this article, we're excited to announce that we recently launched Loyalty Program v1.8, which includes a very important improvement for redeeming loyalty points via Advanced Coupons' store credit feature. Let's get started!
What's New In Loyalty Program v1.8
Previously in Advanced Coupon's Loyalty Program, loyalty points can only be redeemed via coupons. Although coupons have always been an effective approach to promote sales and customer loyalty, we found a better way for your customers to redeem incentives from your store: via store credits.
This feature has been highly sought after, so we can't wait to walk you through the most significant changes in this awesome plugin in this post!
What is Store Credit?
Before diving deeper into our feature upgrades, let's first talk about store credits in Advanced Coupons: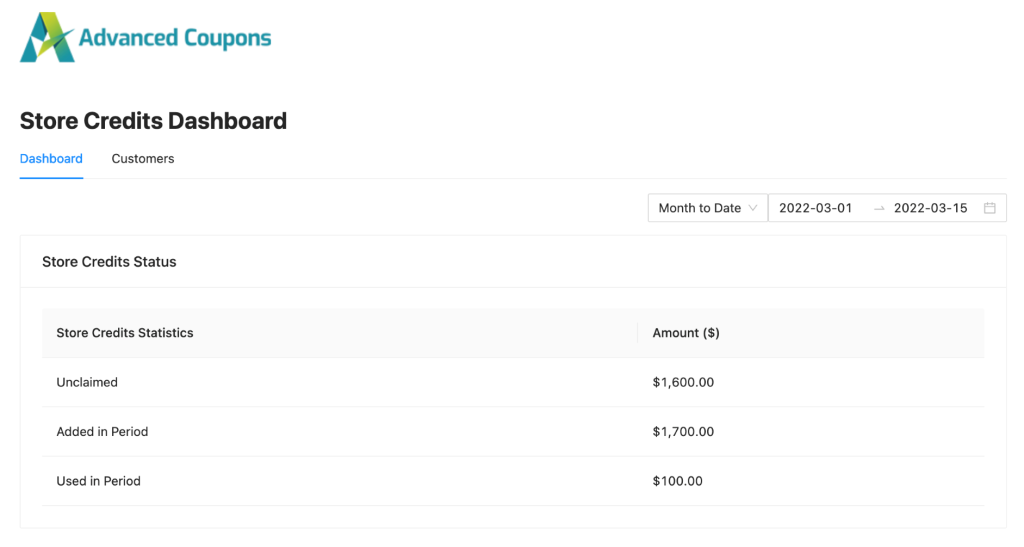 Store credits are a popular way to provide customers with an "account" with your company. They're also a wonderful way to handle refunds and customer care issues, and they've been shown to encourage customers to return to your store and make additional purchases.
Since the launch of Advanced Coupons Free 4.0, we've been working hard behind the scenes to flawlessly integrate this awesome feature into the rest of our plugins, especially loyalty programs, for the following benefits it gives our customers:
Enabling several purchases from your consumers up till the credit is exhausted
Can be applied to refunds for clients who have complained about your products or services
Serving as an alternative payment option
All in all, store credits is a powerful feature that can be used to spice up your store's marketing. And with loyalty points now being redeemable as store credit, it adds more flexibility in your store that we're sure your customers will love and appreciate!
Loyalty Points Redemption Moved To Store Credits
As of Loyalty Program for WooCommerce 1.7.1, you can use loyalty points to purchase a one-time use, expiration-date coupon.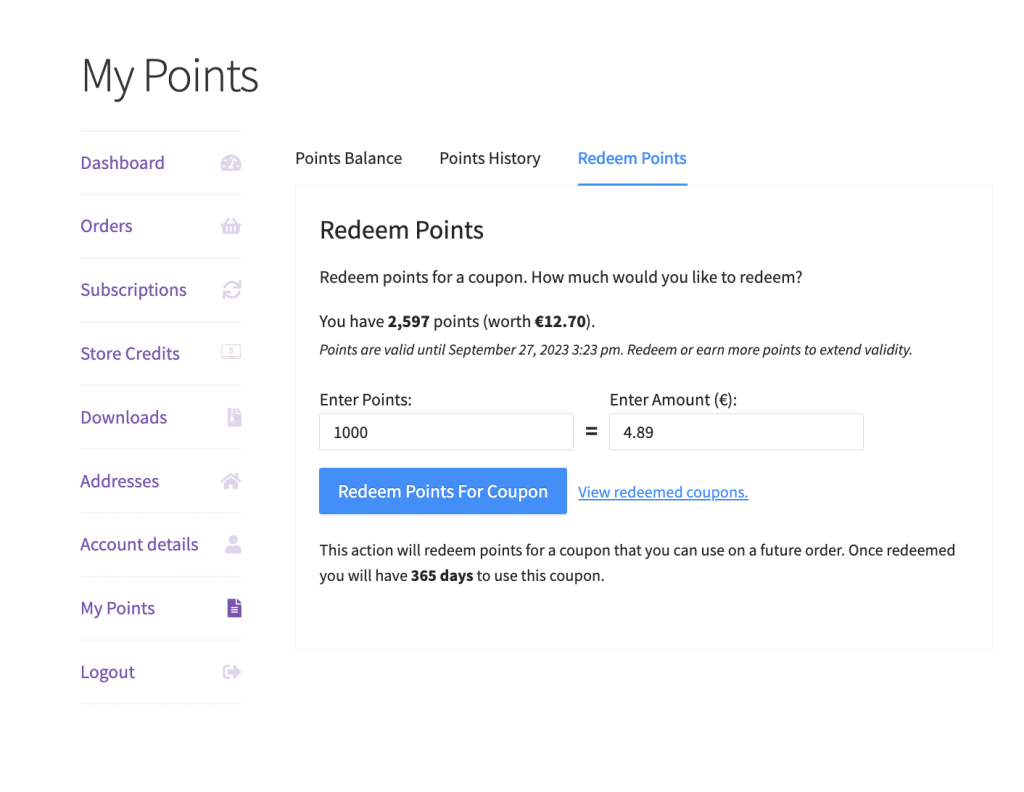 Since we introduced Store Credit functionality into our Advanced Coupon for WooCommerce free plugin, in version 1.8, loyalty points now get redeemed as store credit.
The points-to-store credit conversion ratio will still be determined by the settings for the loyalty program and will take the current value from the setting for the points-to-price conversion ratio.
You can relax knowing that nothing will change about the redeeming ratio you have established currently. The language on the front end will change to reflect the fact that points will now be converted to store credit that can be utilized during checkout.
You'll see these changes in the following:
1. My Points Page
There is no longer a "Redeem Points" tab.
In this update, the "Redeem Points" form has now been relocated to the "Points Balance" tab. This is to make sure that when there are no more redeemed coupons to display, the "Points Balance" tab won't be empty and unmarked.
2. Checkout Page
You'll see that the language "Redeem points as a coupon" has been changed to "Redeem points as store credits" on this page.
However, the "Apply your recently redeemed coupons" part will still be visible if the consumer still has some unused redeemed coupons in their account.
3. Earning Points
And finally, when the setting "Disallow earning points when a store credit discount is applied on the cart" is enabled, the customer will not be able to earn points when a store credit payment option is offered on the checkout page.
Are my customers going to notice any changes, and do I need to take any additional steps for this?
There won't be any other obvious changes than a few wording adjustments on the front end and the removal of the table of redeemed coupons in the My Account section.
There is nothing else you need to do once this goes into effect because your current settings will be used for the redeeming ratio. We're confident that this adjustment will increase customer retention and encourage repeat business in your store.
Conclusion
Loyalty program loyalty points are always a great way to increase customers' spending but it can be very hard to convince your customers to spend more on an already fairly priced product.
You could use a coupon code during checkout but that still doesn't give them the clear "savings" message they want – and there's a high chance that they won't even see the coupon code!
Fortunately, we just recently launched Loyalty Program v1.8, which now moves loyalty points redemption to store credits! This is not just a great way to increase repeat purchases, but it's also a smart long-term plan to boost profits.