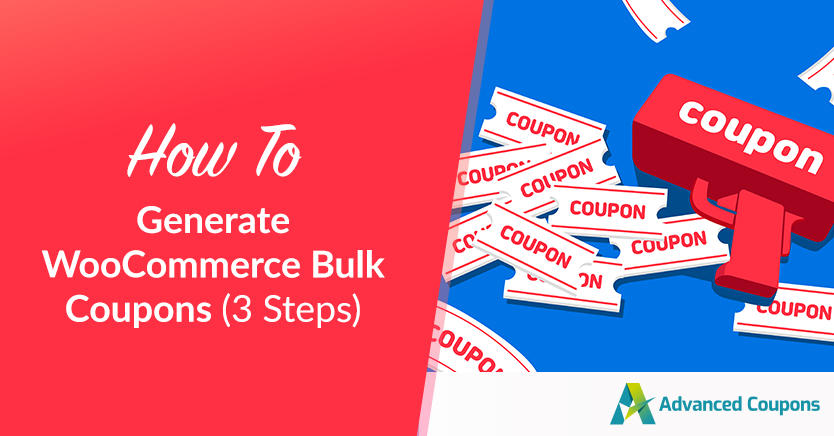 Most WooCommerce coupon code generators only enable you to create a single code at once. That means you can end up with hundreds of users all applying the same code on your website. If you want WooCommerce unique discount codes, you need to use a plugin that lets you create WooCommerce bulk coupons.
Using Advanced Coupons enables you to generate WooCommerce bulk coupons. You can have as many coupon codes as you need, all applying the same discount for your customers. Even better, you get to keep track of who uses which code and when.
In this article, we'll talk about why you might want to use WooCommerce bulk coupons. We'll also show you how to generate coupons in bulk using Advanced Coupon's "virtual coupons" tool. Let's get to it!
Why You Should Generate WooCommerce Bulk Coupons
In most cases, you can have as many users as you need to take advantage of a single coupon code. Advanced Coupons enables you to configure any type of limitations that you want so no one can abuse the codes that you generate:
The big downside of using a single code for multiple users and marketing campaigns is that you can't be sure what's working and what isn't.
Let's say, for example, that you share a coupon code using social media and email marketing. Now, since every user gets the same code, it can be hard to figure out which of the two approaches gets you more conversions.
Importance Of Using Advanced Coupons
Advanced Coupons provides in-depth coupon usage reports.
That means you can check what coupons are getting the most use, how many customers apply them, and when they take advantage of discounts. However, in the past, there was no way of knowing which coupons were getting the most traction via which campaigns.
Now, Advanced Coupons is bringing bulk WooCommerce coupons to the table. You can generate WooCommerce bulk coupons and distribute them in any way that you want. You can have a coupon with dozens of unique virtual codes and use each variation for a separate marketing campaign.
How To Generate WooCommerce Bulk Coupons
Generating virtual coupons using Advanced Coupons is simple.
But keep in mind that you'll need to use Advanced Coupons Premium. The free version of Advanced Coupons doesn't include the virtual coupons feature.
Step 1: Create a new coupon
To get started, click on Coupons > Add New and generate a new coupon code. While you're at it, you can set a description for the coupon:
Step 2: Enable virtual coupons
Then, look to the right of the coupon editor screen for a widget that reads Virtual Coupons.
Click on Enable virtual coupons and publish the coupon to refresh the editor:
Once you refresh the page, the Virtual Coupons section will ask you how many codes you want to generate. If you read the description, it explains that every code will apply the exact same discount as the original one. Input a number and click on Generate virtual coupon codes:
Step 3: Configure virtual coupons
Advanced Coupons will take a second or two to generate the codes and two new options will appear under the Virtual Coupons menu. If you click on Manage virtual coupons, a window will pop up including an overview of all the auto-generated coupon codes:
Every entry shows a unique code as well as its parent coupon. You can see which coupons are still pending use when they were created, when they expire, and who used them. The coupon manager also enables you to edit or delete coupons.
If you select the pencil icon to the right of any entry, you can modify its unique coupon code, date of creation, who can use it, and its expiration date:
When dealing with a large number of virtual coupons, you'll want to take advantage of the Copy Virtual Coupons tool. If you click on that button, Advanced Coupons will generate a plaintext list of all the virtual coupon codes. You can copy that list manually or export it as a CSV file:
Once you have the full list of virtual coupons, all that's left to do is to customize the original code.
Remember to configure what type of discount you want to offer, cart conditions, and any other settings that you want the coupon to use. When you're done, update the coupon by hitting the Publish button.
Conclusion
Having a single coupon code for a discount has its disadvantages. That applies particularly if you want to use multiple marketing channels to promote that discount. With a single coupon, keeping track of which campaign returns the best results can be a challenge.
With Advanced Coupons, you can generate WooCommerce bulk coupons in just 3 steps:
Do you have any questions about how to use Advanced Coupon's virtual coupons tool? Let's talk about them in the comments section below!