Marketing isn't something that you should approach without a plan. With a new year kicking off, you have twelve months in which to test fresh marketing strategies. Outlining what type of marketing efforts you want to tackle this year will make your plans go a lot smoother.
Once you have an idea of what you want to do to market your store, you can start researching tools, as well as tips and tricks. That way, you'll be able to implement marketing plans early and to keep up your store's momentum.
In this article, we'll go over five steps to help you plan your store's marketing for the new year. Let's get to it!
Step 1: Plan the Big Sales That You'll Host Throughout the Year
WooCommerce and Advanced Coupons enable you to set up flash deals at a moment's notice. However, when it comes to big sales, you want to prepare as early as possible.
There are several big times of the year for online retailers, including Black Friday, Cyber Monday, and Single's Day. Most successful retailers plan these events months in advance:
Planning a sale involves a lot more than just picking what items you'll discount. You also have to:
The earlier you start planning, the more time you'll have to work out the kinks before a big sale. There's nothing worse than reaching Black Friday only to find out that coupons aren't working or that your store is slowing down to a crawl.
Step 2: Check What Improvements You Can Make to the Store
There's always some way that you can improve an online store. You might choose to do a full redesign, to reduce loading times, migrate to a better web host, or even to optimize the checkout page.
If you try to tackle every single improvement at once, you'll have a hard time finishing any of them. More importantly, it's essential that you test changes carefully before they go live so they don't affect the user experience.
One way to test big changes to your store is to use a staging website. If you don't have access to staging functionality, you can use a plugin such as WP Staging to implement it:

Having access to a staging website will enable you to test-drive any updates to your store to check that they don't cause any technical issues. When the update is ready to go live, you can simply push all of the changes that you made in one fell swoop.
Ideally, you'll implement at least one significant change or update to the store every quarter. That gives you more than enough time to decide what change can get you the best returns and to find out how to implement it. You'll also have plenty of time for testing before users see the end results.
Step 3: Improve Your Customer Service Experience
As your store grows, it's essential that its customer service improves as well. Any successful marketing push will bring with it a host of new users and customers.
Statistically, around 64% of consumers reach out to customer service at least once every year. If your customer service isn't ready to handle that volume or to solve the problems that your users have, you're bound to lose a lot of potential return business.
There are several ways that you can improve an online store's customer service, including the following:
If your customer service team is still just you or maybe one or two agents, you're probably answering every query using email or social media. However, you'll need a better system in place if you're planning on hosting large sales throughout the year.
Just as with other e-commerce improvements, we don't recommend that you try and tackle everything in one go. Start by looking for ticket management software that suits your budget and your needs and then work on optimizing how you approach customer service requests.
Ideally, you'll try and automate as much of your customer service as possible. For example, if your agents deal with a lot of customers asking for tracking numbers, you should make it a priority to set up a system that will send them automatically. That's something that you can easily do using WooCommerce.
Step 4: Look for New Markets and Channels to Expand To
The new year brings with it the opportunity to expand your business to new channels and markets. If so far you've only focused on retail sales, you might consider expanding to wholesale customers.
WooCommerce offers a strong backbone for retail operations. All that you need are the right tools to expand the plugin's e-commerce features so they can also support wholesale stores. Wholesale Suite offers a full family of plugins that can help you add support for wholesaling to your store: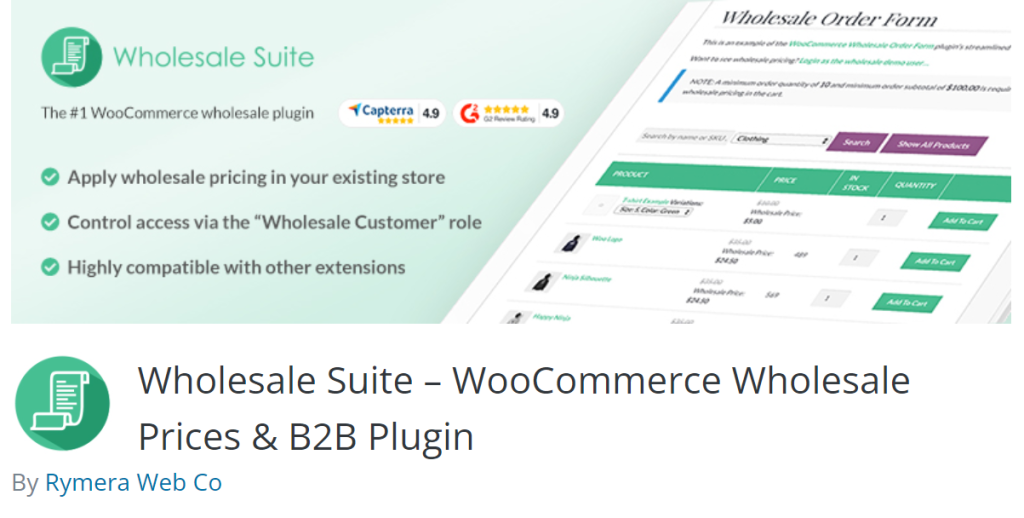 On top of targeting new audiences, you also need to consider expanding your marketing to new channels. For an online store, you have plenty of channel options, which include:
Most successful online stores engage customers using all of those channels. Content marketing synergizes well with social media and email, which makes for a powerful combination.
If you're not using some of those channels yet, this is the year that you should consider expanding. You can make an effort to gain more email subscribers, consider opening new social media profiles and increase your content output to gain more organic traffic.
Step 5: Decide What Marketing Tactics Aren't Worth It
If you've been running a store for a while, you probably have plenty of experience trying different marketing campaigns. Some of them probably haven't been as successful as you'd like (it happens to every store!).
The new year is the perfect time to bin any marketing initiatives that clearly aren't working. For example, if you've been focusing on a specific topic for your store's blog and it's not bringing in any traffic, you need to consider:
The gist of this advice is that if a marketing initiative isn't getting results, you need to either re-tool it or scrap it and focus your efforts elsewhere. Particularly, we like to test new strategies for at least a month or two before we consider moving on or doubling down.
That advice doesn't just apply to content. If you're putting in a lot of effort on a marketing channel but you're not seeing positive results, it's also time to rethink that strategy.
Conclusion
You don't need to wait until the next year to make big changes to your WooCommerce store. There's nothing stopping you from implementing a new marketing strategy right now and if you're not sure where to start, sitting down with the rest of your team and coming up with a plan is your best bet.
Here are the five steps that you should follow when planning your store's marketing for the new year:
Plan the big sales that you'll host throughout the year.
Check what improvements you can make to the store.
Improve your customer service experience.
Look for new markets and channels to expand to.
Decide what marketing tactics aren't worth it.
Do you have any questions about how to improve your store's marketing this year? Let's talk about them in the comments section below!