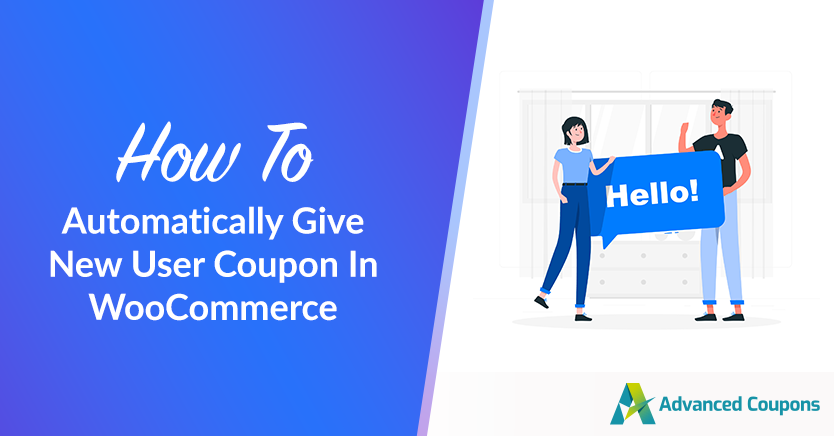 Attracting new clients can be a challenge. However, retaining them can be even more difficult. Therefore, you may be wondering how to give a new user coupon to make them come back to your store.
Fortunately, the process is easier than you think. With Advanced Coupons and Uncanny Automator, you can set up an automated process that gives redeemable coupons to every new user on your site.
In this post, we'll discuss the benefits of giving new users coupons. Then, we'll show you how to do this in WooCommerce. Let's get started!
The Benefits Of Giving New Users Coupons
Coupons can be a great way to encourage repeat purchases.
In fact, 90 percent of consumers in the US have used coupons when shopping. Giving new users coupons can serve as a token of appreciation for their first purchase. It's like a small 'thank you' gift.
However, it also gives them a good reason to come back to your store and make another order. This can be particularly effective if you give a generous discount, such as 15 percent off their next order.
Alternatively, you might offer them store credit for registering as users on your site. They can then use this money on their future purchases.
Giving store credits to users can be even more effective than offering discounts. This is because customers may be tempted to save those credits until they've accumulated enough to use them all on one purchase.
For example, let's say you have a loyalty program. When a new user signs up, they'll get 20 store credits as a thank you. Then, they can perform other actions on your site to earn more credits. For instance, they might leave a review to get 10 more credits.
While this strategy can help you increase your retention rate, it may also require time and effort. Therefore, you'll want to use tools that can automate the entire process for you.
How To Automatically Give New Users Coupons In WooCommerce
Now, let's look at how to give new users coupons in WooCommerce. For this tutorial, we'll be using Advanced Coupons and Uncanny Automator Pro.
With our Advanced Coupons plugin, you can create different types of coupons. For example, you can offer discounts, store credit, free shipping, and more.
Meanwhile, Uncanny Automator enables you to automate several processes in your store. This includes giving new users coupons. When new users register on your site, they will automatically receive the coupon that you created for them.
Fortunately, Advanced Coupons integrates with Uncanny Automator. This means that, once you have both plugins installed on your site, you can automatically give coupons or store credits to new users.
Step 1: Create a new recipe
With Uncanny Automator, you get to set up a variety of recipes on your site. These consist of triggers and actions.
The trigger is the behavior taken by a user on your site (such as creating an account), while the action is the subsequent output (giving the new user a coupon).
To create a new user coupon recipe, navigate to Automator > Add new in your WordPress dashboard. Then, for the recipe type, select Logged-in users and click on Confirm:
Giving your recipe a name:
We recommend a descriptive title like "new user coupons". This way, it will be easier to find and modify it in the future.
Step 2: Add a trigger
Next, you'll need to define the action that users will need to take on your site. In the Trigger section, select WordPress. This will show you a list of available triggers.
For this tutorial, you'll want to select the option A user is created with a specific role:
Next, you'll need to specify that role. In this case, it's the Customer:
If you cater to retailers and want to create coupons for new clients, you can select Wholesale Customer as the role. When you're done, click on Save to publish the trigger.
Step 3: Configure an action
Next, we'll be defining what happens when a new customer registers on your site. Click on the Add action button, then select WooCommerce:
From the available options, choose Generate and email a coupon code. Then, fill in the details for your coupon:
You'll need to generate a code and select the discount type and amount. You can also configure some conditions for your coupon. For instance, you can set an expiry date, define a minimum spend, and exclude certain products from the offer:
You'll also need to configure the settings for the email that is sent to new users. The From field is automatically set to Admin email.
For the To field, click on the asterisk and select Common to see a list of tokens. Choose User email:
You can then write a catchy subject line for your email and customize the default message.
If you click on the asterisk button for the email body, you can select tokens like User first name to personalize the message:
When you're ready, hit Save. That's it – your recipe is now live! If you want to give store credits instead of coupons, you'll need to select Advanced Coupons for your action:
Then, choose Add a specific amount of store credit to the user's account and enter the amount to give:
Finally, hit Save!
Conclusion
Giving new users coupons or store credit can help you increase your retention rate and encourage repeat purchases. However, you'll want to automate the process with tools like Advanced Coupons and Uncanny Automator.
To recap, here's how to give new users coupons in WooCommerce:
Do you have any questions about giving new user coupons in WooCommerce? Let us know in the comments section below!