Whether you're a first-time e-commerce user looking to get your feet wet or an experienced retailer wanting to expand your business, cashback and discount coupons have the potential to be your best friend or your most persistent adversary.
For example, perhaps you already use coupons extensively at work: out of habit, and because it's what you know, you also use them at home. Or maybe you use them only occasionally at a small online shop. Whatever the case, using coupons effectively can sometimes be challenging for newbies.
In this article, we'll explain the differences between cashback and discount coupons, so you know which is right for you. We'll also discuss three easy steps to get started with cashback coupons in WooCommerce and why you should consider them. Let's get into it!
What Is A Cashback Coupon?
Before diving deeper into the difference between cashback and discount coupons, it's important first to discuss a cashback coupon:
Similar to other forms of discounts, cashback coupons give people who make purchases from your business a percentage of the cash value of those goods or services. The difference is that with cashback coupons, you don't have to pay for the privilege; you get it instead.
Business owners who want their customers to return for more are always looking for ways to give them something in exchange for their next purchase.
That's where cashback coupons come in.
They can be offered as incentives towards future purchases or to entice people who have had bad experiences with your company or products to try out your store again.
Cashback Vs. Discount Coupons
When saving money, many people are willing to do almost anything. From walking 10,000 steps daily to running an exercise regimen several times a week, we take a healthier life seriously. However, the benefits can be even more profound when saving money.
A cashback coupon is simply a voucher that gives you a percentage of the value of your purchase based on how much you spend. For example, if you spend $100 at Walmart and receive a $10 cash-back credit, you've already saved $10. A coupon is different because it gives you the cash value of your dollar spent, resulting in percentual savings.
While they may seem similar in concept, the two types of coupons have distinct benefits and drawbacks. Here's what you need to know about them:
So, in a nutshell, both types of coupons allow you to boost sales, but they do so in different ways. A cashback coupon will increase your profitability in the short term, whereas a discount coupon will increase your profitability in the long term.
In either case, however, you're leveraging a pre-existing relationship with your customer.
How To Offer Cashback Coupons
As with any discount scheme, offering cashback coupons is no simple feat. The more effective you can make your offer, the better chance of getting people to take action!
For instance, the cashback coupons you offer must be easy to understand and use. It also should be flexible enough to work with different offers and reward schemes as they become available.
Many online businesses offer cashback on certain purchases. This can be useful if you want to earn commission on certain sales or get some money back for spending money on their products or services.
Additionally, suppose you're running a store that sells high-quality products. In that case, cashback may also be helpful as an incentive for customers to buy from you again or recommend your store to their friends. That way, you can track how many people buy from you and make changes accordingly.
How To Set Up Cashback Coupons In WooCommerce
Whether you're leaning towards discount or cashback coupons, only one plugin can help you best: Advanced Coupons. This plugin is the highest-rated coupon plugin in WooCommerce. It is specifically made to extend your coupon features so you can give incentives in your store in a variety of ways.
And just recently, we released a new coupon type called Cashback Coupons to help store owners spice up their offers! This feature will be given to customers as store credits. So, for the sake of this article, we'll demonstrate how to set up Cashback Coupons in your store in 3 simple steps:
Step 1: Create a new coupon
Go to Marketing > Coupons > Add New to create a new coupon. Two new coupon categories under "discount type" are classified as "cashback": percentage and cashback.
Select which coupon type you want to offer: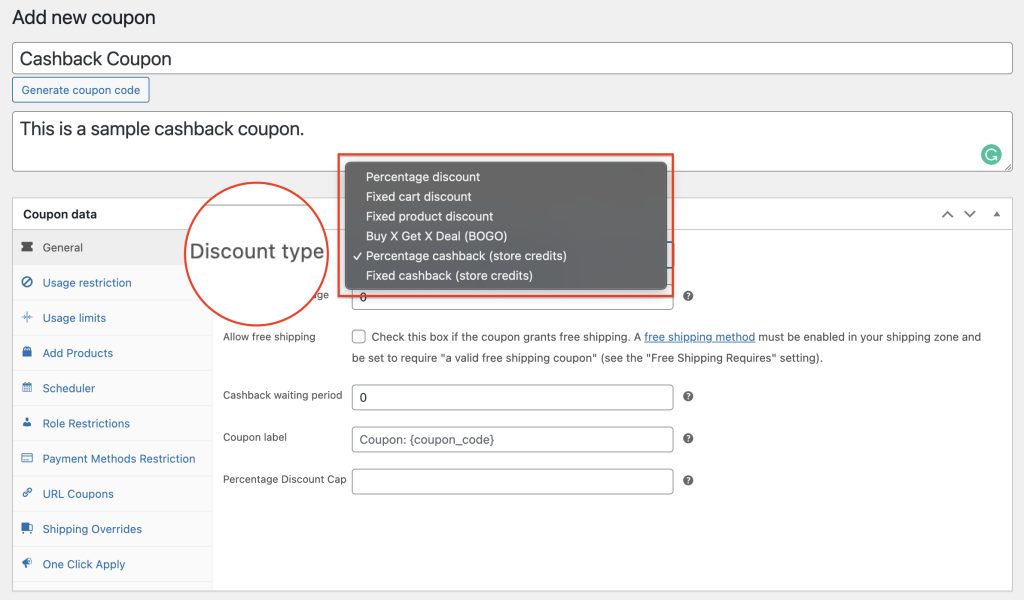 Note that if you choose fixed cashback, your customers will receive a predetermined amount, which they can use to make purchases in the future. On the other hand, percentage cashback gives customers cashback depending on the percentage of the total amount calculated in their shopping cart.
Step 2: Set the cashback percentage or amount
Indicate the percentage or dollar amount of the cashback you wish to offer after deciding which discount suits your sale.
If you choose percentage cashback, a new field labeled 'Percentage Discount Cap' will appear below the coupon label. With this, you can restrict the amount of cashback that your customers will receive:
Step 3: Decide on the cashback waiting period
The cashback waiting times for your coupon can also be specified. This means that you can set the number of days to put off sending the store credit reward after the order has been fulfilled:

Once everything is ready, click "Publish," and your coupon will be active. Test it on your front end before making it available to the public and your customers for the best results!
Conclusion
Do you ever feel unsure about your coupon strategy? Do you ever wonder how different sources of traffic impact your profitability? Are you constantly looking for ways to increase the volume of your sales? If so, then this article is for you.
This article discussed the difference between cashback coupons and discount coupons. We also showed you how to quickly set up a cashback coupon with Advanced Coupons' latest feature in 3 steps:
Create a new coupon
Set the cashback percentage or amount
Decide on the cashback waiting period
Do you have any questions about cashback coupons? Let us know in the below comment box, or message us! We'd love to hear them!