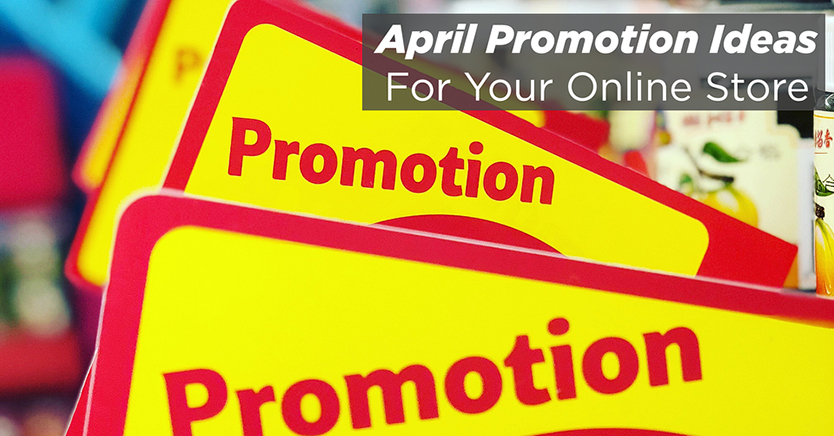 Coming up with effective April sales ideas requires more creativity than ever before. Especially in a retail world that increasingly caters to online consumers.
Online retail has emerged as a preferred shopping option for the vast majority of consumers around the world.
And why exactly is this?
Well, e-commerce aligns with modern societal trends, where consumers spend lots of time online.
E-commerce is convenient and is perfectly positioned to suit today's demographic.
The construct of today's society has created various opportunities for modern business. There are fewer barriers to entry for new eCommerce companies than ever before.
Anyone can set up a product page in conjunction with drop-shipping experts, meaning online retail is a realistic possibility for aspiring sellers.
It's important to acknowledge your store is unlikely to be a runaway success from day one, and that you'll need some potent advertising strategies to propel you forward.
Patience is a virtue, and you'll need to be especially patient about your marketing strategies.
But how exactly should you go about promoting your online store? Especially in the spring months when people are diverted from technology and towards sunshine!
Well, there are various April promotion ideas to consider which will help you disseminate products among buyers at the most opportune moments.
These will encourage existing customers to re-engage with your business while attracting new customers to secure the future of your business.
Promotional tactics are a fantastic way to lift your business off the ground, and it's important to think outside of the box if you're to increase your reach and ultimately establish a loyal customer base.
Without any further ado, here are some April promotion ideas which will set you up for a great summer!
Devise a Contest

Contests are great as promotional campaigns because just about everyone is attracted by the prospect of winning a fantastic prize!
Contests have surfaced as arguably the most engaging marketing method in today's business landscape. It utilizes interactive elements to capture the attention of audiences across the globe.
They're a great way to predispose your product to potential buyers, where there's an opportunity to showcase features and ultimately encourage consumers to interact with your business.
What's great about contests is the way anyone and everyone can get involved. Participants are incentivized by the opportunity to get their hands on an appealing prize. You'll expose your business to consumers who would have been oblivious otherwise.
Contests can take many forms, with various methods of exploration to consider.
In today's day and age, social media competitions are preferred because your outreach will be considerably larger.
You can increase participation further by selecting winners by the number of sharable links they refer to friends. This will maximize the number of people who encounter your product.
Of course, simply encouraging as many referral links as possible isn't the only approach to social media competitions.
In fact there are many other forms to explore, from asking participants to submit photographs of themselves to quizzes.
Providing you prioritize an interactive element, contests are guaranteed to increase your exposure.
With many ideas at your disposal, contests are certainly worth considering as one of your April promotion ideas.
April Sales Ideas – Focus On What Your Customers Need

Business objectives are devised based on customer needs and expectations.
Your April sales ideas should be no different. With spring being so close to summer, it's important to focus on summer merchandise, specifically the products people desire in the warmer months.
Spring promotions should offer limited-time discounts for customers to get their hands on essential summer specials.
Interested parties will struggle to pass up on opportunities to get their hands on fantastic travel items, swimming gear, outdoor furniture, grilling equipment, or whatever relevant items your company can offer.
Brainstorm to work out which seasonal items will sell best, highlighting great summer items as fantastic April promotion ideas.
By paying attention to the needs of your target demographic, you can devise promotions which align with their expectations. This will ultimately help you secure loyal clientele who regularly interact with your business.
Iron Out Wrinkles

Optimize everything as it should be. It is simply one of the best ways to promote your store.
Content and continuity errors can become clear with time, so it's important to constantly check back and see where you've gone wrong.
Ironing out the wrinkles is a huge promotional step, one which will highlight your proficiency.
Mistakes such as broken links, missing product information, etc only show up once you start getting real visitors. So be vigilant throughout the process and appreciate your website is a work in progress!
With a continuous improvement culture, you can correct mistakes, while sharpening areas which require your attention.
Improving your product pages can require daily or weekly attention, whether you're going back to add images or improving the quality of written content.
If you're uncertain about which areas to improve, you can always take advantage of advanced features like polls and live chats.
These will give you a chance to receive real-time feedback from consumers, which you can channel into improvements that boost the reputation of your business.
What better way to promote your business than by ensuring it's up-to-speed and running at maximum efficiency!
Free Samples

It's difficult to establish rapport with consumers, especially when you need them to have ultimate faith in the quality of goods provided.
Offering free samples is a great way to give your target demographic an opportunity to see your product up close and personal.
With free samples, users can tangibly choose what they desire while gaining faith in the positive nature of your business operations.
Initiatives like these will help you build trust with your audience. Most importantly allow them to sample your products from the comfort of their own homes.
This promotional tactic is more powerful when customers are looking to purchase large quantities. A positive experience with your free sample can be the incentive they need to buy a larger amount.
Another occasion when free samples are a great idea is when you have lots of perishable stock which is nearing the end of its shelf life.
Use free samples at the right times and you could be onto a real winner!
Flash Sales

This involves leveraging a high value offer/discount for a limited period.
What's great about flash sales is they'll encourage your audience to act quickly or risk missing a once in a lifetime offer.
Time-bound campaigns on limited stock products will entice customers to purchase things they might not otherwise.
Tapping into the impulsive human instinct is a great way to do promotion. Most consumers can't envision missing out on something that's almost too good to be true.
What's great about a flash sale is you can promote stock which doesn't perform well during the spring. You can even promote other lines which aren't selling too well.
This will help you free up storage space for new stock. Where you can be progressive rather than focusing attention on past products which are taking up space.
Flash sales are a fantastic way to shine some light on your business!
Thanks for reading this article. Hopefully, you've enjoyed these April promotion ideas, and are one step closer to attracting a combination of loyal and existing customers!