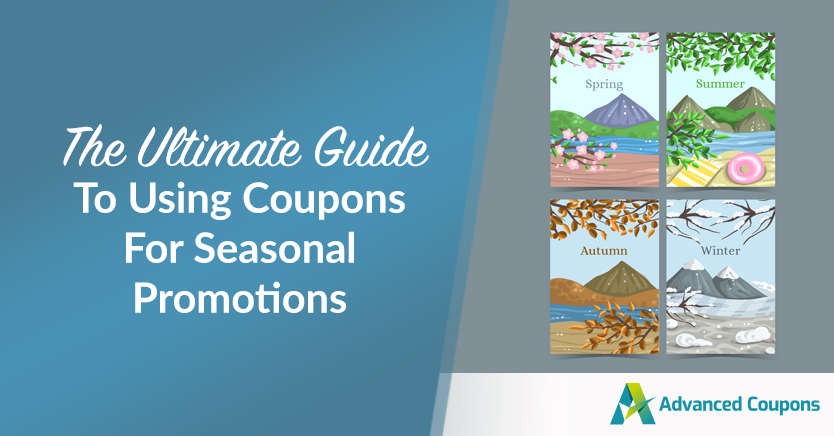 Holidays like Christmas, Halloween, and even Mardis Gras provide new opportunities to run sales in your online store. However, it might seem tricky to set up seasonal promotions if you're new to this marketing strategy.
Fortunately, Advanced Coupons makes it easy to create and advertise seasonal discounts on your website. Additionally, our Advanced Gift Cards and WooCommerce Loyalty Program plugins can further enhance your promotional efforts during the festive periods.
In today's guide, we'll give you a quick overview of seasonal marketing strategies for every month of the year. Then, we'll show you how to put these sales ideas into practice with online coupons, gift cards, and a loyalty program. Let's get started!
An Overview Of Seasonal Promotions (For Every Month)
Easter, Thanksgiving, and Christmas are just a few of the most well-known seasonal holidays. Here's a quick overview of seasonal promotion strategies for each month of the year!
January and February: Australia Day and Valentine's Day
If your target audience lives in Australia, the 26th of January provides an excellent opportunity to run a sale. Depending on your industry, you could stick with the theme by promoting green and yellow items from your online clothing store. Additionally, BBQs and outdoor furniture are other potential big sellers:
Then you'll have just a couple of weeks until it's time to start promotions for Valentine's Day. In 2022, Americans alone spent $23.9 billion on this romantic holiday.
This holiday can be a big seller if your store stocks flowers, chocolate, or other gifts. Don't forget to showcase the red and pink items in your catalog!
March and April: Mardis Gras and Easter
Mardis Gras might not seem like an obvious choice for your seasonal marketing strategy unless you live in New Orleans. But we've included it as an option to help you think outside the box. After all, there might be other regional events that your target audience celebrates.
Furthermore, Easter is a popular holiday celebrated by people all over the world. Plus, it's not just about chocolate, bunnies, and colorful eggs, either! You could simply use this occasion as an excuse to clear out some stock:
In addition, you could spend some time learning more about the typical Easter traditions of your target audience. Then, you'll be able to personalize your seasonal promotions and help them resonate with more customers.
May and June: Mother's Day and Father's Day
Celebrated on the second Sunday of May in many countries, Mother's Day is another worthy consideration for your seasonal promotion strategy.
Additionally, Mother's Day isn't industry-specific. While perfumes and flowers are obvious choices, you can market almost anything as a gift since women have a varied range of interests:
You can then adopt a similar approach for Father's Day in June. It's a great opportunity to sell electronics and home improvement products, along with essentially anything else in your store. Just make sure to set up a great sale with some attractive promotional banners!
July, August, and September: Canada Day, Independence Day, and Labor Day
The middle of the year brings with it a few more location-specific holidays, including:
Canada Day: July 1st
Independence Day: July 4th
Labor Day: September 4th in the US and Canada
If you have target customers in Northern America, it's time to set up some seasonal promotions during July and September. Remember that many children are going back to school during this period, so you can easily advertise products such as laptops, backpacks, stationery, and other study-related supplies.
Furthermore, it's a great opportunity to think about local holidays and how you can incorporate them into your campaigns. You might even play on a "Christmas in July" theme to clear out some stock from your inventory.
October, November, and December: Thanksgiving, Halloween, and Christmas
These three months are arguably the heavy hitters of seasonal promotions, providing plenty of opportunities to make some serious sales. After all, in the US, shoppers spent more than $240 billion online between the end of November and Christmas in 2022.
Thanksgiving is more of a niche holiday unless your business deals in food products. However, Christmas, Black Friday, and Halloween provide plenty of opportunities to sell all kinds of items:
You might even run a few promotions after Christmas to finish the year with a bang. Don't be afraid to think outside the box!
How To Set Up Seasonal Promotions On Your Online Store (3 Tips)
By now, you should have a pretty good idea of the different kinds of seasonal promotions you can run in your online store. Now, we're going to show you how to set them up with coupons, gift cards, and a rewards program!
1. Make coupons
One of the easiest ways to sell more items during seasonal sales is by creating coupons. With these vouchers, you can either offer flat discounts or Buy One Get One (BOGO) deals.
For example, you might offer 20% off electronics in the lead up to Christmas. Alternatively, why not provide 50% off the second book in your Mother's Day sale?
Plus, it's very easy to offer discount coupons in your online store. Let's take a quick look at how to do this with our Advanced Coupons Premium plugin.
Once you've installed and activated the plugin, head to Marketing > Coupons > Add New. Then, either automatically generate a coupon code or write a custom one:
Under Coupon data > General, you can set up a fixed percentage, cart, or product discount, a BOGO deal, or cashback promotions. You might also provide free shipping with your coupon:
Note that you can add more coupon rules and restrictions under Cart Conditions. For example, you might restrict your coupon to only customers who spend more than $100:
Under Coupon data > Scheduler, you can determine when your coupon will be valid. We're scheduling ours from the 20th to the 25th of December to entice last-minute Christmas shoppers:
Feel free to play around with all the settings until you're happy with your coupon, then hit Publish. Now you can share its URL in your promotional emails, create a banner with the voucher code, or automatically apply it to qualifying orders.
2. Create seasonal gift cards
Gift cards are popular for online shopping, particularly around the holidays. They enable the recipients to choose the exact items they want from your store and redeem the card's value.
It's also super easy to create and distribute gift cards using our Advanced Gift Cards plugin. In fact, we've already created a detailed guide on using holiday gift cards for seasonal promotions!
Once you've got the plugin up and running, simply create a WooCommerce product like you usually would. Then, select Advanced Gift Card from the Product Type dropdown menu:
Now you can add a value to your gift card and add a product image. We recommend designing custom, seasonal pictures to make your gift cards more appealing:
Now just save and publish your gift card, and customers will be able to buy it in your store and send it to their loved ones. Once the recipient is ready to spend the voucher, they can redeem it easily at checkout.
3. Set up a rewards program
Finally, consider taking things one step further by setting up a WooCommerce loyalty program for seasonal promotions. You could offer extra incentives to customers who sign up during festive periods or offer holiday-themed rewards for specific occasions.
A loyalty program is a great idea year-round because it incentivizes customers to keep spending on your store over the competition. Plus, more than 70% of customers are likely to recommend a business that has an excellent loyalty program.
You'll just need our WooCommerce Loyalty Program plugin to get started. Then, simply follow our handy video tutorial to get started:
Subscribe to Advanced Coupons
Customers will be able to earn points by making purchases, signing up for an account on your store, leaving product reviews, and more. Then, you can reward members with coupons redeemable in your shop!
Conclusion
Every month of the year provides at least one focal point for your seasonal promotion strategy. Whether you're sticking with Christmas or branching out to Australia Day, you'll have plenty of holiday sale opportunities.
To recap, here are three ways to set up seasonal promotions in your WooCommerce store:
Do you have any questions about creating seasonal promotions for your online store? Let us know in the comments section below!