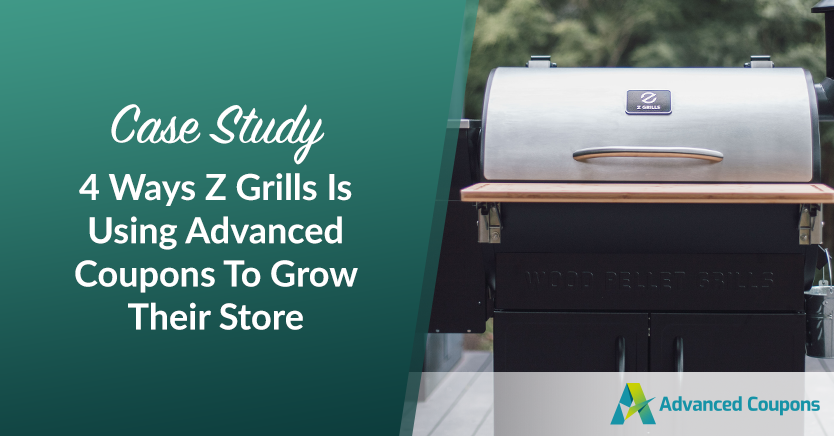 Every summer, one of the things I look forward to is barbeque parties. And do you know what makes a barbecue "THE BBQ"? Awesome grills! And here's where Z Grills stands out!
In Australia alone, there are quite a few companies that sell grills. But did you know that one of the most popular pellet smokers in the country was born only in 2019? This prompts us to wonder: What is their trade secret? What gave them a competitive edge in a highly crowded market?
In this article, we'll walk you through the success story of Australia's favorite pellet smoker—Z Grills. We'll also go through some of the ways Advanced Coupons has helped the business in making an impact on WooCommerce. Let's get into it!
Z Grills And Their Humble Beginnings
If you ask me, Z Grill's success can be traced back to the commitment of the business to making its products far more accessible and convenient for its customers.
Z Grills started off as a small-scale Shopify-based e-commerce business. However, in 2019, the platform isn't as mature as it is today.
Justin, the CTO, realized that to better serve their customers (and thus, grow their reach), they needed access to additional features that would help them leverage their services. For one thing, they need a better shipping option.
That's when Justin and his team transitioned to WooCommerce to close this gap.
A couple of months later, Z Grills found its steady footing in WooCommerce, with Advanced Coupons filling the blanks, and developed into one of the most reputable smoker grill brands in Australia. Today, the company has grown into a massively profitable e-commerce company with a loyal customer base!
4 Ways Z Grills Is Growing Their Store With Advanced Coupons
Regardless of the value of the discount, everyone is attracted to a deal. You're already appealing to consumers' thoughts by including coupons and discounts in your entire pricing and marketing strategy.
However, if you give discounts to be competitive without considering customer behavior and the impact on your business, you'll just set yourself up for reduced returns. This is one of the common mistakes starting entrepreneurs make.
Fortunately for Z Grills, they carefully examined their industry and took into account how their customers perceive discounts and offers at various levels.
For instance, instead of raising the discount percentage, Justin focused on how they made their coupon game more redeemable and readily available. And that's where Advanced Coupons changed the play:
1. Shipping discounts and overrides
Customers love receiving free shipping.
Nearly half of online customers choose stores that provide this benefit, and 77% say it is the most crucial consideration when making decisions. Additionally, 27% of consumers report that they only make purchases from stores that provide free shipping.
Z Grills was aware of this and, in fact, one of the factors that led them to return to WooCommerce was the shipping flexibility and freedom. Justin further emphasizes the platform's customization capabilities, which have a significant impact on both productivity and cost.
However, while the built-in free shipping options in WooCommerce cover the basics, the company needed more precise control over the conditions and limitations that apply. As such, they needed a plugin like Advanced Coupons that's specially designed to extend WooCommerce's features.
There are numerous ways to tailor free delivery discounts via Advanced Coupons.
You can, for example, convert this coupon code into an automated URL coupon. This way, customers that access your store through the generated URL will immediately be eligible for free delivery throughout the checkout process.
You can also let customers know when they've earned a discount. Advanced Coupons can help you increase customer trust by proactively telling them that they are qualified for free shipping.
Another alternative is to provide free shipping for a brief period of time.
Try evoking a sense of urgency and persuading customers to take advantage of your offer right away by specifying an expiration date. In Z Grills' case, this option is how they managed to draw more customers into purchasing from their store.
2. Abandoned cart offers
Z Grill's abandoned cart recovery strategy is an important element of its success.
Unlike any other e-commerce business, Z Grills takes it further when turning prospects into customers. For instance, the team employs a regular phone number that can be used to make and receive calls to notify customers of the offer, as opposed to simply sending automated abandoned cart emails with promo codes.
They can communicate with the prospects in real-time by doing so. From there, they determine why the buyer may have decided against making the transaction. This makes it easier for them to create a personalized coupon offer that will urge the customers to make a last-minute purchase.
This cart recovery approach makes it significantly more individualized for customers, which, in Justin's opinion, is pivotal for businesses like theirs that sell high-ticket items.
For average store owners, this strategy may appear to be a tedious and lengthy process. However, what makes this a viable (and efficient) solution is Z Grills' integration of Advanced Coupons' sophisticated tools into their SMS campaigns.
Advanced Coupons' Free Version allows store owners like you to create a number of discount options in WooCommerce such as:
Additionally, with Advanced Coupons' Cart Condition, you may further customize your discount offers just like Z Grills. This feature lets you determine a customer's eligibility for the voucher based on a number of criteria.
3. Free products via override price
Another strategy that works like a charm for Z Grills is giving out free products with the purchase of a grill. As Justin explains, they've discovered that, often, it's not just the monetary value of their discounts that make them effective, but rather the psychological play behind them.
For example, they use Advanced Coupons' override price feature to offer a free bag of pellets or free barbecue accessories. In this case, it's not even 5% of the value, but because these are provided free, it works pretty well.
Getting something for nearly nothing provokes a response in consumers; it simply makes them feel better. Free items are perceived as rewards and, in most situations, have a favorable impact on how they view your brand.
This encourages existing customers to remain loyal while attracting potential and bringing opportunities!
4. Order confirmation deals
And finally, check out or order confirmation.
Promotional emails, newsletters, and other email marketing activities fill many inboxes to the brim. Because of this, few business owners pay attention to or put forth extra effort while sending various sorts of emails.
Z Grills recognized, however, that order confirmation emails are a crucial aspect of your business procedures. Although they might not directly impact conversion rates, they can improve brand loyalty and, in this case, sales volume.
Typically, an order confirmation email works as a safety net. It lets consumers know that their order has been processed and is being handled capably. In other words, an order confirmation indicates an online transaction was successful.
Z Grills, however, added a clever touch by bringing forth opportunities for upselling and cross-selling in these emails. For instance, instead of simply verifying basic customer information, they take a chance in offering additional products in these emails using Advanced Coupons' Add Product Feature:
In this manner, customers are given a chance to reconsider products they might've overlooked.
Conclusion
Z Grills has grown to become one of the most successful businesses in WooCommerce by bearing one thing in mind: customer satisfaction. They continuously provide exceptional service by knowing their market, making it easy to do business with them, and using the right tools to leverage their offers.
Advanced Coupons is one of the tools that Z Grills uses to maximize its deals. Here are four ways our premium plugin helps the company grow its store:
Check out our features here if you want the same transformation in your store! You can also ask us some questions you have in the comment section down below.