While it's great to attract lots of visitors to your website, converting them into paying customers can be a challenge. For instance, almost 70 percent of digital shopping carts were abandoned last year without a purchase. Unless you can reduce abandoned carts, your online store might be losing out on sales and customers.
Fortunately, you can take steps to reduce cart abandonment in your WooCommerce store to close more sales and boost revenue. Not only that, but some of our tips can help you gain brand loyalty, build trust, and even attract new customers.
In this post, we'll explain why you should reduce cart abandonment on your e-commerce site. Then, we'll discuss five top ways to reduce abandoned carts in WooCommerce and increase sales. Let's get started!
Why You Should Reduce Abandoned Carts on Your Site
Cart abandonment occurs when a visitor adds your products to their cart but fails to make a purchase. Since this results in a loss of sales, it can eat into your overall profits.
Furthermore, it can also mislead your ad targeting. When a potential customer adds products to their cart, it creates history, cookies, and targeted ads. Consequently, your click-through rate can drop as you target users with no intention of converting.
Many factors can cause shoppers to change their minds at the last moment. For instance, your marketing messaging, pricing psychology, and the complexity of your checkout process all play a crucial role.
Additionally, some customers might leave because they find better deals elsewhere at the last minute. Therefore, it's vital to retain a competitive edge to reduce your cart abandonment and not lose consumers to your competitors.
Top 5 Ways to Reduce Abandoned Carts on Your WooCommerce Site
Now that you know the importance of reducing abandoned carts on your WooCommerce site, let's look at five ways to do this!
1. Offer coupons and discounts
Offering coupons and discounts is a great way to entice first-time buyers to shop with you. Even existing customers who know how great your products are can still benefit from a little encouragement to make a purchase:
In fact, having access to coupons and discounts was the second leading reason internet users chose to shop online in 2020. Plus, offering vouchers to customers can provide a unique selling point, helping you retain a competitive edge over other stores.
With our Advanced Coupons plugin, you can easily create custom coupons based on specific cart conditions:
For instance, you might offer a discount to customers when their cart subtotal reaches a certain amount. Alternatively, you might offer discounts to users who are placing their third order in your store.
You can do this by installing the Advanced Coupons plugin in your WordPress dashboard. Next, head to Coupons > Add New. Then, you can give your offer a description and click on Generate coupon code:
Under Coupon data, select your discount type and your coupon amount. Then, scroll down to Cart Conditions. Here, you can choose one or more cart conditions. Our plugin will check that these conditions are fulfilled before applying coupons to customer carts.
Hit Add a New "OR" Group and use the dropdown box to choose your condition:
For example, we chose Customer Has Ordered Products Before. Then, we selected Number of orders under Type and entered 2:
This way, all customers making their third purchase in our store will be entitled to 15 percent off their order. You can also add more conditions your customer needs to satisfy to qualify for the discount.
Alternatively, you can set up "OR" conditions so that two different types of actions will entitle customers to the discount. Remember to hit Save Cart Conditions to finish creating your coupon.
2. Be upfront about costs
It's important to be clear and transparent about extra costs associated with your purchases. Otherwise, you can frustrate shoppers by introducing these later on. In fact, additional costs are behind most shopping cart abandonment in the U.S.
We recommend including all the relevant details on your product pages so that customers know the costs upfront. However, consider also making the most important information as visible as possible.
For example, users should be informed about warranties, tax, and shipping information before reaching your checkout pages:
Of course, including all your delivery information on your product page can be difficult, especially for online stores that ship to many different locations. In this case, you could provide a shipping calculator or set up a dedicated delivery information page for your visitors.
3. Create a loyalty program
A loyalty program is an excellent way to offer lucrative benefits to your customers. It encourages customers to keep coming back to your store and buying your products.
For instance, you could offer discounts based on loyalty points or provide free shipping for members:
Additionally, loyalty programs can encourage customers to leave reviews. Since members are often more than satisfied with your services, they might be keen to let other people know. Then, with lots of positive customer reviews on your pages, you can build trust quickly with first-time buyers.
You might even decide to offer customer referral rewards. These work by providing discounts to new customers and the existing customer who referred them, satisfying multiple users at once.
Fortunately, it's easy to set up a customer rewards program with our Loyalty Program plugin. You can award customers points for making orders, leaving reviews, and spending over a certain amount, among other actions: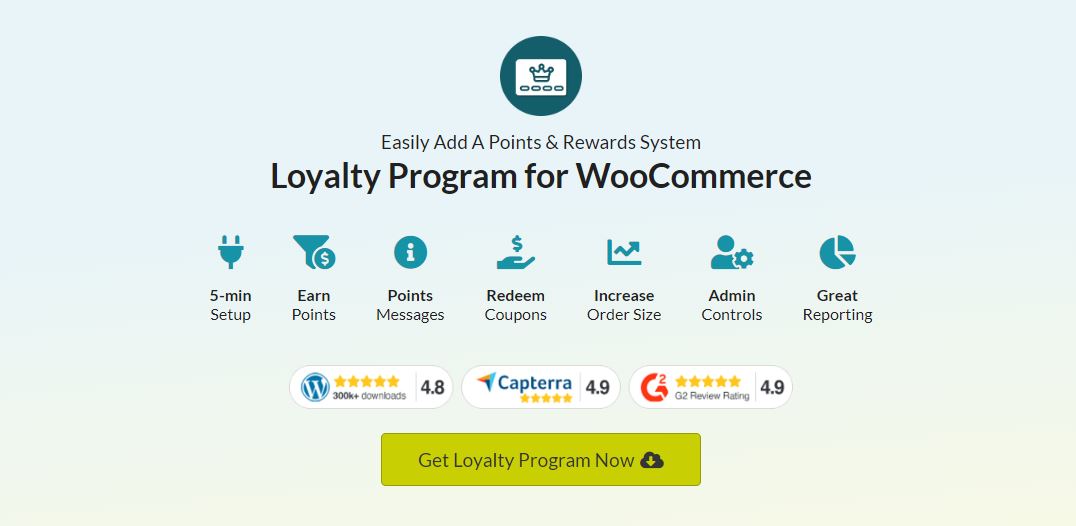 Customers can then redeem their points as coupons to purchase items from your store. Therefore, they're more likely to keep buying from your business long-term.
4. Provide multiple payment options
Offering multiple payment options provides flexibility and helps your store appeal to various customer preferences. While debit and credit cards are still popular, many new payment methods have emerged, including PayPal, Klarna, and Apple Pay:
Providing these payment options can help reduce cart abandonment since they overcome some barriers to making a purchase. For example, Klarna enables customers to buy now and pay later. Meanwhile, PayPal saves customer details for speedier checkouts.
When setting up your WooCommerce store, you can enable multiple online and offline payment methods. Or, you can access these settings later by visiting Payments. All your installed payment options are listed here, allowing you to enable and disable them:
Furthermore, you can integrate additional payment providers from the WooCommerce Extensions Store. Then, you'll simply need to visit Payments to activate your payment method and modify the settings:
On top of that, accepting gift cards is an excellent opportunity to reduce cart abandonment. Some e-commerce stores with brick-and-mortar locations only redeem gift cards in-store. Therefore, accepting gift cards as online payment can give your company an edge over the competition.
5. Offer guest checkout
Forcing customers to create accounts on your website is another barrier to securing a purchase. Since making an account demands effort on the customer's part, it might cause them to reconsider their buying decisions or feel it is too much hassle.
If registration isn't necessary, offering guest checkout can be an excellent alternative. It tends to be a good fit for stores that are less likely to have repeat customers:
What's more, you can offer guest checkout in WooCommerce with just one click. Simply navigate to WooCommerce > Accounts & Privacy. Then, at the top of your screen, tick the checkbox that reads Allow customers to place orders without an account:
You can also let customers create accounts during the checkout process. Plus, you can dictate how long you'll retain inactive accounts and customize your privacy policy.
Conclusion
High numbers of abandoned carts on your website can cause your business to lose revenue and customers. Sometimes, shoppers will be discouraged from purchasing due to extra costs, poor conversion messaging, or insufficient payment options. Fortunately, there are a few ways you can reduce cart abandonment and close more sales.
To recap, here are five top ways to reduce abandoned carts in WooCommerce:
Offer coupons and discounts with our Advanced Coupons plugin.
Be upfront about costs.
Create a loyalty program with our Loyalty Program plugin.
Provide multiple payment options.
Offer guest checkout.
Do you have any questions about reducing abandoned carts in your online store? Let us know in the comments section below!